Inbox: Duffy a future power threat?
Beat reporter Chris Haft answers questions from Giants' fans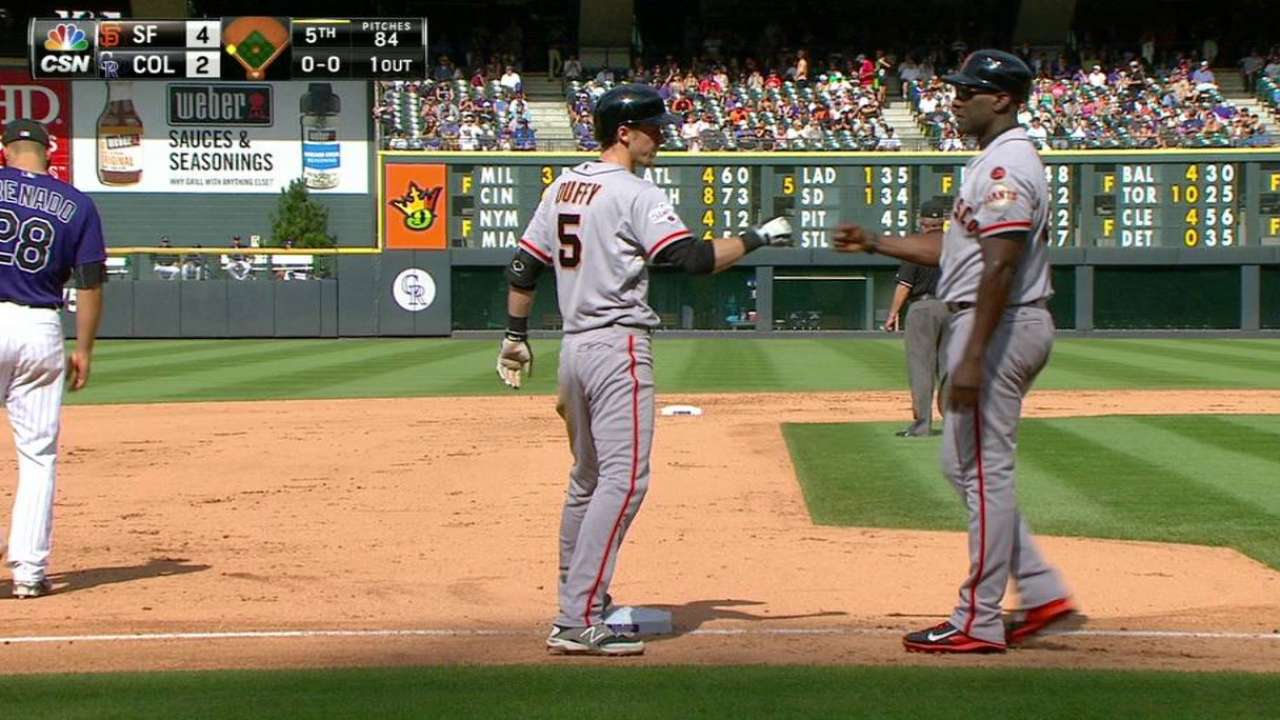 Do you see Matt Duffy filling out and making enough strides to become a top-tier third baseman averaging 25 home runs and 100 RBIs per season?
-- Artie S., Las Vegas
Duffy still would be slender if you locked him in a weight room for an entire offseason and slipped him nothing but steaks and milkshakes through a slot in the door. That said, he's certainly capable of adding muscle to his 6-foot-2 frame. He actually gained about 10 healthy pounds last offseason. Since he was so skinny to begin with, nobody realized this. It's a safe assumption that Duffy will gain strength while maintaining a lean appearance. That, along with his already solid hitting tendencies, should enable him to reach or approach the 25-homer/100-RBI level regularly.
With Tim Hudson retiring and Tim Lincecum all but done in San Francisco, what Minor League starters can step in and help immediately?
-- Mike W., Brooklyn, N.Y.
Right-hander Clayton Blackburn (10-4, 2.85 ERA with Triple-A Sacramento this year) might not be the organization's most spectacular pitching prospect, but he could be the system's most polished young starter. The 22-year-old averaged just 2.34 walks per nine innings this season. MLB.com ranks Blackburn 21st among Giants prospects. There's also left-hander Adalberto Mejia, No. 12 on MLB.com's list, who has a chance to raise his profile while performing in the Arizona Fall League. And don't ignore Tyler Beede, San Francisco's top pitching prospect, who progressed from Class A Advanced San Jose to Double-A Richmond in midseason. Having completed just one full professional campaign, Beede is still striving for consistency.
By the way, don't write Lincecum's farewell chapter yet. His comeback from hip surgery could prove to be painstaking, but he has demonstrated that his pitching aptitude must not be underestimated. Moreover, his injury might actually clear a path for him to re-sign with the Giants after he becomes a free agent this offseason. It's unlikely that a whole lot of other teams, if any, will take a chance on Lincecum.
Will Matt Cain regain his effectiveness? And is Hudson a Hall of Famer?
-- Lee D., San Jose, Calif.
Cain's future productivity is difficult to predict, but I'm more optimistic than pessimistic. As scrambled as his pitching mechanics were, his velocity still exceeded 90 mph before his season ended prematurely. My guess -- and it's merely a guess -- is that Cain will improve significantly with the right combination of rest and throwing during the offseason. His talent won't suddenly desert him.
As for Hudson, my gut feeling regarding whether he's worthy of enshrinement in Cooperstown is "No," despite my vast respect for him. Now let's go to Hudson's page on baseball-reference.com. He falls short on every Hall of Fame-related statistical index. Hudson's career invites comparisons to another pitcher who succeeded on both sides of the Bay: Vida Blue. The charismatic left-hander wasn't included among the pitchers most statistically akin to Hudson in the "similarity scores" section on baseball-reference. But their overall performances were more alike than not (Hudson: 221-132 record, .626 winning percentage, 3.49 ERA; Blue: 209-161, .565, 3.27 ERA). They were often very good and, at times, superlative.
However, the Hall of Fame isn't for the very good. It's for the very great.
Chris Haft is a reporter for MLB.com. Read his blog, Haft-Baked Ideas, follow him on Twitter at @sfgiantsbeat and listen to his podcast. This story was not subject to the approval of Major League Baseball or its clubs.