Mariners' Baron makes history in first game
Becomes third to ever catch one-hitter in Major League debut
SEATTLE -- When it comes to Major League debuts, Steve Baron put together one for the memory books on Wednesday as the Mariners rookie became just the third player ever to catch a one-hitter in his first game.
Baron, a September callup who arrived on Tuesday, joined Russ Gibson of the Red Sox in 1967 and Walter Schmidt of the Pirates in 1916 in that exclusive group, when he was behind the plate as Vidal Nuno, Danny Farquhar and Carson Smith dominated the Rangers in a 6-0 victory.
"It was obviously awesome," said the 24-year-old from Florida. "I can't describe the experience. Nuno did everything. Pretty much wherever I called the pitch, he hit the glove. I looked at the video and he was at the bottom of the zone almost the entire game. Every time I called a two-strike pitch in the dirt, it was in the dirt. When I wanted an elevated pitch, it was elevated. He made it easy for me."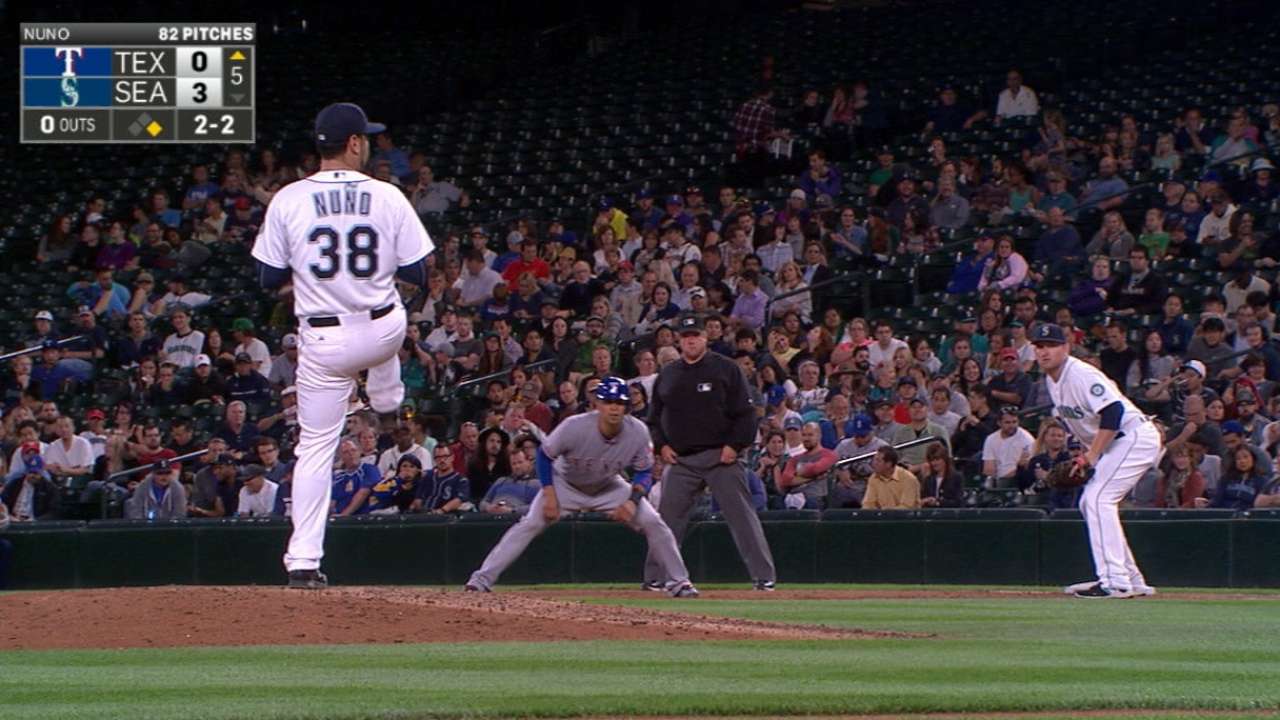 Nuno, who went seven innings with just one hit, had worked with Baron for one game in Triple-A Tacoma when he was sent down briefly in midseason, and the young catcher said that made a difference.
"I got an idea how he liked to work and that definitely eased the process," Baron said Thursday. "That's how you build a relationship. You get familiar with how he likes to work and attack hitters and you know what pitch gets him back to where he needs to be, release-point-wise. That was huge for me yesterday, knowing I'd caught him before. And he's a great guy, a great teammate."
Baron went 0-for-4 at the plate and hit into a pair of double plays, but he relished his first opportunity in the Majors. After being a supplemental first-round Draft pick by the Mariners in 2009 out of high school, he spent his first five years in the low Minors before finally moving up this year and hitting .277 at Tacoma.
"I think back to how long it's been, how I've moved through the system and even back to being little," Baron said. "You think back to where you came from -- Little League days, high school, pro ball. It was a crazy experience. I didn't expect it. Last year I was in High A and now I'm in the big leagues. I don't think I'd ever have thought that. I'm happy to be here, I'm going to make the most of it and soak it all in and learn as much as I can."
Baron was still soaking things in the morning after his debut. Like most players in their first big league experience, he said he realized after several innings it was still the same game and tried to look at it just like his prior outing in Las Vegas on Monday with the Rainiers. But yeah, it was different, on the moments when he allowed himself to step back and look around.
"When I was catching, it was just me looking at Nuno and the pitchers on the mound," he said. "I had tunnel vision, thinking about the hitters and what to call. But when I went up to hit, I was like, 'Wow.' I looked around at the scoreboard and everything. ... I couldn't sleep last night."
Behind him in his locker sat the lineup card and the ball from the game-ending strikeout by Smith, mementos he'll cherish forever.
"It's awesome," he said. "I'll save those for the rest of my life."
Greg Johns is a reporter for MLB.com. Follow him on Twitter @GregJohnsMLB, read his Mariners Musings blog, and listen to his podcast. This story was not subject to the approval of Major League Baseball or its clubs.