MLB holding league-wide 9/11 tribute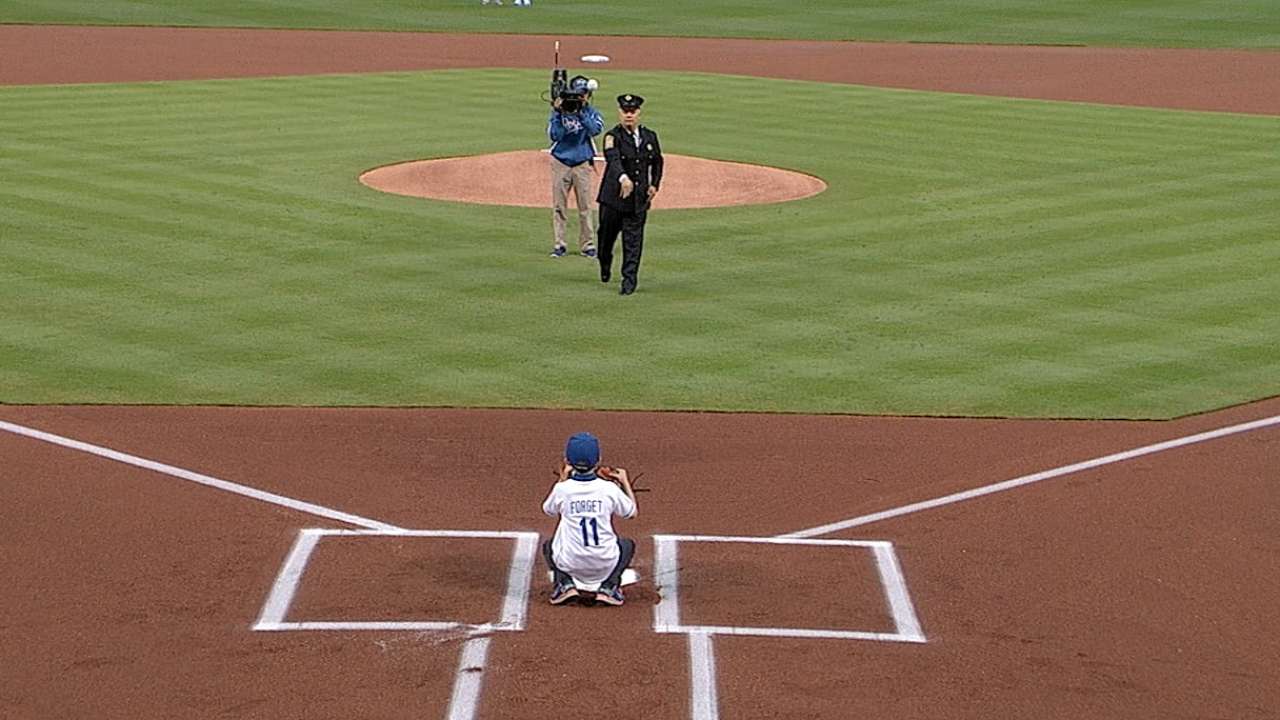 NEW YORK -- One World Trade Center is open year-round now, its new observation deck a first stop for many tourists who come to see panoramic views and try to remember what happened here 14 years ago.
Although this will be the first 9/11 Day of Remembrance in which Ground Zero is a routinely open and renewed space in busy Manhattan, the time arrives today for reflective ceremonies at the site and across America, including at all Major League Baseball parks hosting games.
MLB announced that there will be a league-wide commemoration of Sept. 11, 2001, with tributes at all Major League games, as well as some individual club recognitions.
Baseball's annual remembrance is part of an ongoing effort to honor nearly 3,000 lives lost as well as lives affected on that tragic day.
On-field personnel -- including players, coaches and umpires -- will wear caps with a side patch of an American flag during games. All MLB proceeds from sales of these caps will be donated to the 9/11 Memorial and Museum, the Pentagon Memorial and the Flight 93 Memorial.
Home clubs will mark the anniversary with pregame ceremonies, including a moment of silence, and the "We Shall Not Forget" MLB silhouetted batter ribbon will be displayed throughout ballparks. Additionally, special lineup cards and base jewels will be used for every game.
The Blue Jays will wear customized caps recognizing both the U.S. and Canada for their game in New York against the Yankees, airing as an MLB Network Showcase at 7 p.m. ET.
MLB Network will also feature coverage of today's events across MLB in its studio programming. MLB.com and MLBCommunity.org will provide complete coverage of the ceremonies and perspectives through columns, articles, multimedia and photos across the country.
On Sept. 21, 2001, at New York's Shea Stadium, the Braves lost to the Mets in dramatic fashion on a home run by Mike Piazza in the bottom of the eighth inning. During a special pregame ceremony as the Braves and Mets match up once again on today in Atlanta, the Braves will look back on how that game helped the country begin to rebuild. As part of the ceremony, a giant American flag held by U.S. military members will cover the outfield, and the national anthem will be sung by two local firefighters.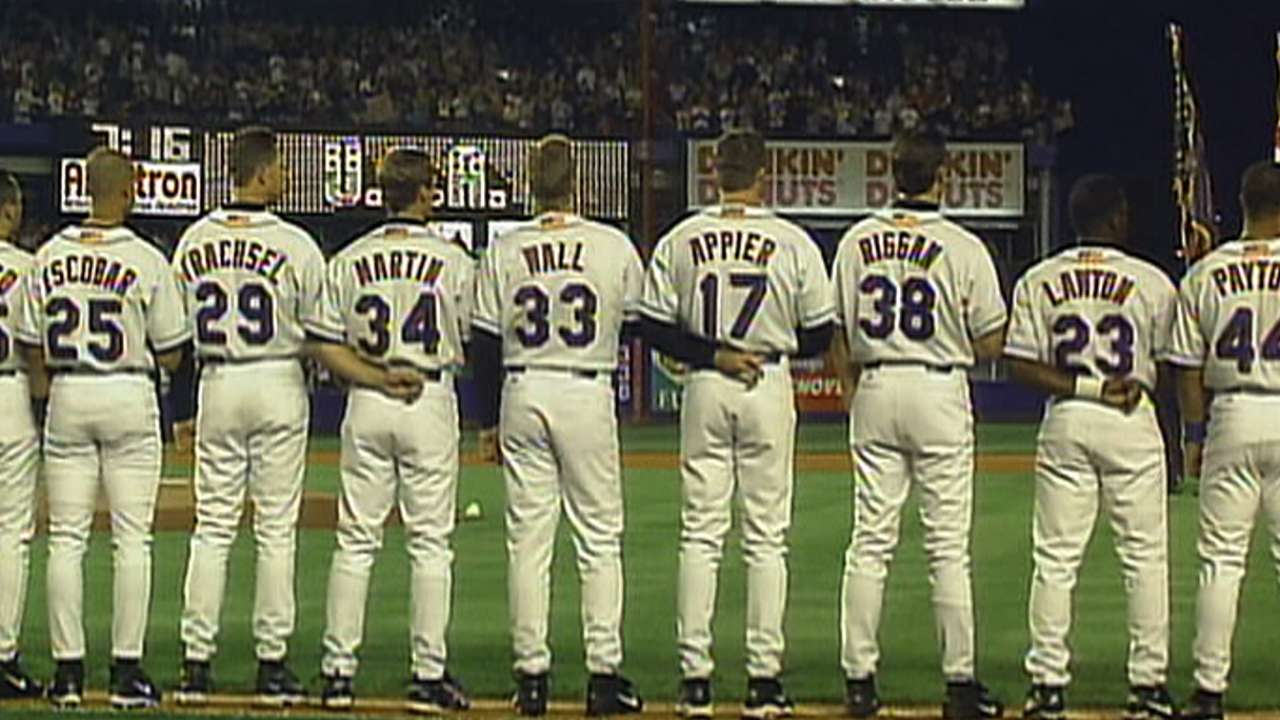 In Philadelphia, the Phillies will hold Patriot Day ceremonies before their 7:05 p.m. game against the Cubs. In addition to the MLB ceremony events, Philadelphia police officers and firefighters will carry the 50 state flags onto the field, accompanied by 50 members of the military. The U.S. Air Force Silent Drill Team will put on a 10-minute demonstration, and an All-Service Color Guard will present the colors.
The Chevrolet Award of Valor will be presented at Citizens Bank Park to police officers and firefighters for remarkable acts of heroism and for serving as role models in their communities. The awards will go to police officers Daniel Moroney, Melanie Brown and Michael Braun of Philadelphia's 135th Police District, and to Firefighter Michael Conroy and Lt. David Herron of Philadelphia's Fire Company, Ladder 27 Platoon A.
Before the Pirates host the Brewers at 7:05 p.m., family members of Flight 93 victims will be recognized and the ceremonial first pitch will be delivered by Troy Richard, a cousin of Flight 93 pilot Captain Jason Dahl.
The Indians will honor South Euclid, Ohio, patrolman Steve Wilson as part of the club's Law Enforcement Appreciation Night at Progressive Field, where the Tigers will visit. The night will feature a short introduction regarding the National Law Enforcement Officers Memorial Fund and Museum honoring the victims of 9/11. Wilson, named last month's National Officer of the Month, will throw out the first pitch. Honor Guard duties will be led by the Akron Police Department, with the national anthem being performed by Detective Regina Dudley of the Columbus Police Department.
At Marlins Park, the City of Miami and Miami Beach fire departments will display trucks in the West Plaza for fans to interact with. Fans will also be able to try on fire gear on the Promenade and Lexus Legends levels. These will be part of the ceremonies there benefiting local first responders.
Though they'll be facing the Rays in St. Petersburg, the Red Sox, along with the American Red Cross and Beth Israel Deaconess Medical Center, will host the 14th annual Day of Remembrance Blood Drive at Fenway Park from 7 a.m. to 7 p.m. Those who are eligible are invited to donate blood in honor of those lost in the 2001 attacks.
Those interested in donating blood can enter the ballpark through Gate D, located on the corner of Yawkey Way and Van Ness Street. The Commissioner's Trophies from the club's World Series titles in 2004, '07 and '13 will be on hand for photos, and all participating donors will be eligible for $12 discounted tours of Fenway. Since its inception in 2002, the annual blood drive has collected nearly 10,000 units of blood with the potential to help up to 30,000 people.
"The Red Cross is happy to continue to partner with the Boston Red Sox and Beth Israel Deaconess Medical Center to host the Day of Remembrance Blood Drive, and we encourage all those who can to give blood this Friday at Fenway Park," said Donna Morrissey, director of national partnerships, Red Cross Biomedical Services. "In working with the Red Sox, Beth Israel and the community, we hope to honor those lost in the 2001 terrorist attacks by helping others survive."
Donors of all blood types -- especially types O negative, A negative and B negative -- and platelet donors are urged to give. To make an appointment to donate, download the Red Cross Blood Donor App, visit redcrossblood.org/fenway or call 1-800-RED CROSS (1-800-733-2767).
The Red Cross has entered into a new national partnership with 9/11 Day, which it cites as the largest charitable initiative in the U.S. Last year, more than 40 million people observed Sept. 11 by performing good deeds to help others. The goal of 9/11 Day is to keep alive the spirit of unity and compassion that arose in the immediate aftermath of the attacks, providing a positive, helpful way for people to annually remember and pay tribute to the victims and honor those who responded.
Mark Newman is enterprise editor of MLB.com. Read and join other baseball fans on his MLB.com community blog. This story was not subject to the approval of Major League Baseball or its clubs.