Barraclough rapidly making name for himself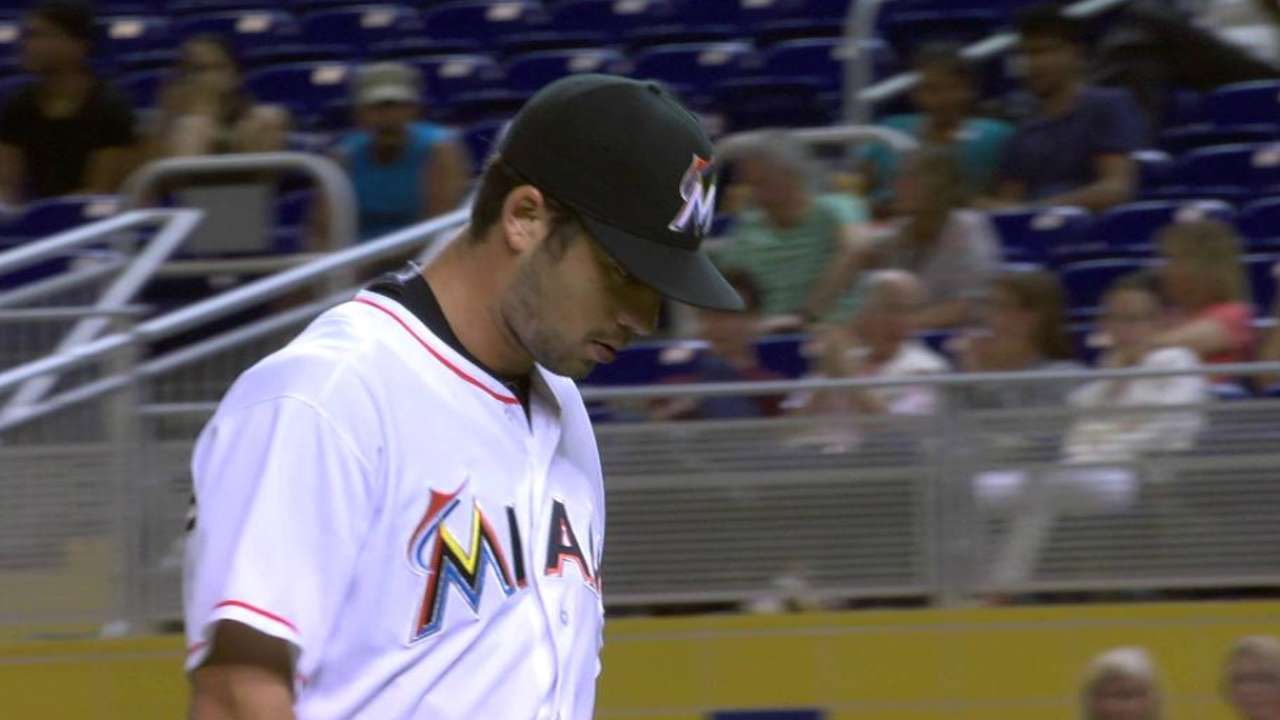 MIAMI -- When the Marlins traded longtime closer Steve Cishek to St. Louis on July 24 for reliever Kyle Barraclough, Miami knew it was getting an intriguing power arm. However, at the time of the trade, Barraclough hadn't pitched above Double-A. The Marlins didn't figure they were getting a reliever who was ready to fill in for Cishek in the back end of the bullpen.
But that's exactly what Miami has seen since calling up the 25-year-old from Double-A Jacksonville on Aug. 7, as Barraclough is 2-0 with a 0.56 ERA in 16 innings as he continues to make his case for the future.
"He's opened all of our eyes coming out of Double-A to step here into this level and execute his pitches with that quality," manager Dan Jennings said Wednesday. "For me, the one thing that you love about this kid is he's on a mission.
"He hasn't flinched at all, and it's reflected on his ERA and how well he's thrown. So he's on the radar. I think he's definitely -- in some capacity -- in the back end of the bullpen."
Barraclough added to his impressive rookie season on Tuesday vs. Milwaukee by tossing 1 2/3 relief innings and striking out four to record the victory. While the Marlins led, 6-2, in the top of the fifth, the Brewers loaded the bases with one out before the righty came on to escape the jam unharmed. Barraclough then struck out the side in the sixth.
The former Cardinals farmhand has 23 strikeouts compared to 10 walks in 15 appearances. Barraclough has also surrendered just one earned run on four hits.
"I'm just worried about getting outs -- let next year work itself out," Barraclough said. "I've got to come into Spring Training ready to go. I'm focused on today, not really looking towards anything other than that."
It's hard for the Marlins to say they saw this impact coming, as all the organization had on Barraclough prior to the trade was a couple of scouting reports, as well as his stats of a 3.28 ERA with 28 strikeouts and 20 walks for Double-A Springfield. He actually started the season at Class A Advanced Palm Beach, going 1-0 with a 0.60 ERA in 11 outings.
However, the hard thrower who pumps his fastball into the mid-to-upper 90s is now a long way from those levels -- making a name for himself in a Miami bullpen that possesses plenty of opportunities for next season.
"You hate giving up a guy like Cishek with what he's meant to this organization and how much he was loved and respected," Jennings said. "At the same time, it was a smart baseball trade for us where we're going and where we are -- and for the Cardinals, where they are right now. So that's a good baseball trade that should pay dividends for both teams for a long time."
Steve Wilaj is an associate reporter for MLB.com. This story was not subject to the approval of Major League Baseball or its clubs.