Prado proving steadying force for Marlins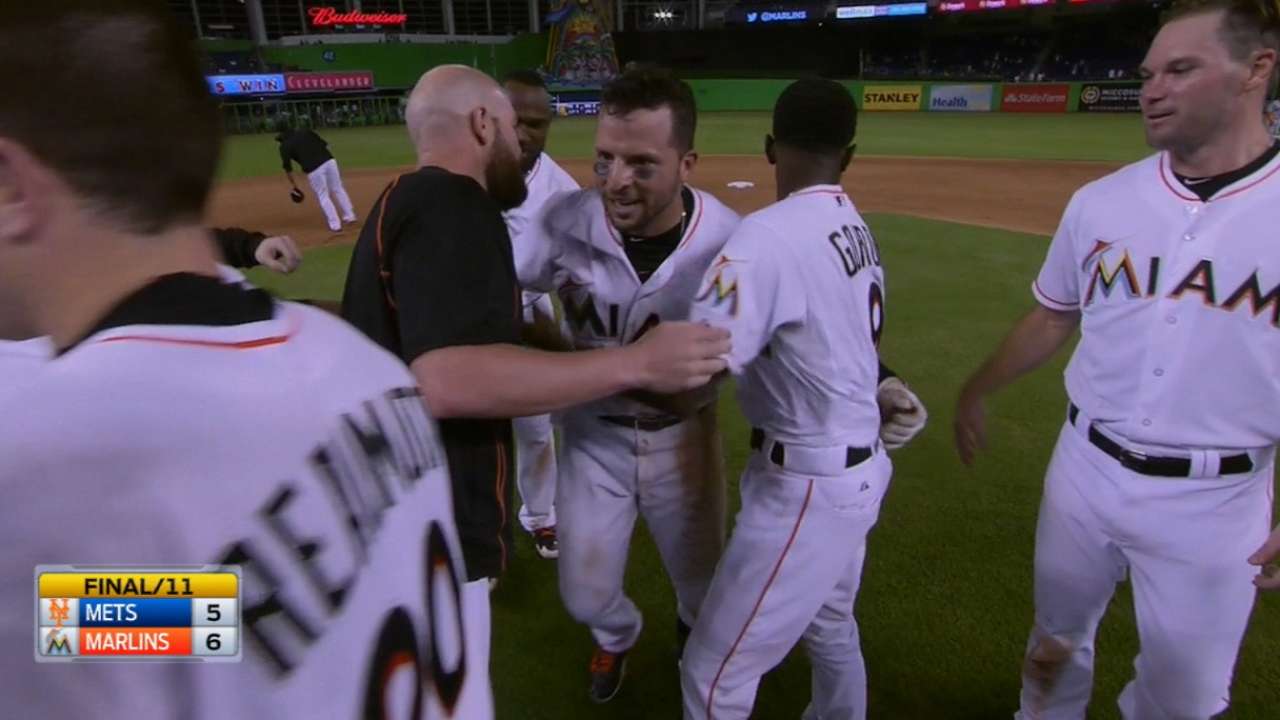 Dee Gordon sees it. Each day, Marlins third baseman Martin Prado goes about his business not in a vocal way but in a manner that isn't lost on Miami's All-Star second baseman.
"I think he's our team captain, honestly," Gordon said. "I think other guys in here feel the same way, just about the way he goes about his day -- day in and day out -- and we try to follow his lead. You watch the way he goes about it, and it's always professional."
In his first year with Miami, Prado has had a solid season, batting .284 with 52 RBIs, but one that has come with bumps as well. The 31-year-old journeyman infielder struggled in June (hitting .240), endured a right shoulder injury that sidelined him from June 18-July 17 and dealt with rumors prior to the July 31 non-waiver Trade Deadline when the Marlins began moving their veteran players.
But with the dust now settled and with the security that he'll be in Miami, presumably, at least through the end of his contract (which expires after the 2016 season), Prado has finally found comfort with the Marlins while emerging as a team leader.
"I got traded twice in less than a year," Prado said, referencing his trades from the D-backs to the Yankees in July 2014, and from New York to Miami this past offseason. "It's not a headache. You just got a lot of things you have to do. You're always starting over again -- over and over. But I think that the group of guys here now, they've made me feel at home, and that makes you feel good when you go out there and play."
That good feeling has shown recently, as Prado is batting .406 in September as the Marlins have won seven of nine games. After hitting Prado mainly second or fifth in the lineup for most of the season, manager Dan Jennings moved him into the three-hole on Aug. 15, and he's responded by batting .357 in the spot.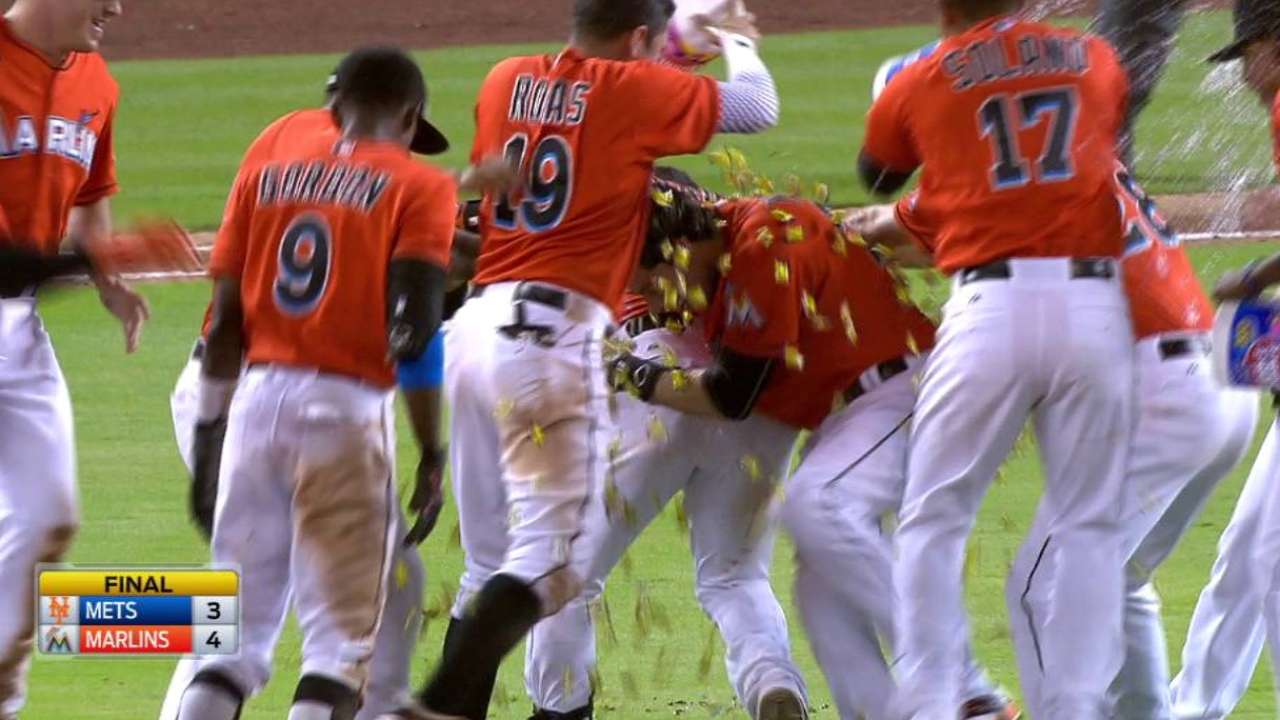 But as Jennings has noticed, the contributions of Prado -- who recorded two walk-off hits vs. the Mets this past weekend -- go beyond the box score.
"Martin has definitely stepped up in every facet," Jennings said. "He's become the go-to guy in the clubhouse and taken ownership and leadership. Plus, his play on the field has been huge. … He's stepped it up both in the clubhouse and on the field, and I think that's reflective of how we're playing."
Prado's presence will be key when the Marlins -- with their numerous young core players -- try to regroup from a disappointing injury-riddled 2015 season as they hope to contend in '16. The 27-year-old Gordon is certainly one of those players Prado has impacted.
"We talk a lot, just how to be a professional," said Gordon, who's hitting .328 with 50 steals. "I try to latch on to other older guys like himself. So he's mentored me every day here and I'm definitely thankful for Prado."
The former Atlanta second baseman has also had a strong impact on 26-year-old shortstop Adeiny Hechavarria -- who's hitting .281 while having a Gold Glove-caliber season -- as the two can often be seen talking and joking during pregame activities.
"I don't feel like the leader, exactly," Prado said. "I just feel like a big part of it. We're 25 guys and, of course, there's going to be guys with more experience. The only thing that I would say is that they see me going out there every day, so I just try to be an example for them."
In his continued hot streak over the past month, Prado went 2-for-4 with three RBIs in Miami's 5-2 win on Wednesday. He's logged 14 RBIs in the past 15 games -- all while continuing to play a strong third base (seven errors in 244 chances this season).
But maybe equally as important, the veteran has gained the respect of the clubhouse, as Prado is leading a young Marlins team that has played better baseball since the Trade Deadline. As a small example of that respect, watch the ball after the third out of every defensive inning for Miami, and it immediately goes to the captain -- as Gordon called Prado -- to toss into the stands.
"You got to play. It's a game," Prado said. "Maybe you don't find your spot, you don't find your swing -- and then at some point in the season, it clicks. I just feel like there's a lot of things left to accomplish."
Steve Wilaj is an associate reporter for MLB.com. This story was not subject to the approval of Major League Baseball or its clubs.