MLB.com Columnist
Phil Rogers
Votto's outburst shows how much he cares
Reds star never takes an at-bat off, despite club's place in the standings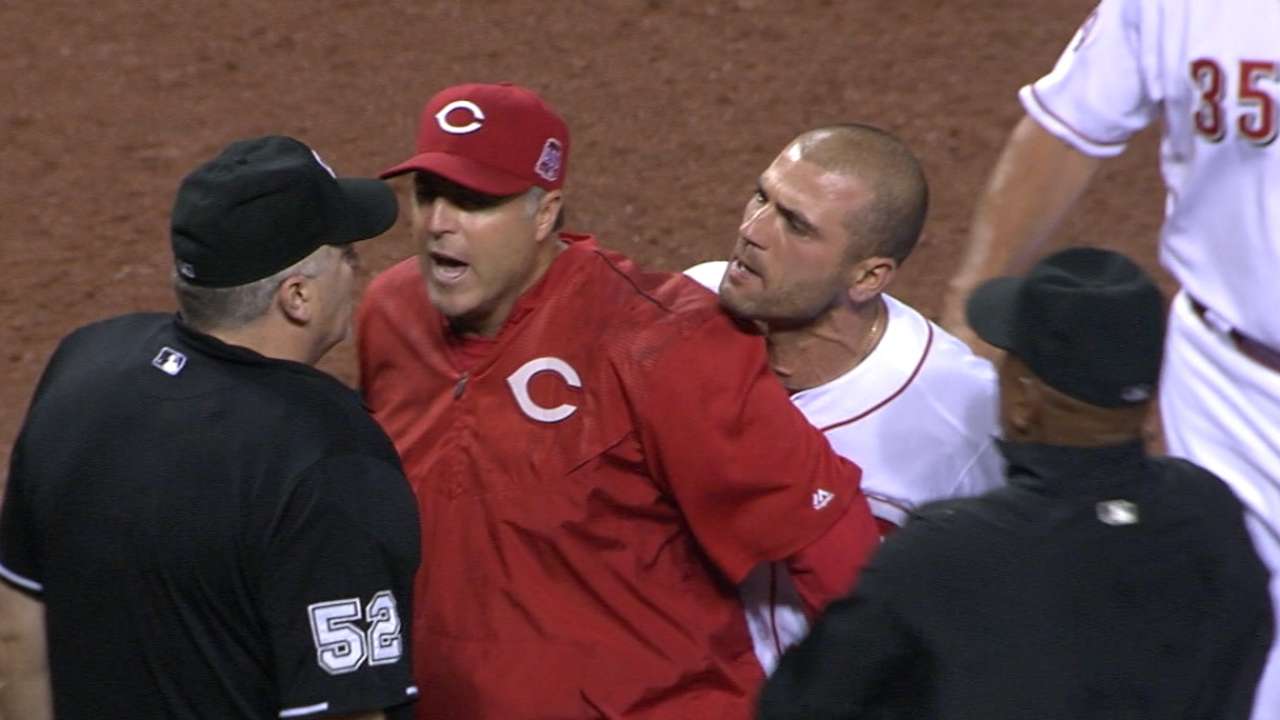 Check the calendar. Check the standings.
Then check the video of Joey Votto flying into a rage at home plate on Wednesday night, and you'll understand one of the reasons why baseball's best players are so great. These are super-competitive, highly accountable people who care about every last detail, every time they walk onto the field.
Votto, an introverted perfectionist, certainly fits that description. He showed it in his argument with home-plate umpire Bill Welke in the Reds' 5-4 loss to the Pirates at Great American Ball Park, never mind that Cincinnati was 30 games behind St. Louis with only 25 games left in the season.
Written off by some after a two-year run in which a variety of leg injuries limited him, Votto, who celebrates his 32nd birthday today, is having one of the best seasons in a career that saw him win the National League MVP Award in 2010. He worked harder than ever last offseason and has put himself back into the NL MVP Award discussion, despite the difficulties of playing on a team that fell double digits in arrears during a nine-game losing streak in May.
No one would have noticed if Votto took it easy Wednesday night. But he certainly would have, and that's not the way he was going to approach a week in which the Cardinals would follow the Pirates into Great American Ball Park, each looking to pad their postseason resumes against the Reds.
Votto was in full combat mode, as the Cubs saw last week at Wrigley Field. He carried Bryan Price's team to a victory in the series, going 5-for-10 with two homers and four walks in the three games. He was grinding in every at-bat, swinging at strikes, taking balls and always knowing the difference.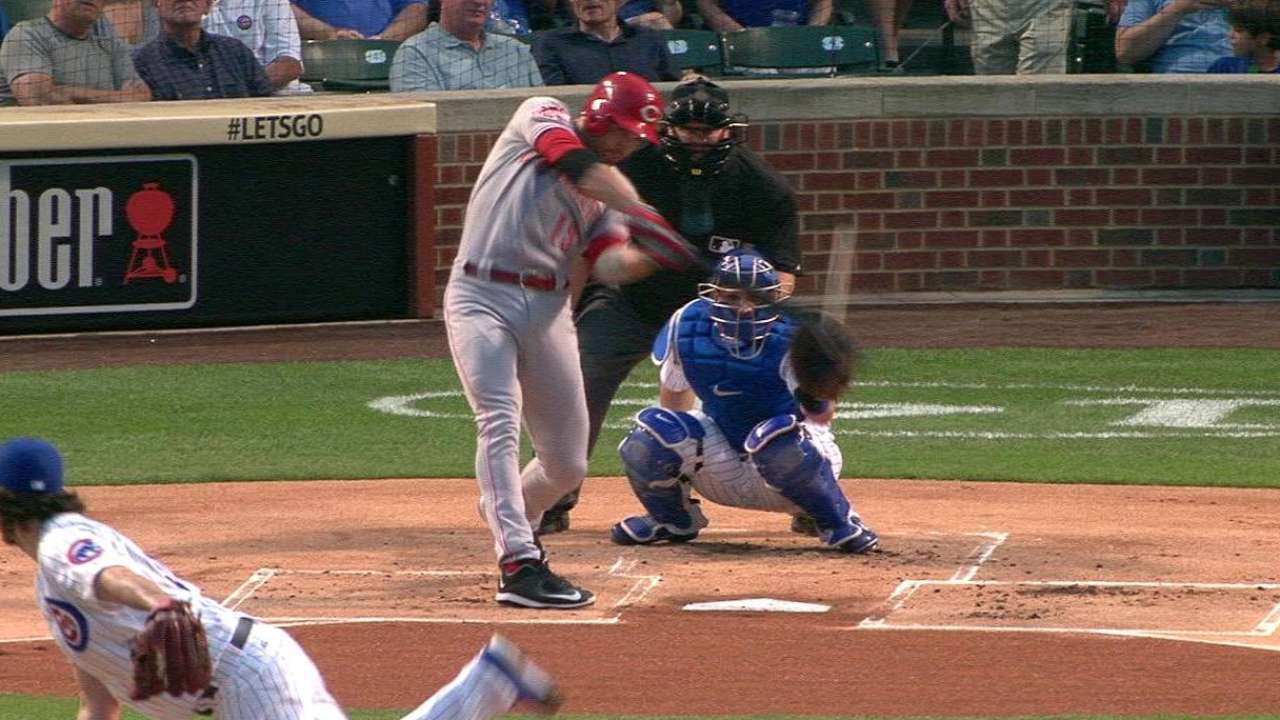 Fast forward to Wednesday.
Votto came to the plate in the bottom of the eighth inning, facing lefty Tony Watson. The Reds trailed, 5-2, and it had been a mixed night to that point -- a ground-rule double after starting the game with two strikeouts.
This time, with the count 1-1 and runners on first and second, Votto felt Watson was taking too long on the mound. As Price described it afterward, Votto asked Welke for time but got no response from the umpire. So as Votto stood flat-footed, Watson hit the outside corner and Welke called strike two.
Votto turned toward the Reds' dugout, said he'd asked for time. That got Price moving toward home plate. But before the manager got there, Votto said something that caused Welke to eject him. Votto fired his batting helmet to the ground and turned his anger on Welke, a veteran umpire in his 17th season.
Umpires don't have to grant hitters time. They've always had the discretion to call it or not call it, but they almost always call it. Welke didn't this time, and suddenly Votto was dealing with a 1-2 count, not a 2-1 count.
This is a huge difference, and nobody knows that better than Votto.
Over his nine-year career, the Reds first baseman has hit .192 in the 532 times that he's put the ball in play with a 1-2 count. Flip the count around, and he's been a .494 hitter in the 245 times he's put a 2-1 pitch in play.
Yes, .494.
That sounds crazy, but how about his slugging percentage? It's .939 when he puts a 2-1 pitch in play. Barry Bonds wasn't nearly as dangerous with a 2-1 count as Votto has been.
So for Welke to give Watson an essentially free strike, as Votto saw it, was completely unacceptable with the game on the line. And Votto showed it, in the process demonstrating how passionate he remains.
This has been a difficult season for the Reds, who know that they'll be severely tested over the next few seasons -- at the least -- in baseball's best division. The Cards haven't had a losing month in more than three years, the Bucs are headed into the postseason for the third consecutive season, and the Cubs have arrived with a young core intent on delivering an extended run of 90-win seasons.
The Reds, meanwhile, have lost Johnny Cueto and the starting pitching depth that helped them win NL Central titles in 2010 and '12 and grab an NL Wild Card spot in '13. They face difficult decisions as they attempt to satisfy fans in one of the great baseball cities.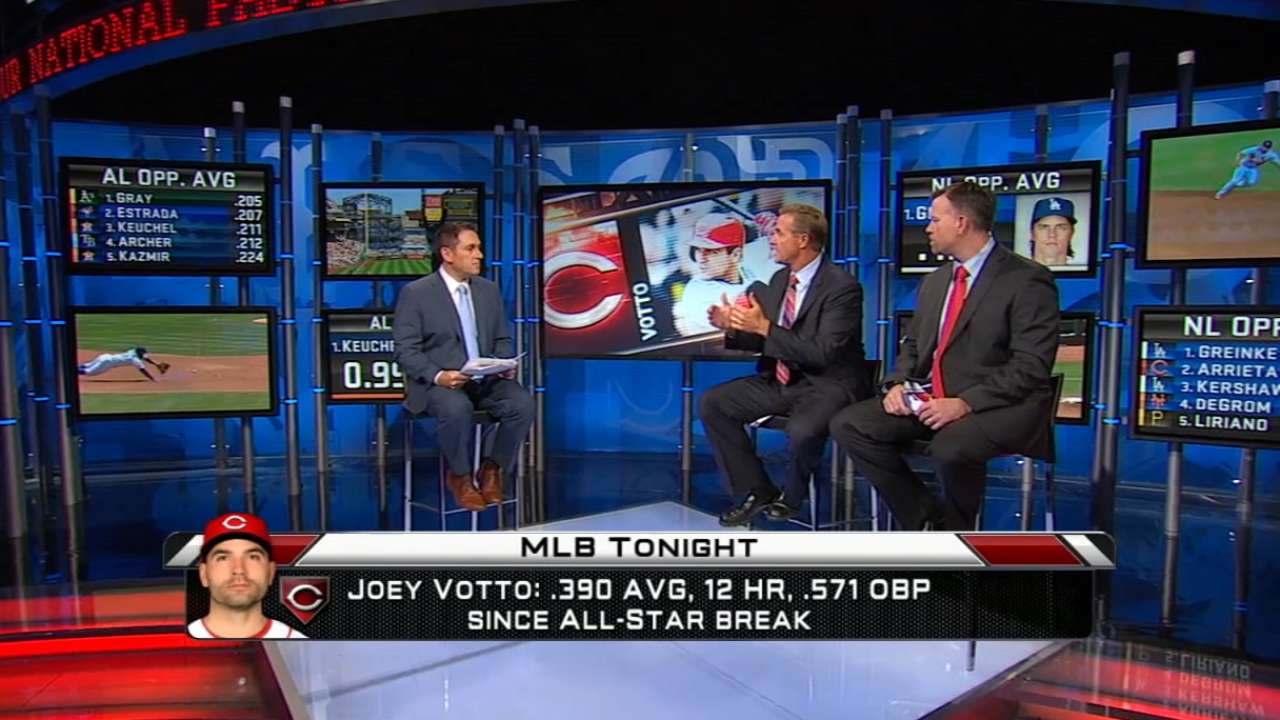 But one thing they can count on is that Votto is the hitter they expected him to be when they signed him to a 10-year, $225 million contract extension rather than risk losing him to free agency after 2013. He's hitting .316 with 27 homers, 30 doubles and 70 RBIs. Votto is leading the NL with 122 walks and has a 1.018 OPS, which ranks behind only Bryce Harper's 1.124.
It's been exactly the kind of season that Votto envisioned when he spent last offseason working with old coaches and friends in Toronto. He said in Spring Training that he felt the hitters he competed against were guys like "Miguel Cabrera and Mike Trout and Paul Goldschmidt" and he has demonstrated that daily.
Cubs manager Joe Maddon is not surprised. Not after watching Votto choke up on the bat and hit a two-strike pitch out of Wrigley Field on a cold night in April.
Really, is anyone surprised that Votto is back, just as competitive and maybe smarter than ever? I asked Votto about his willingness to choke up on two-strike pitches that night in April.
"It's been an evolving process," Votto said. "I have to put the ball in play. I'm not great at it; I'm OK at it. But I feel an obligation to put the ball in play. Whether that happens early in the count or late in the count, so be it. But with two strikes, it's something I certainly focus on."
Votto is under contract through 2023, with a deal that starts paying him $20 million per season next year. That's a lot of responsibility to handle. But there's no questioning how much talent this guy has, nor how much he cares. Votto let us see that for ourselves on Wednesday night.
Phil Rogers is a columnist for MLB.com. This story was not subject to the approval of Major League Baseball or its clubs.