Swihart turning heads with total package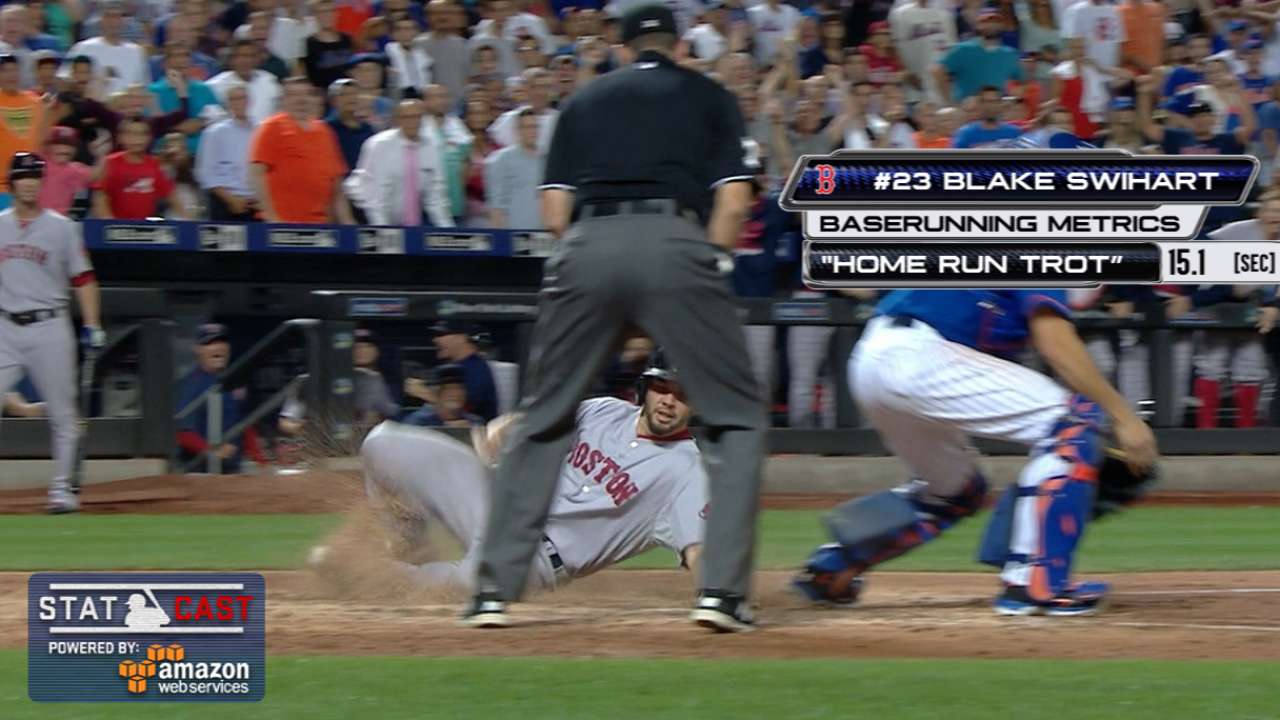 BOSTON -- With unforeseen injuries to the Red Sox's catching core to begin the 2015 season, the arrival in early May of Blake Swihart -- then the club's No. 2 prospect -- left many wondering if the 23-year-old was ready to make such a quick leap to the Majors.
A few months after the callup, Swihart has answered that question in resounding fashion. He's now the team's starting catcher and has the chance to occupy that spot in 2016.
Swihart's priority the first month or so was the pitching staff. He spent hours poring over scouting reports and meeting with pitchers. Now, as Swihart's comfort level with the staff has increased, so has his offensive production.
Swihart had a .207 average with eight RBIs in his first 28 games, but he has posted a .333 average with 17 RBIs in 41 games since. He also ranks first among American League catchers with a .340 average since the All-Star break.
"It was a concern of ours when we first called him up: How is he going to develop and be the best moving forward?" Red Sox interim manager Torey Lovullo said. "His playing time up here was going to be a little bit more limited because of Ryan Hanigan, but Blake's been here, has the experience and has never been overmatched in any regard. You are always worried about that, but he has taken every step forward. He's hit every checkpoint, and this is where he should have been the whole time."
Lovullo has not only watched Swihart build a rapport with pitchers, he's seen changes in the catcher's footwork that have allowed him to be in better positions to block balls.
Those adjustments could be seen in Saturday's game against the Phillies with Wade Miley on the hill. The left-hander tossed his first career complete game with Swihart behind the dish, and he reiterated after the contest that he didn't shake Swihart off once.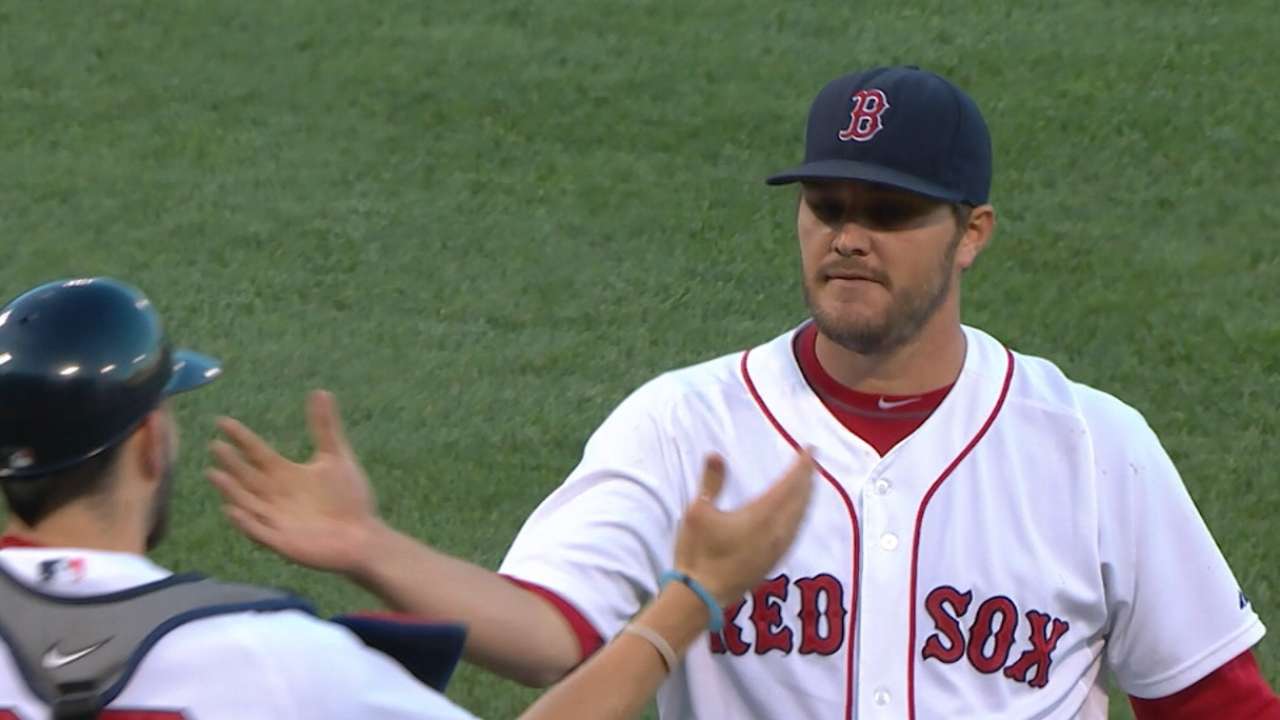 "The more and more I catch these guys, the more I understand what they like to do," Swihart said. "I get to go out there every day and catch them more and more. It gets easier and easier. I know what they like in certain situations."
"He was made to understand that taking care of the pitcher is part of his job," Lovullo said. "He's finally got to a comfort level, and now he's letting the offense play into it. He's looking pretty complete."
Before going hitless in Tuesday's game against the Blue Jays, Swihart had tallied a seven-game hit streak -- four of which were multihit games -- and a 14-game on-base streak in which he hit .451.
When Red Sox hitting coach Chili Davis first saw Swihart in Spring Training, he was immediately impressed by the switch-hitter's swing.
"I love the fact that he doesn't come in and chastise himself. He'll come in and say, 'I just missed that pitch,' or, 'I have to hit that pitch to right-center,'" Davis said. "He's aware of what he's doing up there and why he made an out, which is huge for a young hitter."
Davis believes that keeping Swihart in a routine at the Major League level has helped him use the whole field and allowed him to feel confident every time he steps to the plate.
"I see a kid that can be a very consistent hitter, that could be a Silver Slugger catcher if he wanted to be," Davis said. "He can be one of those kids that can be an impact kind of catcher in his generation."
That kind of high praise will go a long way in determining who will be the starting catcher in 2016, once Christian Vazquez returns from Tommy John surgery.
"All he's done is force some people's hand, because I don't think they planned on him being here that long and doing that well," Davis said. "We've got Vazquez coming back next year and he's very good, as well. It is a great problem, but some decisions will have to be made. One of those two guys has to play every day. We'll see what happens."
Quinn Roberts is a reporter for MLB.com. Follow her on Twitter at @qlr5001. This story was not subject to the approval of Major League Baseball or its clubs.