MLB.com Columnist
Jonathan Mayo
Pipeline Inbox: Which prospect had the most dramatic turnaround?
Jonathan Mayo responds to fans' questions about baseball's future stars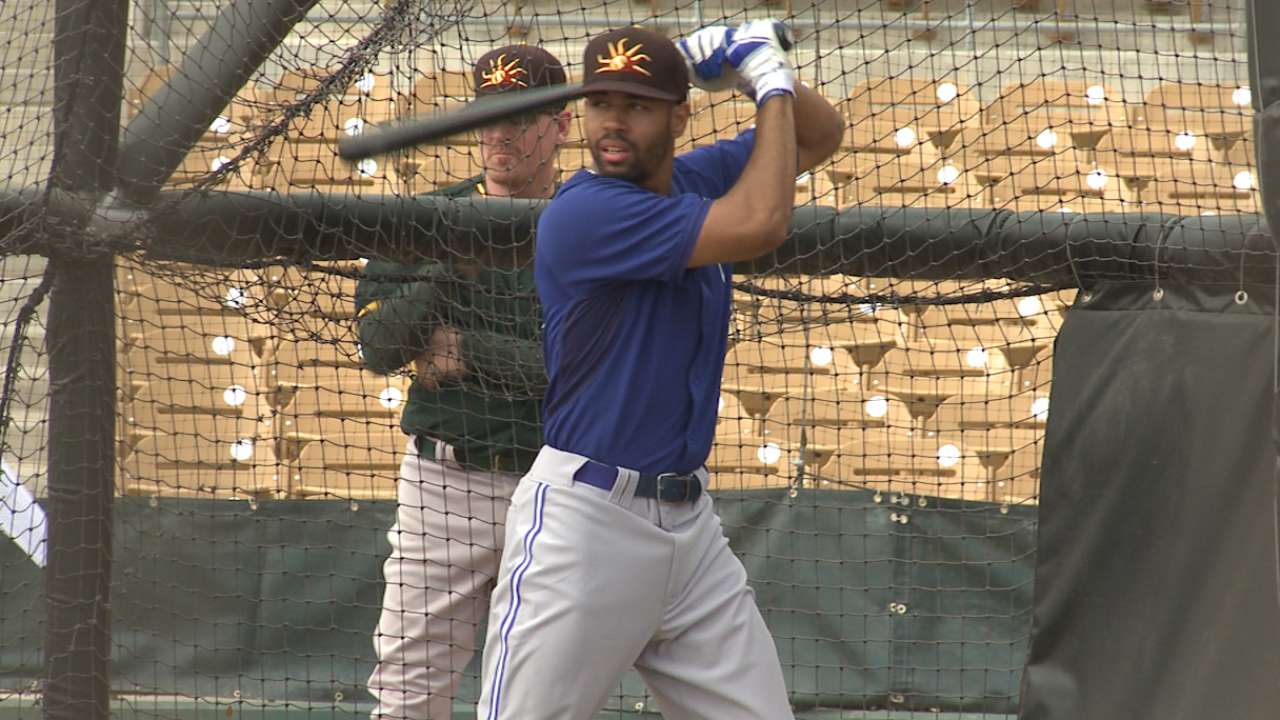 The 2015 Minor League regular season is in the books and the playoffs are going full tilt. It's a good time to take a look back and reflect on the season that was, as well as look ahead a bit to 2016 and beyond.
That's what this week's Pipeline Inbox does, along with a deep philosophical question to close things out.
Which prospect(s) had the most remarkable midseason turnaround (from lost to found)?
-- Jesse G., Lansing, Mich.
It's not uncommon for a player, at any level, to get off to a slow start and have a rough first half. Seeing how a player responds to that adversity, if he can find a way to turn it around in the second half, is something player development folks keep an eye on at all times.
The first player who comes to mind has to be Dalton Pompey. The Blue Jays outfielder, who is No. 47 prospect on our Top 100 list, began the year as Toronto's center fielder. But he hit .193/.264/.337 in the big leagues before getting bumped down to Triple-A. Things didn't get better right away, as the speedster hit just .192/.272/.205 in May with Triple-A Buffalo. It wasn't until Pompey was sent down to Double-A that he righted the ship. Pompey hit a combined .351/.405/.545 with New Hampshire to work his way back up to Triple-A. Back with Buffalo, he hit .327/.414/.414 until getting called up to Toronto when rosters expanded in September.
Pompey certainly wasn't alone. While not an exhaustive list, here are some others who struggled in the first half and found their groove in the second.
Austin Wilson (Mariners' No. 15 prospect): -- .500 OPS in first half; .844 in second
Rio Ruiz (Braves' No. 8 prospect): .587 OPS in first half, .715 in 2nd, helped by a .302/.353/.481 August
Carson Kelly (Cards' No. 18 prospect): .488 OPS in first half; .710 in second
Cord Sandberg (Phillies' No. 20 prospect): .557 OPS in first half; .733 in second
Nick Ciuffo (Rays' No. 20 prospect): .532 OPS in first half; .667 OPS in second (hit .226 in 1st half, .295 in 2nd)
When do you expect Julio Urias to be in the Majors?
-- Josy B., Chino Hills, Calif.
If it were up to Jim Callis, it'd be yesterday. Seriously, Jim listed Urias as one of six prospects he'd like to see called up, and it's the second year in a row he's advocated for the move!
Actually, I agree that Urias could've potentially helped the Dodgers down the stretch in a (short-term) bullpen role. But the No. 2 Dodgers prospect also just turned 19 in August, and after elective eye surgery kept him out for a long spell this season, he's thrown just 80 1/3 innings. Most of those came in the Double-A Texas League, where Urias was once again dominant. He made two rocky starts in Triple-A, but he should get the chance to right the ship in the Pacific Coast League playoffs.
Despite his age, Urias isn't far off. His stuff, polish and command combined make him the best left-handed pitching prospect in the game and the second-best pitching prospect of any sort (behind only Lucas Giolito). Urias has a nasty three-pitch mix and throws strikes with all of them.
The Dodgers have been trying to manage Urias' innings, but that hasn't slowed him down. So even though he'll still be a teenager, I fully expect you'll see him in Los Angeles at some point in 2016.
The Arizona League Royals went 40-16. That seems pretty good. Who on that team should Royals fans be excited about?
-- Jeff M., Kansas City
The Royals' team in the Rookie-level Arizona League did indeed have a fine season, finishing with the best regular-season record in the AZL. They did lose in the playoffs, to the eventual champion White Sox, but that does nothing to diminish a short season for many players just getting started in the pro game.
Interestingly, there wasn't a single member of the Royals' Top 30 Prospects list, though 2015 draftee Josh Staumont made his debut there. That doesn't mean there weren't talented players on the roster who should be watched in 2016 and beyond. Here are a few to keep an eye on:
Ricky Aracena, SS: He's known as "Little Furcal." A switch-hitter, he has good speed (when not slowed by a leg issue this summer) and excellent defensive skills.
Rudy Martin, OF: A late-round pick in the 2014 Draft who signed a 2015 contract, he finished fourth in the AZL in batting average and second in OPS, then moved to the Pioneer League near the end of the season to help Idaho Falls in its playoff run. He's a Ben Revere type who is a good catalyst.
Gerson Garabito, RHP: He's a righty with a live arm and good secondary stuff. He was the anchor of the AZL Royals' staff all summer.
Arnaldo Hernandez, RHP: Hernandez, like Martin, got bumped up to Idaho Falls near the end of the summer, but not before posting a 68/5 K/BB ratio in the AZL, thanks to good pitchability and two above-average secondary offerings.
Franco Terrero, RHP: He reminds the Royals of a Kelvin Herrera type. He has a big fastball and shows no fear on the mound.
Is a hot dog a sandwich?
-- Keith L., Wilmington, Del.
This is an issue that has been troubling the great minds of our world over the years. My first instinct was that no, a hot dog is not a sandwich. It's a hot dog. End of story.
Then I dug a little deeper. There are many definitions out there that define a sandwich as consisting of two pieces of bread. But the Merriam-Webster definition states: "Two or more slices of bread or a split roll having a filling in between."
Using that definition, then a hot dog certainly falls in that category. Maybe it needs its own subsection of sandwich-ology, but if nothing else, this exercise has taught me to keep an open mind and think outside the box a little bit more.
Jonathan Mayo is a reporter for MLBPipeline.com and writes a blog, B3. Follow @JonathanMayo on Twitter. This story was not subject to the approval of Major League Baseball or its clubs.