MLB.com Columnist
Roger Schlueter
Stats of the Day: Ortiz closing in on 500 HR
Papi clubs No. 498; having one of top power years for hitter in age-39 season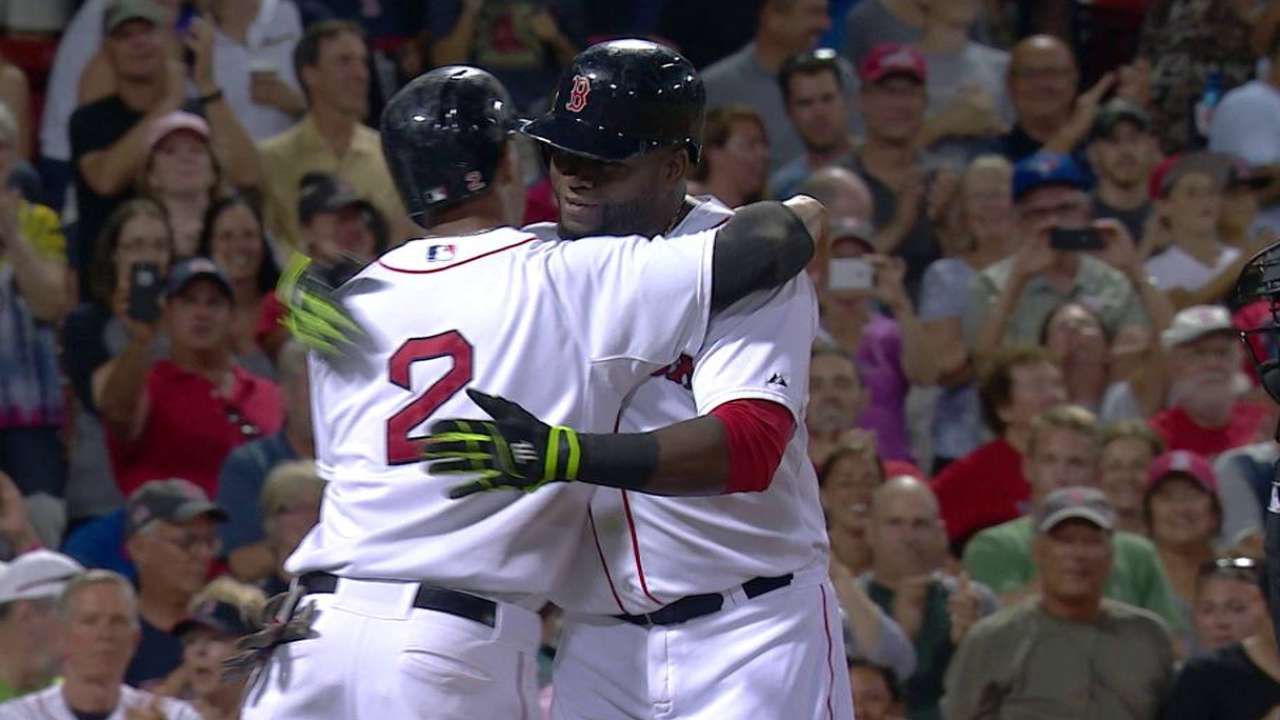 Here are five interesting items from around the big leagues on Wednesday …
• In the Red Sox's 10-4 win over the Blue Jays, David Ortiz climbed to within two big flies of the 500-homer club. Ortiz's 498th career home run gave him 1,093 extra-base hits to tie Dave Winfield for 20th all-time. With his 32 homers this year, Ortiz tied Willie Stargell (32 homers in his age-39 season in 1979) for the fifth most by any player in an age-39 or older season. Only Barry Bonds (45 homers in his age-39 season in 2004), Hank Aaron (40 homers in his age-39 season in 1973), Steve Finley (36 homers in his age-39 season in 2004) and Darrell Evans (34 homers in his age-40 season in 1987) had more.
• Bryce Harper homered twice and added a double in the Nationals' loss. Harper's 36 homers tie him with Alex Rodriguez (1996) and Mike Trout (2014) for the 14th most for a player in an age-22 or younger season, and his 71 extra-base hits tie him for the 32nd most for any player in an age-22 or younger season. Harper is the sixth player to be in an age-22 season or younger and collect at least 70 extra-base hits and at least 100 walks, and his .657 slugging percentage ranks third all-time since 1893 for any qualifying batter in an age-22 season or younger, behind only Hall of Famers Ted Williams (.735 slugging percentage in 1941) and Joe DiMaggio (.673 slugging percentage in '37).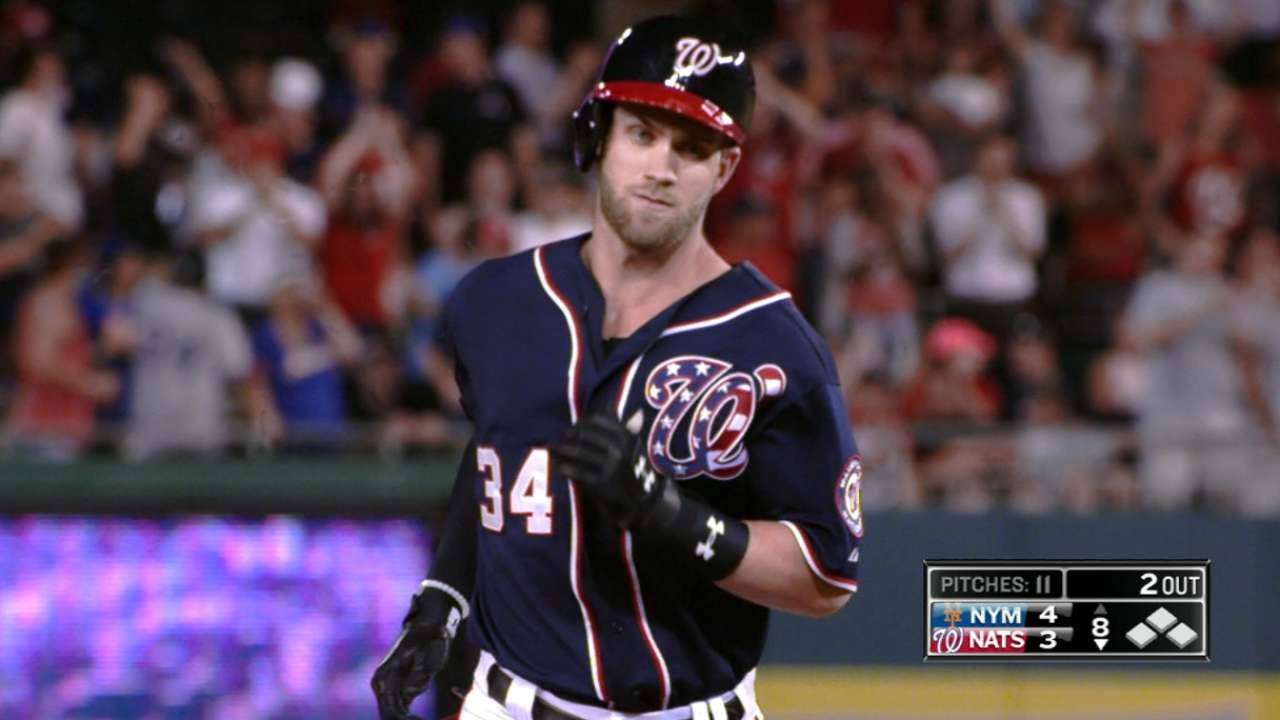 • Brad Ziegler worked a flawless 1 2/3 innings in the D-backs' 2-1 win over the Giants -- a strikeout-free effort that procured his 25th save of the season and 23rd straight conversion. He is five behind J.J. Putz's team record of 28 consecutive conversions, set in 2011-12. Among 23 pitches who have collected at least 25 saves this season, Ziegler's 13.2 percent strikeout rate is the lowest, with only Pittsburgh's Mark Melancon also below 20 percent. The other 22 pitchers with at least 25 saves have a collective strikeout percentage of 29.3.
• In the Mets' 5-3 win over the Nationals, Yoenis Cespedes singled, homered and drove in two runs. The Mets' second half to the season began on July 17, while Cespedes' first game with New York came on Aug. 1. Despite having a two-week delay, Cespedes leads the Mets in second-half homers (14), second-half RBIs (36) and second-half total bases (106), and he is tied with Curtis Granderson for the team lead in extra-base hits (26) since the All-Star break. The Mets are 25-11 when Cespedes plays.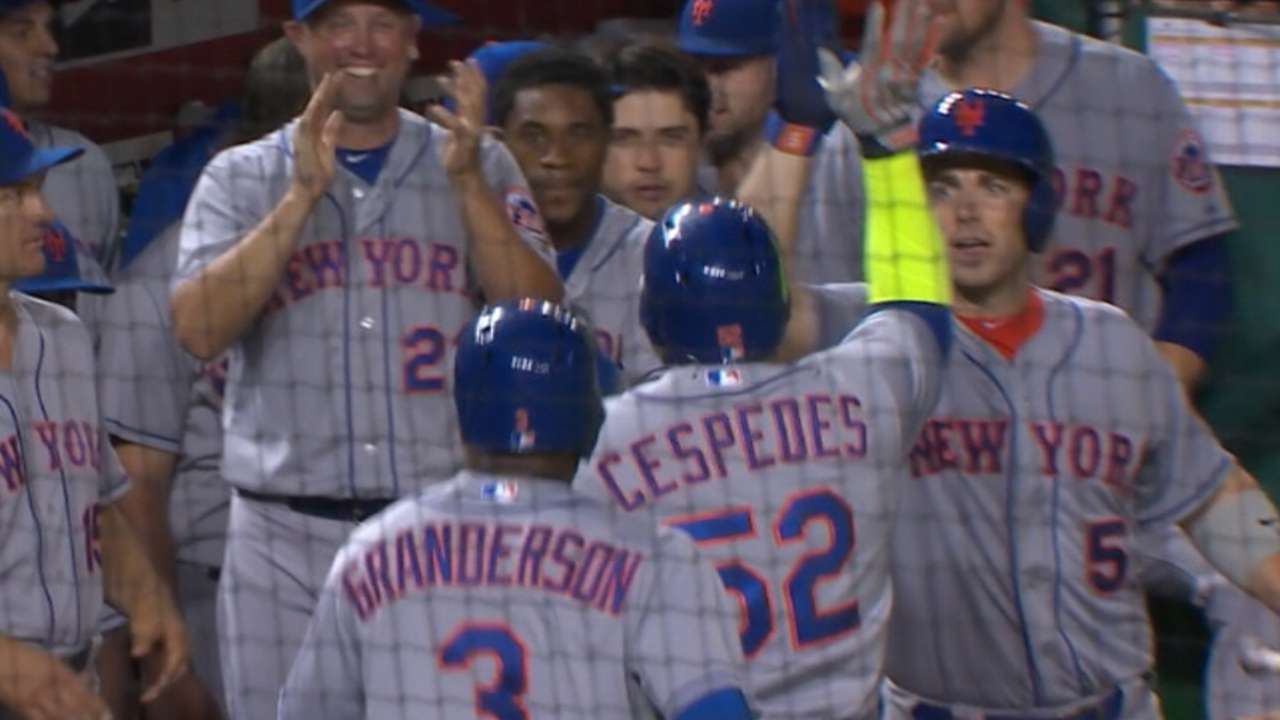 • In the Astros' 11-5 win over the A's, right-hander Collin McHugh recorded his 16th victory of the season. McHugh and Dallas Keuchel (17-6) give Houston a pair of 16-game winners for the first time since 2005, when Roy Oswalt won 20 and Andy Pettitte notched 17. From 2006-14, there was only one Astros pitcher to win at least 16 games: Oswalt won 17 in '08.
Milestone watch for Thursday
• With three strikeouts, Jake Arrieta will have his first career 200-strikeout season. With a win, Arrieta will have his 19th victory of the year. The most recent Cubs pitcher to have at least 19 wins and 200 strikeouts in a season was Fergie Jenkins in 1971.
• A.J. Burnett needs two strikeouts to tie Don Drysdale (2,486) for 32nd all-time.
Roger Schlueter is a contributor to MLB.com. This story was not subject to the approval of Major League Baseball or its clubs.