Astros' 11 10-homer players ties league mark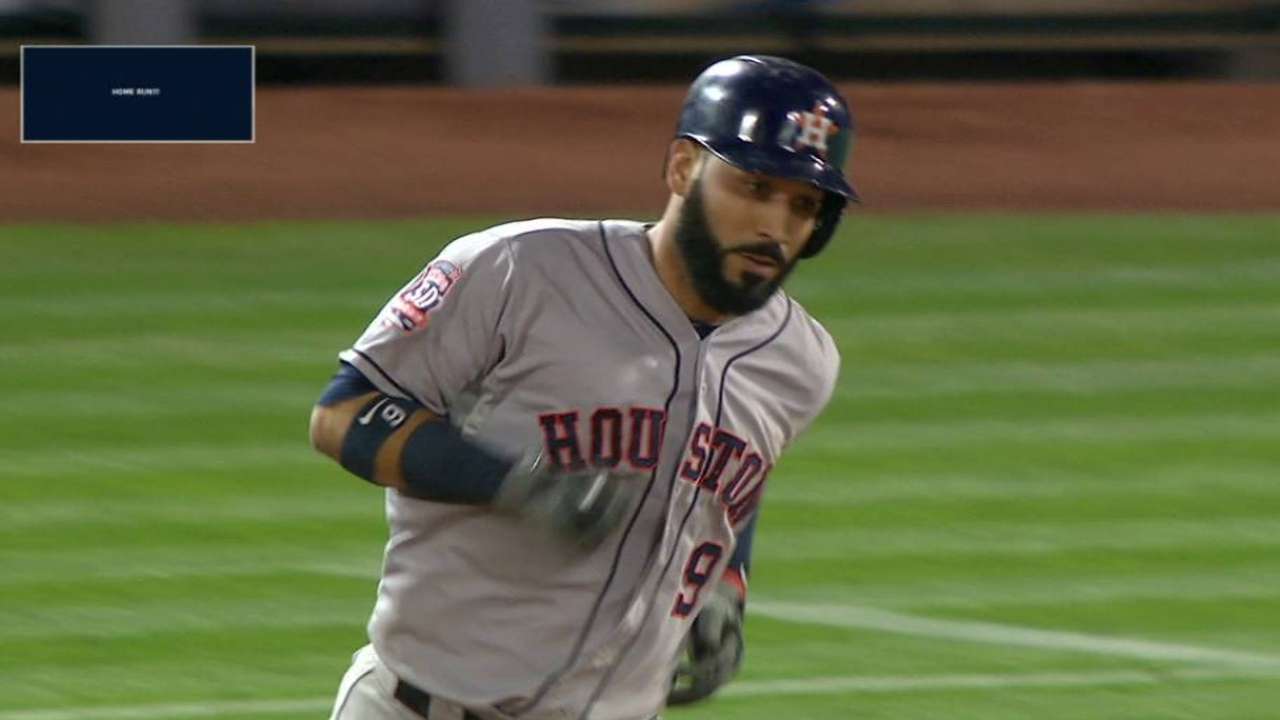 OAKLAND -- With one powerful swing, Marwin Gonzalez helped Houston match a Major League team record, becoming the 11th Astros player to record double-digit home runs this season, tying the mark set by the Detroit Tigers in 2004.
The Astros' first baseman sent a Fernando Abad fastball over the wall in left-center in the seventh inning for his 10th home run of the year in Houston's 11-5 win over Oakland at the Coliseum.
"It's a pretty cool stat," said catcher Hank Conger, who had four RBIs Wednesday night. "If you look up and down the lineup, I think it really shows there are no holes. … Anytime, any player on the team can really hit a home run and change the game."
Cut4: Astros celebrate homers by gobbling Gummy Bears
Gonzalez's blast put the Astros in a tie with the Blue Jays for first in the Major Leagues in home runs (192). It also marked the third most home runs the team has hit in franchise history.
"It hasn't been just one or two guys pulling the strings," said Colby Rasmus, who hit his 19th homer of the year. "It's been everyone contributing every given night."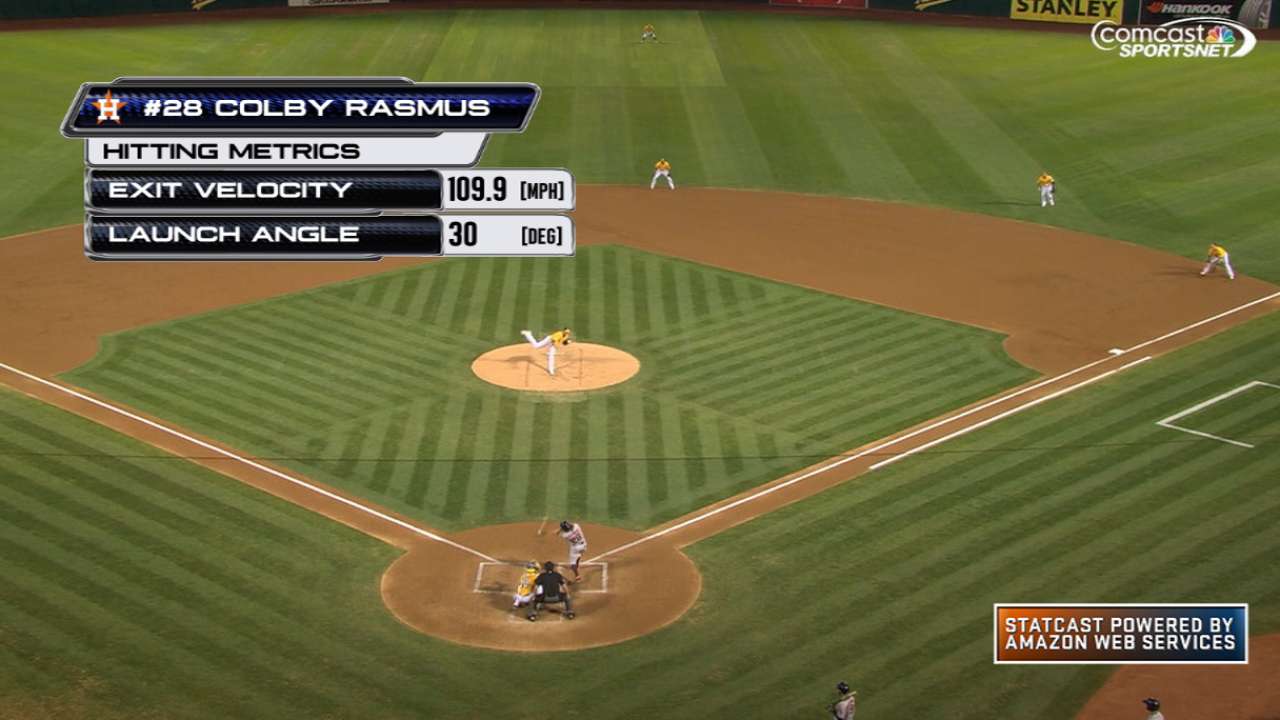 Evan Gattis and Carlos Gomez also homered for Houston, which padded its lead for first place in the AL West over the Texas Rangers to two games. The Astros improved to 63-28 when hitting a homer versus 13-26 when they do not.
"Obviously, the long ball is a big part of our offense," manager A.J. Hinch said. "It's not the only way we score, but … it's a real threatening offense throughout the order [in] that if you make a mistake, we can hit it over the fence."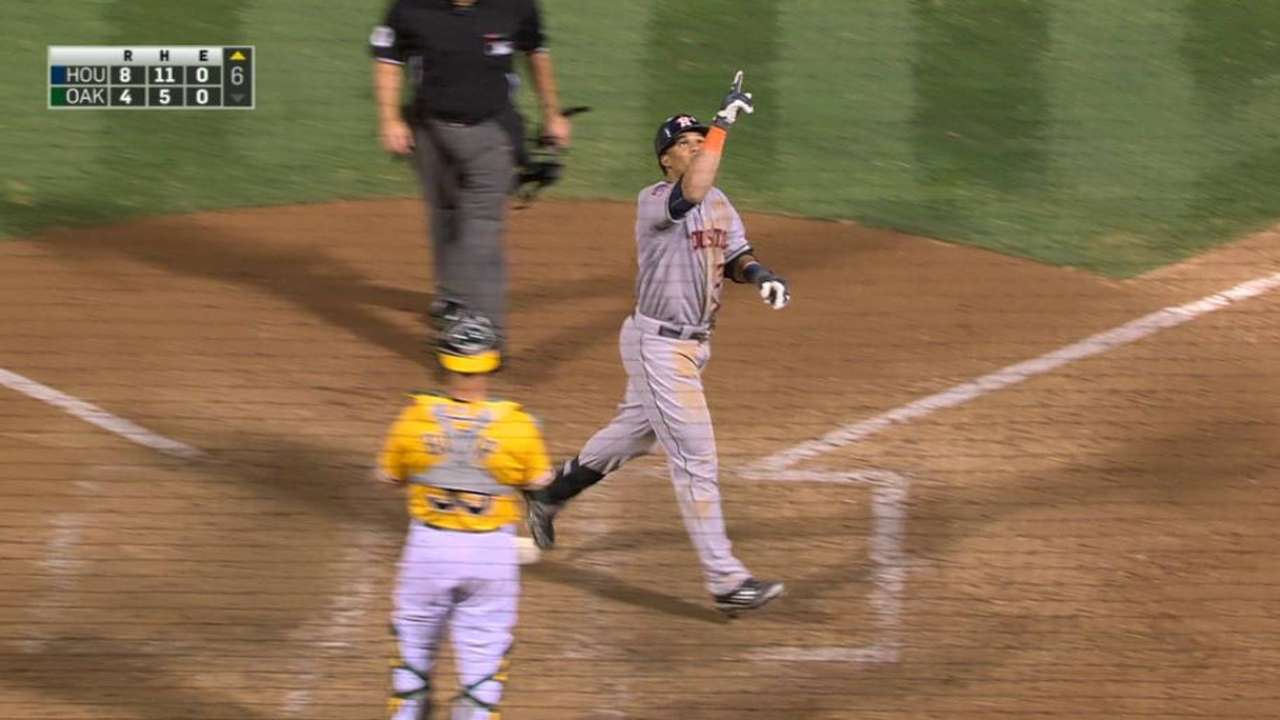 The Astros' reliance on the long ball has been what critics turn to when trying to find the club's weakness, but the guys in Houston's locker room see it differently.
From the top of the order to the bottom, each hitter has the ability to knock the ball out of the park, making for a dangerously potent lineup down the stretch.
"We always know that if we're within three, four runs late in the game, we always have a fighting chance," Conger said. "We have 11 guys who could hit a homer at any time."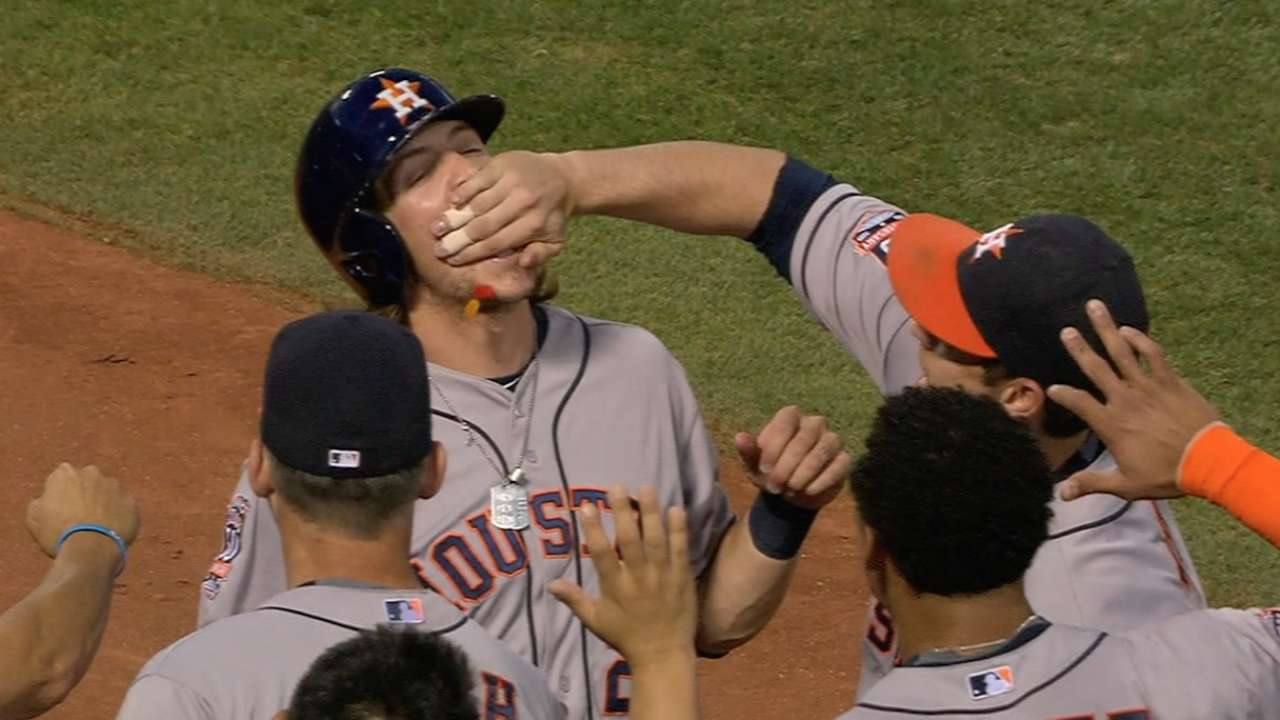 Even more impressive, perhaps, is how close Houston is to breaking Detroit's feat. The Astros need just one home run from outfielder Jake Marisnick to surpass the Tigers' 11-year-old record, with 22 games to play.
Infielder Jed Lowrie, with eight homers on the season, is also close to helping Houston break the record.
"A couple guys are close to 10," Hinch said. "We just have a lot of power."
Oliver Macklin is an associate reporter for MLB.com. This story was not subject to the approval of Major League Baseball or its clubs.