Vogt back with A's after 'scary situation'
Oakland C to be eased back after taking foul ball to groin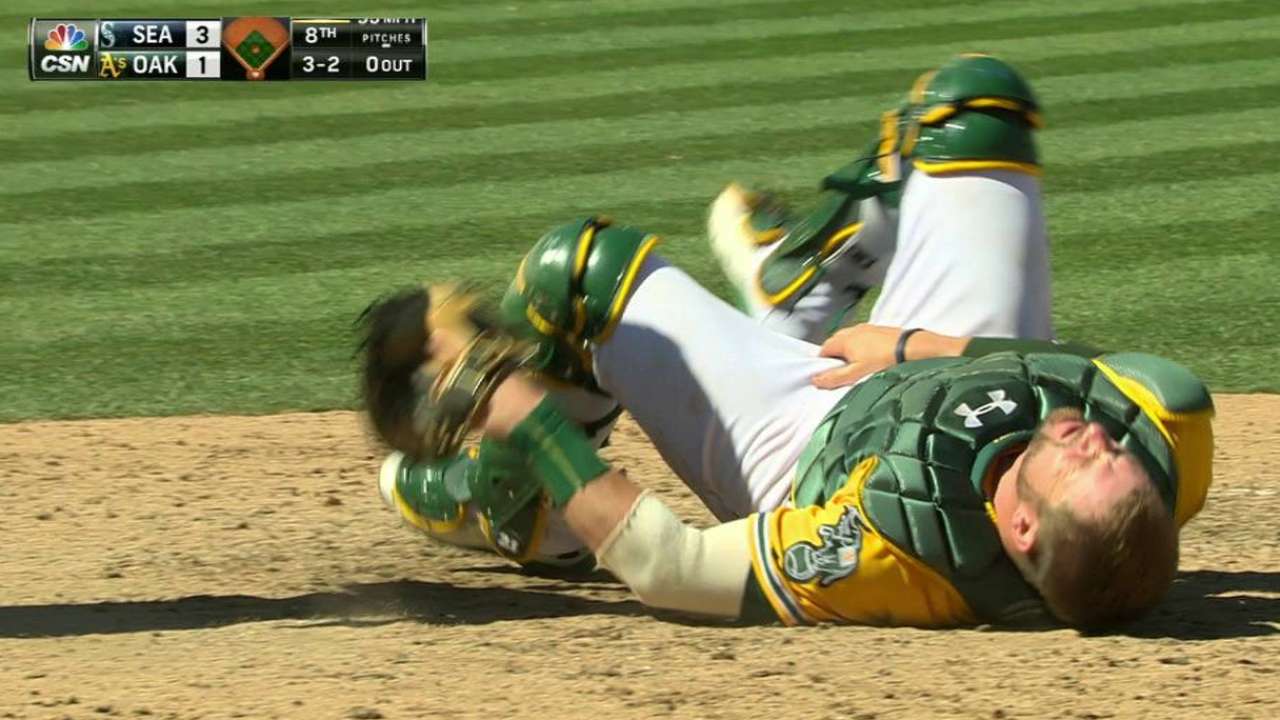 OAKLAND -- A's catcher Stephen Vogt won't be rushed back into service any time soon, especially after taking a foul tip to the groin on Sunday that cost him at least the Astro series, and possibly a few more games in Texas.
Vogt was back with the A's to witness Wednesday's 11-5 loss to the Astros and he acknowledged still feeling the pain of getting hit off the bat of Seattle's Ketel Marte. The evidence is clearly marked on his protective cup.
It will be a tender few days before Vogt figures to return to any kind of action.
"I've taken so many shots to the cup," he said. "This one was direct, 93 [mph] if not harder with the redirection from the bat. I've never been hit that directly with that much velocity. The pain is indescribable."
It could have been worse. A's manager Bob Melvin, a former catcher himself, feared it might be a while.
"Fortunately the tests came back with no fracture or rupture, just a really bad contusion," Vogt said. "I'm just lucky and fortunate it wasn't a surgery-requiring or a removable injury, because those have happened."
Vogt hasn't done much of anything since the injury and won't push himself too hard. There's still some swelling and he's walking slower than usual. He can't fathom getting behind the plate any time soon.
"Right now the thought of getting back there makes me nauseous," Vogt said.
Melvin has already decided to take the cautious approach in dealing with his All-Star.
"I'll probably ease him in once he starts playing again, whether it's a DH role, a little bit at first, before we get him behind the plate, which is a little easier to deal with," Melvin said. "We're feeling better about where he is today as opposed to the last couple days."
Vogt was examined again in the training room Wednesday and expected to resume some baseball activities and hitting during the A's road trip through Arlington, Chicago and Houston.
"It's just really good to see him back in here," A's catcher Josh Phegley said. "That was a scary situation. You can tell he wants to be in here, he wants to be back but he's got to play it safe for his health."
Rick Eymer is a contributor to MLB.com. This story was not subject to the approval of Major League Baseball or its clubs.