MLB.com Columnist
Lyle Spencer
Richards' gem marred by bookend mistakes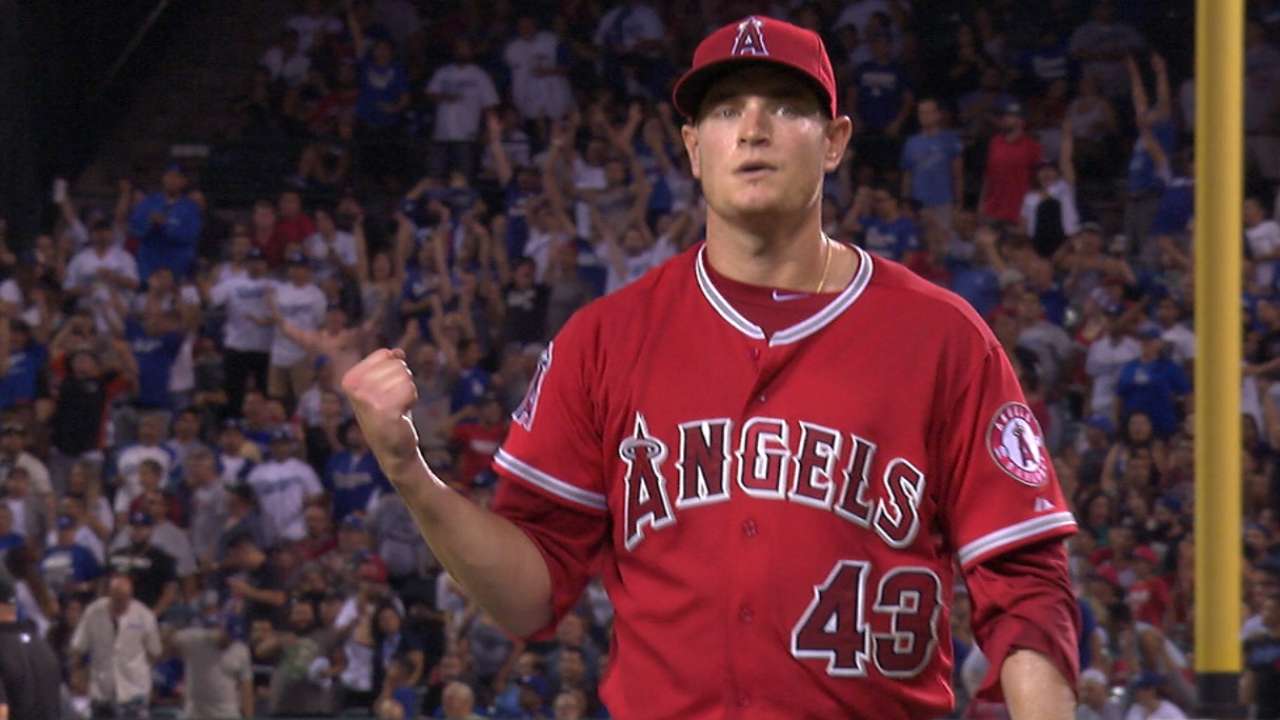 ANAHEIM --The Angels' Garrett Richards threw 107 pitches on Wednesday night between the two he will have trouble getting out of his head for a while.
If not for a first-pitch fastball to the Dodgers' Scott Schebler and a last-pitch curveball to Chase Utley, this could have been the best performance of Richards' career, given the urgency of the circumstances.
Schebler homered to center leading off the game. Utley sent Richards' final delivery into the left-field corner with two down in the eighth inning, delivering Joc Pederson with a tying run for the Dodgers.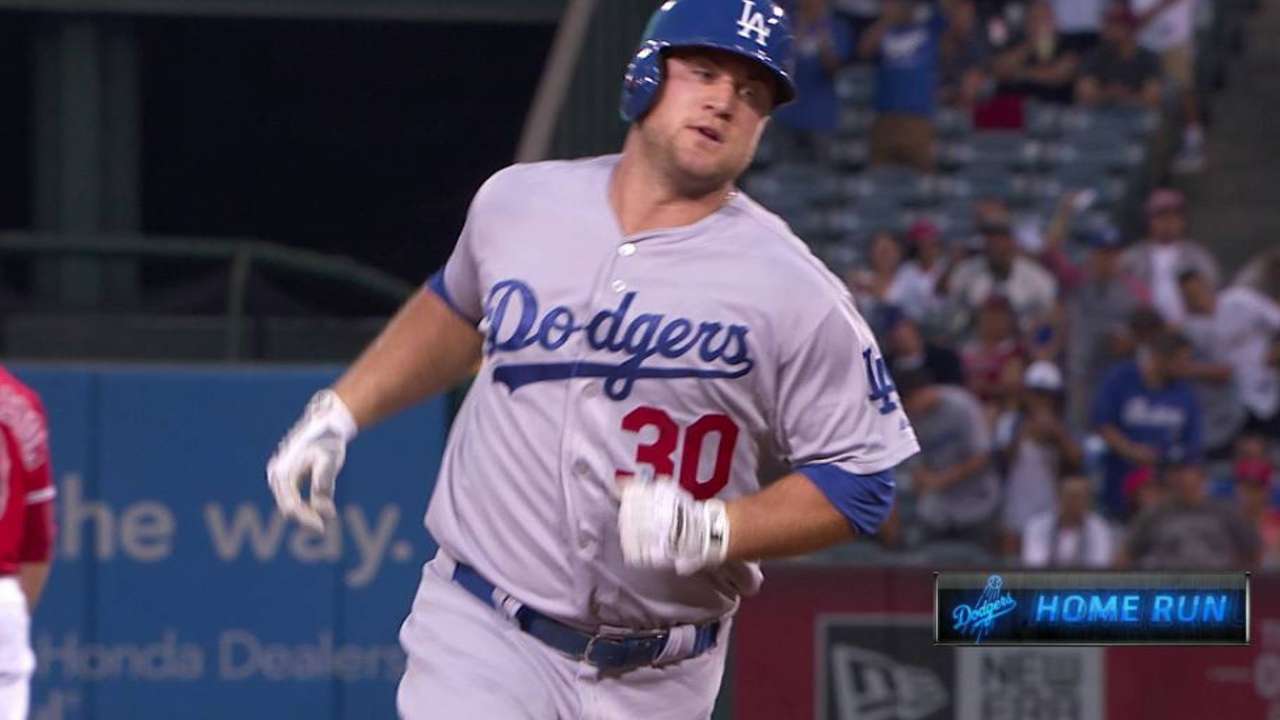 In one of those peculiar injustices of the game, Richards wasn't awarded the win when the Angels rallied in the bottom of the eighth against the Dodgers' bend-and-sometimes-break bullpen to claim a 3-2 victory and avoid a sweep by their geographical rivals.
"My job is to keep us in games," Richards said. "We won. That's all that matters."
Reliever Jose Alvarez threw 105 fewer pitches than Richards but snatched the win by striking out Adrian Gonzalez to close the eighth. When Kole Calhoun doubled leading off the home half against Luis Avilan, took third on right fielder Andre Ethier's bobble and scored on Albert Pujols' single, it was left to Huston Street to finish it off for his 33rd save.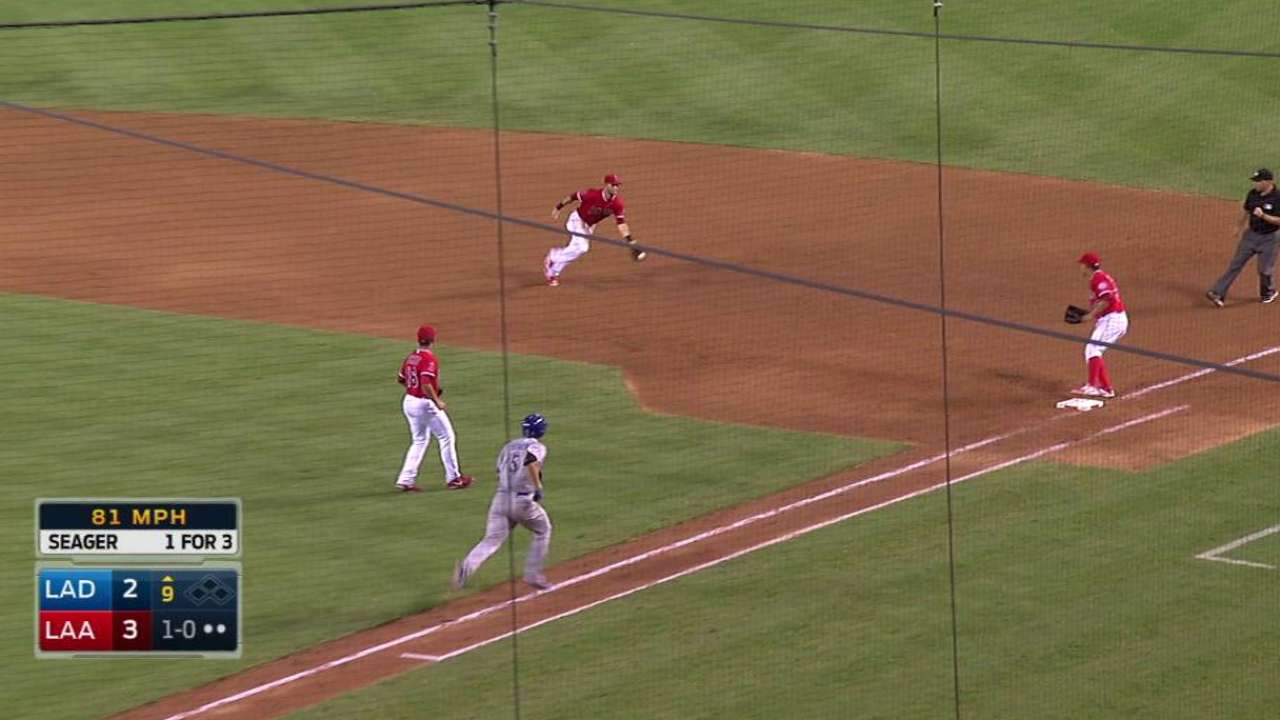 The stars were shining brightly, but this was all about the will and power of Richards. The 27-year-old right-hander, not quite 13 months removed from major surgery on his left knee, has traveled a long, hard road back from that Aug. 20, 2014 nightmare at first base at Fenway Park.
Matching a career high with 11 strikeouts in 7 2/3 innings, Richards showed he is all the way back to the form that had made him an elite pitcher before the crash in Boston.
"That's who I am," Richards said in response to a question about holding his mid-90s fastball all the way. "I take pride in maintaining my velocity throughout the game. I felt good with all my stuff tonight. I was able to get ahead early and put guys away."
Holding the Dodgers to four hits and three walks, Richards notched the biggest of the 11 strikeouts against Gonzalez.
The National League leader in RBIs with 320 since coming to Los Angeles from Boston on Aug. 25, 2012, Gonzalez was victimized in the sixth inning on a slider with two on and one out. When Justin Turner's deep fly ball was run down on the track in center by Mike Trout, Richards' one-run lead was preserved.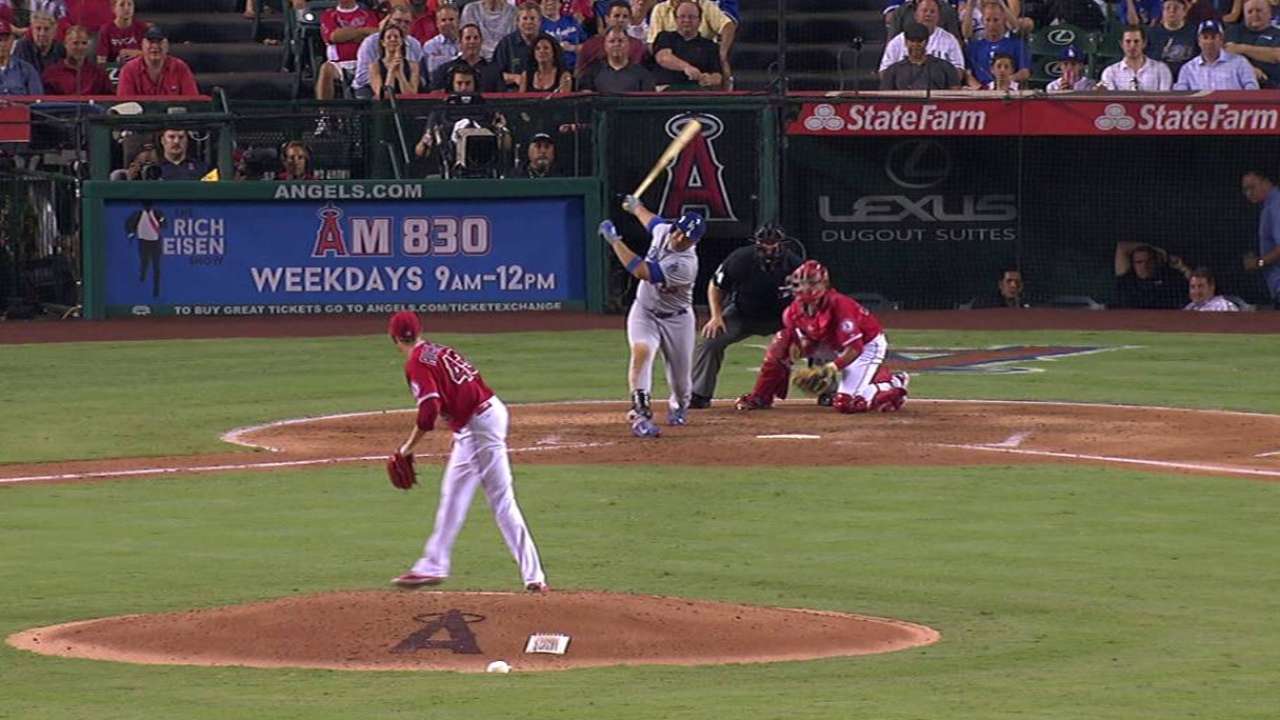 "He was a little different this time around than the last time we faced him," Turner said. "He was cutting all of his pitches, instead of sinking them."
Richards sailed through the seventh, but it got away in the eighth on Pederson's leadoff double to left and Utley's double the same way, to the opposite field, on a 1-2 curve.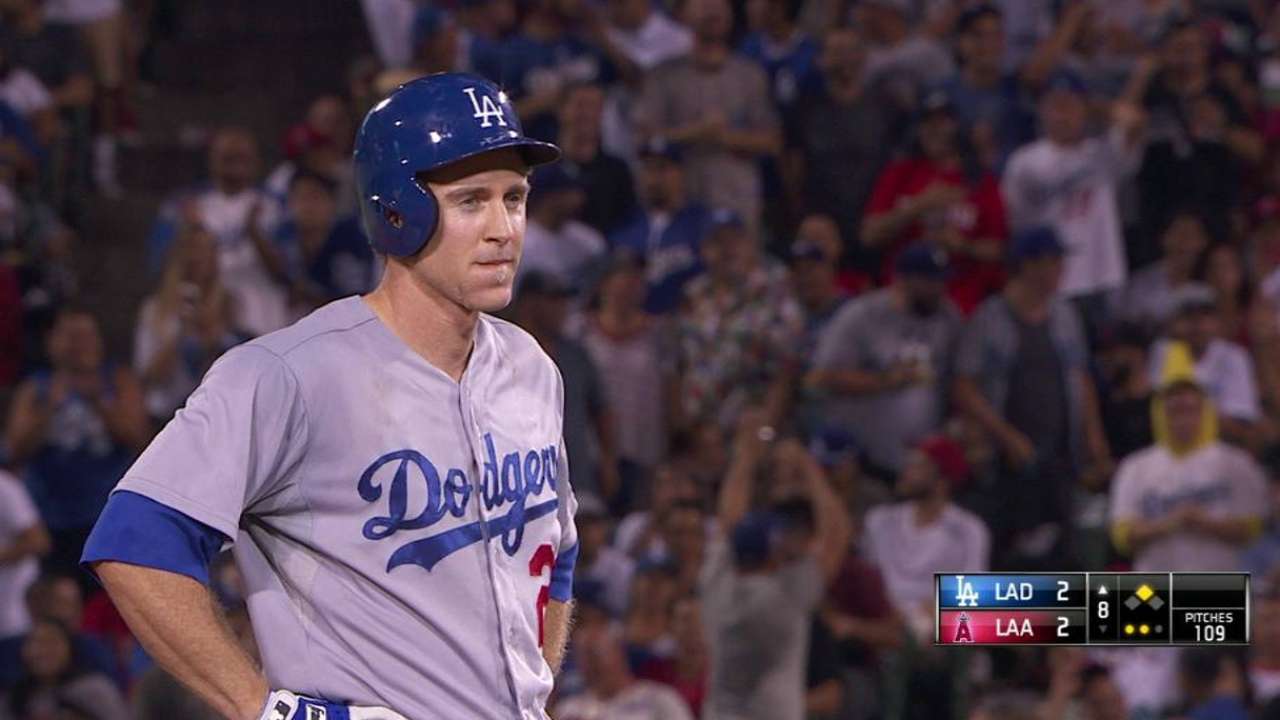 "I probably hung it a little more than usual," Richards said. "I was one pitch away from getting out of it."
The Angels remain 5 1/2 games behind the Astros in the American League West but picked up a game in the Wild Card chase, moving to within 3 1/2 games of the Rangers for the second spot.
"We've got a ton of experience in our locker room," Richards said. "That's why nobody's panicking."
Back in prime form, Richards gives the Angels a hammer at the front of the rotation.
"That was a tremendous outing for Garrett," Angels manager Mike Scioscia said. "Early in the game he was trying to find his release point. He was throwing hard and really spinning it well. After the leadoff home run, he methodically got in his game.
"That's what a lead dog in a rotation does, what Garrett did tonight. You get a lead and you shut down a good offense they have over there."
Just as Justin Ruggiano had done on Tuesday night against Andrew Heaney, Schebler opened the game with a bomb. It was a first-pitch ambush.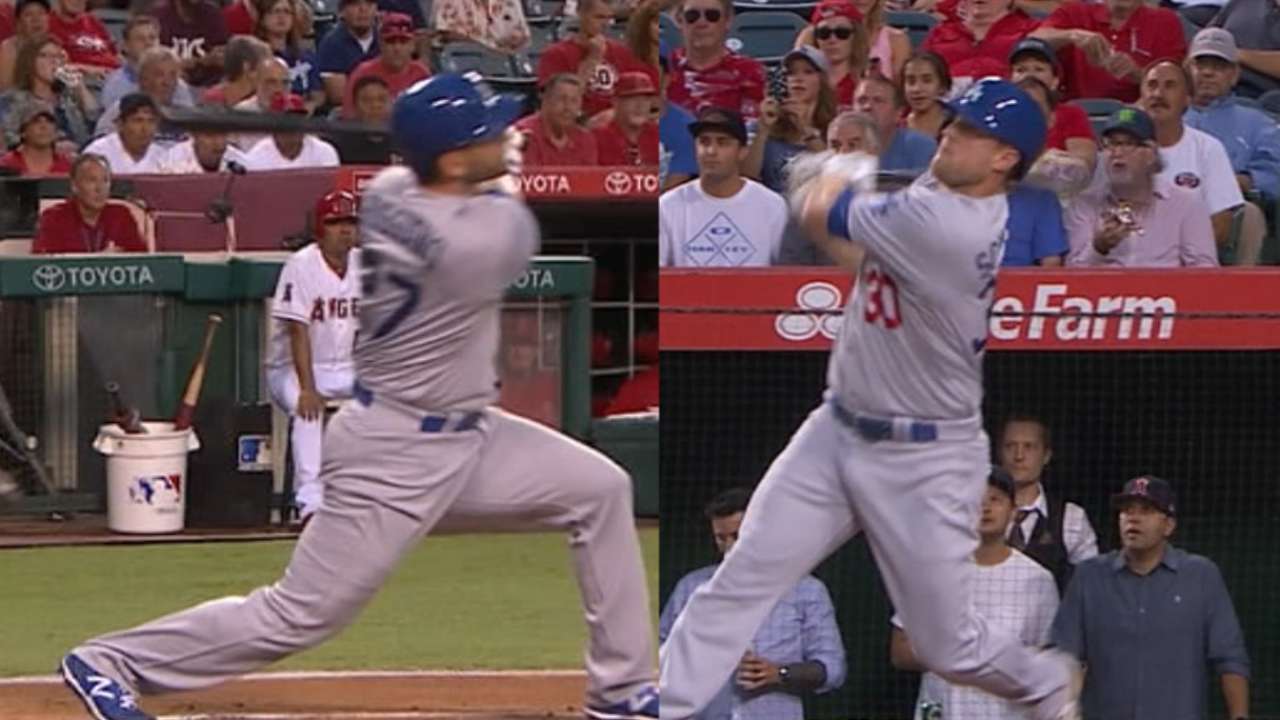 "What are you gonna do?" Richards said. "I'm trying to get ahead early [with a 97 mph heater] and he put a good swing on it."
Richards notched two strikeouts in the first, two in the second, two in the third. He got out of the fourth with a double-play grounder. He picked off rookie Corey Seager after a leadoff single in the fifth on a review, escaped the sixth and blew through the seventh.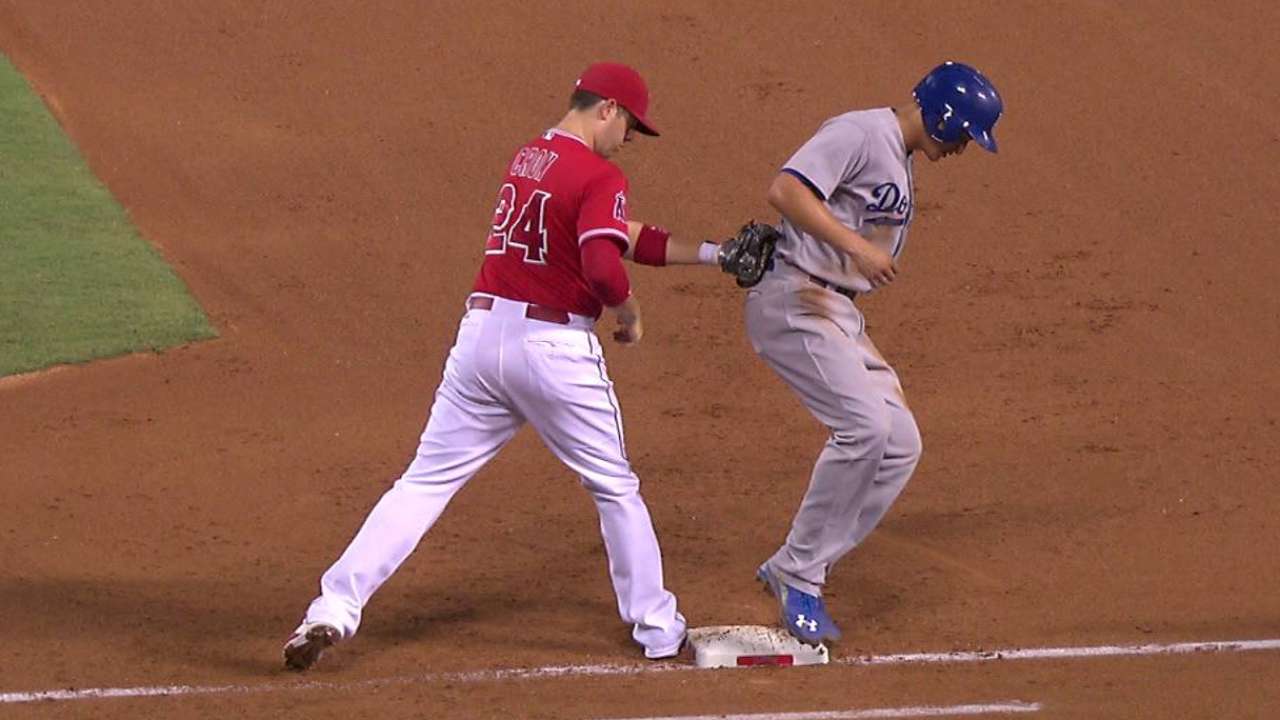 "He wanted the ball to start the eighth inning," Scioscia said. "It's hot and he's getting into a range of pitches where you're looking at how the ball's coming out of his hand. He did a great job but just couldn't finish off Chase Utley."
Richards might not have gotten the W he wanted -- and deserved -- but the Angels got what they needed: some satisfaction.
Lyle Spencer is a national reporter and columnist for MLB.com. Follow him on Twitter @LyleMSpencer. This story was not subject to the approval of Major League Baseball or its clubs.