Highs and lows for Trayce, all in one game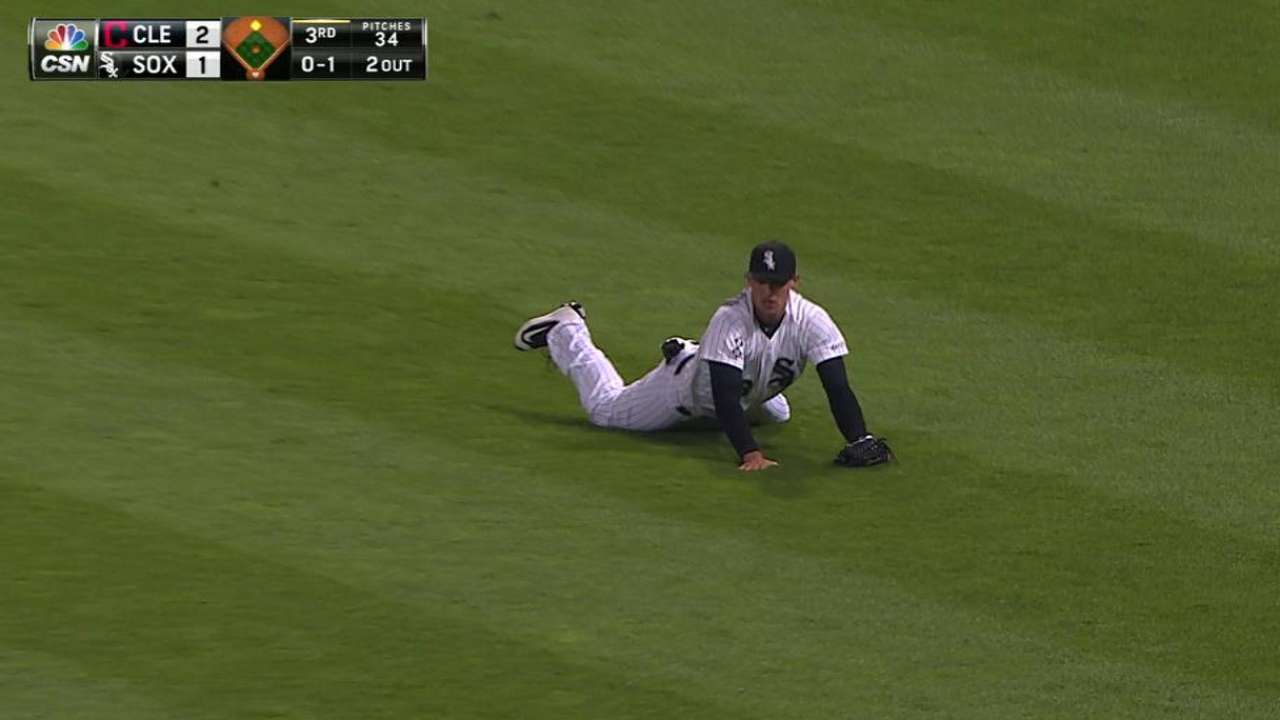 CHICAGO -- White Sox rookie Trayce Thompson was composed in the clubhouse after Wednesday's 6-4 loss to the Indians, but he knew that his first error of the season had come at a bad time.
In 22 games this season, Thompson had not committed an error while playing all three outfield positions. But with Chicago trailing by one run in the eighth, he couldn't field a single to right field cleanly, and two runs scored while he chased the ball to the wall.
"I just had my mind focused too much on the runner," Thompson said. "And that's not necessarily a bad thing, but you have to catch the ball first. It happens. It's going to happen again, I'm sure, in my career. It's just terrible timing."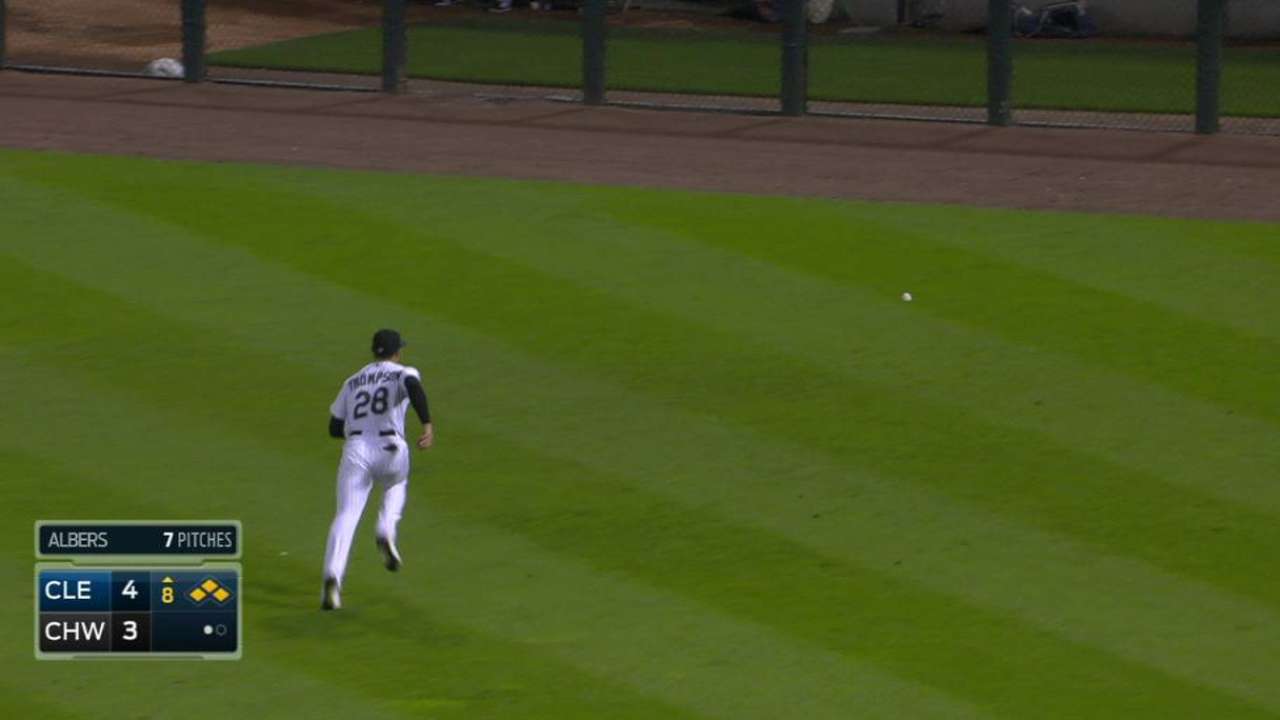 The miscue overshadowed what was otherwise a productive day at the plate for Thompson, who finished 2-for-4 with two RBIs and a home run and made a diving catch in right. It's all part of the learning curve as he looks to make an impact in his limited time with Chicago.
Thompson, who bats right-handed, has been used primarily against lefties, starting just 12 games. But he was inserted into the lineup with Cleveland right-hander Josh Tomlin on the mound, a sign of growing confidence from manager Robin Ventura.
Since his debut, on Aug. 4, Thompson has hit .408 with a .453 on-base percentage, three home runs and 10 RBIs.
"That [error] ends up biting you, but all the way around, it's not going to keep him from playing," said Ventura. "He's a good player, and you know, we all make mistakes, but we like the way he's been playing. It's an unfortunate play, but he's going to bounce back from it. He'll be fine."
Thompson battled through a 1-2 count for his home run into left field during the fourth inning. And after the Indians worked out a plan against him for his next two at-bats -- he reached on an error and grounded out in a fielder's choice -- he adjusted and hit an RBI single in the ninth.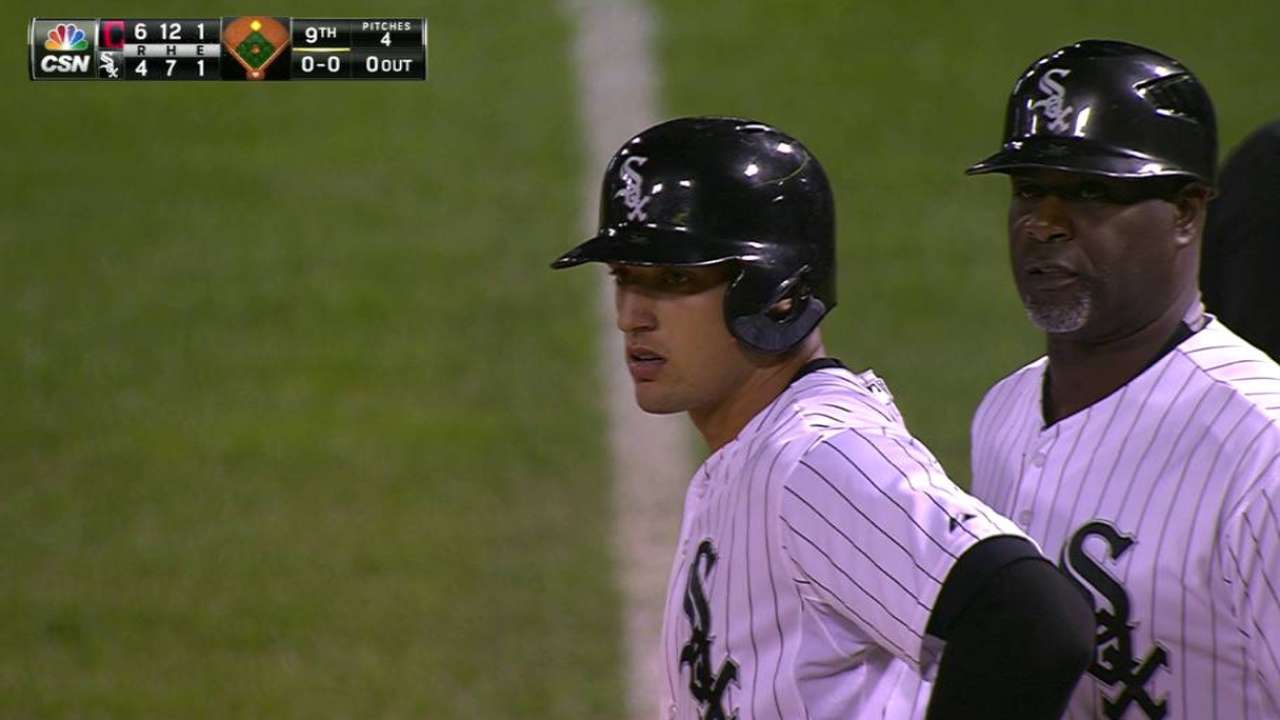 And despite the error, Thompson did have a chance to show off his defensive skills earlier in the game, laying out in the third inning to make a great catch on Michael Brantley's blooper to shallow right field to end the inning.
"I just try to keep it simple," he said. "It's the same game up here as it was in the Minor Leagues. Like I said, stay aggressive at the plate and on defense. It was an unfortunate situation and I was too aggressive, but I've just got to stay within myself, and I feel like I've done a good job of that."
Still, he's remained grounded in his short time with the White Sox. After the game he was quick to acknowledge his error and even quicker to move on.
"There's stuff every day that I'm still learning," he said. "I'm not even close to a finished product. So I'm just trying to soak it all in, learn as much as I can and get better every day."
Greg Garno is an associate reporter for MLB.com. This story was not subject to the approval of Major League Baseball or its clubs.