Rookie Garneau hits first big league homer
Catcher spent seven years in Minor Leagues before getting to Show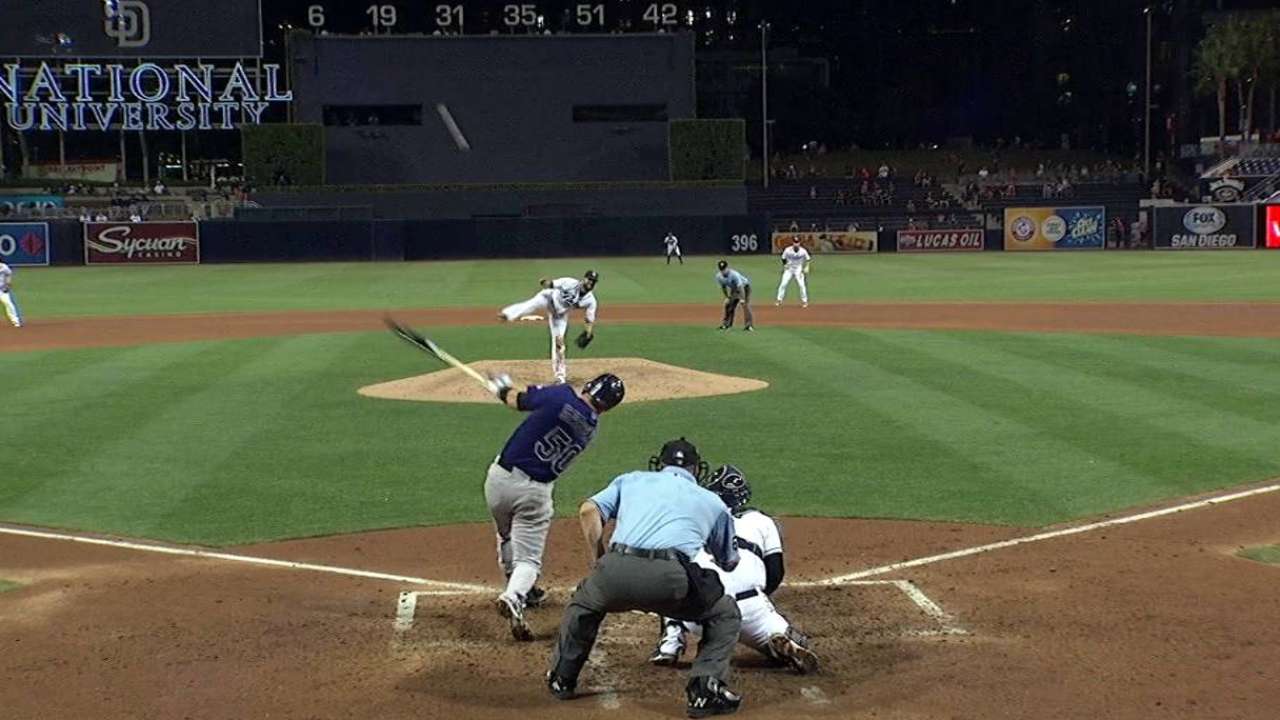 SAN DIEGO -- Rookie catcher Dustin Garneau will leave San Diego with a souvenir after the Rockies' 11-4 loss to the Padres on Wednesday night.
In the fourth inning, Garneau made the most of his long-awaited big league stint, blasting a 394-foot, two-run shot to left-center field on an 0-2 pitch from James Shields, marking his first career home run.
"The guys in the bullpen signed a ball for the fan that got it," Garneau said smiling. "Not sure yet [where the ball will go], but Alan Bossart [Director of Clubhouse Operations] just took it and is going to do some framing for it -- but I am waiting for it.
"It was pretty cool," Garneau added. "I didn't really feel it off the bat, but I was sprinting around the bases like it wasn't going to go out, but then it did. It was a pretty cool experience."
Garneau was drafted by the Rockies in the 19th round of the 2009 Draft out of Cal State Fullerton. Before finally getting his chance to the Majors, the 28-year-old spent seven seasons in the Minors. For Triple-A Albuquerque this season, Garneau appeared in 81 games, hitting .274, with 61 RBIs and 15 home runs.
"He hit 15 home runs down there in Triple-A so we know there is some life in that bat," manager Walt Weiss said. "That's always a big deal when you get your first big league homer."
Garneau, who was called up on Aug. 19 when backup catcher Michael McKenry was placed on the 60-day disabled list after tearing his meniscus in his right knee, has started in every game so far in this San Diego series, as Nick Hundley is suffering from a cervical sprain.
With Hundley still day to day, Garneau said he didn't know if he would start Thursday's finale against the Padres.
"I am just showing up here every day, and if Walt puts me in, I am ready to go," Garneau said.
Although Garneau's increased playing time isn't necessarily ideal, with Colorado missing the presence of Hundley, Garneau is appreciative of the opportunity he is getting.
"It's always nice [to get consecutive starts]," Garneau said. "Especially offensively, getting a little rhythm at the plate and defensively it's a lot easier to come play every day too."
Beth Maiman is an associate reporter for MLB.com. This story was not subject to the approval of Major League Baseball or its clubs.