Swing & bliss: Kang calls Bucs' 1st slam of '15 'lucky'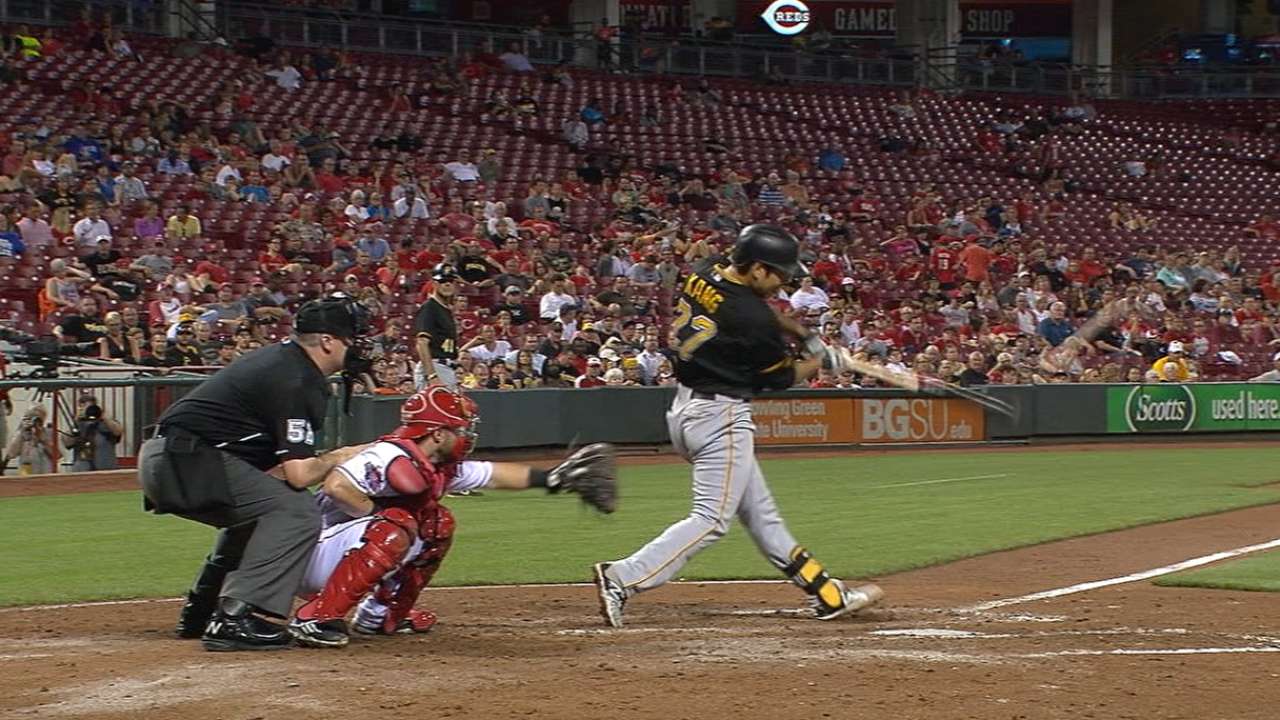 CINCINNATI -- The Pirates were waiting for a big hit Wednesday night. They'd been waiting more than a year for a grand slam. With a swing he called more lucky than good, Jung Ho Kang delivered both.
Kang ripped Pittsburgh's first grand slam of the season, a 394-foot bullet that led the Pirates to a 5-4 win over the Reds at Great American Ball Park.
"It was a great chance for me," Kang said through interpreter HK Kim. "Ultimately, I think I got lucky with that swing."
That description may have been humility more than anything else, as Pirates manager Clint Hurdle praised the rookie infielder from South Korea for his disciplined approach during the sixth-inning at-bat against Reds right-hander Keyvius Sampson.
Kang had grounded out in his first at-bat of the night. His next trip to the plate ended with him swinging at strike three. His third time up, Kang saw five straight fastballs and deposited the final one into the left-field seats.
"A grand slam wasn't in my mind. I didn't have that," Hurdle said. "He was looking for one pitch in one spot. He got it, timed it well, put the barrel to it and rode it out of the ballpark. Very pretty swing."
And it was a timely one for the Pirates, who wound up needing every one of those runs as they withstood a late Reds rally.
The game was locked up, 1-1, when Kang walked to the plate with one out and the bases loaded. Pittsburgh hadn't hit a grand slam since April 21, 2014, when Ike Davis went deep off of Mike Leake.
"We were kind of waiting for a big hit, and I feel like everyone was into that moment, that at-bat," Pirates starter J.A. Happ said. "Off the bat, I think a lot of guys knew he put the right swing on it."
Their excitement was evident in the reaction to Kang's blast. The Pirates did their usual home run celebration for Kang -- a hand gesture that remains a secret -- and Starling Marte followed Kang down the dugout, playing with his hair as they walked.
"I don't know why he did it," Kang said. "He's just a crazy kid."
Kang couldn't remember his last grand slam. He guessed it happened at some point last year, when he hit 40 homers for the Nexen Heroes in the Korean Baseball Organization.
A year later, he leads the Pirates with 11 home runs since the All-Star break, bringing his season total to 15. Suffice it to say his home run swing has followed him to the Majors.
"I think any regular time to play really helps me and helps me with my comfort level here," Kang said. "The more I play, the more comfortable I get."
Adam Berry is a reporter for MLB.com. Follow him on Twitter at @adamdberry. This story was not subject to the approval of Major League Baseball or its clubs.