As Buchanan struggles, Phils evaluating arms
Club in need of pitching depth moving forward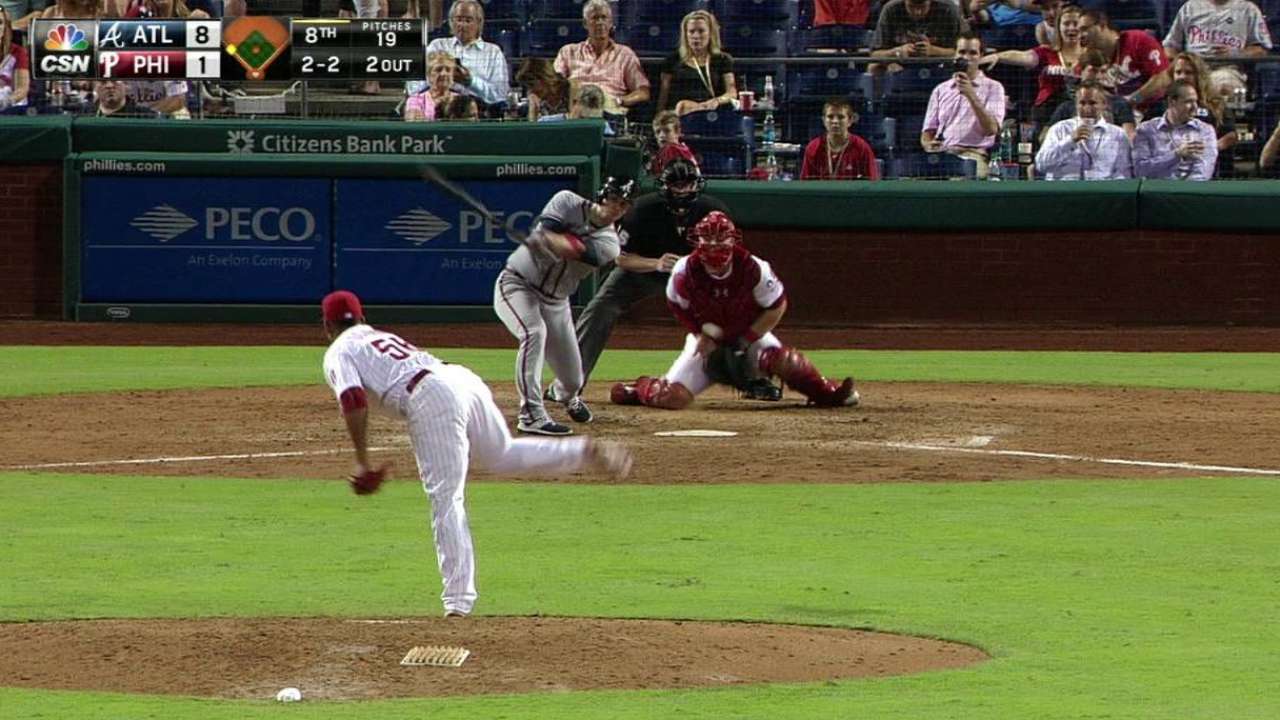 PHILADELPHIA -- Hours before the Phillies and Braves opened a three-game series Monday night at Citizens Bank Park, Phillies general manager Ruben Amaro Jr. said the organization planned to be pitching intensive in the 2016 Draft. The Phillies, who could have the No. 1 Draft pick, desperately need pitching.
It showed again Wednesday night in an 8-1 loss to the Braves. Phillies right-hander David Buchanan allowed 10 hits, four runs, three walks and one home run in just 3 1/3 innings. Buchanan has a 22.00 ERA (22 earned runs in nine innings) in his last three starts, which includes 11 runs in 1 2/3 innings in an Aug. 11 start in Arizona.
"We're going to reassess that and evaluate the whole thing," said Phillies interim manager Pete Mackanin, asked if Buchanan would make his next start.
Buchanan, who just joined the Phillies' six-man rotation, entered Spring Training a favorite to make the rotation based upon a solid rookie season in which he posted a 3.68 ERA in 20 starts. But the script has flipped since then. Buchanan is 2-8 with a 9.11 ERA in 11 starts this season, and others in the organization seem to have passed him by.
"I'm going to keep grinding. I'm going to keep working to get better. I'm going to keep taking the ball and improving on what I'm doing," Buchanan said.
The Phillies have some serious starting pitching holes to fill before Spring Training. Phillies starters have thrown the second-fewest innings in baseball this season, which has worn out the bullpen. They also have a 5.47 ERA, which is the highest mark in baseball.
Aaron Harang, Jerome Williams and Chad Billingsley are free agents after the season, and it is unlikely they return. Matt Harrison and Miguel Alfredo Gonzalez have injury issues. Aaron Nola is a lock to make the rotation, but it is difficult to imagine the Phillies also opening the season with Adam Morgan, Jerad Eickhoff and Alec Asher in the rotation because it would be too inexperienced.
The Phillies will need to find some veteran arms in the offseason.
It is too early to pursue high-priced free agents that might be available like Zack Greinke, David Price, Johnny Cueto, Yovani Gallardo, Jordan Zimmermann and Jeff Samardzija. It seems more likely they will go for mid-level starters or placeholders, maybe somebody of a similar ilk or better than Harang, who signed a one-year, $5 million contract after posting a 3.57 ERA in 33 starts last season with Atlanta.
That group could include pitchers like Doug Fister, J.A. Happ and Ryan Vogelsong.
"It's pretty obvious we need to do that to be more competitive," Mackanin said about the need to add starting pitching before next season. "We might have some guys right here that are going through their first year in the big leagues that will step up and perform next year. We may have to make some additions."
Todd Zolecki is a reporter for MLB.com. Read his Phillies blog The Zo Zone, follow him on Twitter and listen to his podcast. This story was not subject to the approval of Major League Baseball or its clubs.