Smith searching for answers to his struggles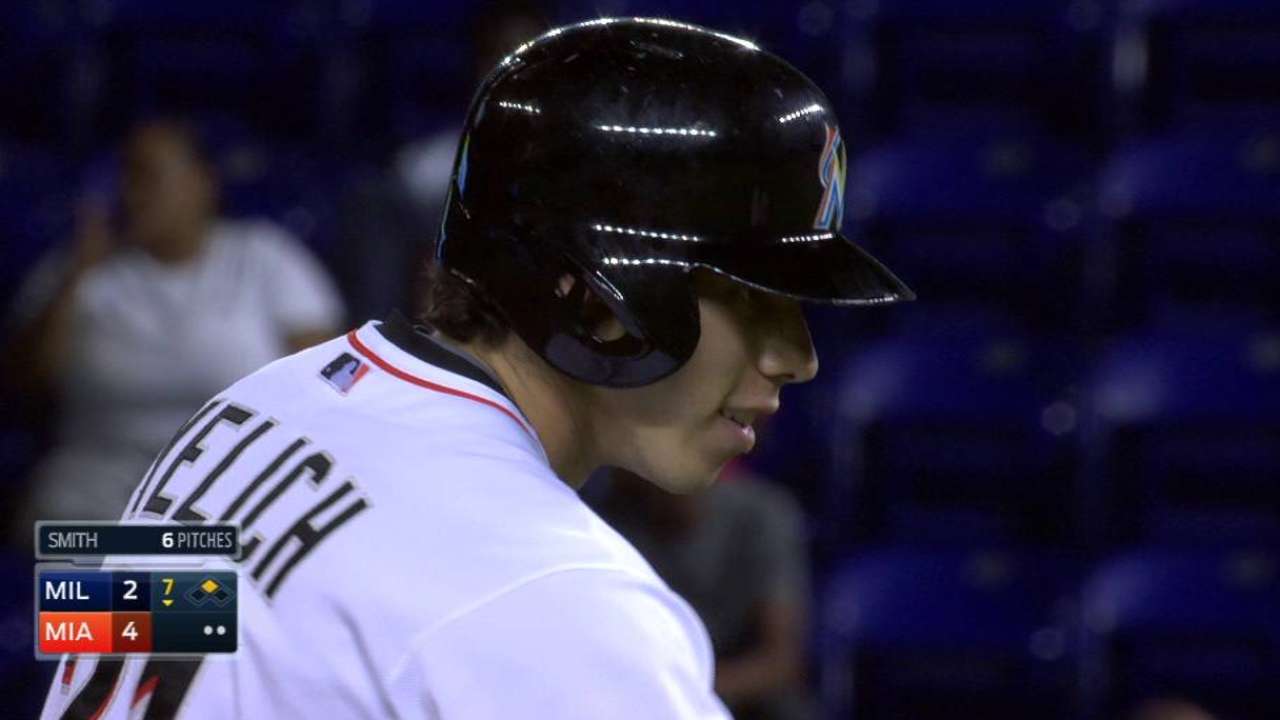 MIAMI -- For the second straight season, talented Brewers reliever Will Smith is stumbling to the finish line.
Smith surrendered a pair of run scoring hits during the Marlins' decisive, three-run seventh inning on Wednesday, leading to a 5-2 Brewers' loss and more head-scratching about the left-hander's troubles against left-handed hitters. Smith walked one, Dee Gordon, on four pitches before another, Christian Yelich, delivered a go-ahead, two-run double.
In 101 plate appearances this season, left-handers are batting .284 against Smith with 12 extra-base hits, including four home runs. Compare that to last season, when Smith faced left-handers in 106 plate appearances and they batted .167 with only five extra-base hits.
In his last eight appearances, Smith has been charged with seven earned runs in 6 1/3 appearances, and surrendered 13 hits in 30 at-bats.
"I'm not really sure what's going on," Brewers manager Craig Counsell said. "Tonight, he just fell behind. He walked Gordon on four pitches and then fell behind Yelich a little bit. No matter who you are, that's going to hurt you. We have to get that straightened out."
Yelich took a first-pitch slider off the plate for Ball 1 before connecting with a fastball low in the strike zone.
"It was in the area we wanted it," Smith said. "But it was a [1-0] count and he's a Major League hitter. He just hit it. He's a good hitter."
To Smith, the problem is simple.
"It's just me getting into bad counts, that's all," Smith said.
Smith has actually fared better this season against right-handed batters (.200 average against, versus .299 in 2014), but his second-half results are similarly down. After holding opponents to a .202 batting average before the All-Star break, they are hitting .284 against Smith since.
Last season, when Smith led the National League with 78 appearances, the concern was workload. That is less so this season, Counsell said. Smith has pitched in 65 games, but logged only 53 innings.
"Everybody, at this time of the year for the pitchers, it's the time of the year that it's difficult," Counsell said. "But he's in the low 50s for innings, still, and he's had a couple days off here. So I don't subscribe to that theory. I don't think it's overuse. I think we need to find a way to keep him sharp the whole season."
Adam McCalvy is a reporter for MLB.com. Follow him on Twitter @AdamMcCalvy, like him on Facebook and listen to his podcast. This story was not subject to the approval of Major League Baseball or its clubs.