Flash Gordon: Dee's speed marvels Marlins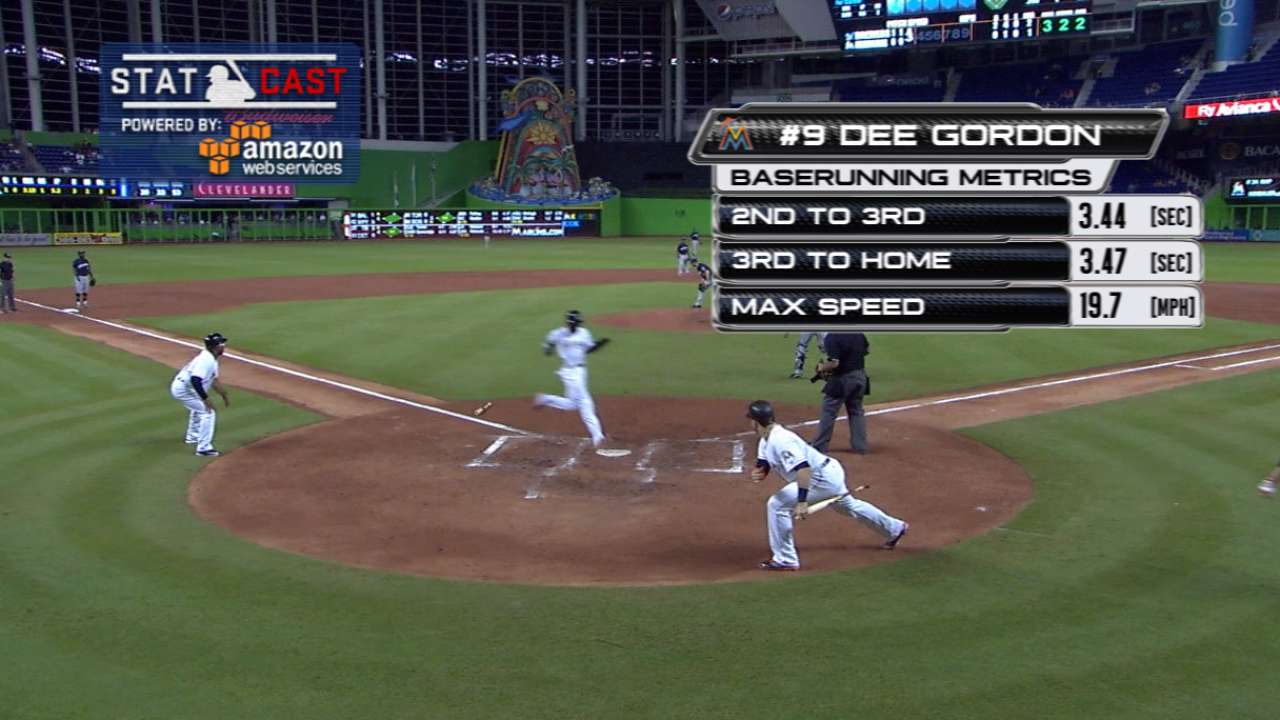 MIAMI -- Dee Gordon showed a couple more examples of why speed kills in Miami's 5-2 victory over the Brewers on Wednesday at Marlins Park. Basically -- a night after recording his 50th steal -- the Marlins electric second baseman scored twice on hits when no other player in his position would.
"Well, there's not too many Gordon's in the league," manager Dan Jennings said. "That was impressive."
The first came in the top of the third.
With Gordon on first and Tom Koehler on second with two outs, both runners were off with Ariel Pena's full-count offering to Martin Prado. Prado bounced a single up the middle to easily score Koehler -- but, unexpectedly, after rounding second, Gordon hit third base and kept going.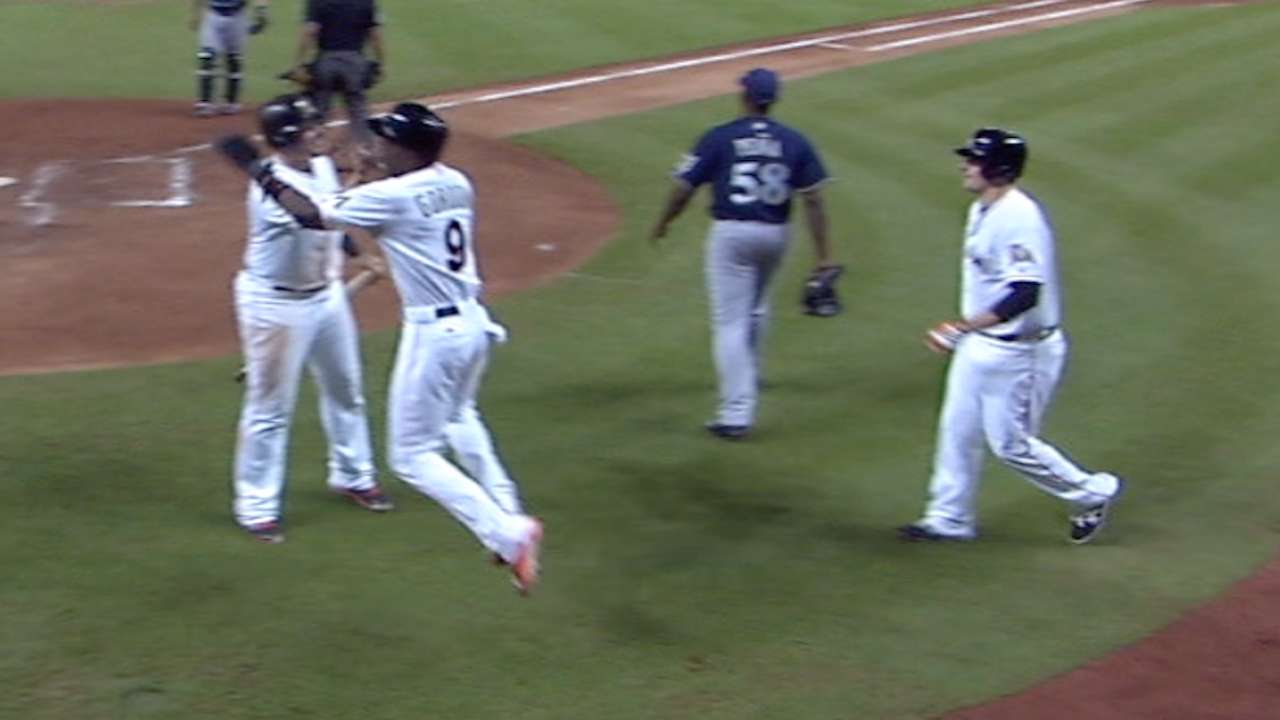 Taking advantage of his huge lead and jump on Pena's delivery, Gordon easily beat Domingo Santana's throw home to score from first on the routine single and tie the game at 2. He then skipped his way back to the Marlins dugout, while Prado advanced to second on the throw.
"Once I started running, Dee was already at second base," said Koehler, who went 1-for-2 while earning the victory. "It was a base hit and I thought I would score easily because I was starting. But I had to run hard so he didn't catch me. I touched the plate -- and I think it was like three seconds later -- Dee's touching the plate."
• Cut4: Gordon literally skipped back to the dugout
The next time Gordon boasted his speed came in the bottom of the seventh after he walked with two outs and the score tied. Christian Yelich hit a liner in the left-center gap, which allowed Miguel Rojas -- on second base -- to score easily. But, again, Gordon didn't stop at third, like most.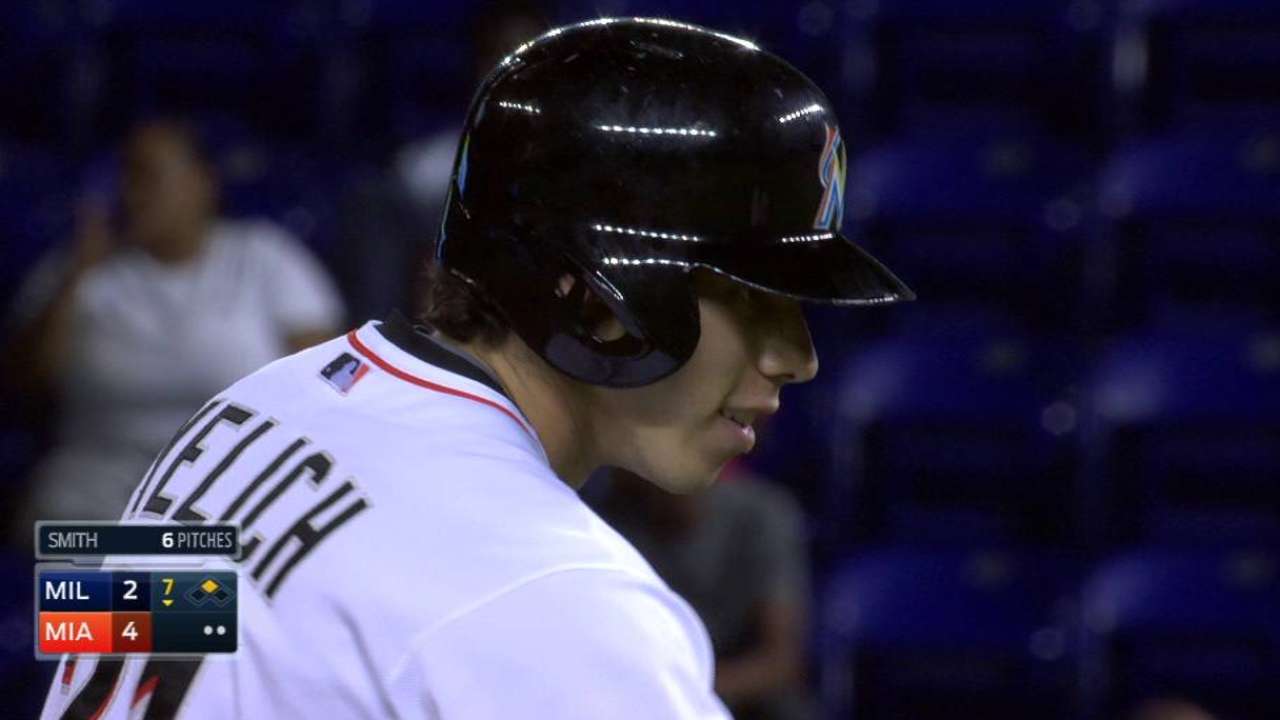 Even though Brewers center fielder Logan Schafer was quick to cut the ball off and first baseman Adam Lind received the relay throw for a quick toss home, Gordon narrowly slid in safely -- putting Miami ahead, 4-2.
"That guy, he's electric on the base paths and brings a tremendous amount of energy," Koehler said. "That's just one of the aspects of his game that we love around here."
Steve Wilaj is an associate reporter for MLB.com. This story was not subject to the approval of Major League Baseball or its clubs.