MLB.com Columnist
Barry M. Bloom
Without injured Pence, Giants' pulse weakens
Bochy on Pence: 'He makes us a better club'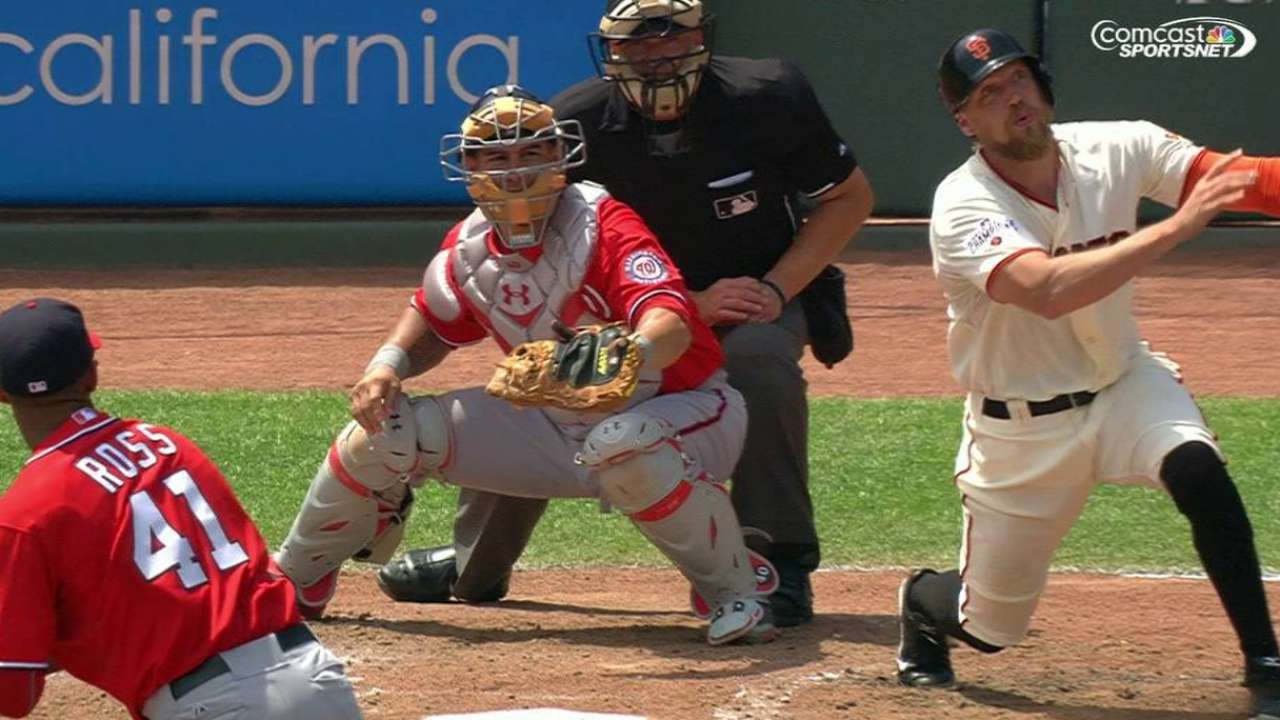 PHOENIX -- It may just be that the Giants have seen the last of Hunter Pence this season, and what a loss it has been.
Pence is not only the offensive catalyst, but his presence both on the field and in the clubhouse is immense. Right now, the right fielder has been relegated to the dugout, and that may not change any time soon.
"He's not able to do too much yet," San Francisco manager Bruce Bochy said Wednesday night before his club played at Chase Field for the final time this season, losing 2-1 to the D-backs. "He's doing a lot of stretching and cardio, but he's not at a point where he can take some swings."
The Giants were two games behind the first-place Dodgers in the National League West entering the games of Aug. 20, when Pence was placed on the disabled list because of a strained left oblique. They remained 8 1/2 games behind Los Angeles after both teams lost on Wednesday.
The slide is no coincidence. San Francisco is 34-18 with Pence in the lineup, 38-50 without him.
The Giants left Phoenix to open a three-game home set against the Padres on Friday night with only 22 games left to play in their season. The opportunity for Pence to return -- and have an impact -- is dwindling.
"It's taken a little longer than he would like," Bochy said. "I know, about a week ago, he was trying to swing a little bit, but he could still feel it, so we had to back him off."
So, is it a possibility that Pence won't play again this season?
"Sure, you'd have to say that that's a possibility, but I think he will play," Bochy added.
For his part, Pence deferred all information about his condition to Bochy and the training staff. He said, though, that he's trying to be positive about his immediate future.
"I think I'm going to play again this season, but I don't know when," Pence said. "I'm progressing. I'm giving it my best. I'm just doing everything I can to get back as soon as I can."
It's just been one of those awkward seasons for Pence. Very little has gone right. This is his third stint on the DL. Pence was hit by a pitch that broke his left forearm in a March 5 Cactus League game against the Cubs at Scottsdale Stadium. Because of that, he missed the first 37 games of the season.
Call it a sad omen of what was to come. Upon Pence's return, he suffered tendinitis in the same wrist and missed another 30 games. Finally, he's had to sit out the last 21 games after suffering the oblique injury on his final swing of the Aug. 17 game against the Cardinals in St. Louis.
There has been little continuity to the season, and another man might have been more than a tad frustrated. Not Pence.
"Getting frustrated about it does nothing, accomplishes nothing," he said. "It all happened and I go on from there. I'm just using everything to learn from and get better. I'm just doing everything I can to be the best teammate. There are always things to learn.
"When you're not playing, you're watching the game from a different perspective and doing everything you can to help in another way. So you are constantly learning from everything that happens."
San Francisco has played through a plethora of injuries this season. At one time, the entire starting outfield of Pence, Nori Aoki and Angel Pagan was out. Four-fifths of the projected starting rotation -- Matt Cain, Tim Lincecum, Jake Peavy and Tim Hudson -- have spent long periods on the DL. All-Star second baseman Joe Panik just came off the list and his fellow All-Star, shortstop Brandon Crawford, is now all banged up. Panik came out of Wednesday's game with a recurrence of his back injury and Crawford could be out this weekend nursing a calf injury.
But the prolonged loss of Pence has been the most profound. Pence is batting .275 with nine homers and 40 RBIs. The personal numbers don't even tell the whole story. No doubt, the Giants played their best ball when Pence was active.
"That just goes to show you how important he is to us," Bochy said. "It's not just his talent, but it's his presence and energy. He makes us a better club. That's why we signed Hunter Pence. We knew how important he would be for this team. You're always going to miss a guy who hits in the heart of your order, plays a great right field, but also brings those intangibles you love. The passion he plays with is contagious."
San Francisco obtained Pence from Philadelphia at the 2012 non-waiver Trade Deadline, and he completed the team that went on to sweep Detroit in that fall's World Series. The Giants later signed him to a five-year, $90 million extension that pays him $18.5 million annually through 2018.
Pence is the rare position player who wanted to remain long-term in San Francisco, and even in his absence from the lineup, he is a constant kinetic presence on the bench. At 32 years old, and with time growing short this season, at the very least, the Giants can look forward to having the complete Pence package back and healthy next year.
Barry M. Bloom is a national reporter for MLB.com and writes an MLBlog, Boomskie on Baseball. Follow @boomskie on Twitter. This story was not subject to the approval of Major League Baseball or its clubs.