Feldman gets cortisone shot in ailing shoulder
Astros starter to return to Houston for more tests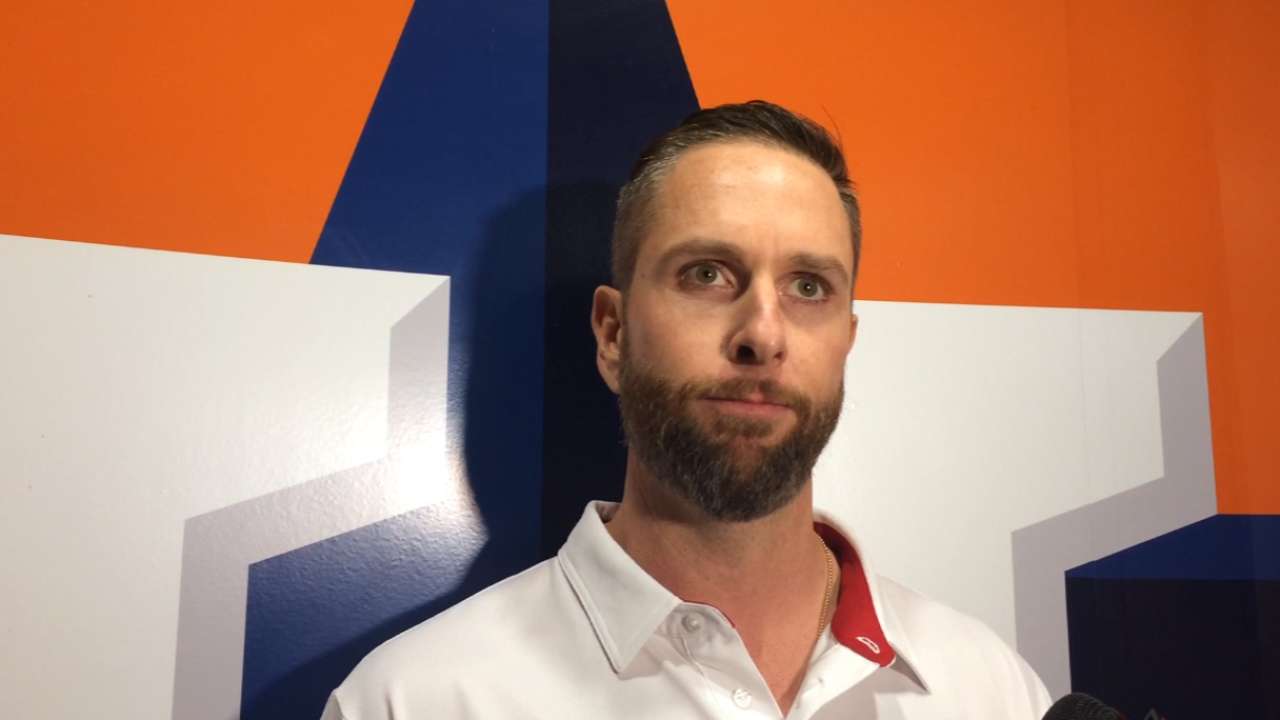 OAKLAND -- Scott Feldman met with Astros' team doctors Tuesday and received a cortisone shot to help relieve right shoulder inflammation, manager A.J. Hinch said Wednesday.
The Astos skipper added Feldman was scheduled to fly back to Houston Wednesday night to get a second doctor's opinion on his ailing shoulder. It's possible Feldman could need another cortisone shot, Hinch said.
"He's going to get more testing done," Hinch said.
The Astros' right-hander left his last start on Sept. 1 after feeling discomfort in his shoulder and experienced similar symptoms when he tried to play catch on Saturday. Hinch was not able to provide a timetable for when Feldman would be able to begin rehabbing.
"We're still in the evaluation stage," Hinch said. "He hasn't made any progress yet. He's continuing to get opinions on his shoulder."
The Astros plan to roll with a five-man rotation while Feldman recovers.
The 32-year-old is 5-5 with a 3.90 ERA this season, but has pitched better after returning from the disabled list on July 18. Feldman went 1-1 with a 2.79 ERA after coming back from a torn right medial meniscus.
Worth noting
• Reliever Tony Sipp (lower back stiffness) and catcher Jason Castro (right quad strain) worked together on a bullpen session at Minute Maid Park Tuesday, Hinch said.
Both players are on track to rejoin the team in Anaheim, though Castro is not eligible to come off the disabled list until Sunday and is unlikely to be activated then anyway.
"He's making progress," Hinch said of Castro. "But he still hasn't done anything rigorous."
Hinch was non-committal on whether Sipp would be available this weekend against the Angels.
"I've got to see him face-to-face before [deciding]," Hinch said. "We'll see."
Oliver Macklin is an associate reporter for MLB.com. This story was not subject to the approval of Major League Baseball or its clubs.