Myers seeking consistent approach at plate
Padres center fielder feeling healthy since reinstatement from DL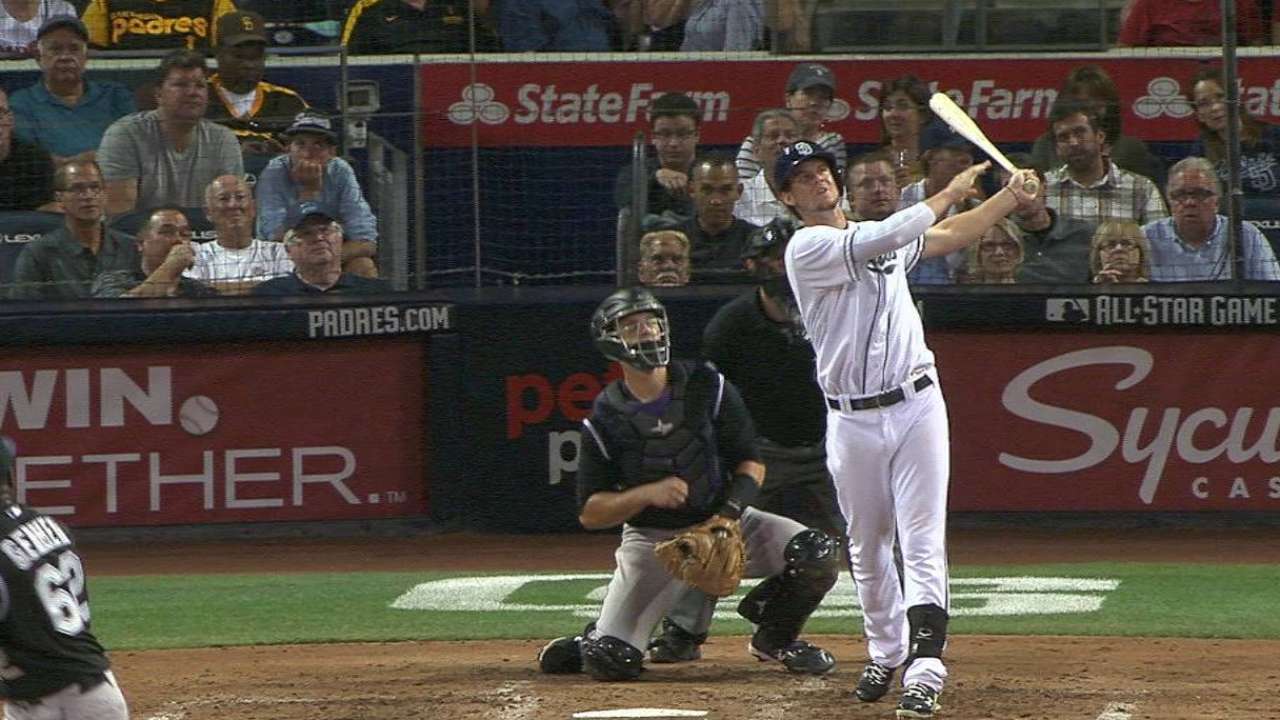 SAN DIEGO -- On Monday, Wil Myers narrowly missed a grand slam in his fourth game since returning from a long stint on the disabled list, as his drive down the left-field line against the Rockies hooked foul at the last moment.
Myers ended up striking out in that sixth inning at-bat and the Padres went on to lose to the Rockies, 6-4.
On Tuesday, though, Myers hit one just as hard in the sixth inning, only this time it stayed straight, as his solo home run went a long way toward the Padres' 2-1 win over the Rockies at Petco Park.
And on Wednesday night, he went 3-for-5 with two RBIs and two runs scored in the Padres' 11-4 win over the Rockies.
Myers, who missed 98 games this season on two DL stints for his left wrist, is the first to admit he's not where he wants to be in terms of production, since coming back from a long period of inactivity.
But, Myers insisted, he's getting there.
"I actually feel good, my timing feels good, my swing feels good, it's more so now trying to find a consistent approach with each at-bat," said Myers, who is 3-for-18 with eight strikeouts since coming off the DL on Friday.
"I'm making sure I have my approach each and every at-bat. That's what makes a good hitter. I'm looking forward to a consistent approach."
Myers, the team's Opening Day center fielder, was hitting .291 and had five home runs and 19 RBIs in 32 games before sustaining an injury to his left wrist. The injury was termed tendinitis and he missed a month. He returned a month later, played three games and landed on the DL again.
On June 18, he had surgery to remove a bone spur on the back of his left wrist. He had been out ever since, working his way back, determined to play again in 2015, even if for peace of mind.
On Tuesday against the Rockies, he said, it was nice to see some positive results.
"It was nice but honestly, I was just happy to be back," he said. "It has been a long road and a tough road with injuries. But I'm happy to be back here and playing … contributing to the team."
Myers has played center field and first base since returning from the DL. He got the start at first base on Wednesday.
Corey Brock is a reporter for MLB.com. Keep track of @FollowThePadres on Twitter and listen to his podcast. This story was not subject to the approval of Major League Baseball or its clubs.