Miller relishes time in the big leagues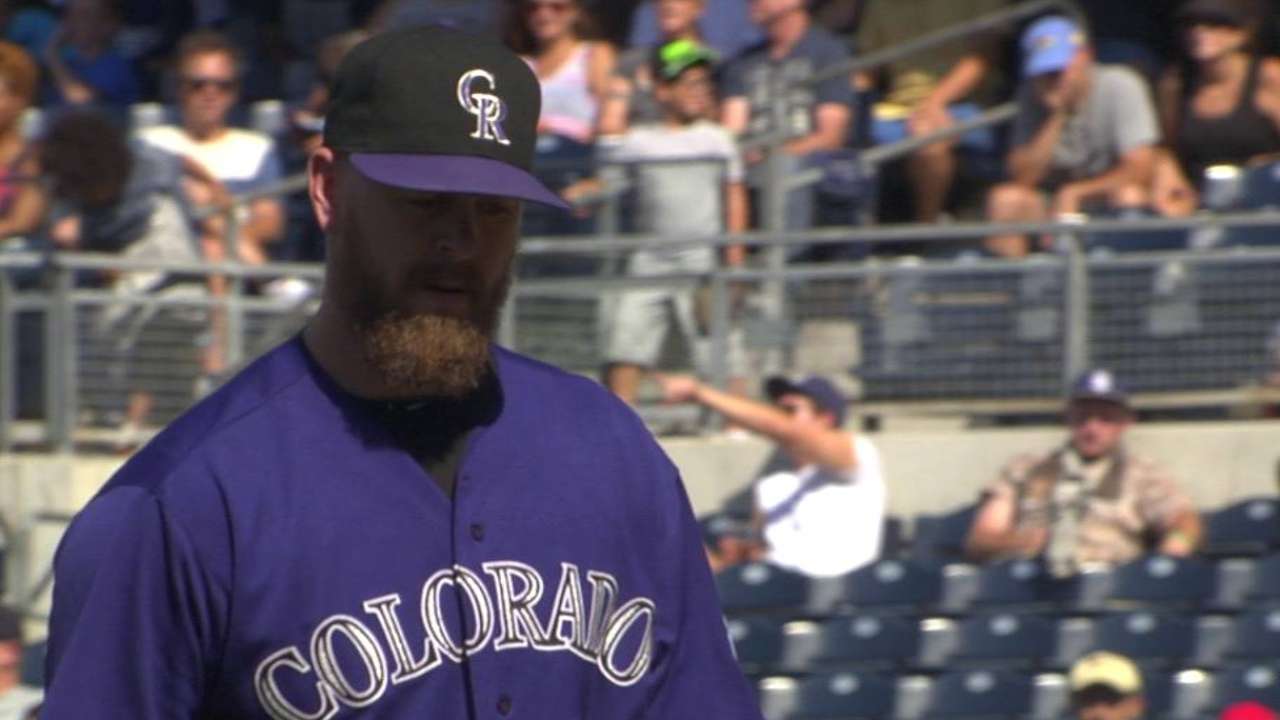 SAN DIEGO -- Rockies reliever Justin Miller has made a few memories for himself since being called up Sept. 2 from Triple-A Albuquerque.
On that day, Miller recorded his first career save, pitching 1 2/3 scoreless innings against the D-backs in Colorado's 9-4 win.
In Monday's 6-4 win over San Diego, Miller etched his name into the Rockies' record books, becoming the first reliever in franchise history to fan all four batters faced in a relief appearance.
After the game, manager Walt Weiss used the term "big time" to describe the right-hander's performance.
"I honestly didn't even know about it until the next day," Miller said about the record. "I think my dad or girlfriend found out about it on Twitter and that's how I found out about it. It was actually pretty cool. I wasn't trying to go out there and strike everybody out, I was just trying to throw strikes and get out of the inning and go out for the next inning and minimize damage."
This is Miller's fourth stint with Colorado this season. He was last sent down Aug. 23. The 28-year-old is 1-3 with a 1.89 ERA and six saves with 12 walks and 41 strikeouts in 28 appearances between Triple-A and Double-A this season.
"Every time I have gone down it's kind of been a situation where they didn't want to send me down, because I was pitching good. It was just a numbers kind of thing," Miller said. "So I knew [going up and down] comes with the job. I am just trying to treat it as the same down there as it is here."
Miller said his success in the past week has been encouraging, but he prefers to focus pitch by pitch, instead of thinking about the results.
"[I'm] just trying to keep everything simple," Miller said. "The pitching coaches here have been really helping me out, working on my pitches. I feel like I am better each time I come out."
Worth noting
• Corey Dickerson was in the Rockies' lineup for Wednesday's game. The outfielder was reinstated from the 15-day disabled list on Tuesday, after suffering two non-displaced rib fractures on July 30. Dickerson pinch-hit in the eighth inning in Tuesday's 2-1 loss and lined out to second base.
"He is good to go," Weiss said. "He's hitting seventh in the lineup, typically I hit him higher than that but we are going to ease him back in. He hit the ball real hard [in his pinch hit at-bat]."
• Catcher Nick Hundley was out of the lineup for the third straight game Wednesday. Rookie catcher Dustin Garneau started at catcher. Weiss said Hundley has a cervical strain and if he were to miss considerable time, they would have to look into calling up reinforcements.