Suzuki avoids major injury in collision at plate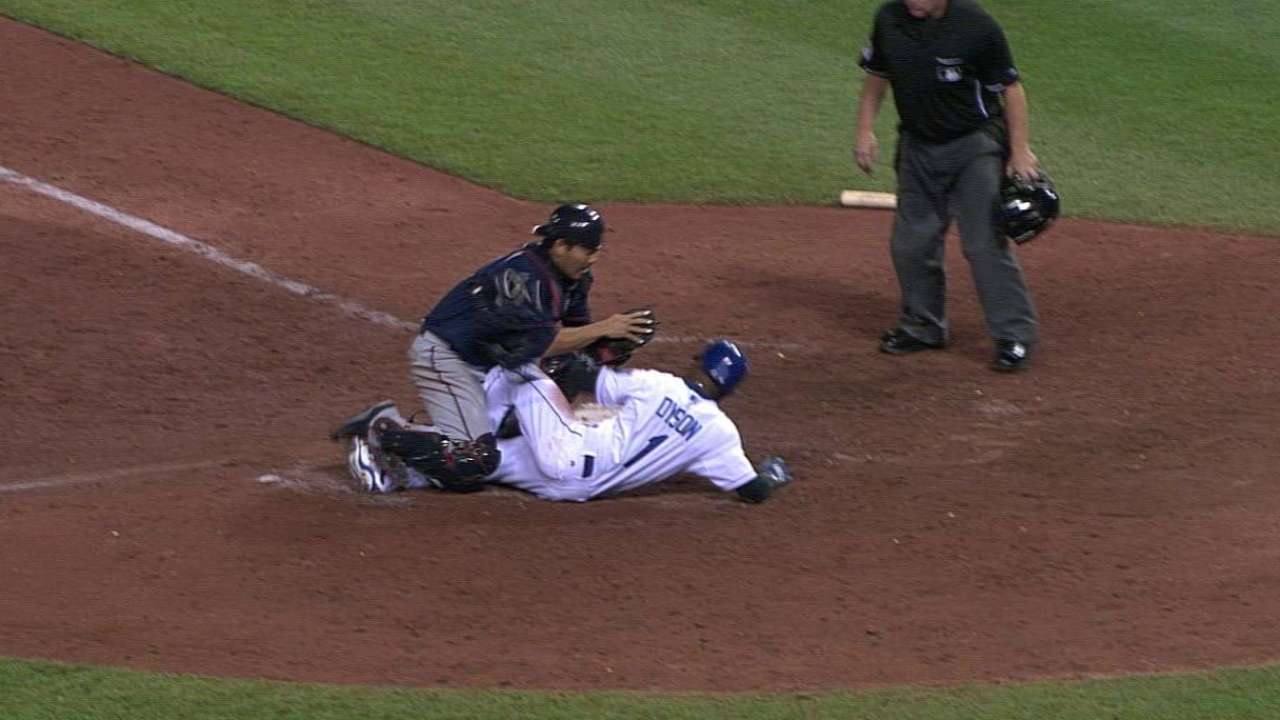 KANSAS CITY -- The Twins were fortunate on two fronts in Wednesday night's 3-2 win in 12 innings over the Royals, as they came through on a pivotal play at the plate in the 10th and catcher Kurt Suzuki was able to avoid a major injury on a collision with pinch-runner Jarrod Dyson.
Suzuki left the game, but he was diagnosed with a bruised left knee and is day to day. With runners at first and third with one out, the Twins employed a five-man infield, and Lorenzo Cain hit a comebacker to reliever Blaine Boyer. Boyer's throw home brought Suzuki up the third-base line and Dyson ran into the catcher for the second out of the inning.
Suzuki remained on the ground after the play and had to be helped off the field by trainer Tony Leo and manager Paul Molitor. But after the game, Suzuki said his knee felt fine and was just a little bit sore.
"The doctor came in and said it was just a left-knee bruise so thank god," Suzuki said. "I was nervous. That was the first time I've been that nervous in a while."
Meanwhile, Dyson and Royals manager Ned Yost argued that Suzuki blocked the plate, which prompted a challenge. But after a review, the call on the field was confirmed. Boyer was able to get out of the jam by getting Eric Hosmer to ground out to first base.
"At first, I didn't know Blaine caught it," Suzuki said. "Then, I saw him throw and I was like, 'Oh,' It was a high throw and I didn't see where the runner was. He kinda slid into me while I was tagging him. It was a good thing because I think if he would've slid around me he would've been safe."
After seeing the replay, Yost agreed with the call, as Suzuki had nowhere to go with the high throw from Boyer.
"The throw took him up the line," Yost said.
Molitor also believed it was the right call and was pleased to see Suzuki avoid a major injury. Suzuki went 2-for-4 with a solo homer in the sixth before coming out of the game.
"The plays on the infield, I think are analyzed in New York are considered a little bit different because there's not a lot of time to consider your setup when the play is coming right to the plate," Molitor said. "He had to get into the lane to catch the throw."
Boyer said he felt bad for Suzuki, as it was his throw that led to the collision. But Boyer was able to get out of the jam and went on to pitch a scoreless 11th to get the win.
"It was a terrible, terrible throw," Boyer said. "When you see him go down like that, it's awful."
Rhett Bollinger is a reporter for MLB.com. Read his blog, Bollinger Beat, follow him on Twitter @RhettBollinger and listen to his podcast. This story was not subject to the approval of Major League Baseball or its clubs.