Brewers continuing search for new GM
A's assistant GM Dan Kantrovitz reportedly will interview for position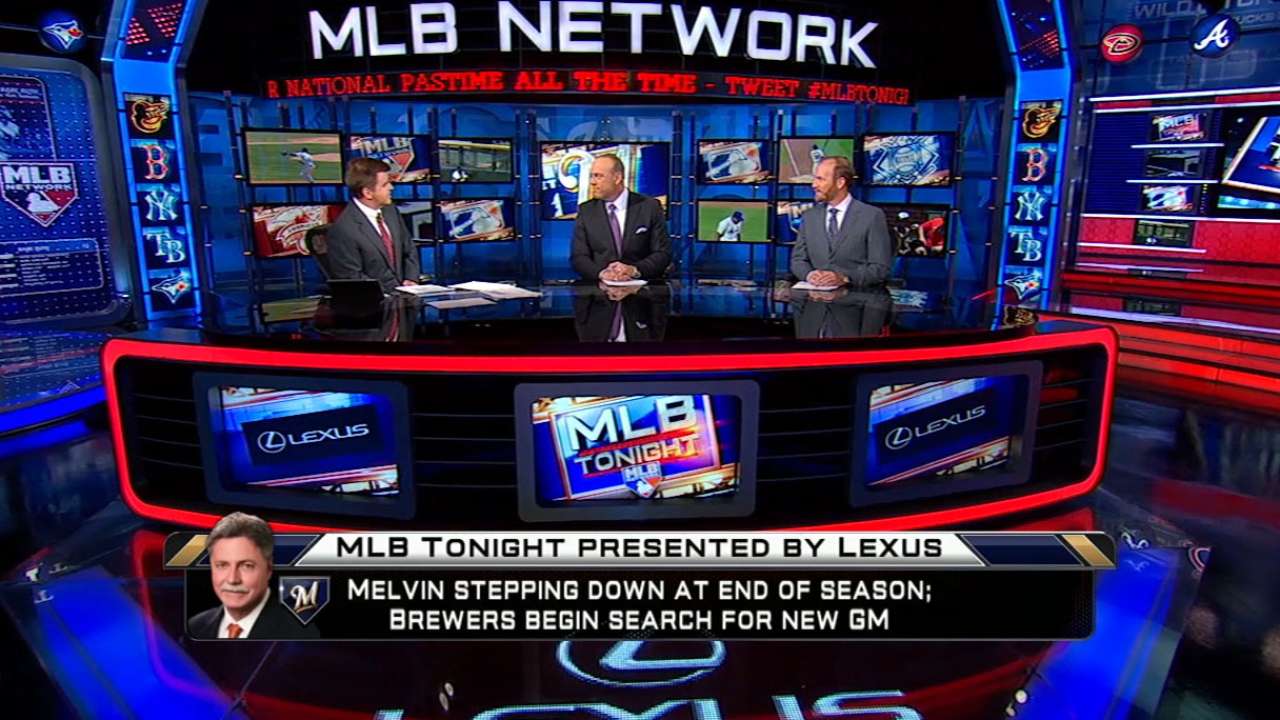 MIAMI -- Brewers outfielder Shane Peterson has history with one of the men reportedly in the running to be Milwaukee's next general manager.
A's assistant GM Dan Kantrovitz, whom the Brewers have been granted permission to interview, according to Ken Rosenthal of MLB Network and Fox Sports, scouted and signed Peterson with the Cardinals in 2008. After Kantrovitz went to work for the A's in 2009, Oakland acquired Peterson in the Matt Holliday trade.
"It seems I'm always following him around," Peterson said. "Whether that's coincidence or not, I don't know."
Now the tables are turned. The Brewers plucked Peterson off the waiver wire last winter, and he's established himself this season as a valuable bench asset. He was pleased to hear on of the report that Kantrovitz would interview with the Brewers.
A Brewers spokesperson said Wednesday that the club would not comment on any aspect of the search to replace Melvin, who announced on Aug. 11 he was transitioning away from the role he has held since Sept. 2002.
Kantrovitz, who was 36 at the start of the season, has had two stints apiece with the Cardinals and A's. He was an all-Ivy League shortstop at Brown University before beginning his front office career in 2004 with his hometown Cardinals, then received a master's degree in statistics from Harvard University in 2009 and went to work for the A's in international operations and baseball operations analysis. Kantrovitz returned to the Cardinals in 2012 to serve as their amateur scouting director, selecting Michael Wacha in the first year of a three-Draft tenure.
Last November, Kantrovitz returned to the A's to serve as assistant GM, with an emphasis on overseeing statistical analysis for evaluating and bringing in players through the MLB Draft and free-agent and trade markets.
"He's a great guy, really smart," Peterson said. "He's definitely more of the new statistical type, but he played as well, so he knows the game. He knows it's more than numbers. The clubhouse runs a certain way, and that's something you can't see on a stat sheet."
Kantrovitz is one of at least two candidates with interviews reportedly scheduled with the Brewers. The other is Pirates director of player personnel Tyrone Brooks, who will interview this weekend, according to USA Today's Bob Nightengale. Brooks is 41 and in charge of the Pirates' pro scouting department and their non-Latin American international scouting department .
In addition, Rosenthal also reported that the Brewers are expected to ask the Rays' permission to interview their vice president of baseball operations, Chaim Bloom. Like Kantrovitz, Bloom is young and analytics' driven. He graduated from Yale University in 2004.
Adam McCalvy is a reporter for MLB.com. Follow him on Twitter @AdamMcCalvy, like him on Facebook and listen to his podcast. This story was not subject to the approval of Major League Baseball or its clubs.