Pujols gives Angels a much-needed win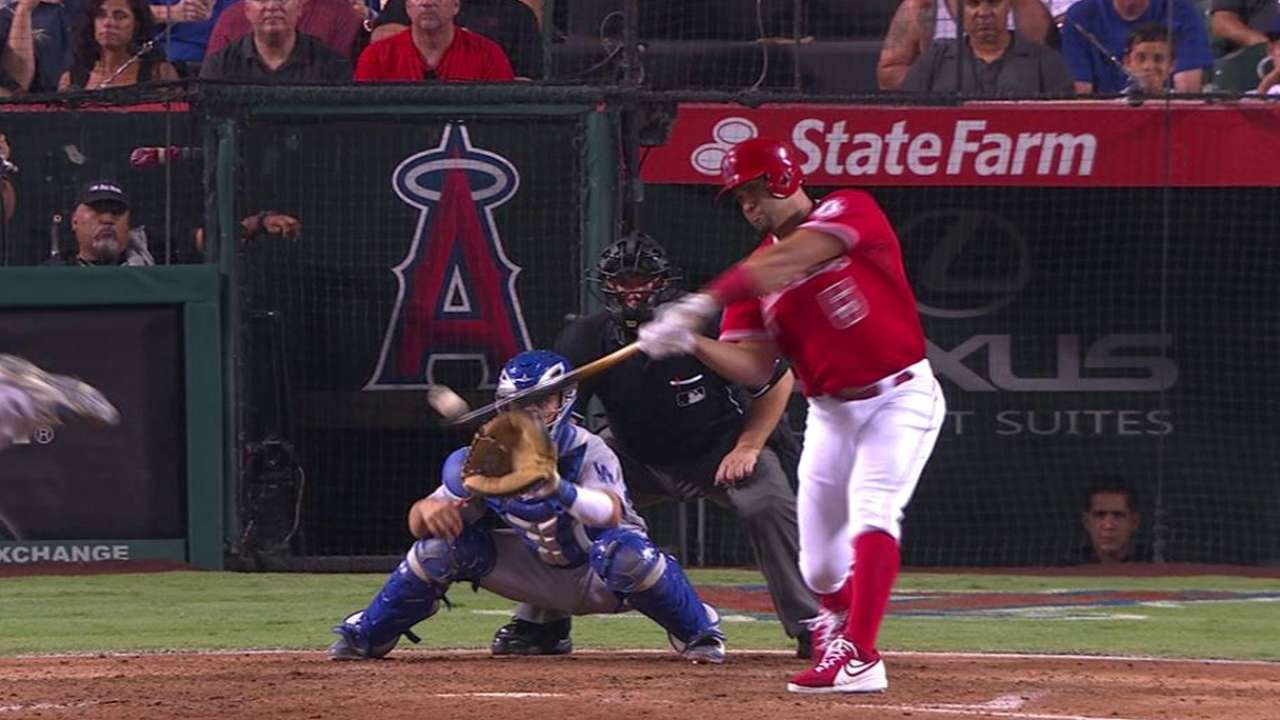 ANAHEIM -- Albert Pujols hit the tiebreaking single through the middle of the Dodgers' drawn-in infield off Pedro Baez in the eighth inning on Wednesday night, lifting the Angels to a much-needed 3-2 win in the Freeway Series finale.
The Angels couldn't beat Zack Greinke or Clayton Kershaw in the first two games at Angel Stadium -- despite scoring five runs on Monday and four on Tuesday -- and being swept while losing the one game not started by either National League Cy Young candidate would have been a tough blow to their playoff chances. The Angels now sit 3 1/2 games behind the Rangers, who are in the lead for the second AL Wild Card slot. The Dodgers still hold an 8 1/2-game lead over the Giants in the NL West.
"In that situation -- one out, infield in -- I think I have enough experience to try to just calm myself and get a good pitch to hit and try to do some damage," Pujols said. "Do something to hit a sacrifice fly or get a base hit like I did. I try not to do too much, just let the pitcher provide the power -- especially a guy that's throwing a 98, 100 mph sinker."
The Dodgers, who had won eight straight against the Angels, tied the game at 2-2 in the top of the eighth, on Chase Utley's two-out, two-strike RBI double off Angels starter Garrett Richards. Richards had pitched brilliantly to that point, striking out a career-high-tying 11 batters -- 10 of them swinging, most of them on his slider, which looked as sharp as it had all season.
"That's a tremendous effort from Garrett," Angels manager Mike Scioscia said. "That's what a lead dog in the rotation does, what Garrett did tonight. You go out there and you stop a streak and you shut down a team that's been scoring a lot of runs."
Richards surrendered a leadoff home run on the first pitch he threw to Scott Schebler -- the second straight night the Angels allowed a home run to open the game -- before getting into a groove. The Angels tied the game on back-to-back doubles by Erick Aybar and David Freese in the second inning and took the lead in the third -- their first of the series -- on Kole Calhoun's sacrifice fly. Huston Street worked a scoreless ninth for his 33rd save.
"A loss is a loss," Dodgers manager Don Mattingly said. "We've been talking about each game being a chance to take a game off the schedule, and we saw later on the board we could've added on."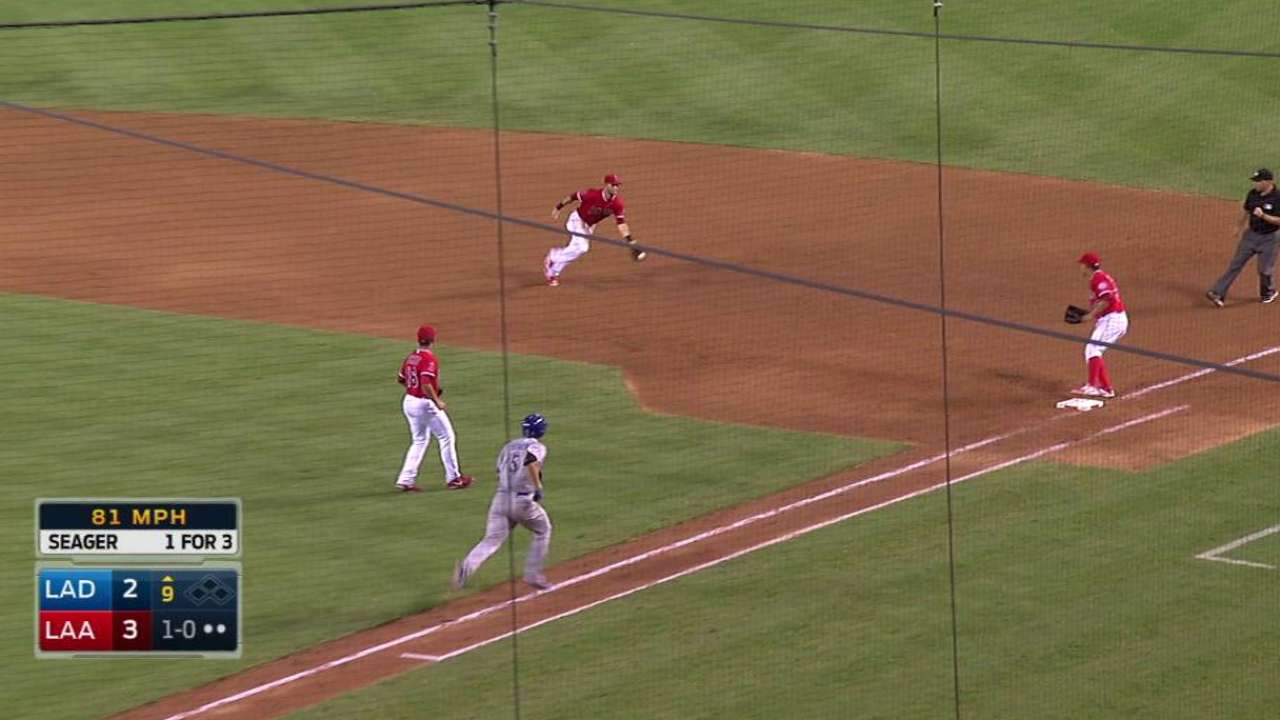 MOMENTS THAT MATTERED
Halo hustle: Two Angels runs were set up by getting the leadoff man to third base, thanks to hustle plays by Taylor Featherston and Calhoun. In the third, Featherston ripped a line drive into the left-field corner, dove in safely with a triple. Calhoun drove him in a batter later with a sacrifice fly, giving the Angels their first lead of the series. In the eighth, Calhoun started the Angels' rally by doubling down the right-field line, easily taking third when Andre Ethier bobbled the ball. Pujols eventually drove him in.
"I think two plays were important -- Taylor Featherston and Kole Calhoun out of the box were thinking not only extra bases, but thinking three bases," Scioscia said. "Taylor got to third, and Kole got to third, and that's a huge base right there."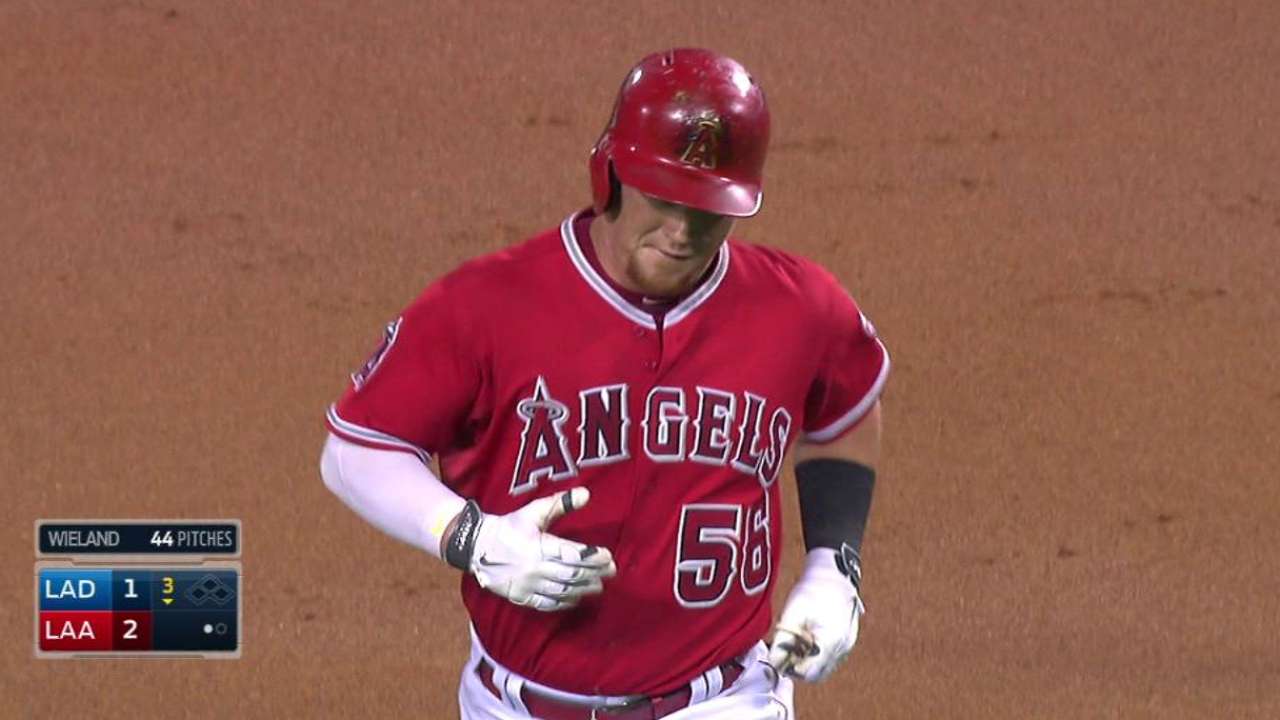 Not getting it done: The Dodgers brought in left-hander Luis Avilan to face one hitter in the eighth inning, Calhoun, but he couldn't get his man. Calhoun dropped a 2-2 fastball down the right-field line for a double, then advanced to third on Ethier's bobble to set up the go-ahead run.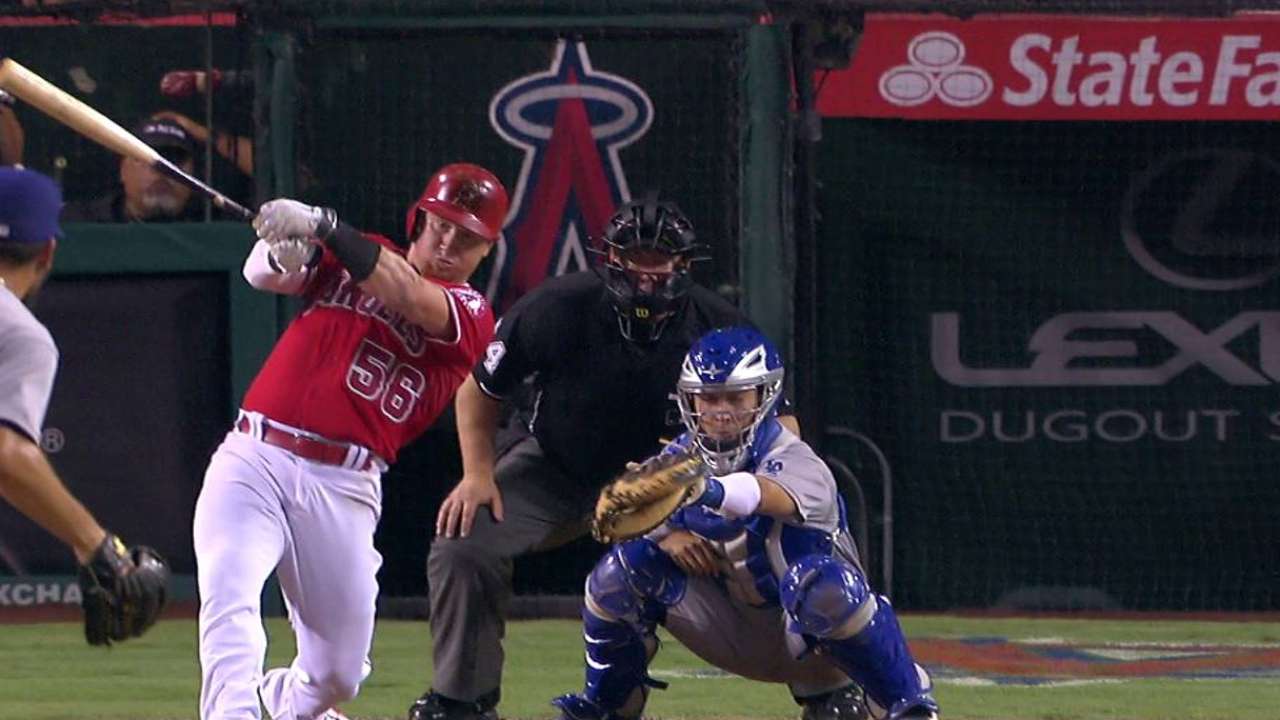 One last strike: Richards pitched one of his best games of the season, and he was lights-out once he got to two strikes, with one exception. With the Angels leading, 2-1, with two outs and a Dodgers baserunner on third base in the eighth inning, Richards spun a 1-2 curveball knee-high and away to Utley, who poked it down the left-field line to tie the game. Prior to that, Dodgers hitters who faced a two-strike count were 0-for-12 with 11 strikeouts.
"Some games guys are gonna come out hacking and put the ball in play, and some games you're gonna get to two-strike counts and be able to put guys away," Richards said. "This was one of those games where I got ahead early and put guys away."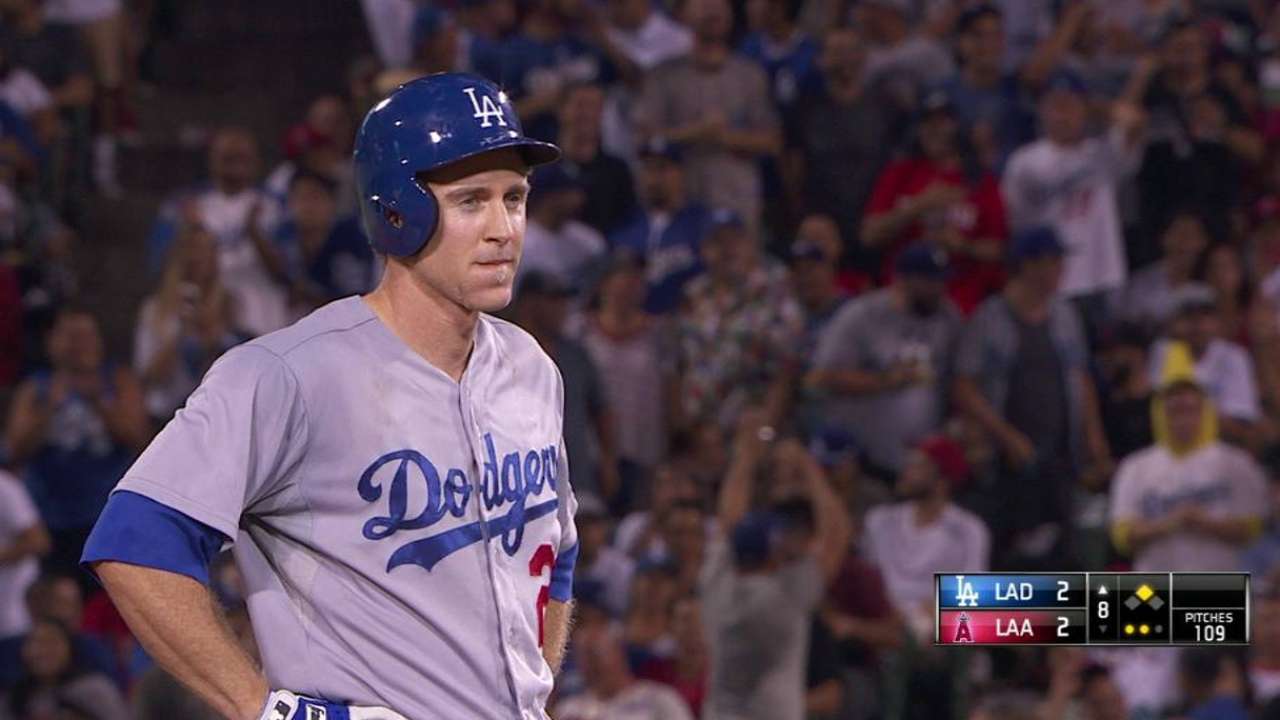 Leadoff man: With fans still working their way in from the parking lot, Schebler took the first pitch of the game out to center field for a home run. It was the second consecutive game with a leadoff homer for the Dodgers and Schebler's second homer in just six Major League games.
"You can see the ball jumps off his bat a little bit," Mattingly said. "He's a guy we feel like is going to be a good player."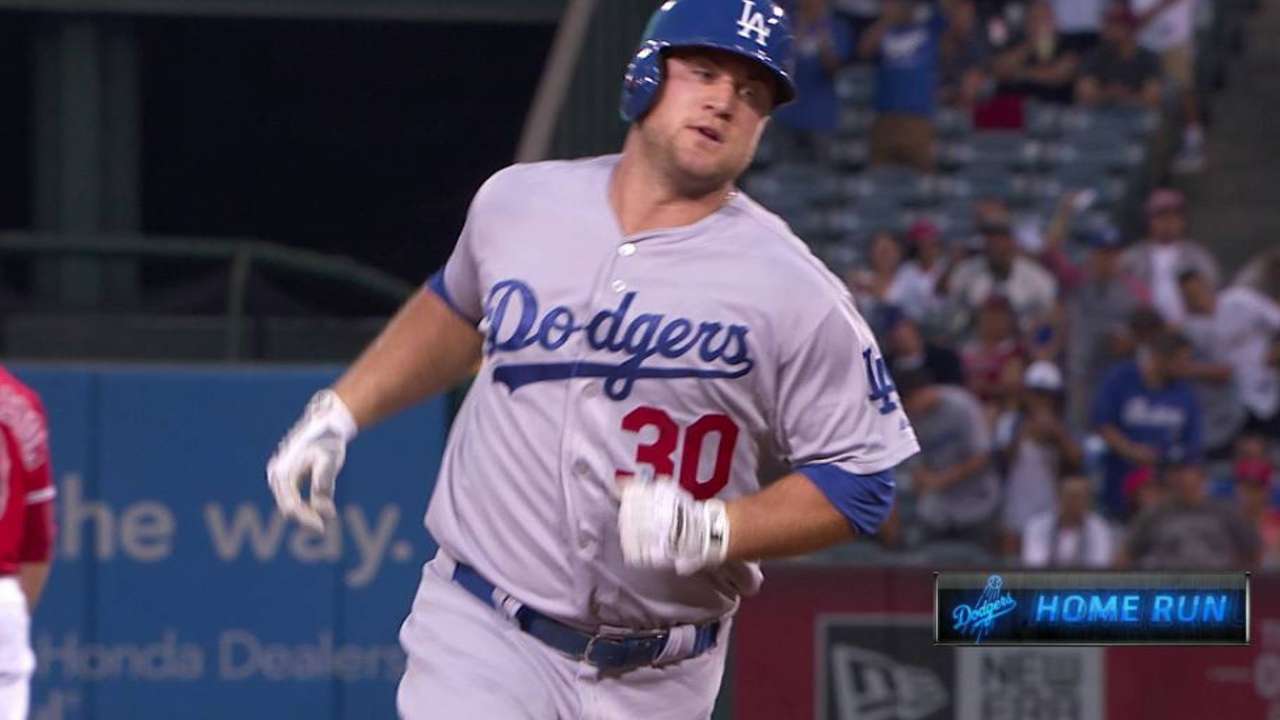 QUOTABLE
"What are you gonna do, right? You're trying to get ahead early, he put a good swing on the ball. You just kind of move on, I guess, You've got 99 other pitches to throw. -- Richards, on bouncing back from Schebler's homer on the game's first pitch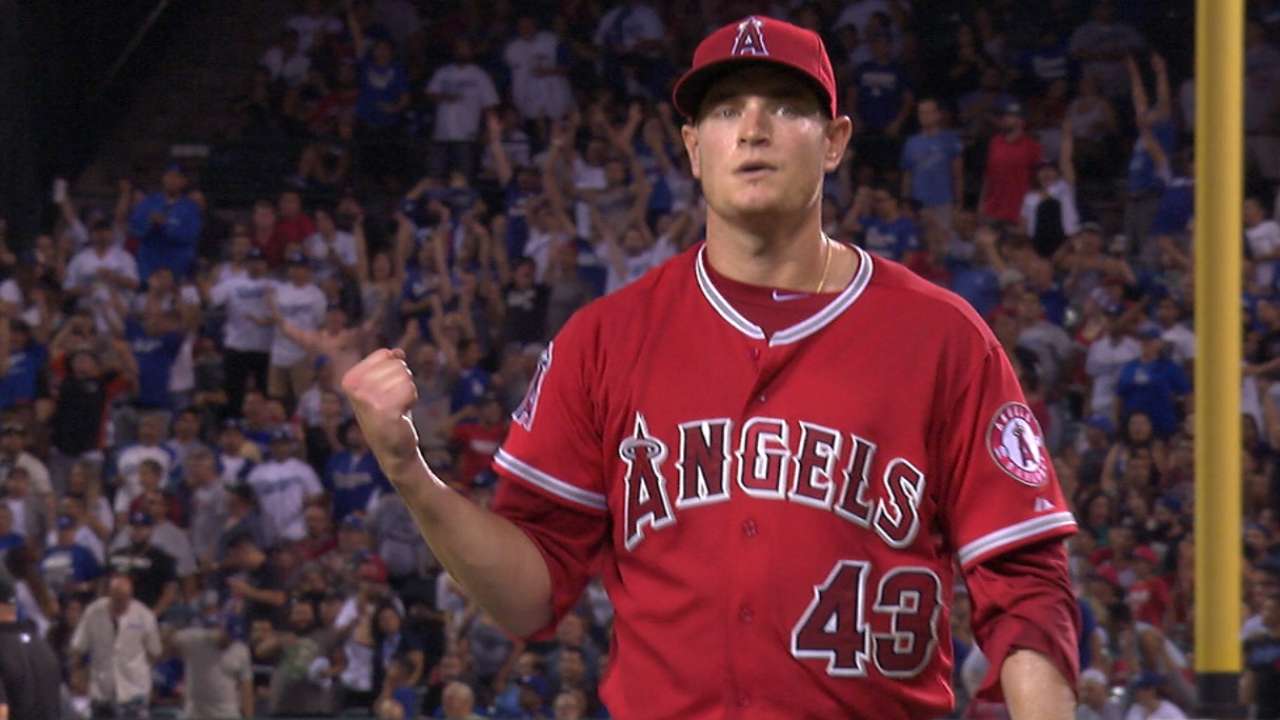 "Winning two series on the road is good for us. Earlier in the year, we weren't playing very well on the road. So now it's nice to win some series but now we have to go into Arizona." -- Justin Turner, on the Dodgers starting 5-2 on their 10-game road trip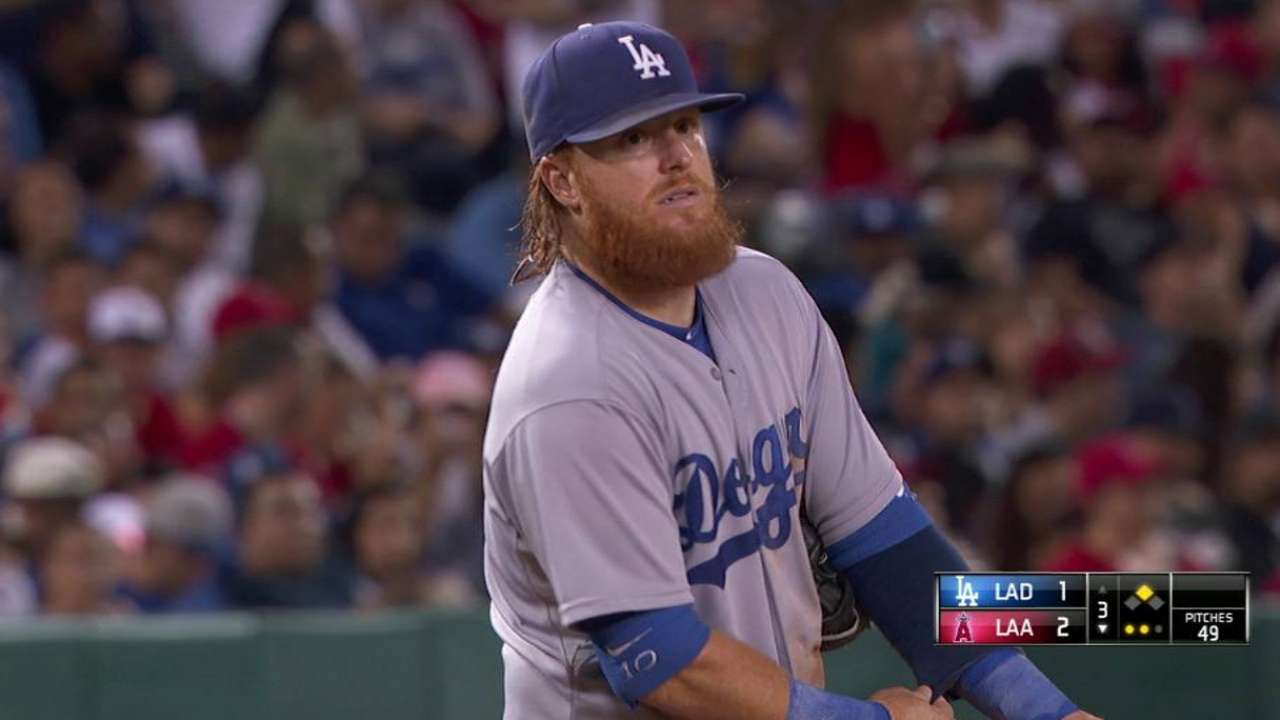 SOUND SMART WITH YOUR FRIENDS
Pujols' RBI single in the eighth was his 45th career go-ahead hit in the eighth inning or later -- the most in the Major Leagues since Pujols debuted in 2001.
UPON FURTHER REVIEW
The Angels won a replay challenge in the top of the fifth as Richards picked off Corey Seager, who was originally called safe. While the Dodgers' rookie shortstop was back to the base in plenty of time, he took his foot off the base while switching which foot was on the bag and was tagged out.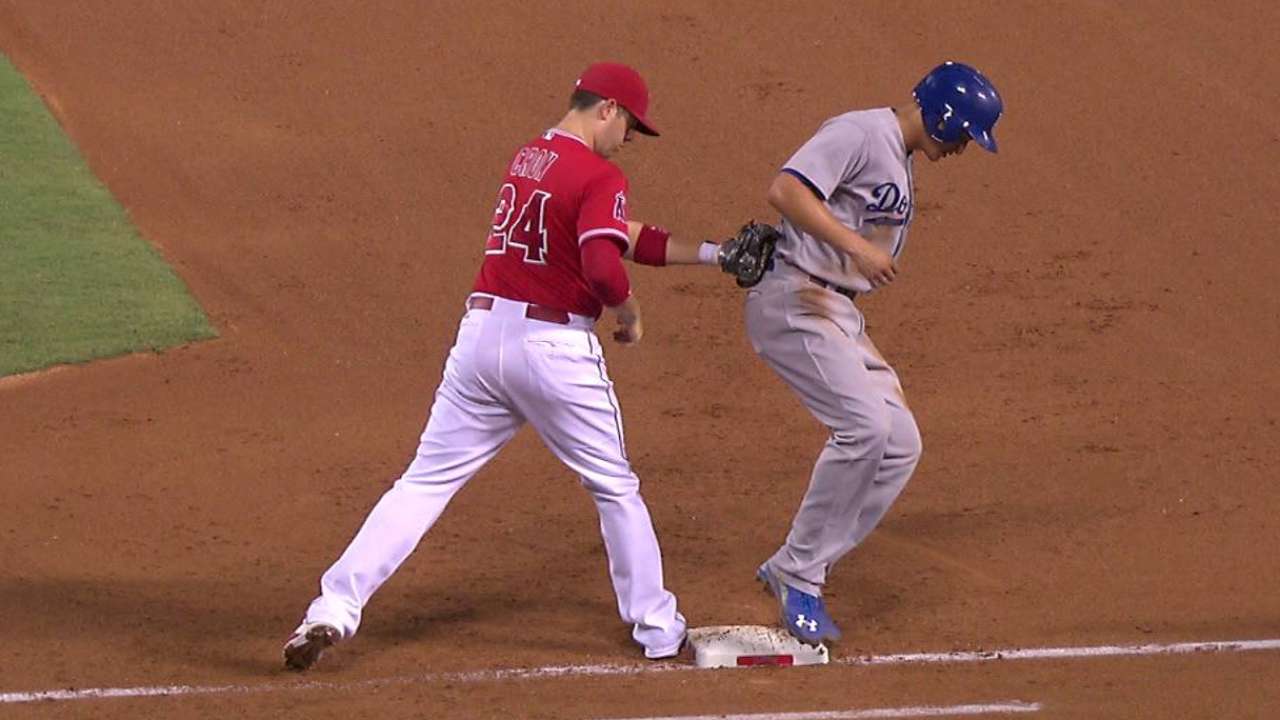 WHAT'S NEXT
Dodgers: The Dodgers have an off-day on Thursday before finishing out their 10-game road trip in Arizona starting on Friday. Alex Wood (10-9) will be on the mound for Los Angeles in the 6:40 p.m. PT start. Shortstop Jimmy Rollins is expected to return to the lineup after sitting out the Angels series with a jammed right index finger.
Angels: The Angels also have Thursday off before opening a three-game series against the AL West-leading Astros on Friday, with right-hander Jered Weaver squaring off with Houston ace Dallas Keuchel at 7:05 p.m. PT. Weaver held the Rangers to one run in six innings in his last start, one of his better efforts since coming off the disabled list in early August.
Watch every out-of-market regular-season game live on MLB.TV.
David Adler and Steve Bourbon are associate reporters for MLB.com. This story was not subject to the approval of Major League Baseball or its clubs.