Hughes enjoys successful simulated outing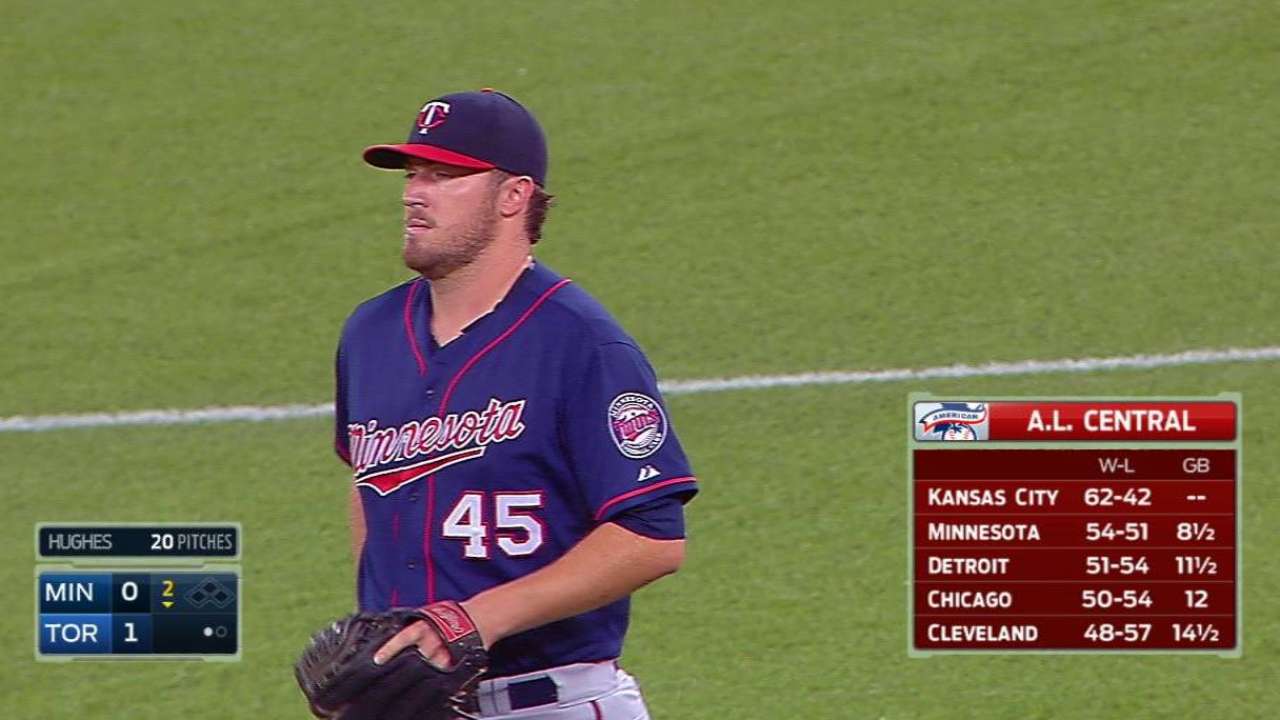 KANSAS CITY -- Right-hander Phil Hughes threw a simulated game without any issues on Wednesday at Kauffman Stadium, but the Twins haven't decided on his next step.
Hughes, on the 15-day disabled list retroactive to Aug. 10 with a lower back strain, threw three innings of 15 pitches each before throwing another 15 pitches in a bullpen session.
"It went as well as I could've hoped," Hughes said. "I was experiencing some symptoms all the way up to a couple of days ago. So to not feel anything now is certainly a step in the right direction. Now it's just a matter of honing in on my command and making sure my stuff is good, and building my arm strength and pitch count."
Hughes said he's not sure if he'll need a rehab outing before rejoining the rotation or if he'll skip one and jump right into the rotation early next week. Class A Cedar Rapids and Double-A Chattanooga are both in the playoffs and could be options if either is still alive in the postseason. The Twins could also decide to move Mike Pelfrey to the bullpen to make room in the rotation.
"I think the idea is to get me into a game," Hughes said. "But it all depends on how I feel tomorrow and how I come out of this, and how my 'pen goes in a couple days. And then we'll assess if I'm a better option than the five guys going. That's going to be a determining factor."
Manager Paul Molitor watched Hughes throw and was pleased with what he saw. Hughes did give up a homer to Kennys Vargas and a hard-hit ball to Chris Herrmann, but Molitor said it was good to see Hughes look healthy.
"It was good to see him on the mound facing hitters," Molitor said. "I think the stuff is fine. I think that was pretty much answered that his pitches are capable. Now it's how effective he'll be in a game in terms of at what point can you go far enough to make it worthwhile."
Worth noting
• All-Star closer Glen Perkins received a cortisone injection in his back on Wednesday, and he told assistant general manager Rob Antony that the injection provided immediate relief. Perkins, who has been out since Sept. 1 with a back strain, plans on playing catch this weekend and is hopeful of making a quick return.
"He said he had his best day today," Antony said. "He said, 'I know they hit the spot because I felt relief afterwards.'"
• Rookie designated hitter Miguel Sano was held out of the lineup for a second straight day on Wednesday to give him a mental and physical break leading into Thursday's off-day. He's been dealing with a strained right hamstring and has struggled to make contact at the plate recently. But he was able to take grounders at third before the game without any issues to test out his hamstring and is expected to return to the lineup on Friday against the White Sox.
"He's doing OK," Molitor said. "I don't know what percent he'll be on Friday, but he's getting closer. We're just trying to get his bat in there and thought these couple days would be helpful."
Rhett Bollinger is a reporter for MLB.com. Read his blog, Bollinger Beat, follow him on Twitter @RhettBollinger and listen to his podcast. This story was not subject to the approval of Major League Baseball or its clubs.