Plan for Harvey: 2 more regular-season starts
Mets may tab righty for Subway Series, final weekend after Verrett fills in Monday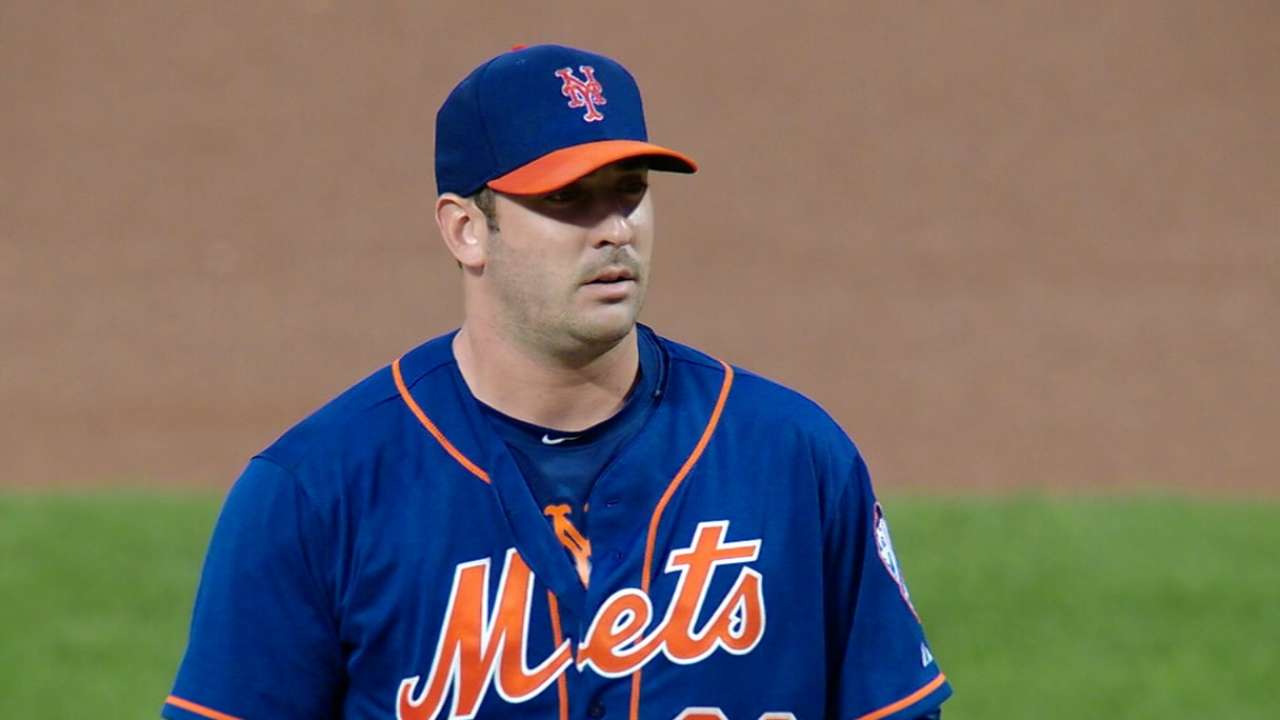 WASHINGTON -- General manager Sandy Alderson said before Wednesday's 5-3 victory over the Nationals that the Mets plan to use Matt Harvey twice more in the regular season, once against the Yankees next weekend and once vs. the Nationals on the final weekend of the season. But the plan remains fluid and subject to change, based upon Alderson's conversations with Dr. James Andrews and agent Scott Boras, Harvey's health and the Mets' position in the standings.
Andrews, who performed Harvey's Tommy John operation in October 2013, has already advised the Mets that he does not want Harvey to go too long of a stretch without pitching in a competitive game. So after Logan Verrett starts in his place against the Marlins on Monday at Citi Field, Harvey is a good bet to start one of the Mets' Subway Series games the following weekend, regardless of where the team stands at that time.
He is tentatively slated to pitch again in one of the season's final three games, but if the Mets have already clinched the National League East title at that point, it could be an abbreviated outing. Harvey added 5 1/3 innings to his total in an 8-7 win over the Nationals on Tuesday, reaching 171 2/3 on the season. Boras has contended that 180 innings is a hard cap, but it is clear that Harvey will surpass that mark if he pitches twice more in the regular season and also in the playoffs -- something Alderson remains confident he will do.
"Everything is a little fluid -- not just with respect to Matt, but with everybody," Alderson said. "It's a function of where we are in the standings, what guys have done, how they feel. So we have a plan, but sometimes you have a plan so you can deviate from it."
The Mets would also like to skip Jacob deGrom once in the rotation down the stretch if their position in the standings affords them that luxury. And they continue to keep an eye on rookie Noah Syndergaard, who will start Saturday in Atlanta after having his last turn skipped.
"It's a constantly changing set of circumstances," Alderson said. "So you have to have a broad plan in mind, but you have to be prepared to make corrections as well. That's seeing how guys are pitching, are they ineffective, are they fatigued, are they not fatigued? So there's a sort of constant massaging of that overall plan."
If and when they reach the postseason, the Mets will need to rejigger their rotation once more -- a discussion, Alderson said, for another day. Right now, the team is focused "very short-term" on all aspects of its roster.
"Obviously we've got a bigger picture in mind, but we have to get there first," Alderson said. "We don't have the luxury of planning for the playoffs at a time when we haven't won anything."
Anthony DiComo is a reporter for MLB.com. Follow him on Twitter @AnthonyDiComo and Facebook, and listen to his podcast. This story was not subject to the approval of Major League Baseball or its clubs.