Warren builds stamina in relief of returning CC
NEW YORK -- Despite opening the season as one of the Yankees' most reliable starters, Adam Warren learned in June that he was needed more in the bullpen, a development that the right-hander wasn't elated about but ultimately understood. As such, he assumed he wouldn't make another start in 2015.
But now, with Nathan Eovaldi unlikely to make another regular-season start, it looks like Warren will get his chance to start again. The Yanks began the process of stretching him out in Wednesday's 5-3 loss to the Orioles, having him throw 47 pitches over 2 2/3 innings in relief of CC Sabathia.
Warren entered in the fifth inning for Sabathia, who got a no-decision after 4 2/3 innings, four hits and three runs -- one earned -- in his first outing since landing on the disabled list Aug. 24 with right knee inflammation.
Sabathia is wearing a new knee brace that he says gives him comfort, flexibility and, most importantly, confidence. But admittedly, he was nervous in his first inning back.
"I think once the middle of the first inning, after I kind of got over that mental hurdle, I think it held up great," he said. "My knee feels fine. I'm excited about it."
Yankees manager Joe Girardi seemed to echo that sentiment. In particular, he was pleased with Sabathia's location and his ability to use his breaking ball and changeup.
"The knee came out good," Girardi said. "Obviously we'll know more tomorrow, but he said it felt good. I thought he threw a good game."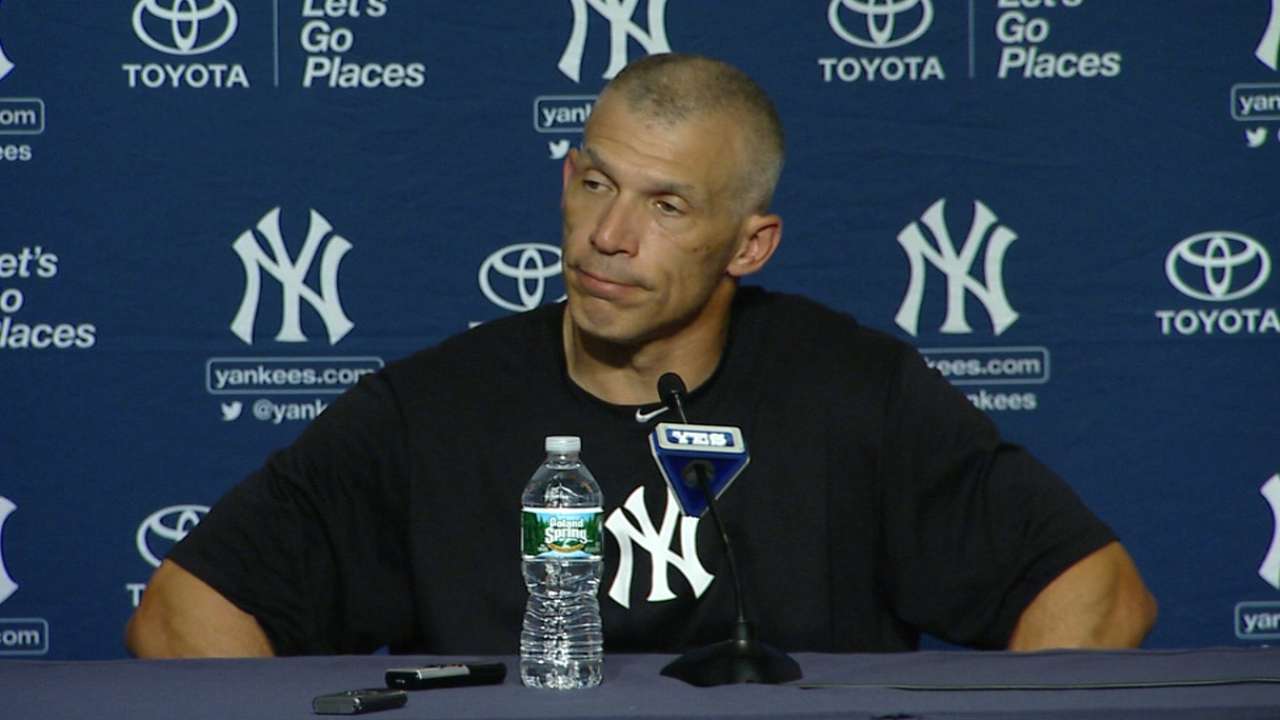 Though Warren surrendered a go-ahead homer to Steve Pearce in the eighth inning, Girardi was pleased with what he saw out of the righty and said Warren could potentially start Monday or Tuesday.
"Adam was throwing the ball good, and Pearce is a guy that plays mostly against left-handers," Girardi said. "I said if we were starting him, I could have him for 45-50 pitches. He left a breaking ball up."
Before Wednesday, Warren's longest outings as a reliever this season were three innings each, on July 28 and Aug. 5.
Warren indicated that the most difficult part of the being stretched out is ensuring that his stamina is still there, even though he's throwing more pitches.
"I think you've just got to make sure your conditioning's there, because you start to lose your legs when you get tired, and that's the hardest part about building up," he said. "Just making sure your conditioning's there and your arm strength's there. Just making sure my mechanics are the same, even when I start to get a little bit tired."
Grace Raynor is an associate reporter for MLB.com. This story was not subject to the approval of Major League Baseball or its clubs.