Drew's off night with glove proves costly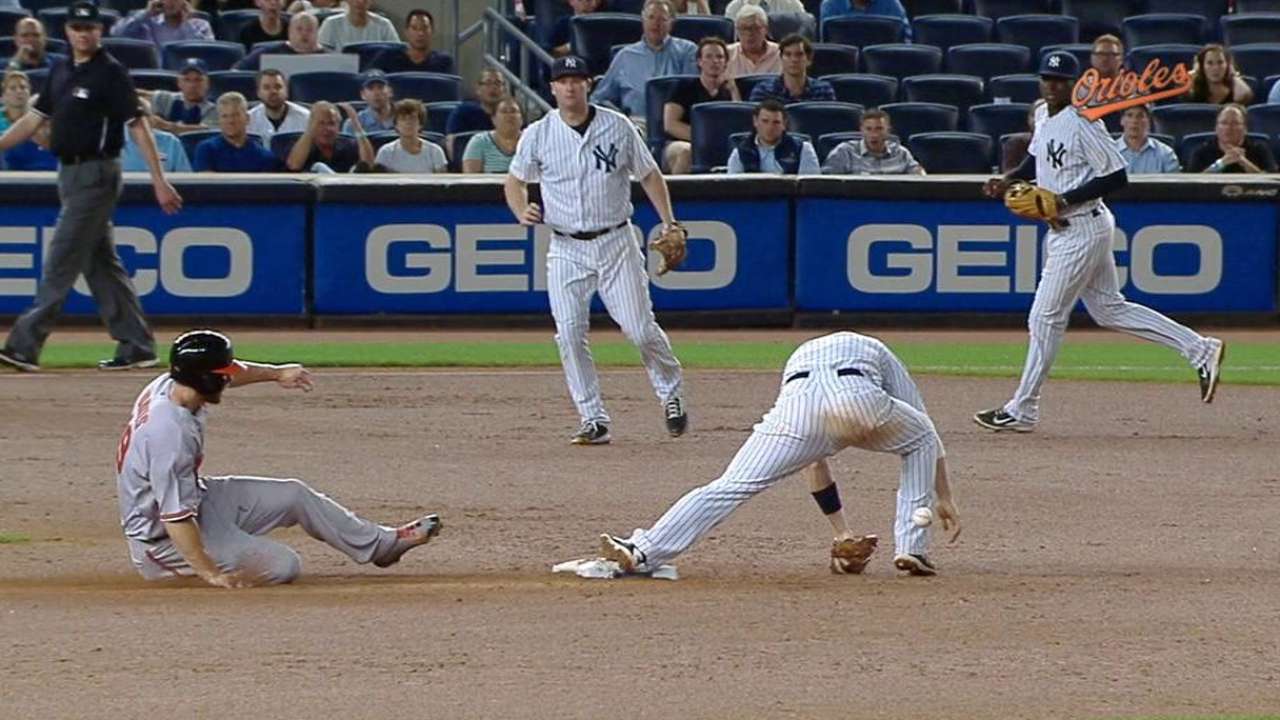 NEW YORK -- The Yankees have considered Stephen Drew's defense to be an asset all year long, and as they battle to close ground in the American League East, one of the veteran's roughest nights in the field could not have come at a worse time.
Drew was involved in two costly plays that led to three runs as the Orioles defeated the Yankees, 5-3, on Wednesday night at Yankee Stadium. Drew's ninth error of the season allowed two runs to score in the fifth inning, and he also booted a first-inning grounder that cost a chance at a double play.
"For me, defense has always been there," Drew said. "For tonight, it's just one of those things that's tough to swallow. It's frustrating. I'm not going to say it's not, for me especially. Today's over with. It's something that I should have had."
Drew has waged a season-long battle with the Mendoza line, going 1-for-2 on Wednesday to leave his average at .205, but the Yanks have stuck with the veteran over other options like prospect Rob Refsnyder because of his ability to pop an occasional homer, work walks and play top-notch defense.
"It's frustrating. Stephen Drew has played great defense all year long," Yankees manager Joe Girardi said. "It happens. Unfortunately, we weren't able to overcome it."
Drew's glove work was lacking in the first inning, as Gerardo Parra's grounder took a big hop and hit the side of Drew's face. He recovered to get the runner at first base, but Nolan Reimold was safe at second and later scored on a Chris Davis single off CC Sabathia.
"You get a ground ball and you know those guys make that play all the time," Adam Warren said. "So we have confidence in them to make it next time out. It just happens. It's part of baseball."
Drew suggested that the infield dirt, which he said has been hard all year long, may have had something to do with the play.
"The infield right now, I don't know if [it's] the water or whatever, but came up a little harder than what I thought on the first one," Drew said.
The more-costly play happened in the fifth, as Warren relieved Sabathia and induced Jonathan Schoop to roll over on what looked like should have been an inning-ending fielder's choice.
Third baseman Chase Headley fielded the ball and tossed to Drew at second, who missed the ball as Dariel Alvarez and Reimold scurried home to tie the game.
"That one with Head right there, I've got to have it," Drew said. "If I had it to do again, I think I would go with one hand and not try to go with two. It's a borderline. I'm in-between there, not knowing if it's going to hit dirt. It stayed up on me and just hit off my glove."
Bryan Hoch is a reporter for MLB.com. Follow him on Twitter @bryanhoch, on Facebook and read his MLBlog, Bombers Beat. This story was not subject to the approval of Major League Baseball or its clubs.