O's have two Minors clubs competing for rings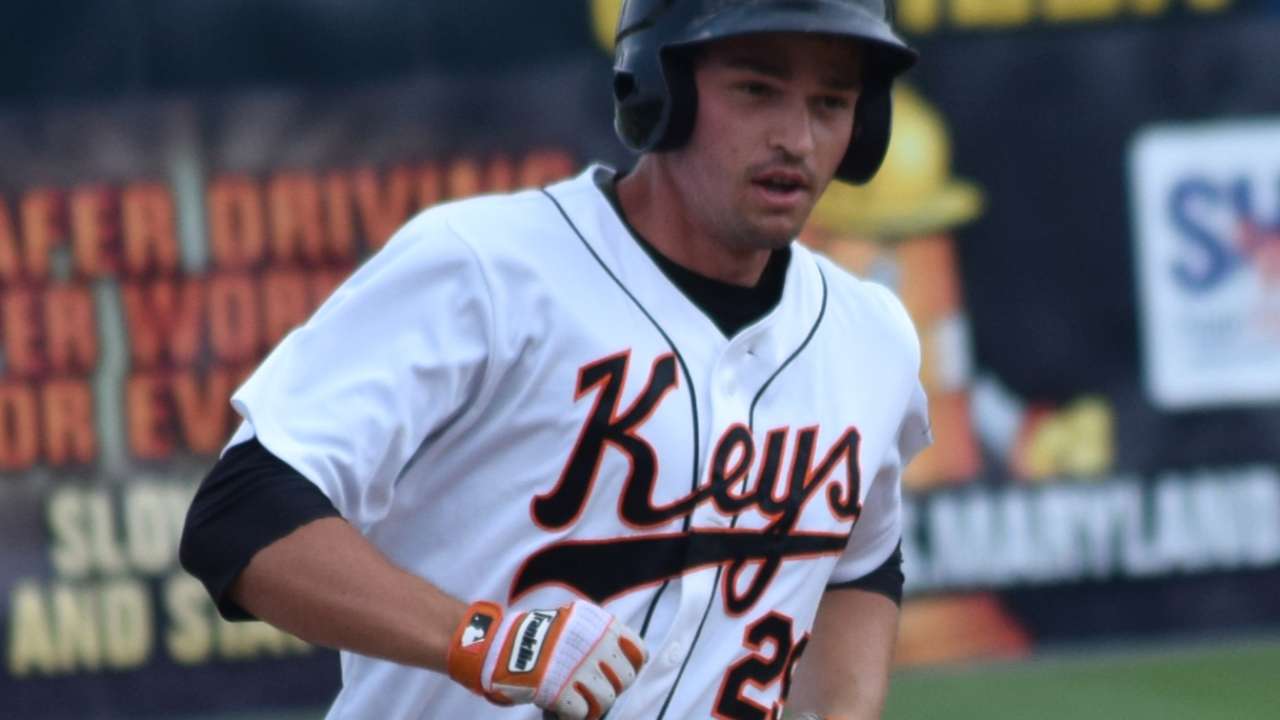 NEW YORK -- While the Orioles' playoff hopes have dwindled, their Minor League affiliates are gearing up for postseason play. Both Triple-A Norfolk and Double-A Bowie kicked off their respective playoffs on Wednesday night, which O's manager Buck Showalter said is a source of pride for the organization.
"They had to pick a roster like we had to last year. That's pretty cool. That's a little different juice there," Showalter said. "Make the organization buy rings. Thinking about designs. I remember every one of our Minor League championships like it was yesterday. It's all relevant. Whether it's state championships, Little League, it's all relevant. To be the best of the best in a league when everybody's playing the same games and competing for the same thing and had the opportunity to sign the same players. Everybody's on an equal playing field. It's actually more equal there, because they do play a similar schedule down there."
Norfolk wrapped up the division title for the International League South, setting up a first-round playoff matchup --which is a best-of-five set -- against the IL West-champion Columbus Clippers (Indians).
Bowie clinched first place in the Eastern League's Western Division and opened at the Altoona Curve (Pirates) for their best-of-five set. The Baysox are led by Trey Mancini, who won the 2015 Eastern League batting title. Mancini, who was previously named May Player of the Month by both the Carolina League (Class A) and the Baltimore Orioles Player Development staff, finished the season batting .359 (117-for-326), but was 29 plate appearances shy of the 384 needed to qualify for the batting title.
Mancini, ranked the Orioles' No. 12 prospect by MLB.com, accepted an 0-for-29 to become eligible and won the batting title with an average of .330 (117-for-355), the third-highest mark in a single season in franchise history.
"I don't know what else you could ask a guy to do," Showalter said of Mancini. "What's he got, 40-something doubles. The strikeouts are really impressive, too. The games I've seen, and I've watched a lot of tape, too, he hits the ball the other way. I like that. Made some improvements at first base. Walk totals are good enough. I like the doubles. He's a good-looking player. We have two good first basemen now with him and Christian [Walker]. They're both having good years at Double-A and Triple-A."
While there's a small chance Walker, ranked the Orioles' No. 5 prospect, joins the O's before the seasons ends, Mancini will not. He's doesn't have to be protected on the team's roster this winter, and Orioles first baseman Chris Davis is having a fantastic year, including a Major League-leading 41 homers entering play Wednesday.
Brittany Ghiroli is a reporter for MLB.com. Read her blog, Britt's Bird Watch, follow her on Facebook and Twitter @britt_ghiroli, and listen to her podcast. This story was not subject to the approval of Major League Baseball or its clubs.