Gardner gets another day out of Yanks' lineup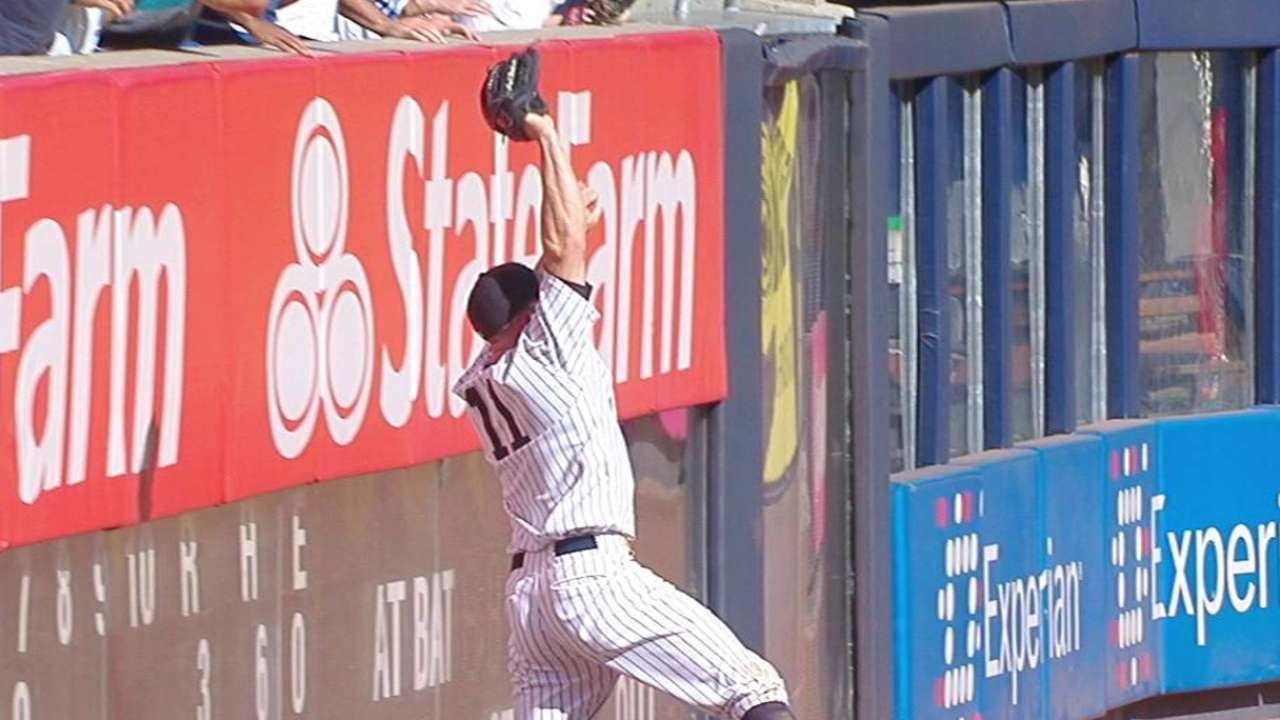 NEW YORK -- The Yankees were without Brett Gardner in their starting lineup for the third straight day Wednesday as he continued to nurse a jammed left shoulder. But manager Joe Girardi is optimistic about the way Gardner feels and said that he expects to have the left fielder back in the starting lineup on Thursday for the first of four games in a critical series against the Blue Jays.
"He is much better. He has not thrown yet. He will go out and do that [Wednesday], and our thought is we'll have a complete player [Thursday]," Girardi said. "I want to make sure that part of his game is OK. He has swung and that is OK. ... But I'm not sure yet if I would put him in for defense."
Gardner, who pinch-hit and grounded out in Wednesday's 5-3 Yankees loss to the Orioles, hurt his shoulder over the weekend against the Rays. He was tracking down a fly ball in left field and ran into the wall as he leaped up to make the play.
"I just hit it kind of funny right over the auxiliary scoreboard, where the wall's kind of uneven," Gardner said Tuesday night. "My shoulder kind of got up under there."
Gardner said Tuesday night that he had a cortisone shot on Monday, which helped greatly. He thought he'd be back by Wednesday, but Girardi decided to give him an extra day in an effort to be cautious. Girardi was fearful that if he inserted Gardner into the lineup before he was ready, Gardner risked tweaking something that could sideline him for even longer.
In Gardner's place Wednesday, Dustin Ackley made his first start as a Yankee in left field. He was the second overall pick in the 2009 Draft, and the Yanks acquired him from the Mariners on July 30. But by Aug. 4, Ackley was on the 15-day DL with a right lumbar strain. He had only played in two games with the Yankees before the injury, and on Aug. 27, he was sent on a rehab assignment to Triple-A Scranton/Wilkes-Barre.
"He was playing in Triple-A and felt pretty good and had swung the bat pretty good," Girardi said. "He has not had an at-bat in a few days, so I won't make too much of his at-bats, but I think that he could play an important role moving forward with all these games that we're going to have in the next three weeks. He could be a factor."
Grace Raynor is an associate reporter for MLB.com. This story was not subject to the approval of Major League Baseball or its clubs.