Great catch sidelines Negron for the season
Reds outfielder has torn labrum in left shoulder and fractured scapula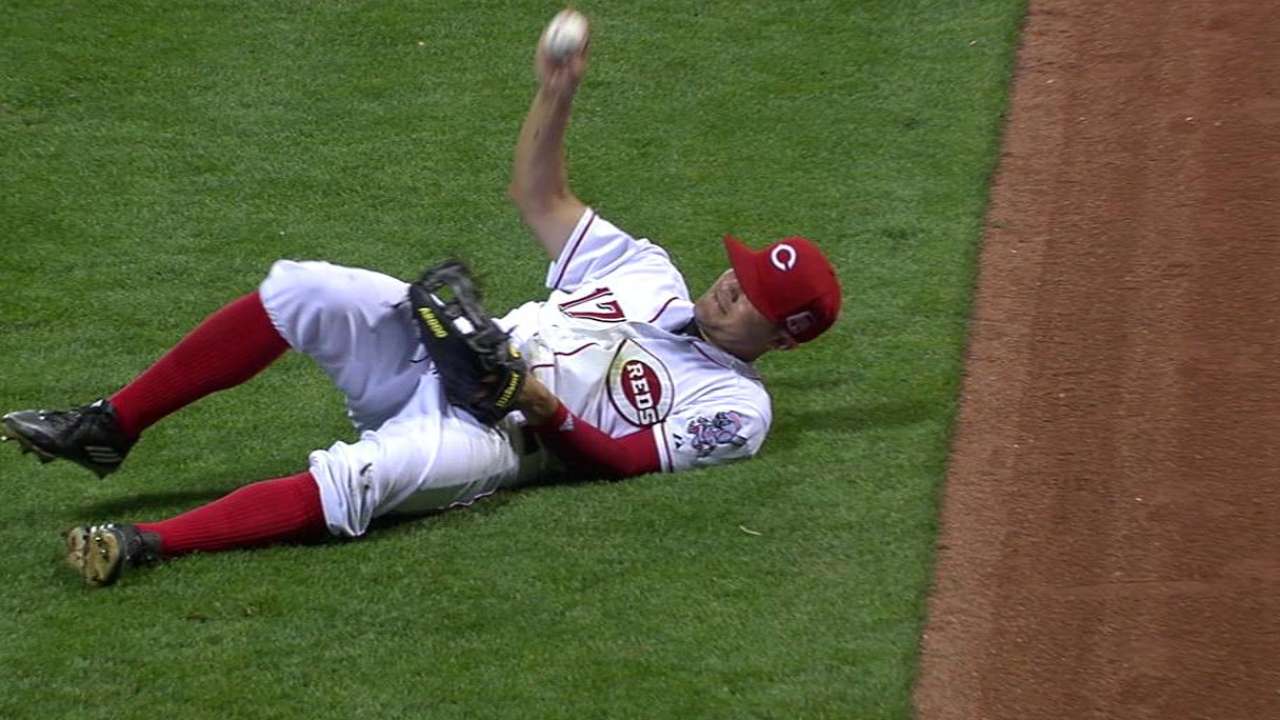 CINCINNATI -- Despite having his left arm immobilized in a padded sling on Wednesday afternoon, Reds utility player Kristopher Negron still had his sense of humor -- and the satisfaction that he did his job.
"At least it was a pretty sweet play," Negron joked.
In the seventh inning of a 7-3 loss to the Pirates a night earlier, Negron made a diving catch near the left-field foul line that robbed Starling Marte of a hit. A sweet play indeed, but it has cost him the rest of the season, as the 29-year-old was diagnosed with a torn labrum in his left shoulder and a fractured scapula. He will need surgery.
Negron laid out for the catch and did a nice job of holding on to the ball as he slid across the grass. He appeared to be in distress after the play and came out of the game.
"I kind of rolled over there because it popped in my mind as soon as I got to the ground," Negron said. "I didn't want [the ball] to pop out, so I rolled over and was able to cradle it. At least we got the out, so it made it that much better.
"It just felt like it got really sore when I hit the ground. And then once we got in [the clubhouse], it started feeling a little bit worse. Now that I've had the MRI, it was actually worse than I thought."
Negron had just entered in the sixth inning as part of a double switch after starting left fielder Adam Duvall suffered a bruised right knee when he was hit by a pitch. A September callup who had just arrived on Tuesday, it was Negron's first time back in the big leagues since he was sent to Triple-A Louisville on June 24.
On July 23, Negron's same shoulder was injured on a similar play, but it was diagnosed as a strain. He spent seven days on the disabled list and had been pain-free since. But not diving again was not an option.
"That never crosses my mind," Negron said. "I saw that ball go up and I was like, 'This is going to be fun.' It's just the way I play. I play hard, you guys know that. As soon as the ball went up, the one thing on my mind was to go get it."
Reds head trainer Paul Lessard described Negron's injury as one similar to right-hander Jon Moscot, who hurt his left shoulder trying to catch a popup in June. The recovery time after the surgery is expected to be five months. After healing, it should not affect Negron's ability to swing a bat.
"Once that stabilizes, it's just a strength issue," Lessard said.
Negron, who made the big league club out of Spring Training, batted .140 in 43 games for the Reds and .216 in 59 games for Louisville. This is his second major injury. In 2012, he tore the ACL and meniscus in his right knee while in Louisville, and it took him two years to get back to the Majors.
"It's been a roller-coaster year. It's had its ups and downs, but it's just another bump in the road," Negron said. "I've come back before, and I will do it again."
Mark Sheldon is a reporter for MLB.com. Read his blog, Mark My Word, follow him on Twitter @m_sheldon and Facebook and listen to his podcast. This story was not subject to the approval of Major League Baseball or its clubs.