MLB.com Columnist
Bernie Pleskoff
Scouting profile: Jose Berrios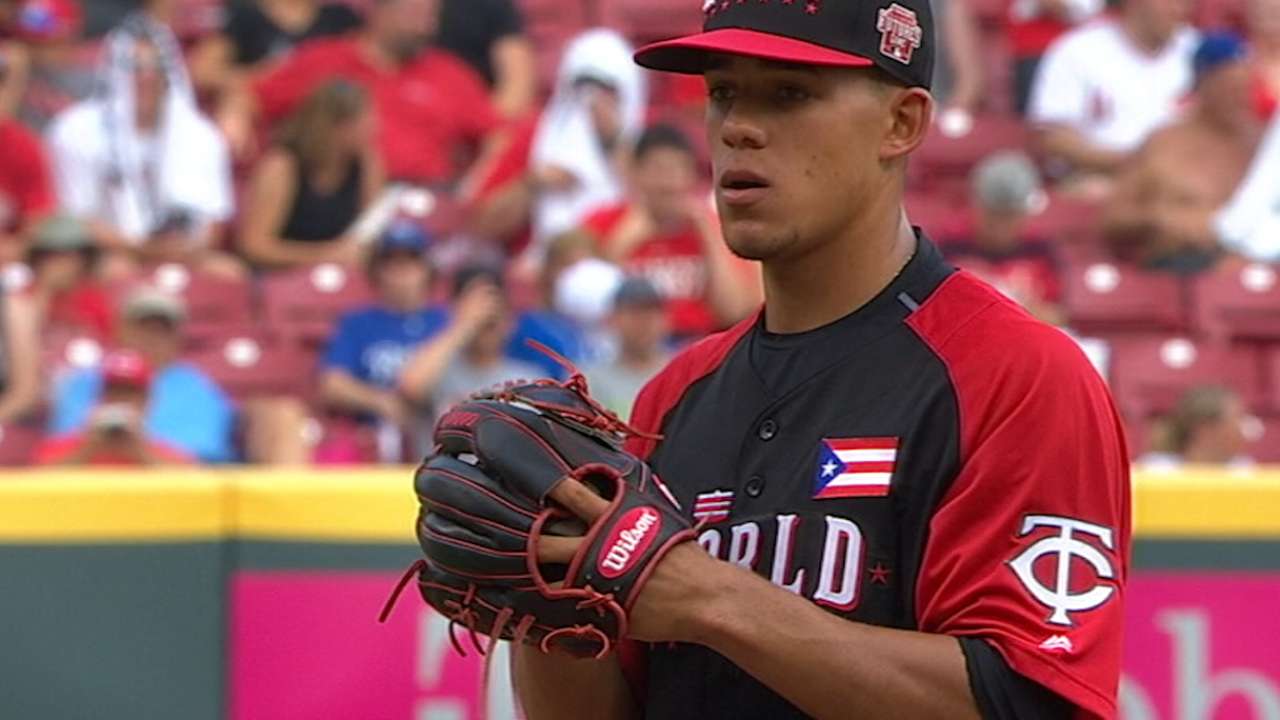 Background
With the 32nd overall selection in the 2012 Draft, the Minnesota Twins chose Jose Berrios out of Papa Juan XXIII High School in Puerto Rico. Since the school did not have a baseball team, Berrios played for his father's traveling team. He had primarily played shortstop and second base and had only begun pitching that January, but the Twins drafted him as a pitcher.
Berrios was one of two first-round compensation picks awarded to Minnesota for losing free agents. He was the highest-drafted pitcher to be selected from Puerto Rico.
An excellent athlete, Berrios was targeted by the Twins for his maturity and complete arsenal. Prior to the Draft, the club liked the way he was able to change speeds, and it felt he was advanced for his age.
Berrios has logged some time playing in very important, high-profile games. He was on the Puerto Rican team in the 2013 World Baseball Classic and has started two consecutive SirusXM All-Star Futures Games. I saw him pitch in both those games.
Berrios is No. 2 on the Twins' Top 30 Prospects list .
Repertoire
Berrios isn't particularly large. He's listed at 6-foot and 185 pounds, but in fact, he may be only 5-foot-11. Regardless of his size, Berrios has a very lively and quick arm. He brings his fastball at 94-96 mph. Berrios' secondary pitches include a curveball that many have called a "slurve" and a changeup that he trusts. For good reason. I believe his changeup is his best overall pitch. It's the pitch that can gain Berrios a great advantage over the hitter. He is especially tough on left-handed hitters when his changeup sinks and he changes the eye level and balance of the hitter.
Mechanics
Berrios throws from a three-quarters arm slot, but he works down in the strike zone very well. Both his curveball and his changeup can be used to finish a hitter, regardless of the count. Berrios is fearless and aggressive on the mound. The hitter can't sit on his fastball.
Berrios changes speeds and can deceive hitters by adding and subtracting from his fastball velocity, and by throwing his secondary pitches away from the hitter.
Strengths
Berrios defies the notion that today's pitchers have to be big and strong to succeed. That just isn't the case with him. He overcomes his lack of height and weight with excellent athletic ability, quickness and very sound baseball instincts.
In parts of four Minor League seasons, Berrios has compiled a very fine 2.98 ERA and a 36-20 record. He was named the Twins' Minor League Pitcher of the Year following a 2014 season when he went 12-8 with a 2.77 ERA combined at Class A Advanced Fort Myers, Double-A New Britain and Triple-A Rochester.
This year has been outstanding as well. Berrios compiled a record of 14-5 over 166 1/3 innings. He went 8-3 at Double-A Chattanooga and finished 6-2 at Triple-A Rochester. His combined ERA was a sparkling 2.87. Berrios struck out a career-high 175 hitters while walking only 38.
Weaknesses
When I saw Berrios pitch this year at the Futures Game, his fastball looked to be very straight and lacked life. His secondary pitches were more effective and much crisper.
I find this interesting
The Twins had a difficult decision to make regarding the manner in which Berrios would conclude his season. Would he be promoted to the big league club for the September stretch run? Or would the team decide he has reached his pitch limit and avoid risking his future by bringing him to the Major League club to end the season? They decided he had pitched enough for 2015.
Future for Berrios
It wouldn't be surprising if we saw Berrios in the mix for a position in Minnesota's starting rotation next spring. If he doesn't win a spot at that point, he should be on the big league roster at some point in the season.
Berrios has quieted some of the talk that he belongs in the bullpen. His improved command, his strikeout record and his repertoire bode well as a rotation starter.
Berrios in a word
Focused
Bernie Pleskoff has served as a professional scout for the Houston Astros and Seattle Mariners. Follow @BerniePleskoff on Twitter. This story was not subject to the approval of Major League Baseball or its clubs.