Dombrowski creates role of pitching analyst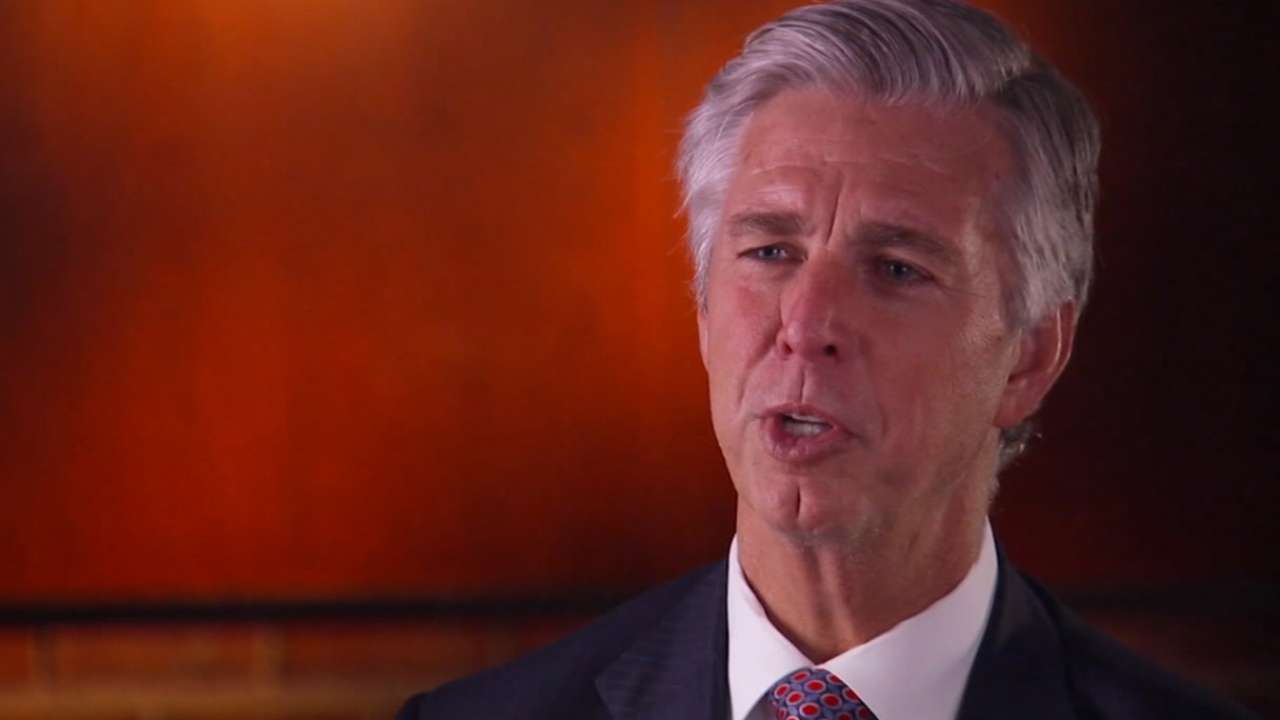 BOSTON -- Red Sox president of baseball operations Dave Dombrowski took an innovative step Wednesday in his quest to improve the club's pitching across the board, naming Brian Bannister as the club's director of pitching analysis and development.
It is a new role for the Red Sox, one specifically created for Bannister. Dombrowski has never had someone in that role in his long career in baseball.
"We've tried to create what I think is probably a unique position," said Dombrowski. "It's a position that's going to be in charge of developing and helping to develop players through an analytic approach, and also a pitching philosophy. He'll work very closely with [director of player development] Ben Crockett. He'll work closely with us as we approach guys in the Draft. He's already talking to [pitching coach] Carl Willis.
"We're going to see if we can try to be a little bit better in that. He'll give us an edge. He will report directly to me, that will be his reporting, but he's going to work closely with everybody. He's very smart. He's got some different approaches and has worked hard on it."
The Red Sox hadn't necessarily set out to put someone in this new position, but Dombrowski was impressed with Bannister's presentation to him.
"He's extremely intelligent. He's got a little different way of approaching things with analytics," Dombrowski said. "He's pitched at the big league level. He grew up around the game -- his dad, of course, Floyd, who I knew, being a No. 1 Draft choice, a premium big league pitcher.
Bannister will be right in the thick of things when it comes to pitching discussions within the organization.
"When we have meetings and we analyze other organizations and players, he'll be involved in that. I'll ask for him to make suggestions," Dombrowski said. "You look at some organizations and they're better at building the bullpen than others, they're better at signing free-agent players that maybe others pass on. I'm not saying we have any magical formula, but we're going to do everything I can and I look at this maybe approaching it in a little bit better way."
Bannister joined the Red Sox this season as a professional scout and analyst after spending parts of five seasons as a Major League pitcher from 2006-10.
The Red Sox also promoted Chris Mears to the role of pitching crosschecker and named Gus Quattlebaum as the director of professional scouting.
"I happen to know Chris. He pitched with us in Detroit years ago," said Dombrowski. "Always well-respected. Good scout. Very conscientious. Perfect guy to step into that role."
Quattlebaum, who is in his 10th year with the Red Sox, replaces Jared Porter, who is leaving to take a promotion with the Cubs.
"We like Gus and what he brings to the organization -- a lot of energy, a lot of knowledge -- and so he was an obvious person to put into place," said Dombrowski. "I'm very impressed with him. He'll take charge of that. He'll help us coordinate our professional scouting and be involved with the coordination and reading of reports and talking to professional scouts, along with me."
Ian Browne is a reporter for MLB.com. Read his blog, Brownie Points, follow him on Twitter @IanMBrowne and listen to his podcast. This story was not subject to the approval of Major League Baseball or its clubs.