A's announce Melvin extension through 2018
Skipper has led Oakland to three postseason appearances in five seasons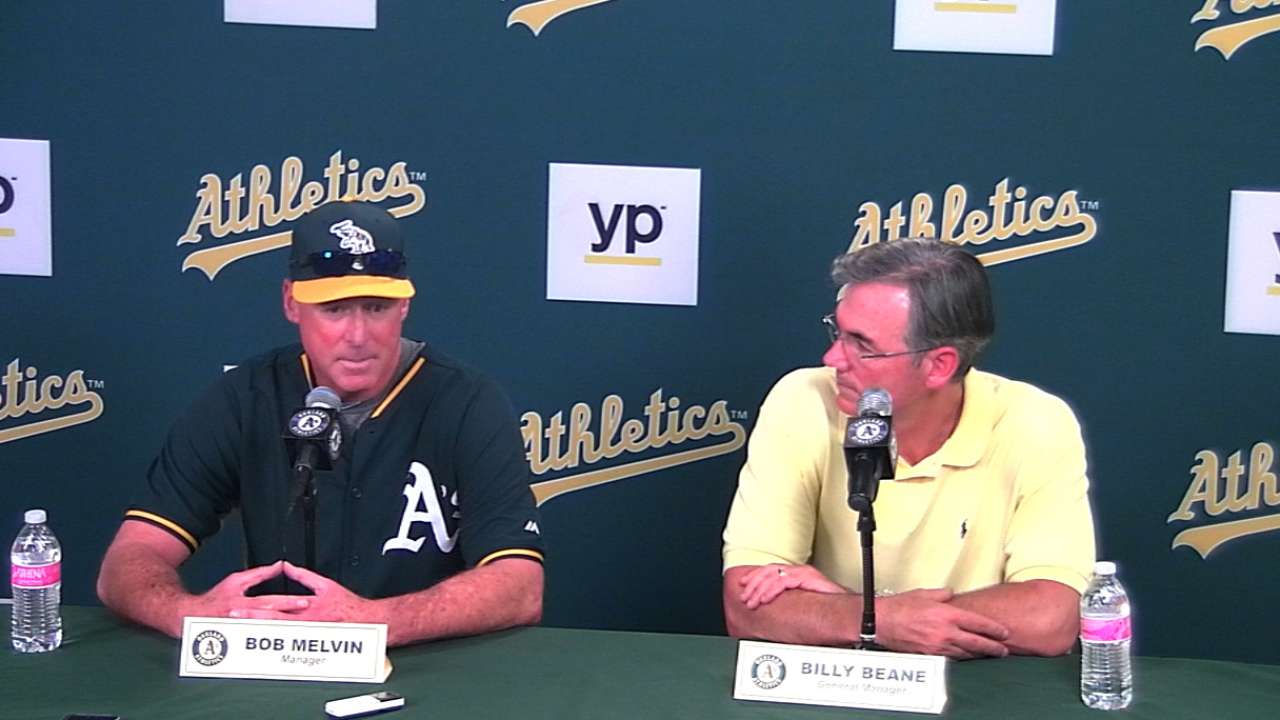 OAKLAND -- Negotiations between manager Bob Melvin and A's GM Billy Beane lasted as long as it took for Beane to ask whether Melvin wanted to stick around a few more years and for Melvin to answer in the affirmative.
In other words, not long at all.
The A's announced a two-year extension through the 2018 season for Melvin on Wednesday afternoon.
"The minute I got to this organization, it's been a different feeling putting this uniform on," said Melvin, who was born and raised in the Bay Area. "There's a pride factor involved. I've attended quite a few events here growing up and it's fun to go to Cal games and Raiders games. But it's about being committed to this organization."
Beane said the deal had been completed for some time.
"It's been a fait accompli for a while," Beane said. "This is someone we are proud to have running the club. It's been a productive relationship. Certainly things haven't gone as planned but what has been consistent is Bob's leadership. He brings the same attitude, the same intensity every single day, every single game."
"It's been a different feeling putting this uniform on. There's a pride factor here..."-Melvin w/Pres Crowley & Beane pic.twitter.com/nd05RaGmdm

— Oakland Athletics (@Athletics) September 9, 2015
Melvin entered Wednesday with a .532 winning percentage over parts of five seasons as Oakland's skipper. He has a career .509 winning percentage in 12 seasons as a Major League manager, including previous stints with the Mariners ('03-04) and D-backs ('05-09).
Though the A's sit in last place in the American League West, the club had qualified for the postseason in each of Melvin's first three full seasons at the helm. He helped guide the A's to division titles in 2012-13 before qualifying as a Wild Card team last season.
"As a team I believe we've underachieved and I'm responsible for that," Melvin said. "I'm fortunate and appreciative. To get an extension like this is pretty rare. I'm fully committed to turning this thing around sooner rather than later."
Melvin earned AL Manager of the Year honors in 2012, when he helped lead Oakland to a 94-68 record and its first division title since '06. That came five years after he had also won the '07 National League Manager of the Year Award during his time with the D-backs.
Melvin hit .233 with 35 home runs and drove in 212 runs during a 10-year playing career, primarily as a catcher. He appeared in the 1987 NLCS with the San Francisco Giants. He played for six teams.
In addition to attending baseball and football games at the Coliseum, Melvin often talked about attending rock concerts at the facility, known as "A Day on the Green."
He attended high school and junior college just across the San Mateo-Hayward bridge and went to Cal before the Detroit Tigers drafted him in the first round (second pick) of the 1981 amateur draft (January secondary phase).
Paul Casella is a reporter for MLB.com. Rick Eymer is a contributor to MLB.com. This story was not subject to the approval of Major League Baseball or its clubs.