Arrieta in line for Wild Card, but Cubs aiming higher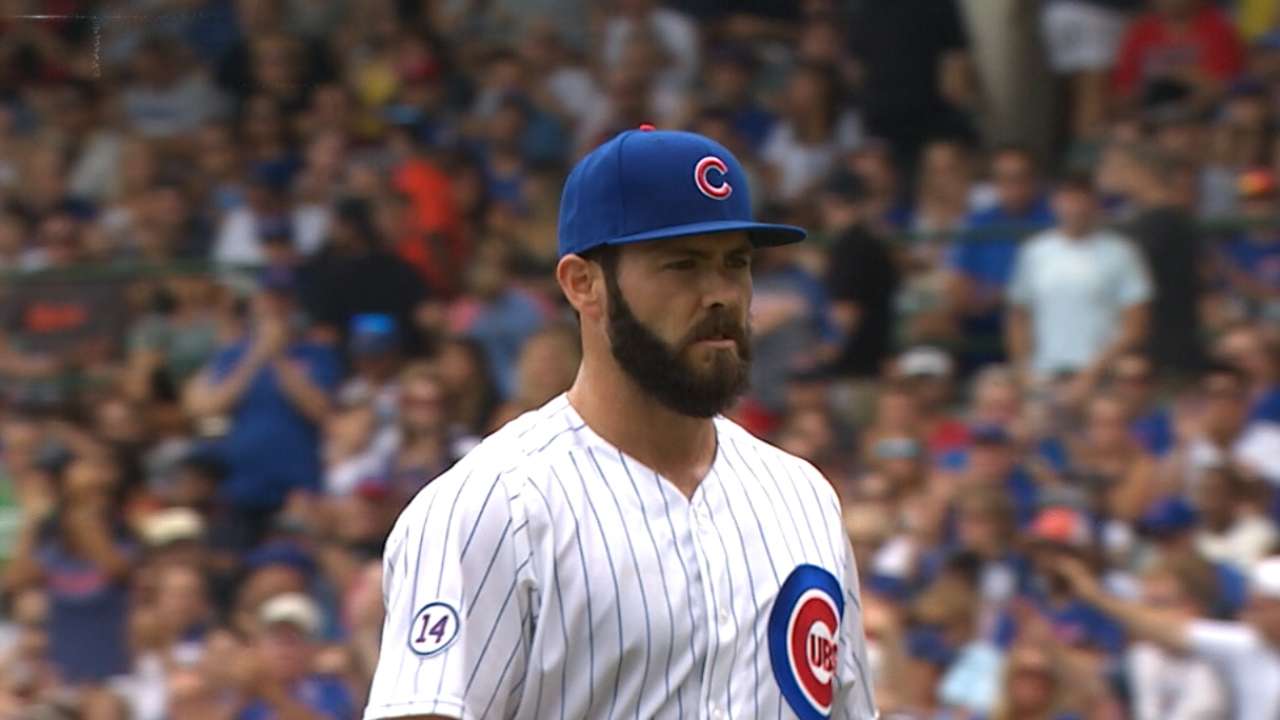 ST. LOUIS -- As of Wednesday, Jake Arrieta is lined up to start the National League Wild Card Game presented by Budweiser on Oct. 7. But that's not what the Cubs want.
"Our goal is still to catch the Cardinals," Cubs manager Joe Maddon said Wednesday.
The Cubs have a secure hold on the second NL Wild Card spot, and they were 2 1/2 games behind the Pirates for the first spot following their 4-3 loss to the Cardinals in the series finale at Busch Stadium on Wednesday. Chicago is 7 1/2 games behind St. Louis in the NL Central.
There has been discussion as to whether the Cubs would go with Arrieta or Jon Lester if they play in the NL Wild Card Game, but Maddon indicated the right-hander is lined up for that start. Arrieta (18-6, 2.03) will open Chicago's series at Philadelphia on Thursday.
"He would be able to pitch in the Wild Card [Game], yes," Maddon said. "But again, our goal is not to play in the Wild Card Game."
Lester said he was fine if Maddon went with Arrieta for the NL Wild Card Game.
"I don't really care," Lester said. "He's the best pitcher on this team right now; he's probably the best pitcher in the league right now. Everybody has an ego and everybody wants to be that guy. But when it comes down to it, if he gives us the best chance to win that one-game playoff, I'll be on the top step cheering my butt off for him to do well.
"There's no competition in here. The competition is on the field. We're trying to win a World Series."
Lester allowed one run on two hits over seven innings in Wednesday's loss, striking out seven and exiting with the lead.
After Wednesday, the Cubs have seven games remaining against the Bucs (Sept. 15-17, which includes a doubleheader; and Sept. 25-27) and three more vs. the Cards (Sept. 18-20 at Wrigley Field).
"I don't want our guys to lose track or thoughts of trying to catch the Cardinals," Maddon said. "That's our best way to play outstanding baseball for the rest of the month leading into the playoffs. Try to catch the Pirates, catch them, then catch the next group. I want us to approach every day that way."
Can the Cubs win the NL Central?
"I don't see why not," Chicago's Anthony Rizzo said. "Obviously, the Pirates feel the same way. We just have to keep playing baseball. We can't worry about what anyone else is doing. We just have to keep winning ballgames and taking it one game at a time and keep getting better."
Carrie Muskat is a reporter for MLB.com. She writes a blog, Muskat Ramblings. You can follow her on Twitter @CarrieMuskat and listen to her podcast. This story was not subject to the approval of Major League Baseball or its clubs.