ICYMI: Rea stellar, Wallace delivers in walk-off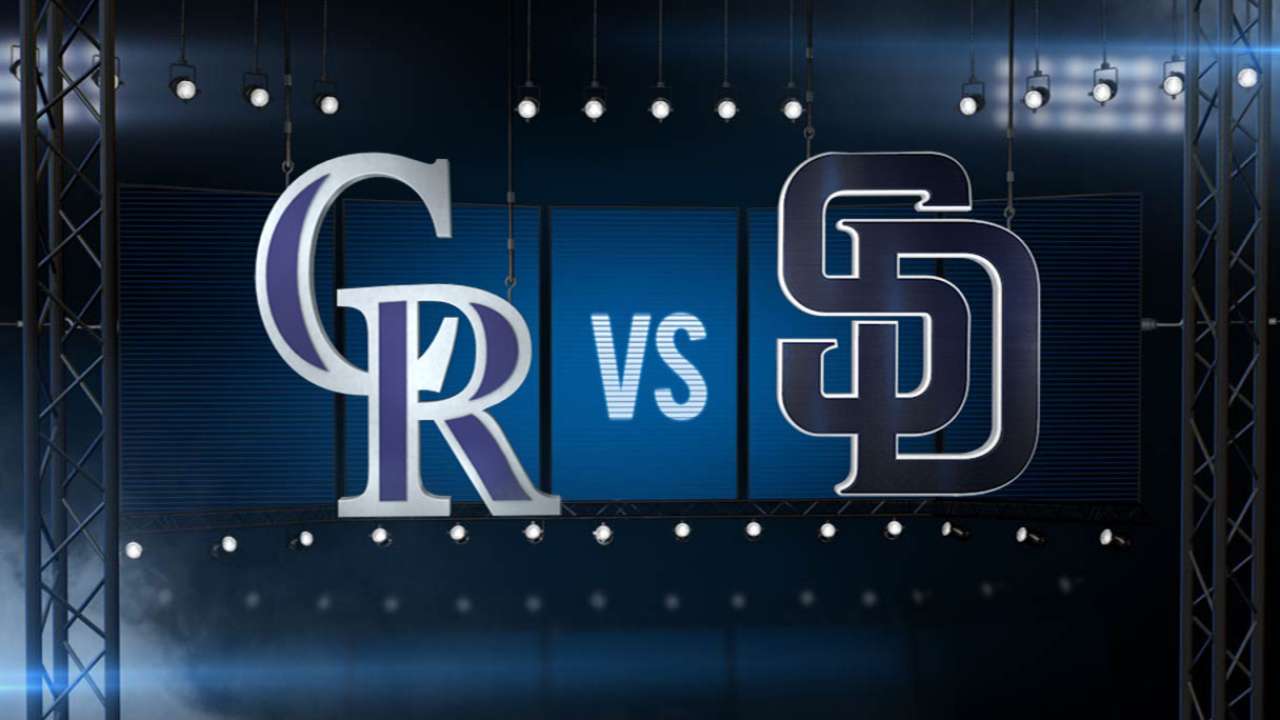 Rookie Colin Rea delivered the finest start of his young career on Tuesday as he pitched seven scoreless innings against the Rockies in the second game of a four-game set. Although Rea did not factor into the decision of Tuesday's game, he provided just the start the Padres needed in what turned out to be a pitcher's duel. Behind Rea and the help of a walk-off RBI from Brett Wallace in the bottom of the ninth inning, the Padres went on to topple the Rockies, 2-1, in a speedy two-hour and 40-minute affair.
Despite throwing more balls (49) than strikes (47), Rea was efficient against Colorado. Rea collected four strikeouts -- reaching the 25-strikeout mark in the sixth game of his career -- while allowing two hits and three walks, and he retired the last 11 batters he faced.
After the Friars took a 1-0 lead in the sixth, Rea was relieved by Kevin Quackenbush in the top of the eighth inning. Quackenbush delivered a perfect inning before handing the reins over to Craig Kimbrel with a 1-0 lead in the top of the ninth. Kimbrel collected a pair of strikeouts and was one out shy of collecting his 37th save of the year, but a solo home run off the bat of Nolan Arenado tied the game at 1 for Kimbrel's third blown save of the year. The Padres' offense would pick Kimbrel up, however, allowing Kimbrel to collect his second win of the season.
The Swinging Friars pounded out seven hits, with the biggest knock coming off the bat of Wil Myers in the sixth inning. Myers connected for a solo shot -- his sixth of the season and his first since coming off the 60-day disabled list - to give the Padres a 1-0 lead with his 20th RBI of the year.
Yangervis Solarte extended his hitting streak to six games with a double in the fourth inning and finished with a 2-for-4 effort. Solarte's second double of the night marked his 30th of the year, giving him the fourth-most doubles by a National League third baseman in 2015. Outfielder Matt Kemp was also successful in keeping his own streak alive as his single in the sixth inning, extended his on-base streak to 28 games for the longest such streak of his career.
Wallace delivered an RBI fielder's choice in the bottom of the ninth to give the Padres a 2-1 walk-off win. He drove in Cory Spangenberg, who led off the bottom half of the ninth with a double, and was then moved over to third base by a Clint Barmes sacrifice bunt. The walk-off RBI marked Wallace's 14th RBI of the season and his 13th RBI off the bench.
In case you missed it, here are some highlights and stories you may not have seen:
Padres postgame recap: Wallace's pinch-hitting heroics give Padres walk-off
Myers breaks scoreless tie with a solo shot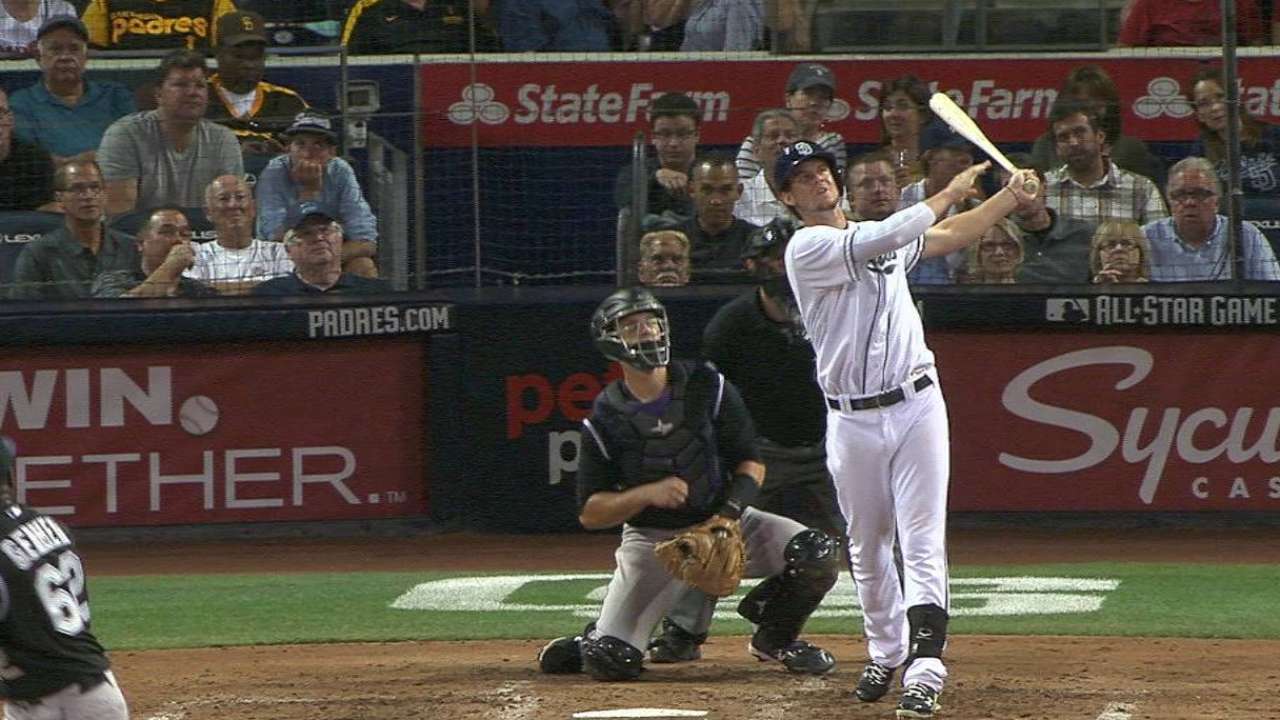 Kemp extends his on-base streak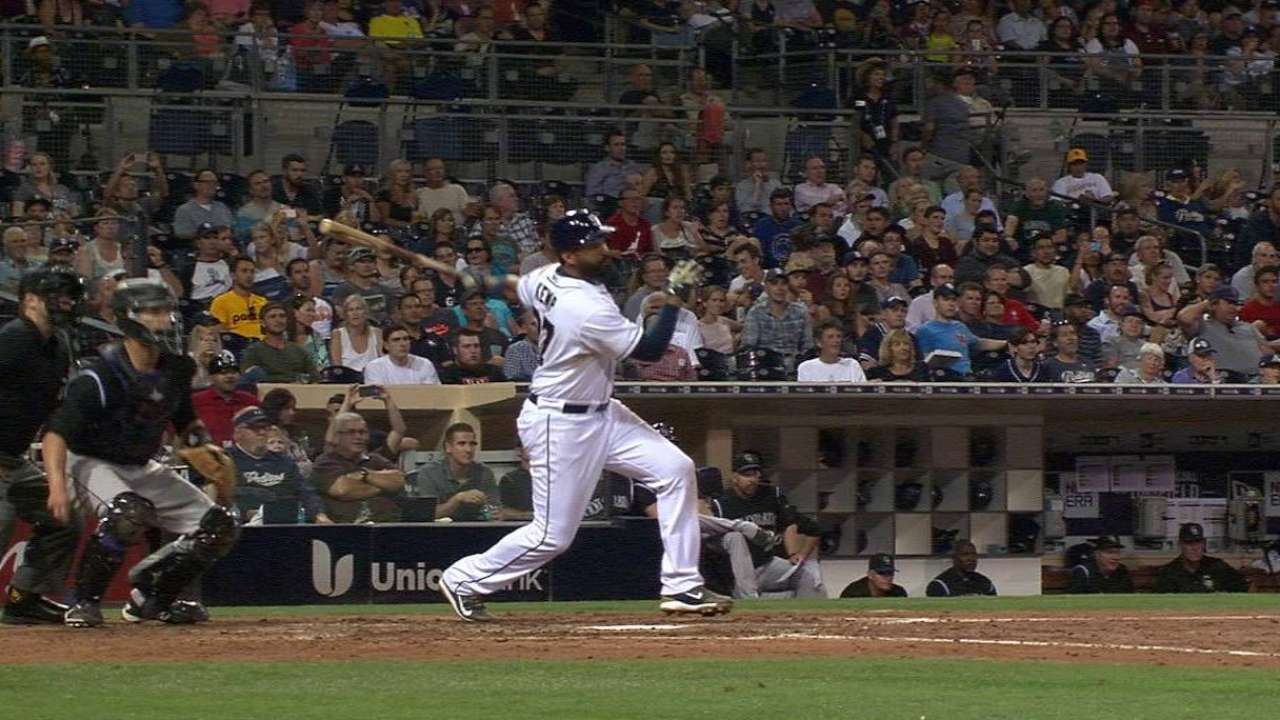 Wallace delivers a walk-off win
Wallace gets doused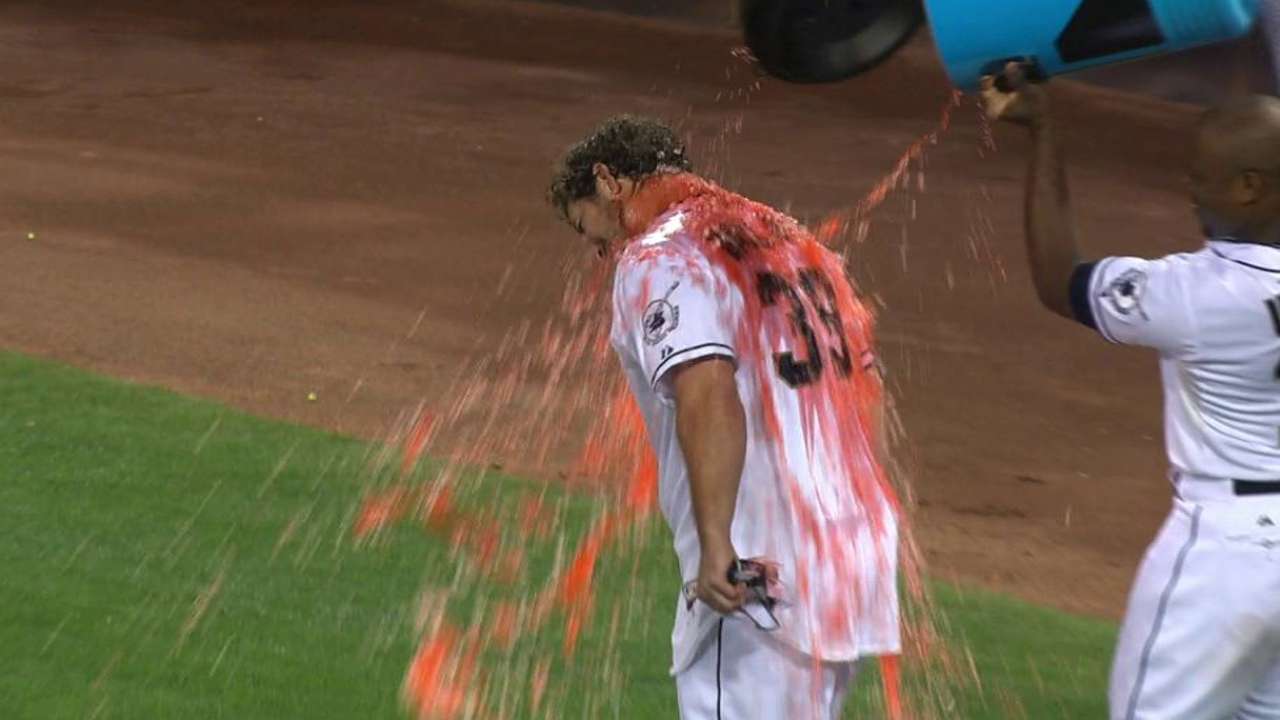 As season winds down, pitching still needs to be addressed: Padres could add more pitchers to roster
An All-Star season calls for an All-Star schedule: Padres to welcome Dodgers for 2016 opener
Monday a day of highs and lows: Kemp has an up-and-down day for Padres
Promising young catcher commits to honing his craft: Hedges to play winter ball in the Dominican
Padres wives fundraiser a phenomenal success: Monarch School benefits from Padres event
Down on the farm: Tri-City wins 16-inning, Northwest League playoff opener
Murph's Musings: Time running out for rehabbing relievers Maurer, Kelley
Game Notes vs. COL (09.08) Rea Ready for Rookie Rumble against Gray, Rox Tuesday
Looking forward:
Friar Forecast: Shields set to face Rockies' Rusin on Wednesday
Wednesday's pitching preview: RHP James Shields (10-6, 3.83 ERA) vs. LHP Chris Rusin (5-7, 4.78 ERA)