Buehrle hopes shot cures 'aches and pains'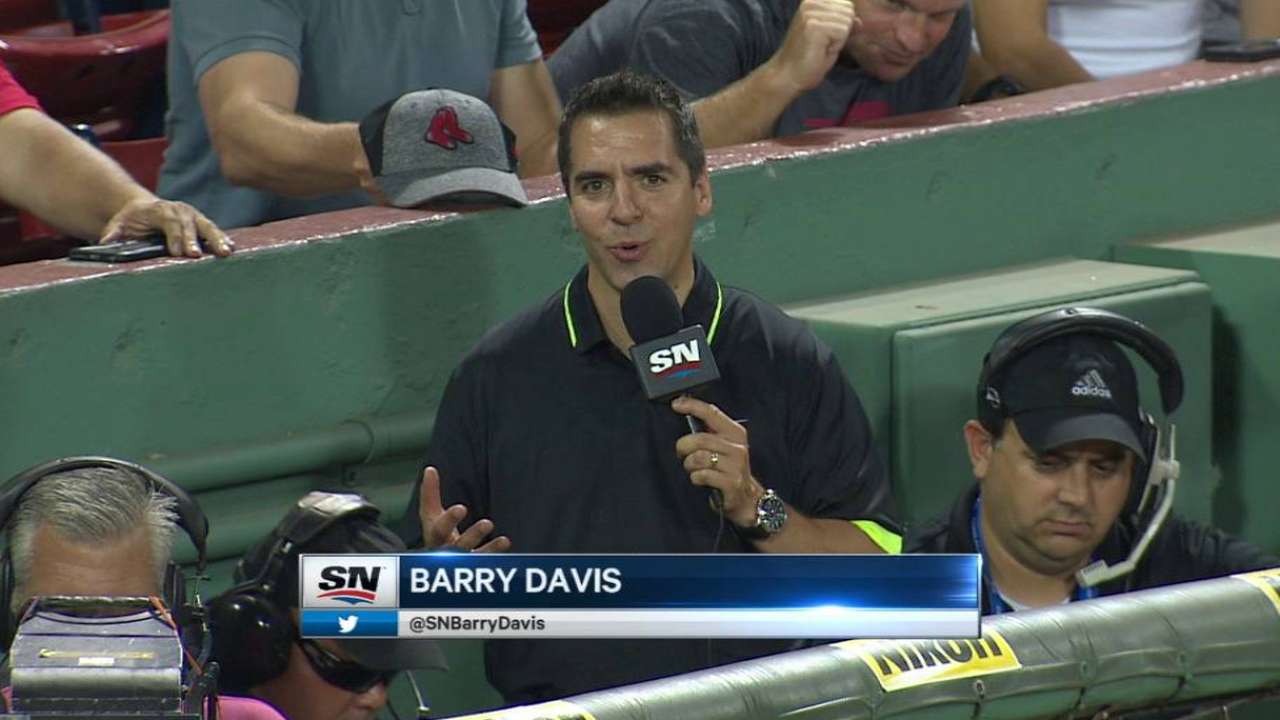 BOSTON -- Left-hander Mark Buehrle, back from Toronto after receiving a cortisone shot in his throwing shoulder on Tuesday, hopes his latest treatment has him primed to help lead the Blue Jays into October.
Although the team delayed its veteran hurler's next start by three days --- Buehrle pitches in Atlanta next Tuesday instead of Saturday against the Yankees -- both parties consider this week's measures more of a tune-up than any real source of concern moving forward.
"You take your car in to get oil changed. Get the bearings lubed up. Same thing," Buehrle said. "It's just to try to get strong for the final couple weeks, and hopefully the playoffs."
How much the shot helps alleviate the "aches and pains" in Buehrle's shoulder remains to be seen, but it is a method he's used throughout his career, including earlier this season.
"At times I feel great [afterward]. At times, it might not do as much," Buehrle said. "It's a hit and miss kind of thing."
That's not to say the dependable Buehrle enjoys pitching on extra rest. But considering he owns a 6.98 ERA over his last four starts, and that he's only topped 90 pitches once in his last seven, the Blue Jays felt compelled to handle him with caution.
"It's frustrating," Buehrle said. "I feel like I've always been the guy that's been counted on to go out there every five days. Now I'm getting skipped for other guys. It's a kick in the stomach a little bit, just realizing. But age and innings are maybe starting to catch up."
Buehrle took some solace in that the pitcher filling in for him on Saturday is his buddy, right-hander Marcus Stroman. Although Buehrle believes he and the enthusiastic 24-year-old have completely different personalities, a friendship has blossomed between the two since Stroman debuted with the Blue Jays last season.
"He obviously calls me pops. We've texted ever since we've known each other," Buehrle said. "We've kept in contact offseason, during the season. Even when he's not here, he texts me after all my starts. Good friends."
Sitting at 174 1/3 frames, Buehrle is still gunning for his 15th consecutive season of passing the 200-innings mark, even if that feat looks less likely after only throwing 3 1/3 frames on Monday. But the 36-year-old is certainly not willing to jeopardize Toronto's run to the postseason.
"That's not even a question," he said. "I'm still shooting for 200. I don't know how many starts I have left. It didn't help out the other night here, only going three innings. But it's still a goal of mine and I hope to get there."
Alec Shirkey is an associate reporter for MLB.com. This story was not subject to the approval of Major League Baseball or its clubs.