Hutchison shakes off sub-par outing
Right-hander stays confident as Blue Jays head to Bronx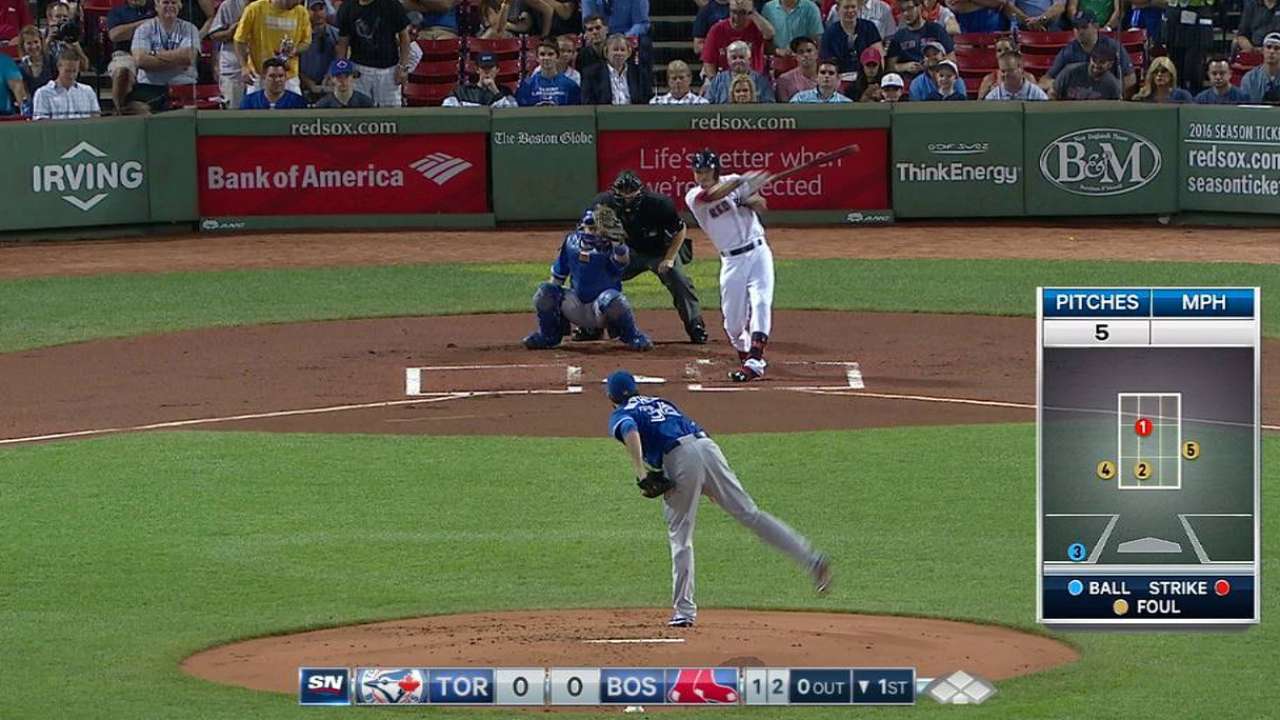 BOSTON -- Although it had been over six weeks since Blue Jays starter Drew Hutchison made his last start away from Rogers Centre, the right-hander's season-long road woes still lingered with him on Wednesday night in a grueling 10-4 loss to the Red Sox at Fenway Park.
Hutchison worked only 3 1/3 innings and gave up six runs on six hits, including home runs by Mookie Betts and David Ortiz that busted the scoring door open. The sub-par performance raised his ERA to 5.33 overall and 9.44 in 12 road outings. It also raised a question:
Should Toronto continue pitching Hutchison in the rotation with Marcus Stroman back in the fold, or would the team be better served with him in the bullpen?
"For me, what's done is done," Hutchison said. "All I can do is when I'm given the ball, go out there and perform. I'm confident in myself and I'm confident going forward as I've always been."
Hutchison, who started hitters off on 0-2 counts a handful of times in his brief appearance, was done in by a patient Red Sox lineup that had worked him for 81 pitches by the time he left in the fourth inning. Those same hitters tagged him for four runs off four two-out hits in the third.
For as often as Hutchison got close, a quality payoff pitch eluded him just as much.
"He had no problem getting ahead of guys, he just couldn't put them away," said Blue Jays manager John Gibbons, whose team lost two of three in Boston. "That's happened to him before. That was kind of the story of a few guys out there. We had no problem getting ahead, we just couldn't do anything with it. They're a hot team, they're playing good. They've got a dynamic offense now."
Hutchison's struggles come amid a flare-up of left shoulder inflammation for fellow starter Mark Buehrle, who received a cortisone shot on Tuesday and had his next start pushed back by three days. Buehrle likewise has fought to maintain consistency in recent weeks.
With the Blue Jays' division race with the Yankees heating up, pressure to hang on to their 1 1/2-game lead in the American League East has also mounted. The rotation obviously remains a vital factor in the overall equation.
"Obviously it didn't sit well with me," Hutchison said. "It's disappointing. Every game it is important to have the confidence in yourself to go out there and deliver."
But even following a frustrating series loss to a suddenly dangerous Red Sox team, Gibbons is not concerned about his club's state of mind as it prepares for a crucial four-game series in the Empire State. He just hopes the pitching improves.
"We're fine. These guys are playing great baseball," Gibbons said. "They just took it to us two out of these three games here. It starts on the mound. The two games we lost here, we were down early big, and that's the way it goes."
Alec Shirkey is an associate reporter for MLB.com. This story was not subject to the approval of Major League Baseball or its clubs.