Papi two away from 500-homer plateau
Slugger likely to reach milestone on three-city road trip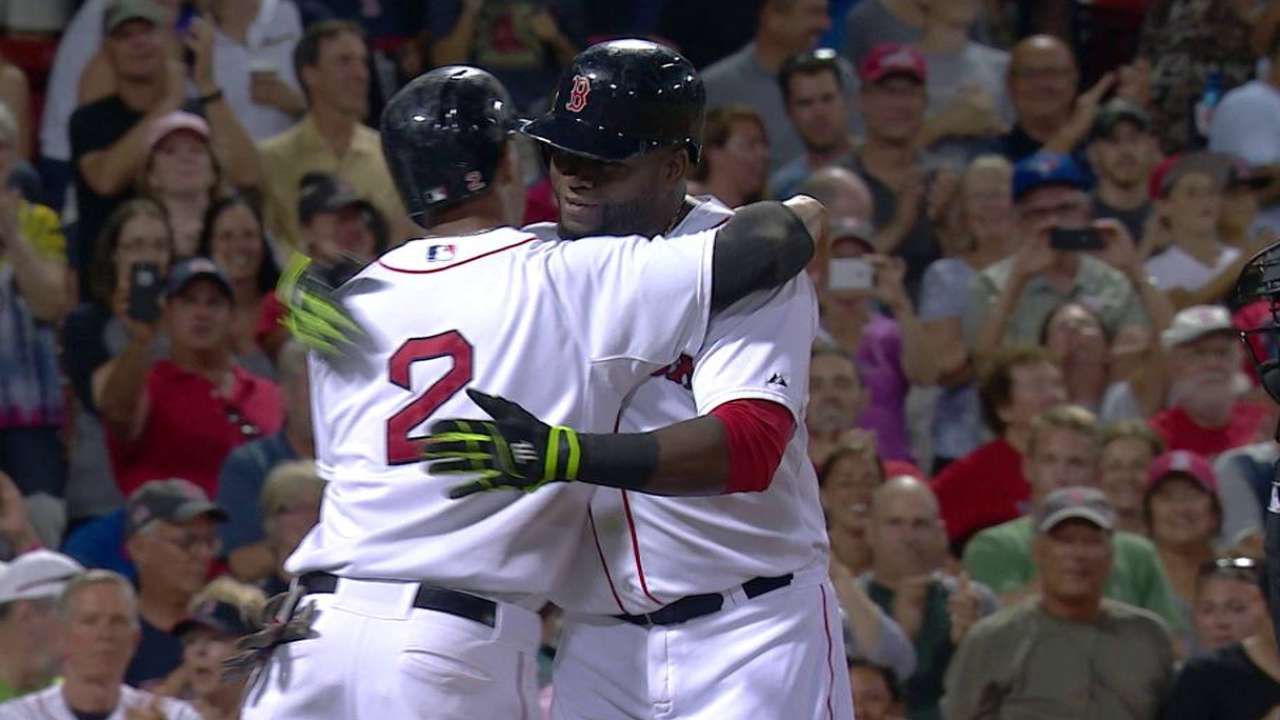 BOSTON -- As the Red Sox departed Fenway Park on Wednesday night and prepared for a three-city, nine-game road trip, the three-piece, red banner just above the Green Monster was at 498.
David Ortiz, who is on a power tear even by his own standards, went deep again in the finale for the homestand, putting him two away from the magic number.
Big Papi's latest long ball -- his sixth in the last 12 games -- was a laser beam to straightaway center. The three-run shot helped the Red Sox to a 10-4 victory over the Blue Jays.
Ortiz connected on a 93-mph fastball from Drew Hutchison in the third and just cleared the wall to give the Red Sox a 4-0 lead.
According to Statcast™, Ortiz hit the ball at a velocity of 106 mph and was projected to land 410 feet away.
There's at least a decent chance Ortiz will hit No. 500 at Tropicana Field, Camden Yards or Rogers Centre -- the three venues the Red Sox play at before returning to Fenway.
Or maybe Ortiz finally cools off and he can do it in front of the home crowd. Ortiz left Fenway Park before the clubhouse opened to the media following Wednesday's game.
"I know David has a very special bond with the city," said Red Sox interim manager Torey Lovullo. "I know it would mean a lot to him to do it here. But he's just so professional and just so locked in -- it might happen on the road. It's going to be a great accomplishment no matter where it happens. We're all behind him; we're all excited by what he's done."
When Ortiz arrived to work on June 11, it was hard for anyone to imagine he'd be in position to hit 500 during this season. At that point, the 39-year-old slugger was looking every bit his age, hitting .219 with six homers, 21 RBIs and a .67O OPS.
Then Ortiz got hot -- very hot. And he hasn't let up much since.
In 269 at-bats since then, Ortiz is hitting .305 with 26 homers, 69 RBIs and a 1.058 OPS.
The emerging Red Sox players marvel at what Ortiz can do.
"I think it's his mindset," said shortstop Xander Bogaerts. "He's as prepared as ever every day. He's been around the game so long that he knows what the opposing pitcher and team wants to do with him. Lately they've been throwing him away and he's just been hitting bombs the other way. He's been around the game long, so he knows what he's doing and he knows his swing extremely well."
Ortiz is aiming to become the 27th player to hit 500 homers. The last player to hit No. 500 for the Red Sox was Manny Ramirez in 2008.
"We all want him to hit it as soon as possible, but it would be very nice if he could hit it here at home," said Bogaerts. "The chances are a little slim, but hopefully he can get it here."
Ian Browne is a reporter for MLB.com. Read his blog, Brownie Points, follow him on Twitter @IanMBrowne and listen to his podcast. This story was not subject to the approval of Major League Baseball or its clubs.