Despite rout, Jays keep 1 1/2-game lead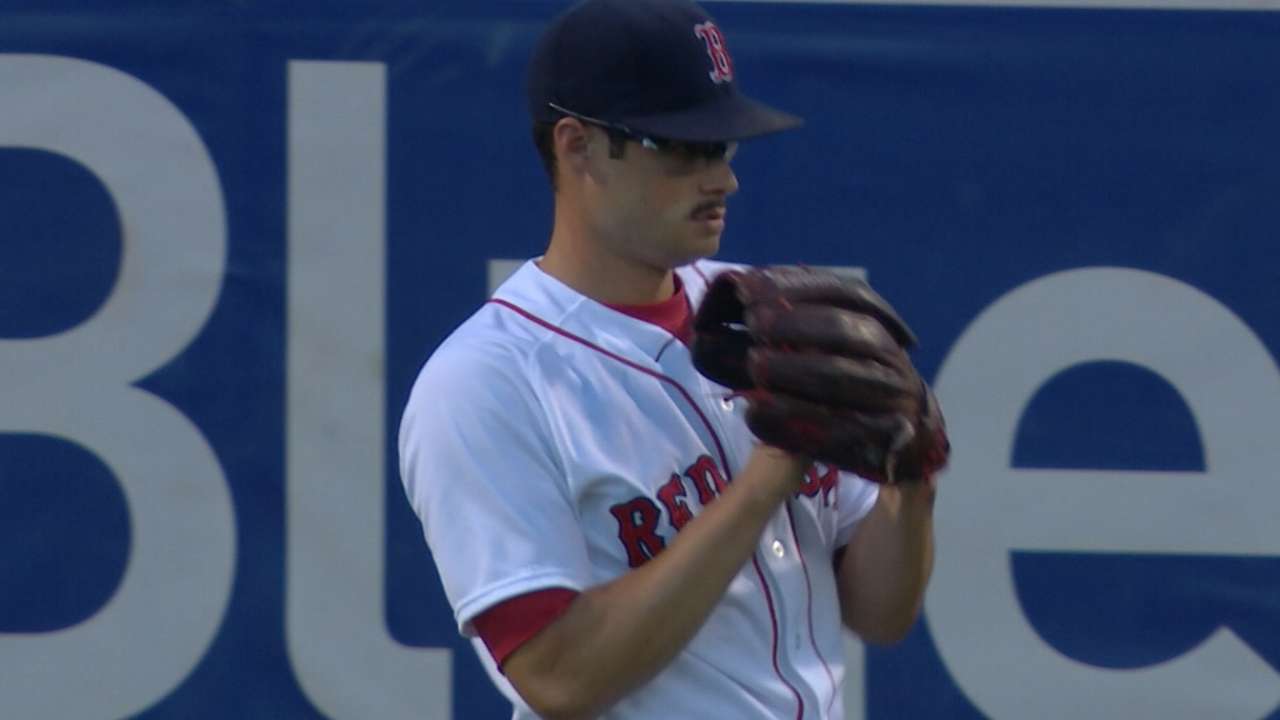 BOSTON -- Backed by yet another offensive splurge and an eighth straight win by Joe Kelly, the Red Sox rolled to a 10-4 victory that prevented the Blue Jays from extending their lead in the American League East.
The Blue Jays, who lost two out of three in Boston, maintained a 1 1/2-game edge in the division thanks to the Yankees losing in the Bronx to the Orioles.
"It starts on the mound," Toronto manager John Gibbons said. "The two games we lost here, we were down early big, and that's the way it goes."
David Ortiz clocked career homer No. 498 in the third, a three-run shot that gave the Red Sox a 4-0 edge. By the fifth inning, Boston was in complete control, up 10-1.
"These guys, like I've been saying, are very engaged," said Boston interim manager Torey Lovullo. "They're very in the moment. They're ready for this challenge as we are moving forward to the end of the season. There's no letup on them. There's a lot of excitement. It's fun to watch."
Starter Drew Hutchison didn't have it for Toronto, as he gave up six hits and six runs over 3 1/3 innings.
Meanwhile, Kelly (10-6, 4.70 ERA) limited the damage over 5 2/3 innings, allowing six hits and a run while walking two and striking out five. It was the seventh straight start the righty has given up two earned runs or less. Kelly is the first Red Sox pitcher to win as many as eight starts in a row since Pedro Martinez notched a nine-game streak from April 20-June 4, 1999.
Chris Colabello's three-run homer in the eighth was one of the few offensive highlights for Toronto. The Blue Jays open a crucial four-game set at Yankee Stadium, beginning on Thursday.
MOMENTS THAT MATTERED
Papi closing in on 500: Ortiz continued his recent power tear and climbed to within two of 500 with a laser just over the wall in center. It was Ortiz's sixth home run in his last 12 games and 26th since June 11. The Red Sox play their next nine games on the road, so there's at least a decent chance Ortiz's milestone blast won't occur at Fenway Park.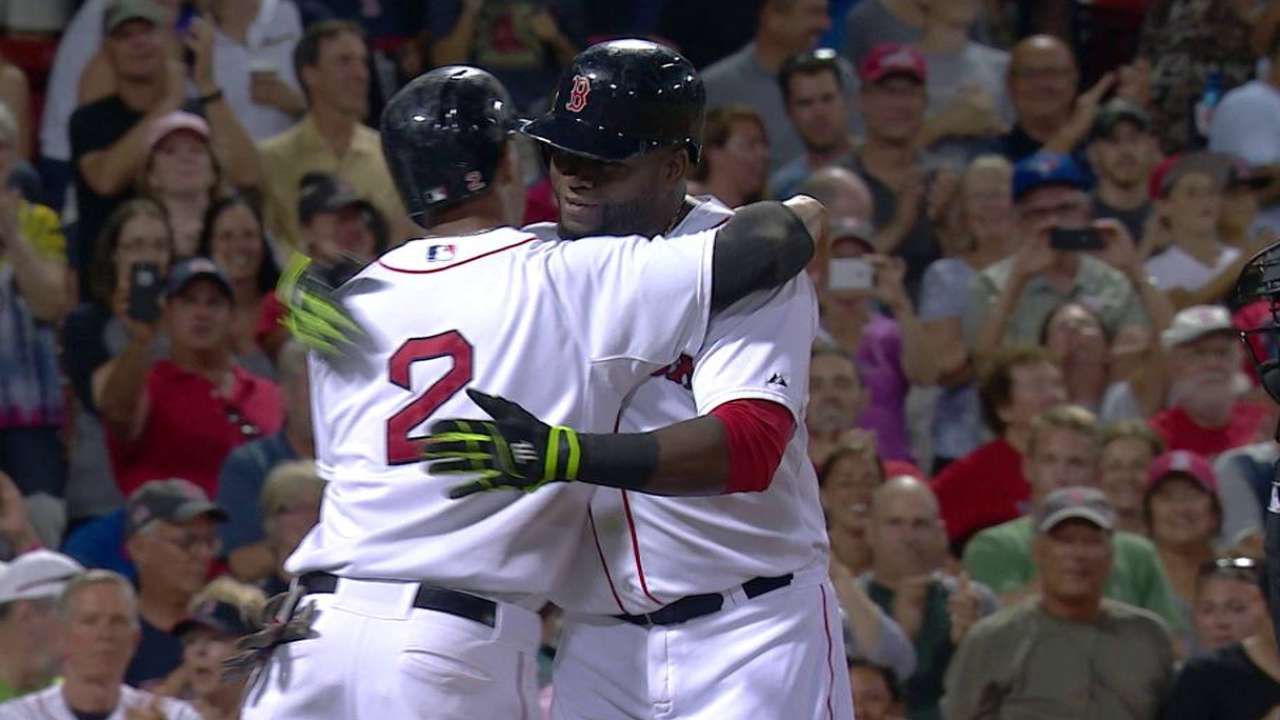 "I know David has a very special bond with the city," said Lovullo. "I know it would mean a lot to him to have it done here. But he's just so professional and just so locked in, it might happen on the road. It's going to be a great accomplishment no matter where it happens." More >
Mookie extends streak to 15: Leadoff man Mookie Betts continues to pound the baseball. With a 2-for-4 performance that included a homer and a double, Betts extended his career-long hitting streak to 15 games. Betts is hitting .286, the highest his average has been since Opening Day.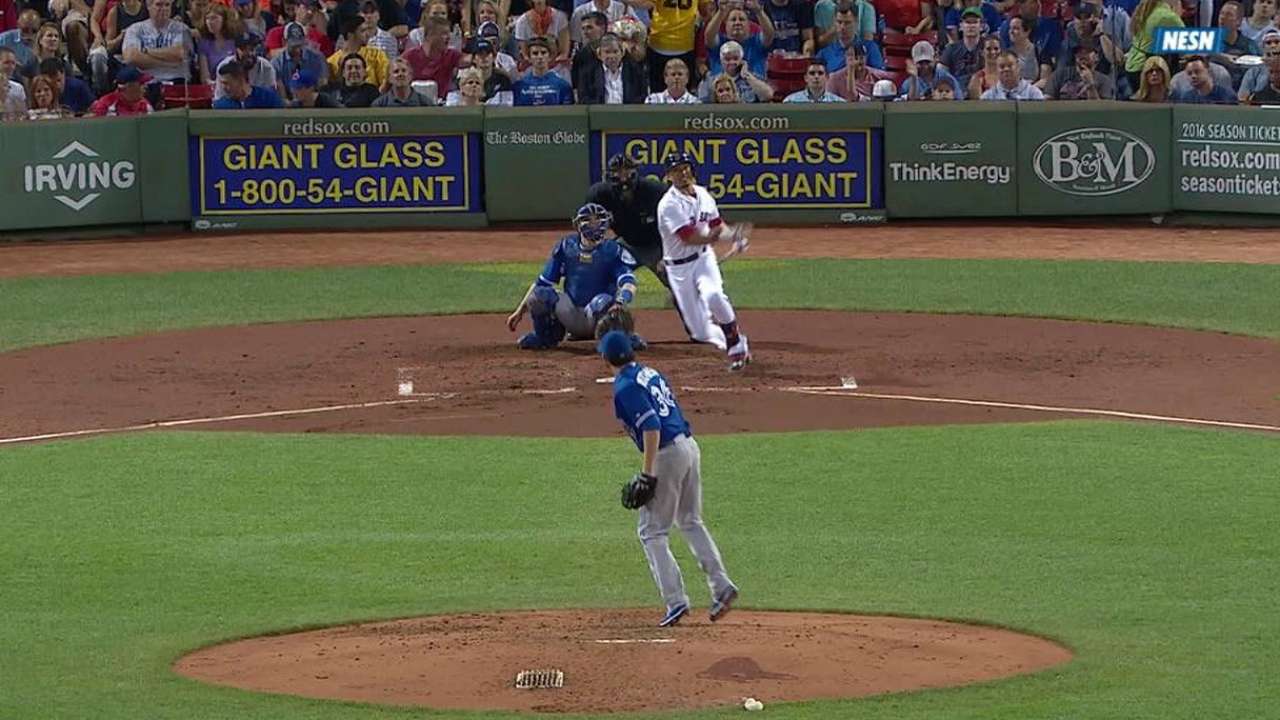 "Mookie gets the line moving," said Lovullo. "David picks it up with the big home run. We just had a really relentless approach tonight. Half of our hits were for extra-bases. We had some big hits at the right moments. These guys were engaged and locked in and ready for any challenge."
Hutch hammered: After erasing a leadoff walk on a double play to begin the third, Hutchison gave up four runs on four consecutive two-out hits, including a solo shot by Betts and Ortiz's mammoth blast. The Blue Jays pulled their right-hander in the next inning, at which point he had already reached 81 pitches. Hutchison has a 9.44 in 12 road starts this season, and his career ERA at Fenway Park increased to 10.13 (24 runs in 21 1/3 innings).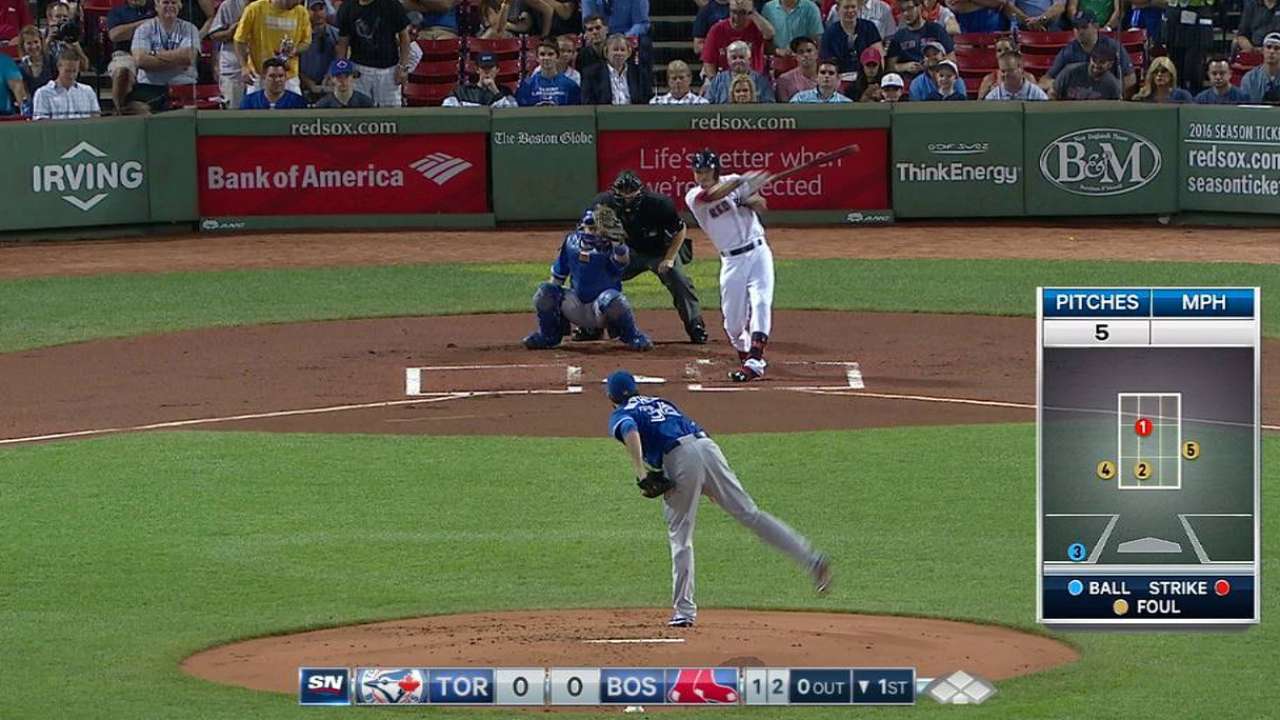 "Just the inability to get an out and make a pitch with two outs is what it came down to," Hutchison said. "Down in a bad count and gave up a solo home run. Then after that, a two-strike single, a first-pitch single and then a bad count and miss a spot with Ortiz -- and he hit it." More >
Steady Eddie: When designated hitter Edwin Encarnacion singled home a run in the fourth, he set a Blue Jays franchise record by reaching base for the 39th game in a row, surpassing Carlos Delgado's mark of 38 set in 1998. Since his streak began on June 21, the Toronto slugger is hitting .352 (50-for-142) with 14 doubles, 12 homers and 41 RBIs.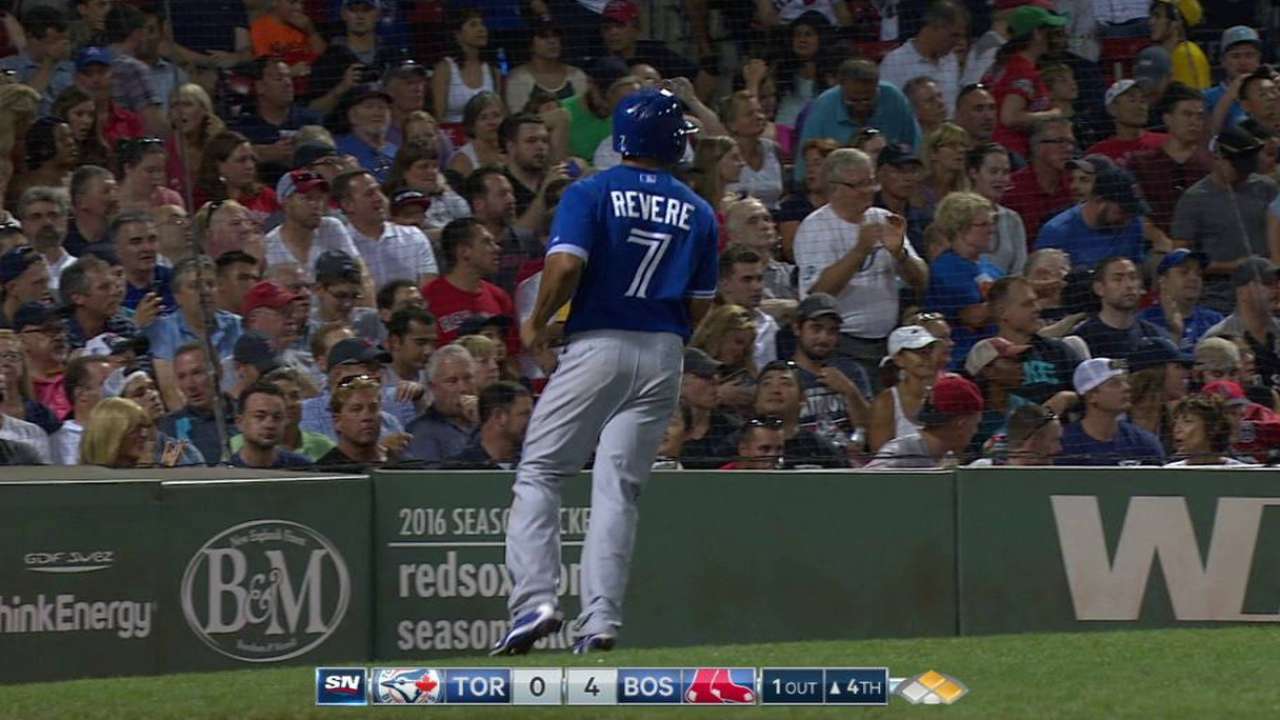 QUOTABLE
"We're playing really, really great defense, and obviously the hitters are crushing the ball. It's fun to watch when all around the team is doing great. It's fun to be out there, especially when we've got guys playing their butts off, making diving plays, throwing people out. It gets me fired up out there and it's fun to be a part of." -- Kelly, on the recent play of the Red Sox
SOUND SMART WITH YOUR FRIENDS
Though the Red Sox haven't made a decision yet about how their three young outfielders will line up going forward, Rusney Castillo has looked very comfortable in left field, making three assists in his first six games in that spot. Castillo fired a bullet to nail Josh Donaldson at second on Wednesday.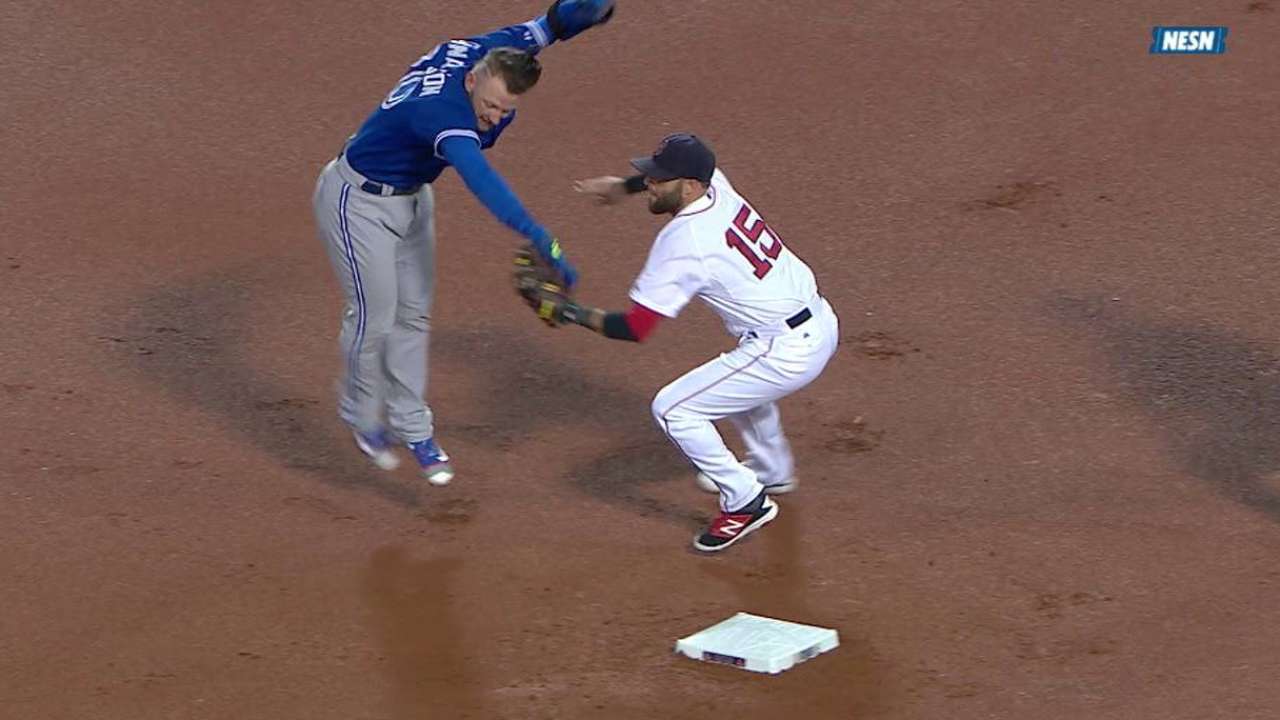 LINE CHANGE
Gibbons used the blowout as an opportunity to rest some of his regulars ahead of a pivotal series with Yankees. With his team trailing, 10-1, in the sixth, the Blue Jays replaced seven of their starters with bench players, and he went on to pinch-hit for Encarnacion in the eighth. Colabello was the only Toronto player to play nine innings.
"You don't always like to do that," Gibbons said, "but my pulse told me it was that kind of game. I thought it would be more beneficial to get them off their feet a little bit. The game had a bad pace to it."
UNDER REVIEW
Betts had his trot around the bases delayed on his 14th home run of the season. The drive by Betts in the bottom of the third hit the shelf on top of the Monster before bouncing back into play, and it was originally ruled a double. But after a crew-chief review, it was correctly called a homer and it gave the Red Sox a 1-0 lead.
WHAT'S NEXT
Blue Jays: Lefty David Price takes the mound at 7:05 p.m. ET on Thursday in the opener of a critical four-game series at Yankee Stadium. Price is 5-1 with a 2.15 ERA since coming over from the Tigers. Toronto is 8-4 against the Yankees this season, including a three-game sweep in the Bronx on Aug. 7-9.
Red Sox: Following an off-day, the Red Sox will open a three-game series at Tropicana Field against the Rays. Lefty Wade Miley, who reeled off a win in his first career complete game last time out, makes the start. Miley is 3-1 with a 1.41 ERA in five career starts against the Rays.
Watch every out-of-market regular-season game live on MLB.TV.
Ian Browne is a reporter for MLB.com. Read his blog, Brownie Points, follow him on Twitter @IanMBrowne and listen to his podcast. Alec Shirkey is an associate reporter for MLB.com. This story was not subject to the approval of Major League Baseball or its clubs.