MLB.com Columnist
Phil Rogers
Texas' experience adds intrigue to West race
Hot on Astros' heels, Rangers can keep cool down the stretch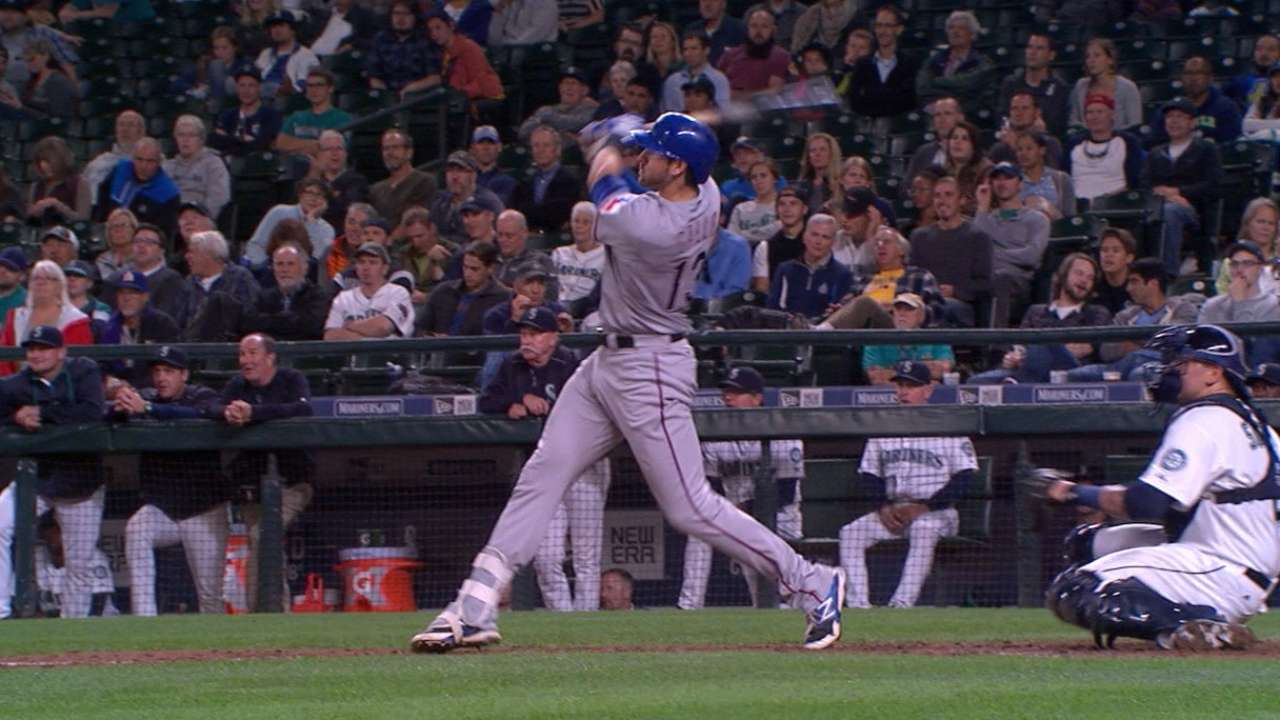 Not only do we suddenly have a white-hot race in the American League West, but the grownups are threatening to come home early. It's going to be fascinating to see if the Rangers are soon telling the Astros to turn down the music and get back in their room.
Rangers president of baseball operations Jon Daniels is looking very smart for picking up Cole Hamels, who on Tuesday beat the Mariners on a night when he was only OK. But the bigger development is that both Derek Holland and Yovani Gallardo have pitched even better than Hamels since he arrived in that July 29 blockbuster, and the Rangers are remembering what it felt like to win 90-plus games.
Texas had done that four years in a row before the crushing 67-95 season a year ago, and the 2015 team is suddenly looking a lot more like the teams from 2010-13 than that one. The Rangers are 23-12 since the start of August, and the Blue Jays are the only AL team with more wins in this period.
When Daniels acquired Hamels for six players -- including top prospects Jorge Alfaro, Jake Thompson and Nick Williams -- the Rangers were eight games behind the Astros in the AL West and in eighth place in the AL Wild Card race. But after going 5-3 on the first eight games of a West Coast road trip, Texas has moved within one game of Houston and into control of the second AL Wild Card spot. That second fact is no little thing.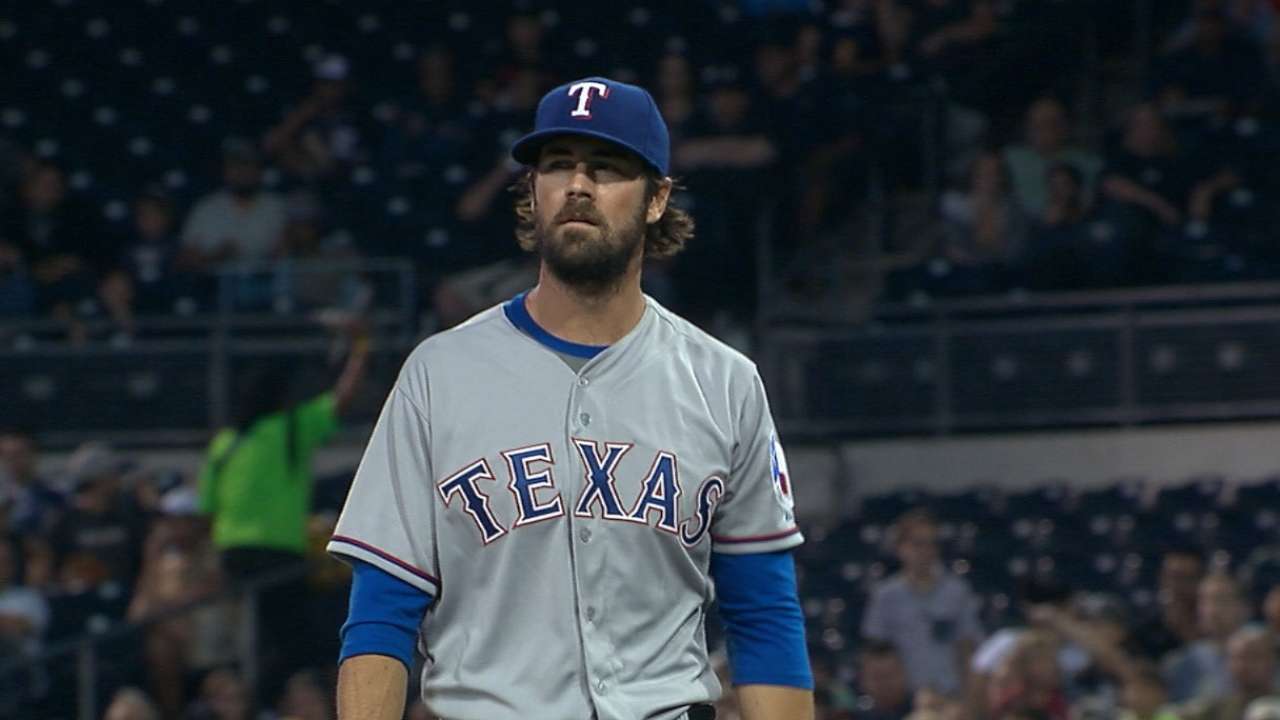 The good news for both the Rangers and the Astros is that there's room for both of them in the postseason. When they face each other seven times in the last three weeks of the season, it won't be a case of win the AL West or go home, if they can keep the Twins and Angels at a distance.
Houston, behind new manager A.J. Hinch and a collection of young talent, has led the division for 126 of the past 143 days, with the lapse coming when the Angels briefly seized the lead in mid-July. Even after losing five of the past seven games, the Astros are 26-22 in the second half and on track to win 87 games.
And interestingly, the next time Marwin Gonzalez or Jake Marisnick hits a homer (or when Jed Lowrie hits two more homers), the Astros will join the 2004 Tigers as the only teams with 11 players to deliver double-digit home runs.
Rookie shortstop Carlos Correa has 17, carrying Hinch's team while George Springer was sidelined with a broken right wrist. Springer returned last week, and while he's still shaking off rust he's a big part of why this is a team no one will want to play in October.
But there's a lot of time left in the regular season, and it figures to be a wild ride out West.
For that, credit Daniels, manager Jeff Banister and the Rangers' combination of veterans.
Sure, Texas has its share of young talent.
Second baseman Rougned Odor, who struggled when he was forced to the big leagues as a 20-year-old last season, is showing why Daniels would never give him up when other teams asked. Delino DeShields Jr., a Rule 5 Draft pick from Houston, grabbed the job in center field from Leonys Martin. Joey Gallo has hit 114 homers the past three years, including six in the big leagues. The bullpen relies on 22-year-old Keone Kela and late-bloomers Shawn Tolleson (31-for-33 in save chances) and Sam Dyson, whom Daniels snatched from the Marlins in one of the four trades he made in a three-week period in July and August.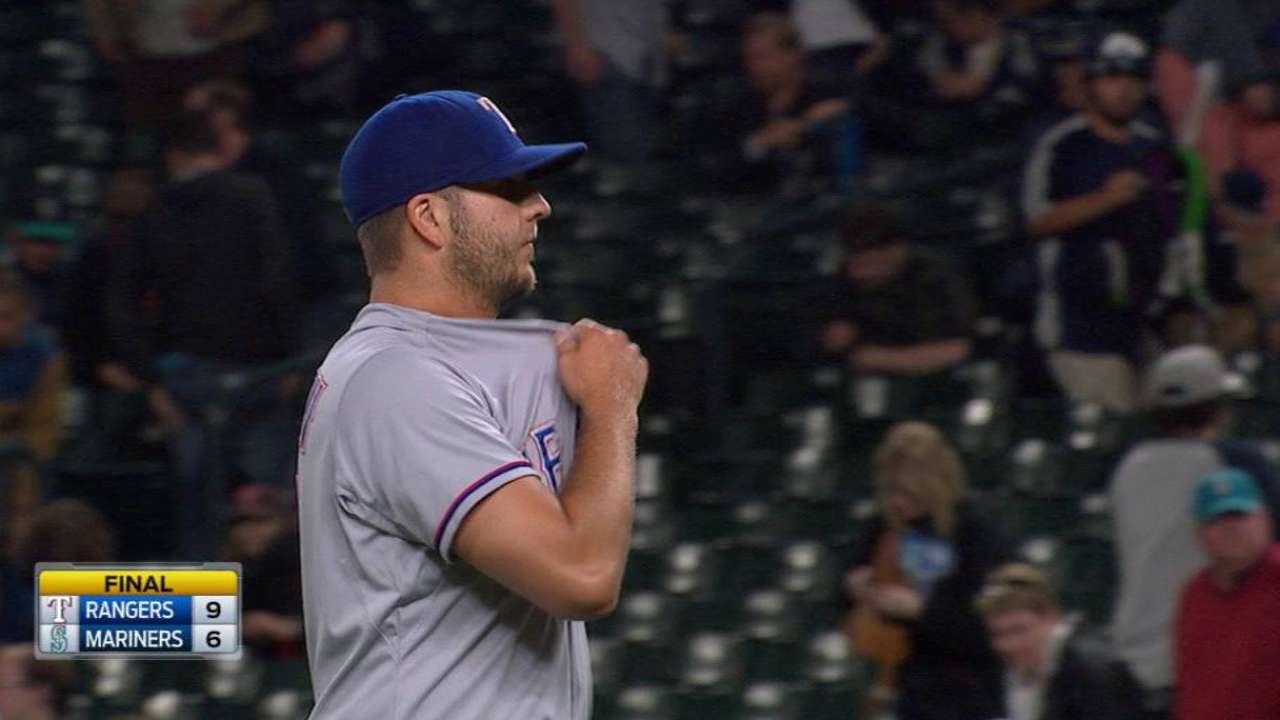 But the Rangers have been winning because of what they're getting from the veterans who endured that 2014 campaign: Adrian Beltre, Prince Fielder, Mitch Moreland, Shin-Soo Choo and Elvis Andrus.
Those five players have delivered 11.0 rWAR this season. Beltre was at 7.0 last year, but the other four combined for 0.8 rWAR, with Fielder missing most of the season to undergo cervical fusion surgery on his neck and Choo hitting .242 as he tried to justify his $130 million contract.
Because of the commitments he had already made, there was little that Daniels could do to improve the roster last winter.
"We knew we were going to sit back a little bit,'' he said. "We knew our best new acquisitions were going to be the guys who were hurt the year before coming back.''
He's been right.
Daniels' one bold move was importing the unproven Banister -- with a resume stamped "dues paid in full'' -- to replace Ron Washington, who resigned last September. He was given a talented roster that came with lowered expectations.
"We haven't been talked about, and when we have been talked about, I would say there's a very small percentage [of commentators who] actually make us relevant,'' Banister said during Spring Training. "Tell them, 'Thanks.'''
A 7-15 start did nothing to elevate that profile, but little by little, the Rangers' confidence has grown. They were 19-11 in May, 14-13 in June, 10-14 in July and 18-10 in August.
It's time to see if they have a finishing kick left in them. They certainly have an experience edge over the Astros.
Hamels and Mike Napoli own World Series rings. Beltre, Andrus, Moreland, Holland, Colby Lewis and Josh Hamilton were with Rangers teams that lost the Series to the Giants in 2010 and the Cardinals in '11. Fielder has been on four postseason teams with the Tigers and Brewers, and would love to make it five.
The drama builds.
Phil Rogers is a columnist for MLB.com. This story was not subject to the approval of Major League Baseball or its clubs.