MLB.com Columnist
Barry M. Bloom
Hudson's farewell adds to Giants' pitching woes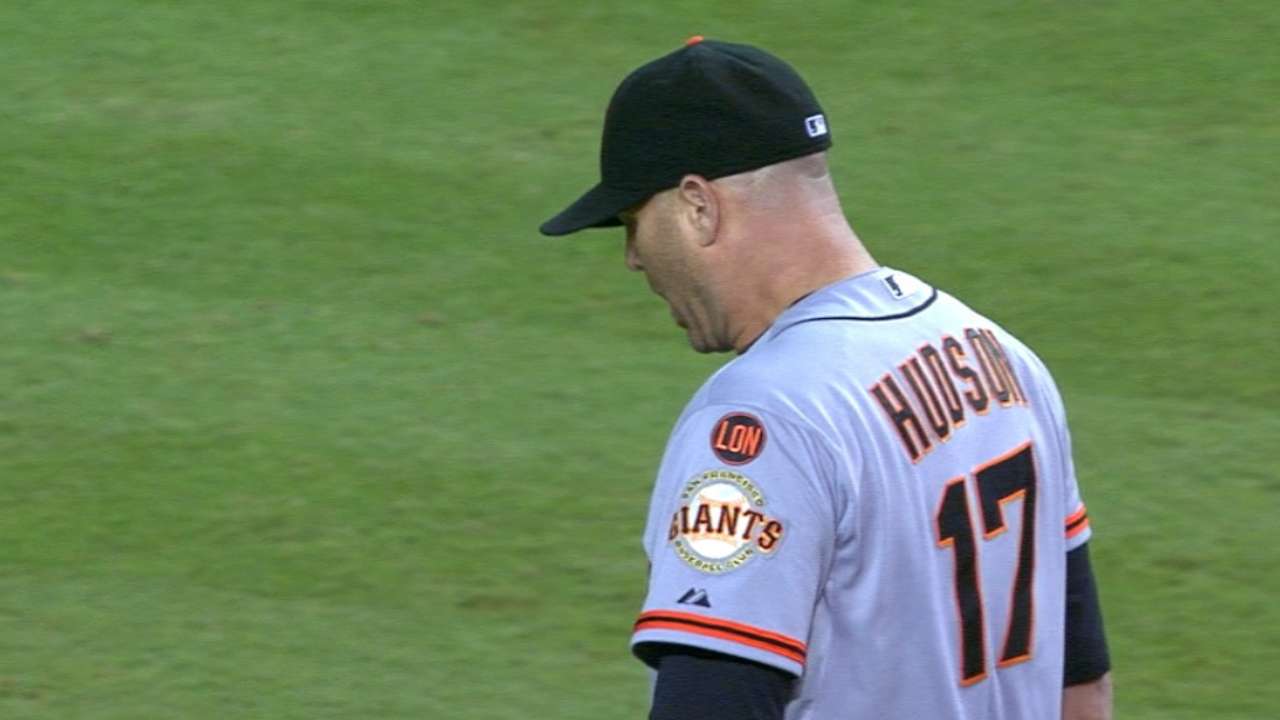 PHOENIX -- Tim Hudson's sparkling comeback start on Tuesday night notwithstanding, an unparalleled era of success for the Giants' rotation is coming to an end.
In case there was any doubt about Huddy's future, the 40-year-old right-hander put all conjecture to rest after pitching six innings of four-hit, one-run ball in a 6-2 win over the D-backs at Chase Field.
"You know what? This is definitely my last year, for sure," said Hudson, who made his first start since July 26 after dealing with a sore right shoulder and recorded his 221st career win, the most among active pitchers. "I just feel it's the right thing to do. It's the right time for me and my family. I played this game a lot longer than I ever thought I would."
Hudson, coming off his second stint on the disabled list this year, even homered and had a single in the game. It had been months since he'd taken any batting practice.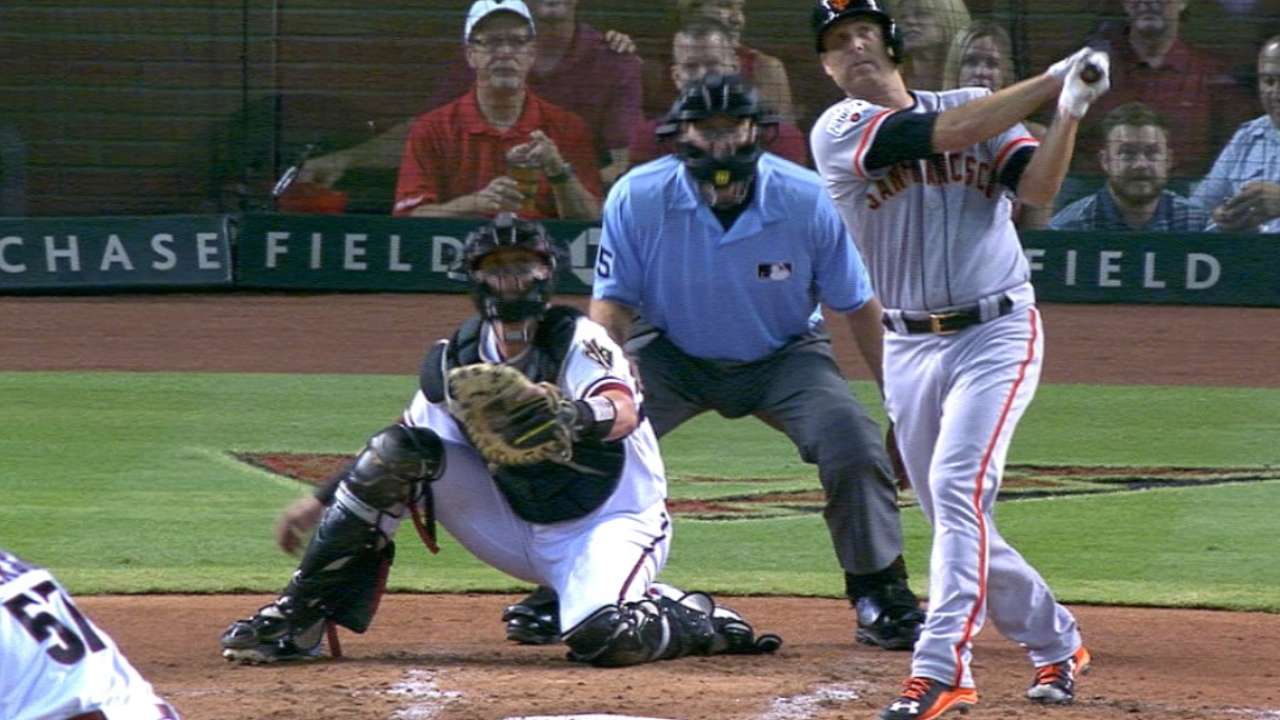 "That's overrated," Hudson said. "It only messes up my swing."
Still, the performance didn't entice Hudson into coming back for an 18th season.
"I've been really blessed to go out there and compete and have a long career," said Hudson, who signed with San Francisco as a free agent after 2013 season. "Nights like tonight, it's nice to be able to go out there at this stage in my career and feel like I'm giving the team a really good chance to win."
The Giants are beset by front-line pitching woes. Hudson, Tim Lincecum, Ryan Vogelsong and Mike Leake will all be free agents at the end of the season. Matt Cain has had various injuries to his right forearm and elbow that put him on the disabled list twice this season. Lincecum recently underwent hip surgery. Jake Peavy missed most of the first half of the season because of a bad back.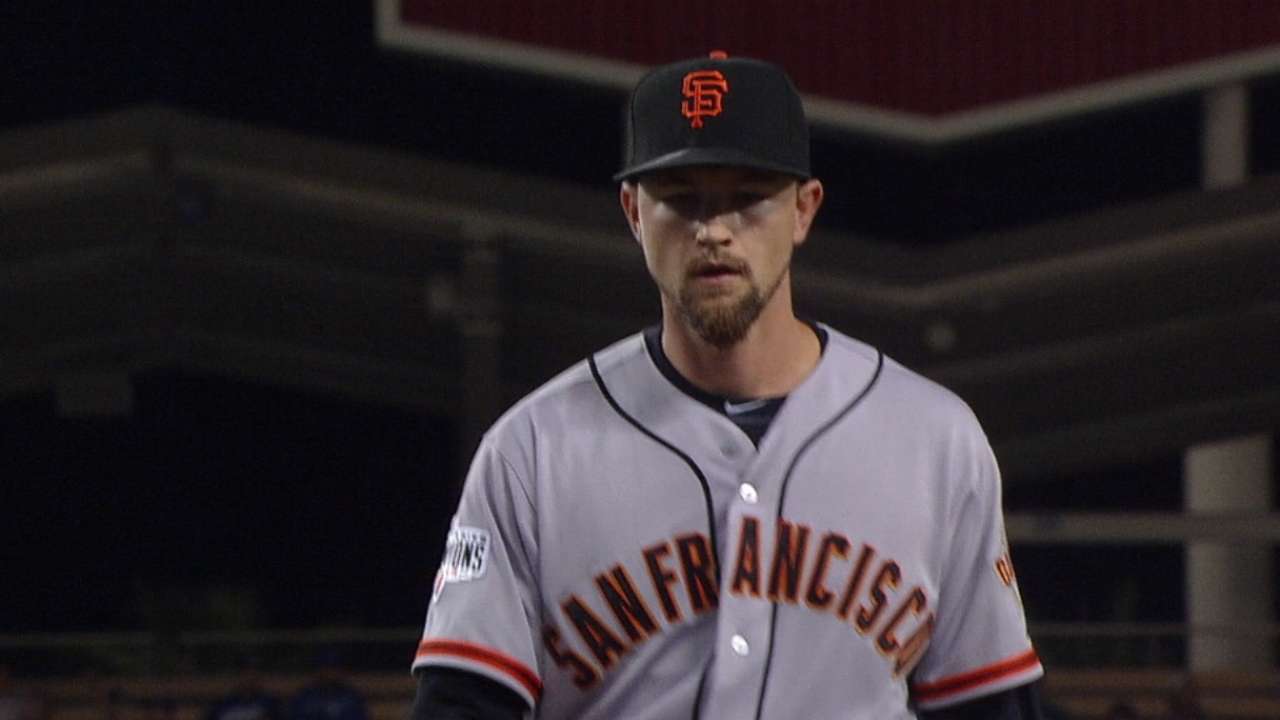 Madison Bumgarner, at 25, is the real workhorse. The Giants won three World Series titles in five seasons with a foundation of good pitching and sound defense. Bumgarner, Cain and Lincecum all were drafted by San Francisco and formed the core.
Along the way, they were joined by Barry Zito, Vogelsong, Peavy and Hudson -- either through trades or via free agency. Leake also came in a trade this year.
The Giants need to seriously retool the rotation, and manager Bruce Bochy knows it.
"That window doesn't stay open all the time," he said. "These guys have done a heck of a job with the success that we've had. It's really amazing how healthy they've been until recently. We're getting a little bit older. We'll sit down and talk about it. We may have to make some adjustments."
Oh, some adjustments will definitely have to be made.
When the season ends, Bumgarner, Peavy and the now injury-plagued Cain will be the only ones in that veteran group remaining under contract. Add Chris Heston, a former 12th-round Giants Draft pick who replaced Cain early in the season and has won 11 games and pitched a no-hitter.
But by no means should this be considered the makings of San Francisco's 2016 rotation.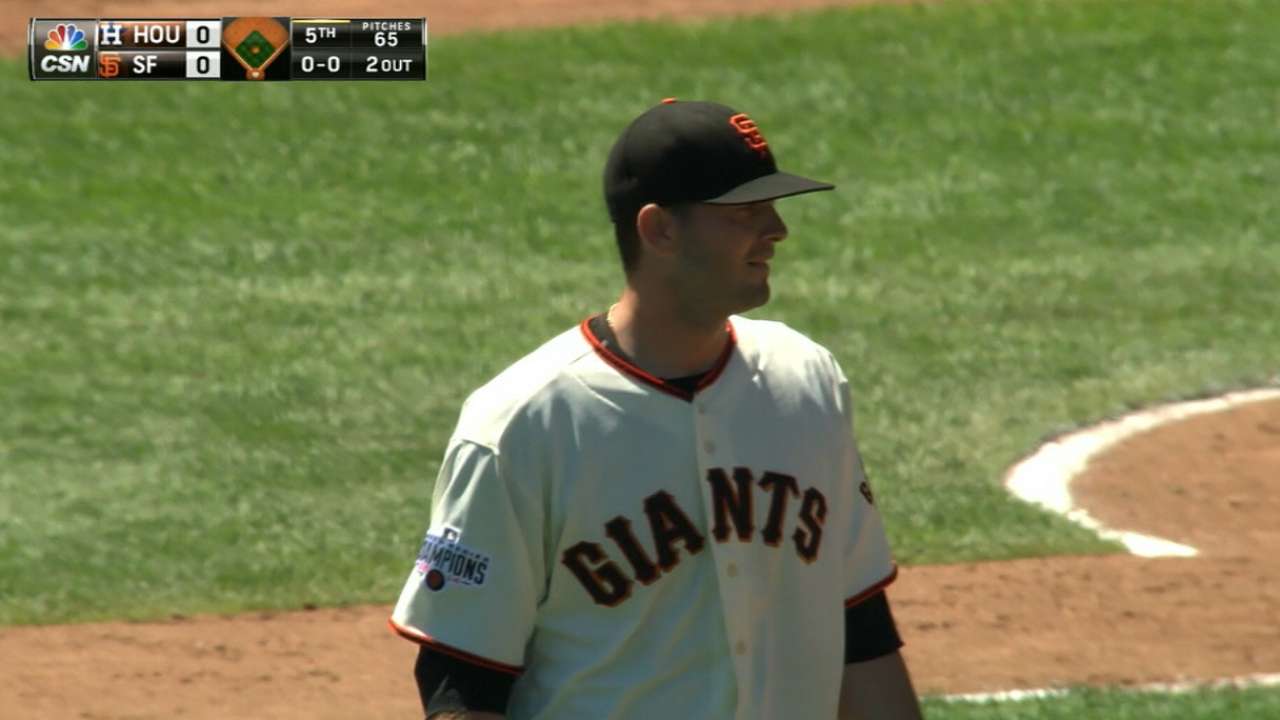 "I'd be surprised if we weren't in the market for more front-line pitching," Peavy said. "This way, when you go into next year, you know what you've got."
The Giants tried to do that this past offseason, after winning the 2014 World Series over the Royals in a seven-game thriller that came down to the final pitch. But their pursuit of high-priced free agents Jon Lester and James Shields came up empty.
Instead, San Francisco re-signed Peavy and Vogelsong, who have won five and nine games, respectively. Peavy made two shoddy April starts while trying to grit his way through a bad back, and then he didn't pitch again until July 3.
Peavy is an old 34, with a right shoulder that is surgically held together because of an experimental procedure that has never been attempted on another starting pitcher.
And that tells you all you need to know about what's left of the Giants' rotation behind Bumgarner, the left-hander who is 17-7 with a 3.05 ERA and is one of the best pitchers in the Major Leagues.
Lincecum has struggled through his past three seasons. Cain, who hasn't recovered from last year's surgery to remove bone spurs from his right elbow, has made 25 starts the past two seasons and has a 4-11 record and a 4.91 ERA to show for it. San Francisco owes him $21 million over the course of the next two seasons. But Cain will be 31, and it all doesn't augur well because of wear and tear and the arm injuries.
"He's on this team and making a substantial amount of money," Peavy said about Cain. "We're hoping that he can get healthy and find what works for him."
It all sounds like the same things everyone was saying about Lincecum, but it just didn't happen for the two-time National League Cy Young Award winner.
That's why the Giants are desperately in need of a fresh infusion of starting pitching, whether it comes from their own system or elsewhere.
Hudson seems to be well aware of that.
"If there was a 10-man rotation out there somewhere, I think I'd be pretty good," Hudson said.
But there isn't. Bochy said Hudson will remain in the five-man rotation for the remainder of the season if he can stay healthy. And Hudson responded that he'll be ready whenever he's given the ball. Health is everything, of course.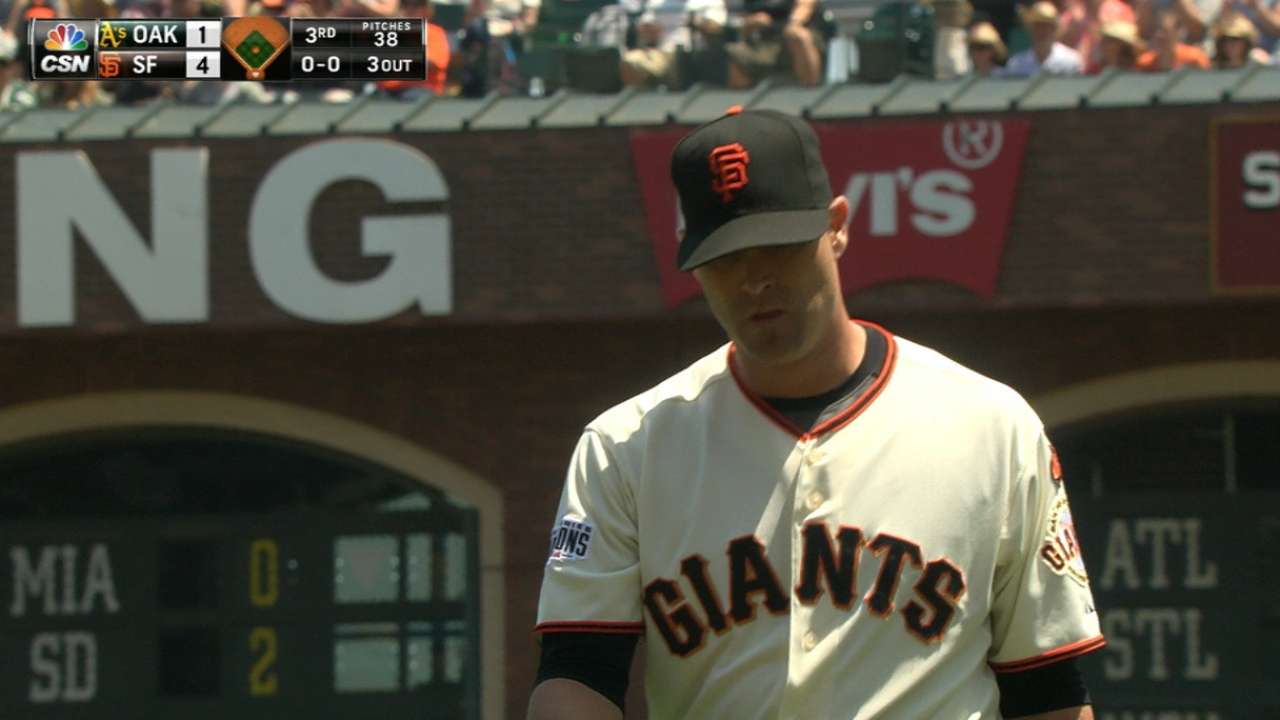 San Francisco opened Spring Training with Hudson coming off ankle surgery, Cain off elbow surgery and Lincecum trying to retool after spending the entire 2014 postseason in the bullpen and making just one World Series appearance -- when he flipped head over tail while making a pitch and had to come out of the game.
There were too many ifs, and none of them panned out into palpable positive results. Rest assured that this will discussed internally by the Giants after the season. Rest assured it won't happen again.
Barry M. Bloom is a national reporter for MLB.com and writes an MLBlog, Boomskie on Baseball. Follow @boomskie on Twitter. This story was not subject to the approval of Major League Baseball or its clubs.