MLB.com Columnist
Lyle Spencer
Kershaw continues to cruise with ace form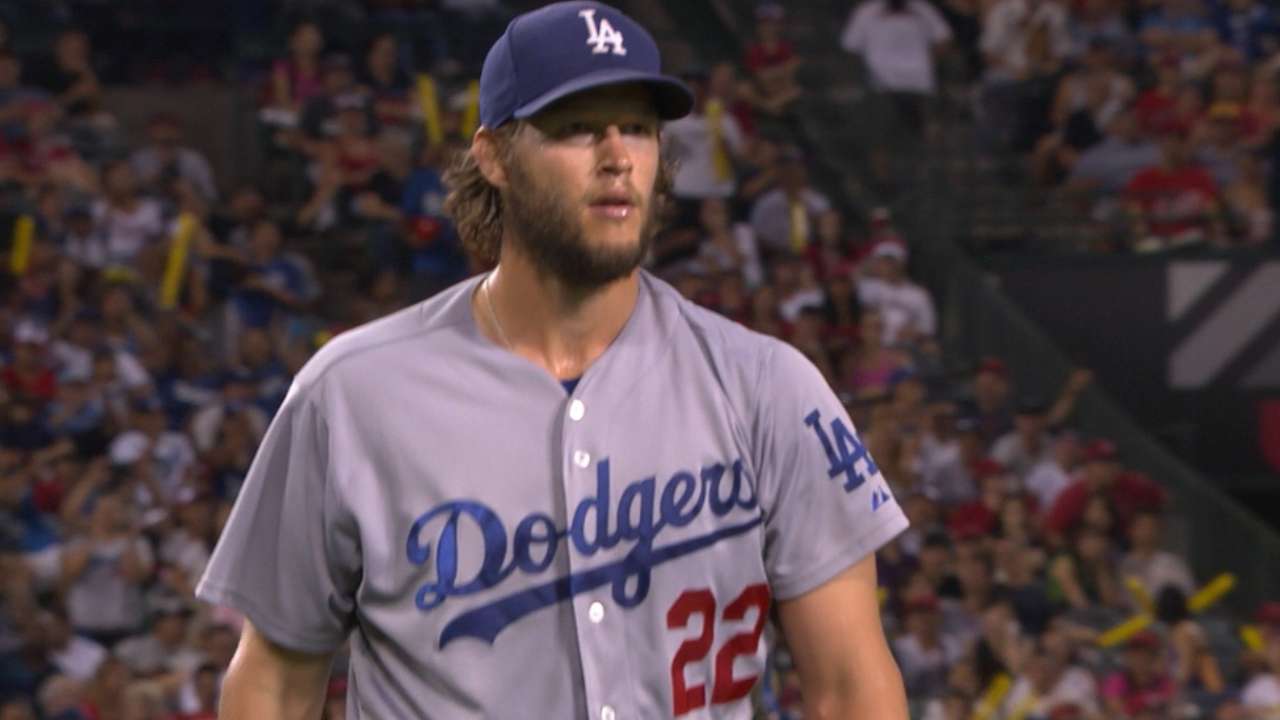 ANAHEIM -- Timing is everything in baseball. The Angels had the misfortune of running into Zack Greinke and Clayton Kershaw on consecutive nights at Angel Stadium. It left their clubhouse quiet and their position in the American League playoff scramble even more precarious than it was when the Dodgers arrived on Monday.
Kershaw backed Greinke's solid effort in the series opener with another gem in a remarkable stretch of dominance. The bullpen -- we've seen and heard this before -- made it interesting on Tuesday night before Kenley Jansen closed out a 6-4 victory that moved the Dodgers a step closer to a third consecutive National League West title.
"Clayton's in a groove, that's for sure," A.J. Ellis, Kershaw's trusted sidekick, said after catching the lefty's 13th win in 19 decisions.
The 2014 NL Most Valuable Player Award and NL Cy Young Award winner, Kershaw is 8-0 with a 0.93 ERA in his past 11 outings, striking out 112 while issuing only nine walks in 87 innings.
It started in highly unusual fashion for Kershaw after Justin Ruggiano, who was acquired on Aug. 31 from the Mariners, crushed a leadoff homer against Angels lefty Andrew Heaney.
Running the count full in his leadoff role, Kole Calhoun got the Angels even with one swing. He lifted a 95 mph heater into the right field seats for his 23rd homer.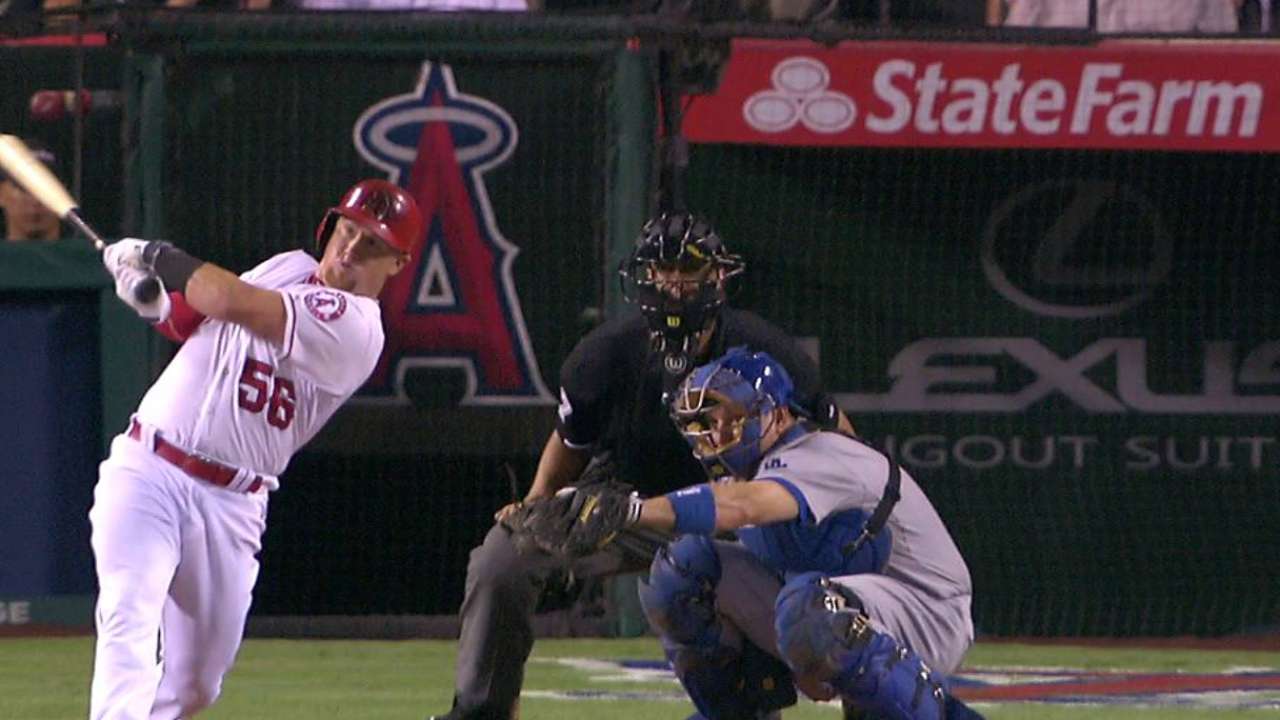 This jolt had the anticipated impact on Kershaw. The Angels' offense was suddenly defused by a stream of mid-90s fastballs complemented by sliders and curveballs snapping across the corners.
Singles by Calhoun in the third and David Freese in the fifth were all the Angels could manage until a pair of errors by rookie sensation Corey Seager at shortstop led to an unearned run in the seventh.
"They're the best in the game for a reason," Calhoun said when asked about Greinke and Kershaw. "They've been doing this for a long time and they know how to pitch, so those are two tough guys to go out and face. But going down the stretch, we're going to get everybody's best, so you've got to be ready.
"Hopefully, we'll get on a little streak and make it exciting."
Having fallen to 69-69, leaving them 5 1/2 games behind the Astros in the American League West and 4 1/2 behind the Rangers for the second Wild Card, the Angels need to get busy immediately -- starting with Mat Latos, the Dodgers' recent acquisition who opposes Garrett Richards in Wednesday night's series finale.
Kershaw was enthused over what he called "the best pure baseball" the Dodgers have played this season during a 13-2 stretch that has vaulted them into an 8 1/2 game lead over the Giants in the NL West.
"As far as moving guys over, situational hitting, the little things ... it was awesome to see," Kershaw said of a more aggressive attack that has introduced the stolen base and manufactured run into the equation of late.
Coming off his overpowering 132-pitch effort against the Giants in a pivotal three-game sweep at Dodger Stadium, Kershaw departed having thrown 106 pitches in this one.
The last man he faced, fittingly, was Calhoun, with the bases loaded in a 6-2 game. He fell behind 0-2 on fastballs and tried to check his swing on a slider. Third base umpire Tripp Gibson called him out, and before long Angels manager Mike Scioscia was gone as well, ejected for objecting to the ruling.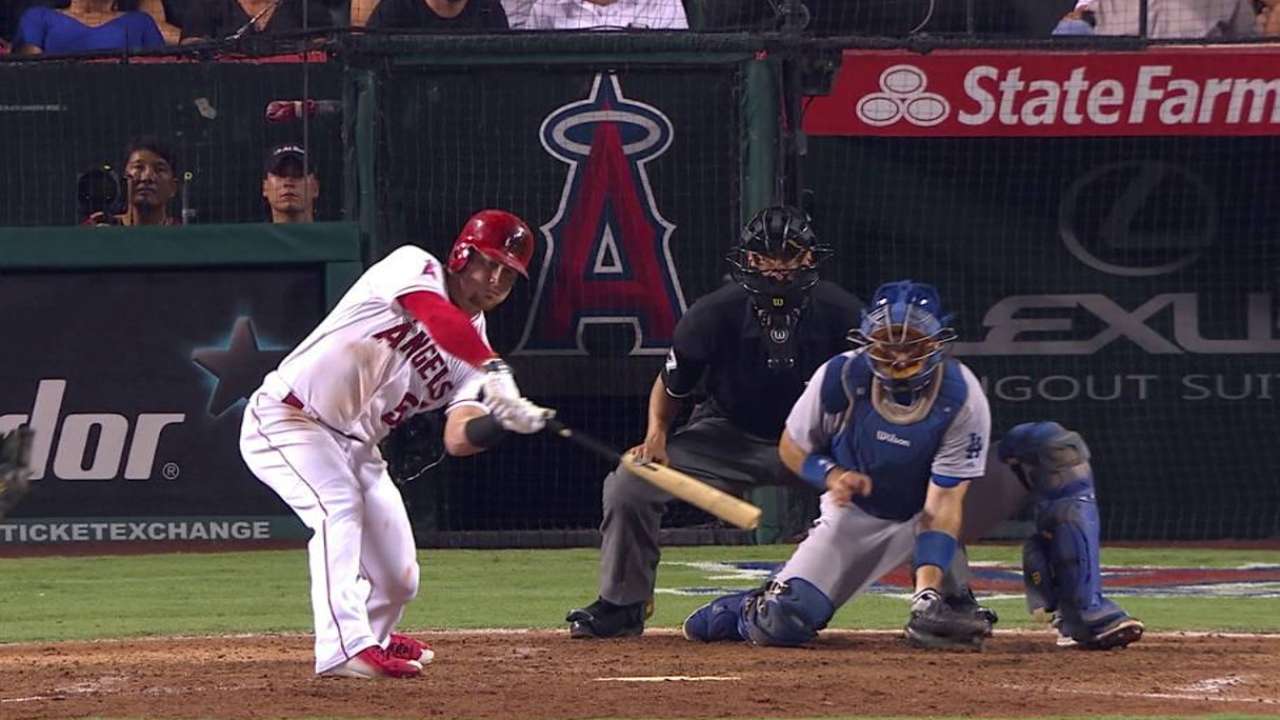 "I saw it [on video], and the call goes either way," Calhoun said. "But it's his call, and you can't do anything about it.
"These are all big games, and any one thing that goes one team's way or another team's way is going to swing the game one way or another. Obviously, you want things to go your way, but it's not right now."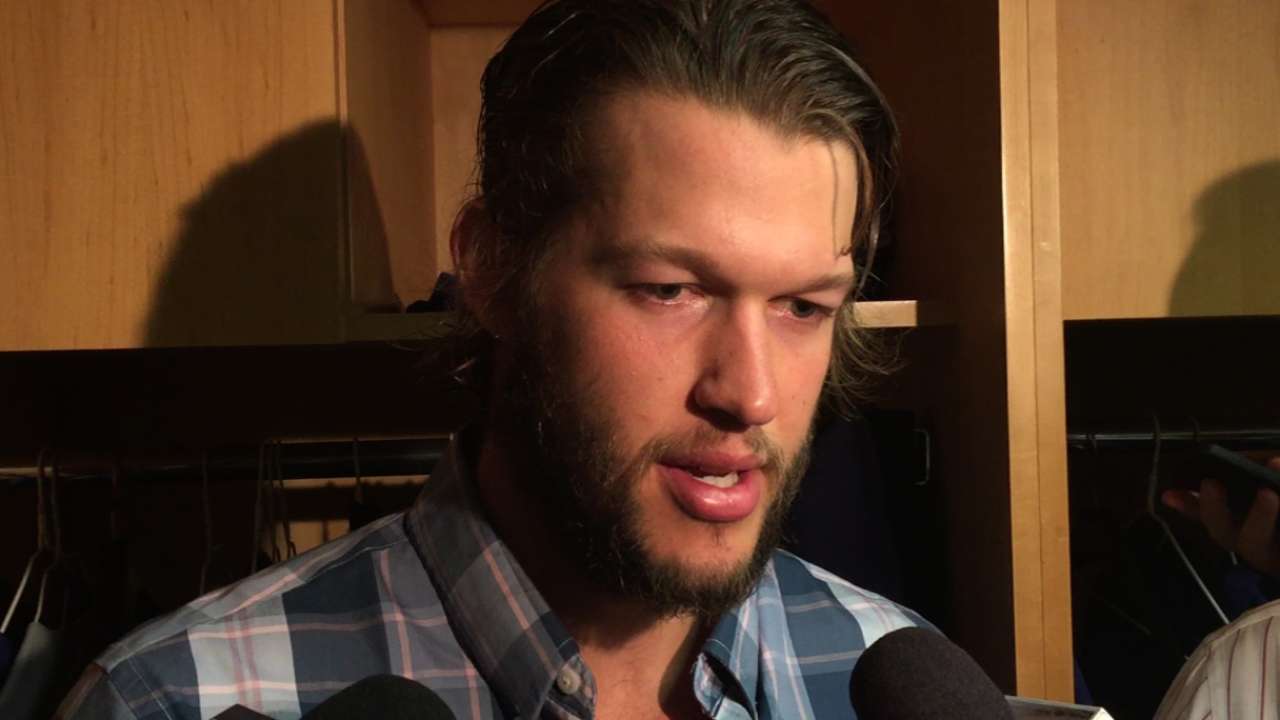 Kershaw's eighth and final strikeout raised his MLB-leading total to 259, a career high. He has reached the 200-inning plateau -- with 201 -- for the fifth time in six years after falling five outs short last season.
"Innings are one thing I can control," Kershaw said, noting that the deeper he gets into games serves to relieve a stressed bullpen. He'd have preferred to go one more round but understood manager Don Mattingly's thinking in pulling the plug at 106.
"It [106] isn't that much -- but probably too much for seven innings," Kershaw said. "I felt fine."
That is easily the most significant development of the day from the Dodgers' end. Those 132 pitches against the Giants had no residual impact on the left arm inside uniform No. 22 -- a relief to everyone tuned into Vin Scully's surging Dodgers in Southern California.
Lyle Spencer is a national reporter and columnist for MLB.com. Follow him on Twitter @LyleMSpencer. This story was not subject to the approval of Major League Baseball or its clubs.