Walker's command, not fatigue, spoils outing
Right-hander allows three homers over just three-plus innings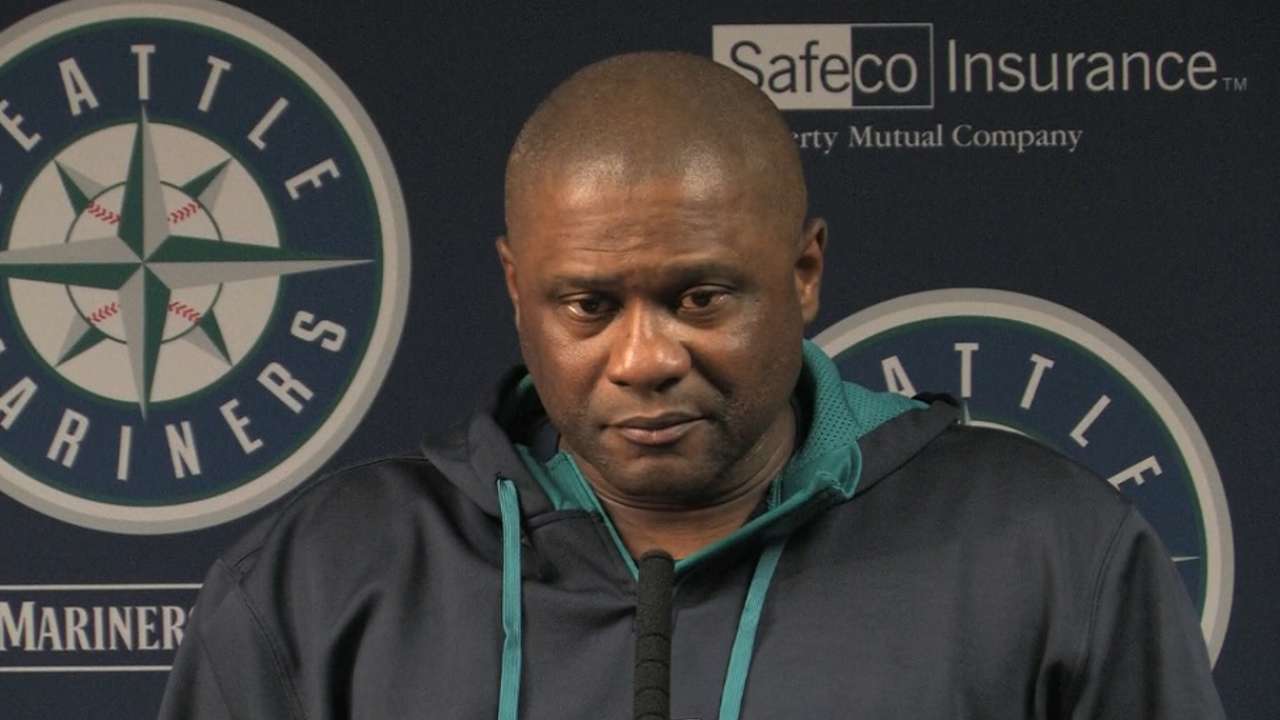 SEATTLE -- Mariners manager Lloyd McClendon has taken note of the mounting innings of all his pitchers, particularly young pitchers Taijuan Walker and Carson Smith.
In the last two weeks, he skipped Felix Hernandez's turn in the rotation and pushed Hisashi Iwakuma back, knowing September baseball means tired arms for a pitching staff.
With his 28th start of the season in Seattle's 9-6 loss to the Rangers on Tuesday night, Walker pushed his innings total this season to 162 2/3, but McClendon said the 23-year-old right-hander's three-plus-inning, six-run outing was just a matter of poor command.
"I've been concerned about a lot of our pitchers' innings from the start of the season, but today that had nothing to do with any of it," McClendon said. "Just a bad outing."
When asked about the potential toll on his young right arm as he gets closer to completing his first full season in the Major Leagues, Walker agreed with his manager. Tuesday's start, in which Walker allowed three home runs after allowing two in his previous six starts, came down to failing to get ahead early in counts.
"Everything feels really good. I'm not really thinking about [fatigue]," Walker said. "It was just a bad game on my part. I should've went six and gave up four and we have a chance to win that game, but I just couldn't locate today."
Walker fell behind his second hitter of the second inning -- Rangers first baseman Mitch Moreland -- and paid for it. Moreland sat on a pitch up in the zone and he got a 2-0 cutter from Walker with little movement, launching it 425 feet to right-center for his 19th home run of the season.
A 3-2 fastball to Shin-Soo Choo an inning later and a 1-2 fastball up in the zone to Rougned Odor in the fourth met similar fates, clearing the right-field wall for three- and two-run homers, respectively. Walker's night was finished after just 59 pitches with his team trailing 6-1.
"I had no command, was getting behind every hitter. If I do that, I have to try to get ahead again with my fastball, but they started sitting on the fastball and putting good swings on it," Walker said.
That command had been evident in Walker's seven most recent starts leading up to Tuesday's game. The right-hander went 3-0 with a 3.26 ERA and just 10 walks during that span and kept his team in ballgames by keeping opposing hitters in the ballpark. On Tuesday, Walker wasn't able to do that, but neither he nor his manager made excuses for it.
"He threw up a clunker," McClendon said, adding Walker would make his next scheduled start.
Andrew Erickson is an associate reporter for MLB.com. This story was not subject to the approval of Major League Baseball or its clubs.