MLB.com Columnist
Richard Justice
Worthy of ace title, deGrom set for showdown vs. Nats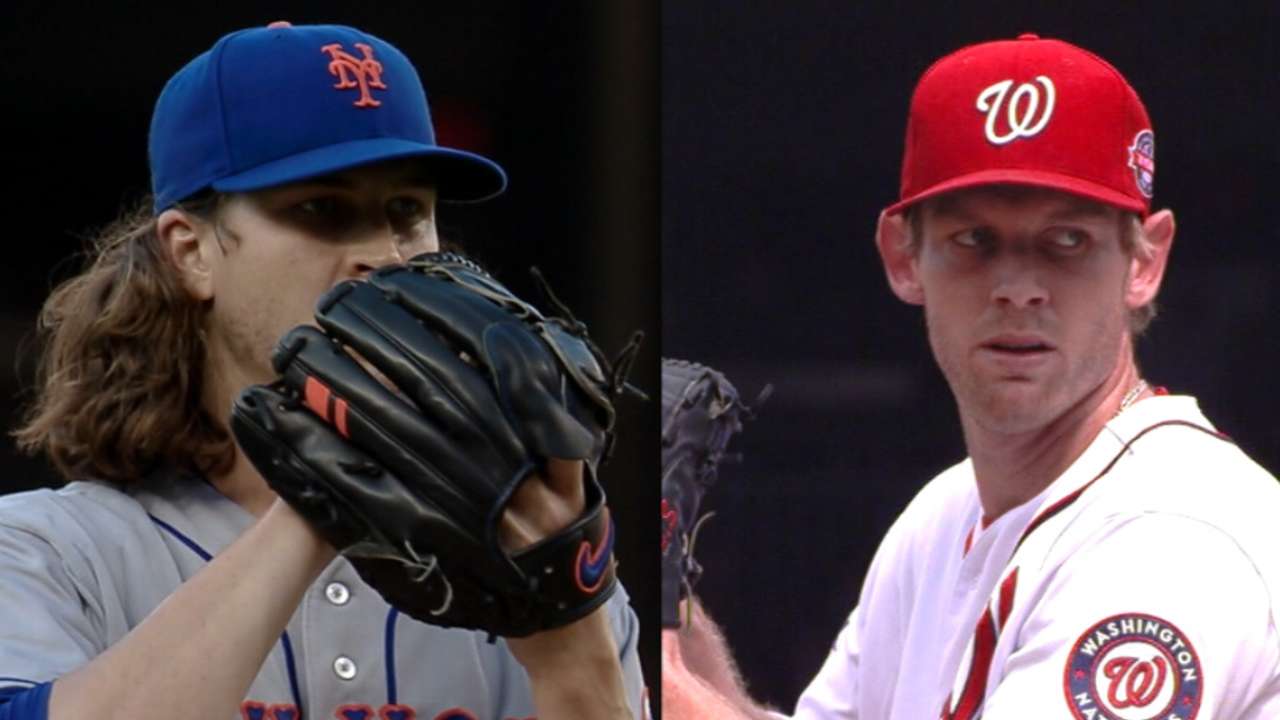 The New York Mets were a long time figuring exactly what they had in right-hander Jacob deGrom. His career path was long and winding, and there was some disappointment and frustration along the way.
These days, they know. deGrom is a No. 1 starter. No doubt about that. He has the nasty stuff of a No. 1 as well as the absolute fearlessness of a No. 1. In a Mets season that has grown more magical almost by the day, deGrom has been their most impressive and consistent guy.
So this matchup at Nationals Park on Wednesday feels appropriate. The Mets have pushed the Nats to the brink by winning the first two games of this three-game series.
Both were wild contests. Both times the Mets rallied late to win. And now they're in control of a National League East race that was supposed to belong to the Nationals.
At 77-61, the Mets lead the Nationals by six games with 24 to play. And in the final game of the series, here's the pitching matchup: deGrom versus Stephen Strasburg.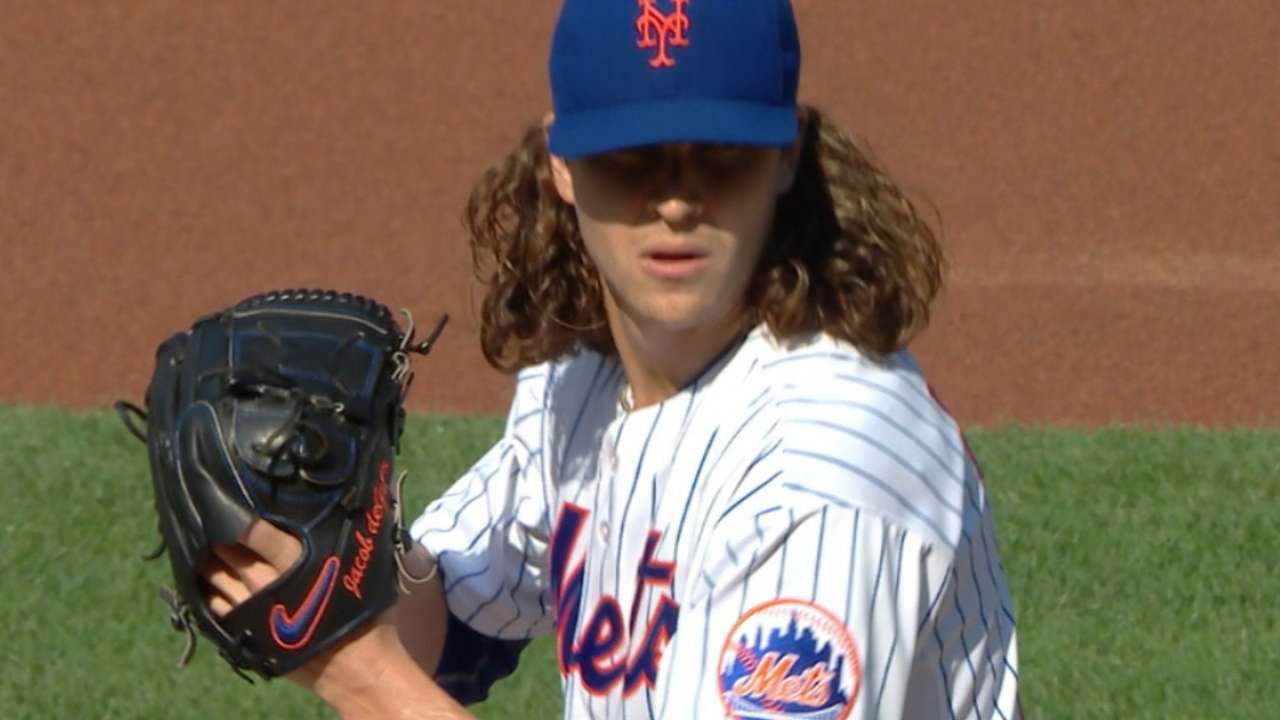 If you've got your Draft scorecards handy, that's the 272nd of the 2010 Draft (deGrom) and the No. 1 pick of the 2009 Draft (Strasburg).
They tell a larger story of the two franchises. Strasburg may someday be the dominant starter he was long projected to be. But just like the Nationals, a team widely seen as the best in baseball on the last three Opening Days, he hasn't gotten there yet.
Strasburg will take a 4.35 ERA into Wednesday's game, a game the Nationals almost certainly have to win to have a reasonable glimmer of hope about rallying to make the postseason.
deGrom is at a place Strasburg is still trying to get. In the last two seasons, his 2.53 ERA is the fifth-best in the Majors.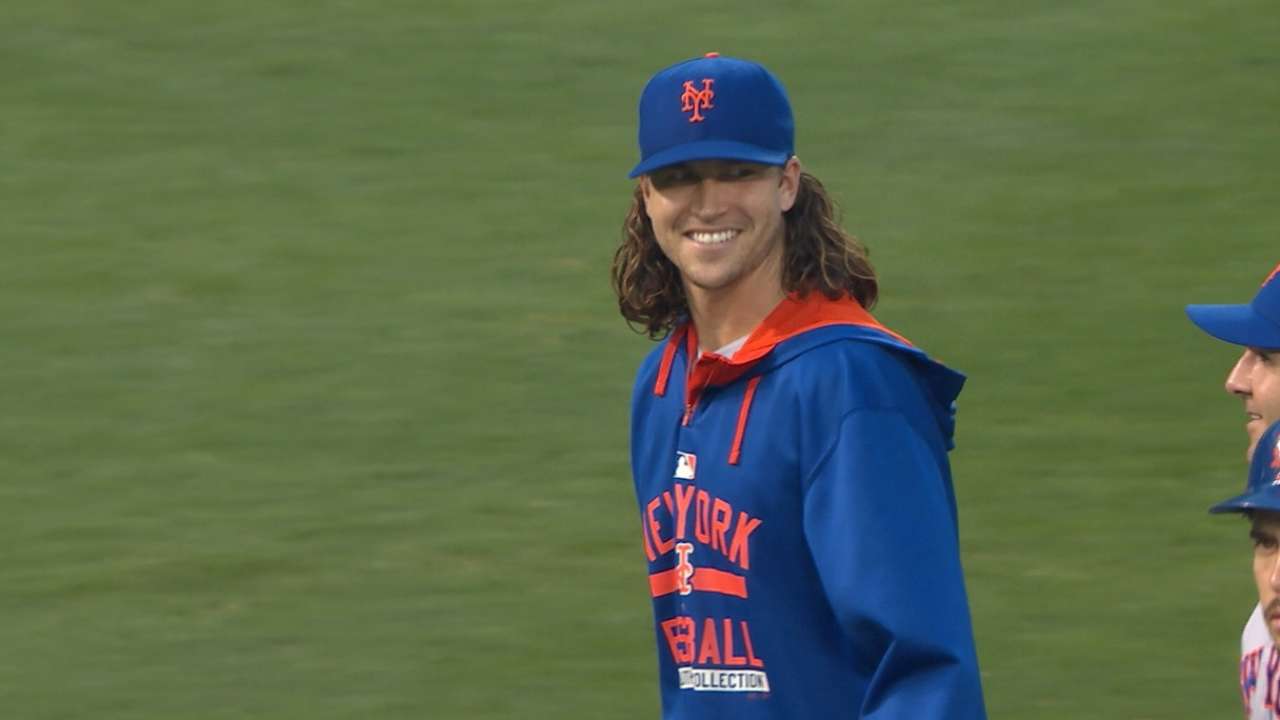 Two years ago, in 2013, deGrom wasn't even considered one of the Mets' top 10 prospects. That was the season he made a huge jump from Class A ball to Triple-A.
deGrom was the NL Rookie of the Year Award winner in 2014, and a lot of fans learned his name for the first time. He was dominant in winning the NL Rookie Triple Crown -- leading NL rookies in strikeouts (144) and ERA (2.69) and tying for the lead with nine victories.
deGrom reintroduced himself to the world at this year's All-Star Game when he threw 10 pitches in the sixth inning and struck out three straight American Leaguers. As if his whip-like delivery wasn't enough, he had eight pitches clocked at between 96 and 98 mph.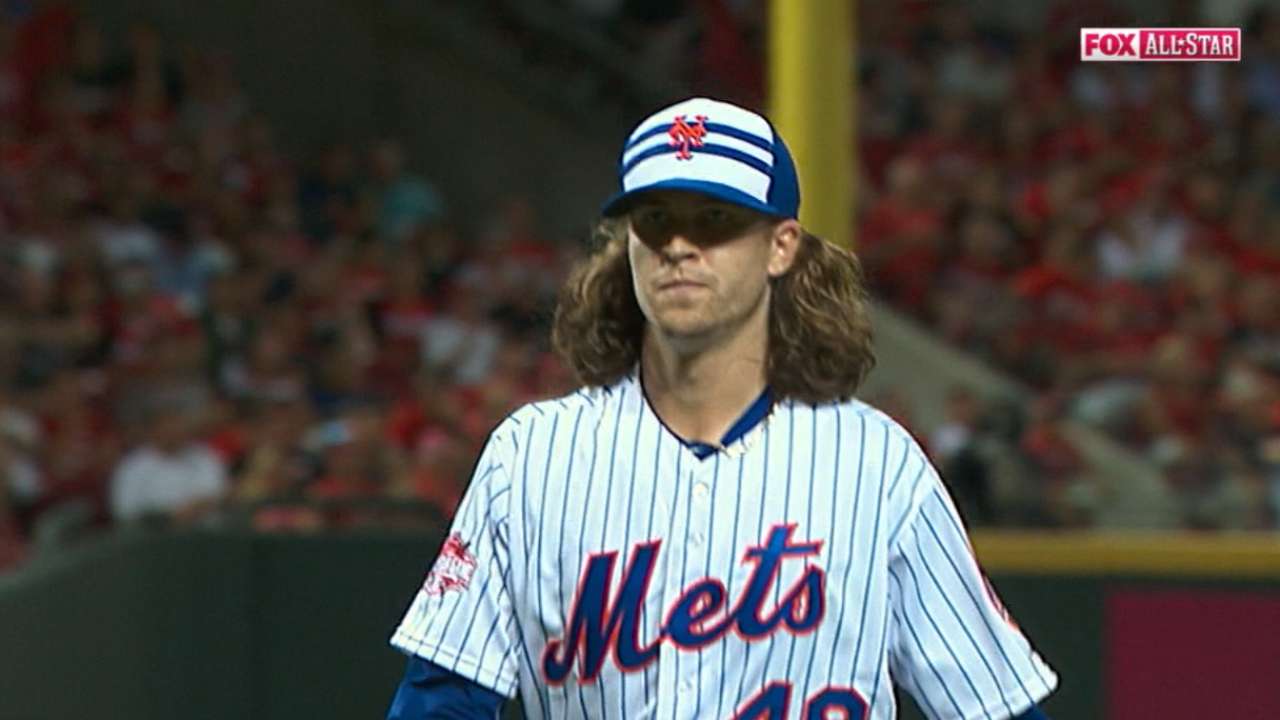 Here's how deGrom has followed up that rookie season: His 2.40 ERA is the fourth-lowest among NL starters. Only Zack Greinke (1.68), Jake Arrieta (2.03) and Clayton Kershaw (2.15) have lower ERAs.
deGrom's name is dotted up and down the NL leaderboard in other areas -- first in slider velocity (89.7 mph), fourth in fastball velocity (94.9 mph), fifth in WHIP (.096) and seventh in strikeouts per nine innings (9.32).
That kind of velocity -- and that kind of slider -- makes for uncomfortable at-bats, for opposing hitters feeling overmatched at times.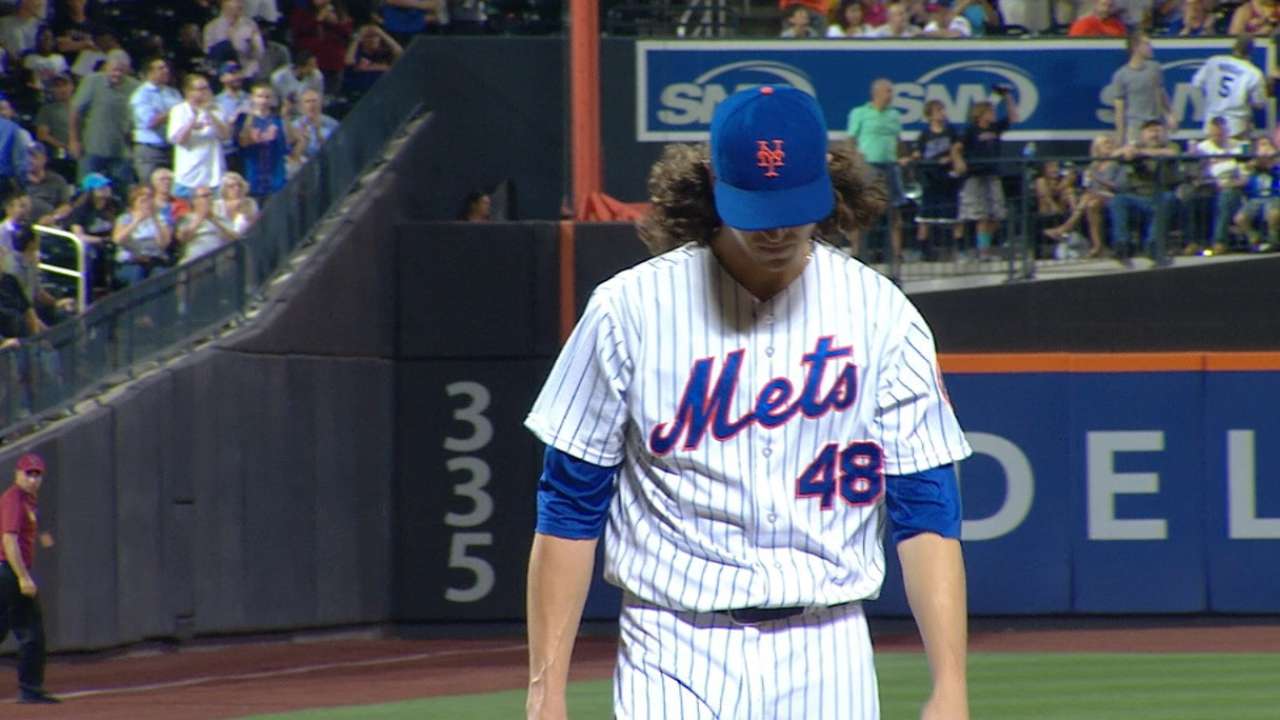 So how did a guy this good slip to the ninth round? Plenty of teams saw skills they liked, but weren't sure how those skills would translate at higher levels. They also weren't sure how much strength deGrom could add to 6'4", 180-pound frame.
Also, deGrom played shortstop and third base for two years at Stetson University before becoming a pitcher. After turning pro, he missed the entire 2011 season after undergoing Tommy John surgery.
deGrom finished the 2012 season at Class A ball. He was 24 at the time, so the clock was ticking. Once healthy the followed season, deGrom flew through the Mets' system and made his big league debut May 5, 2014.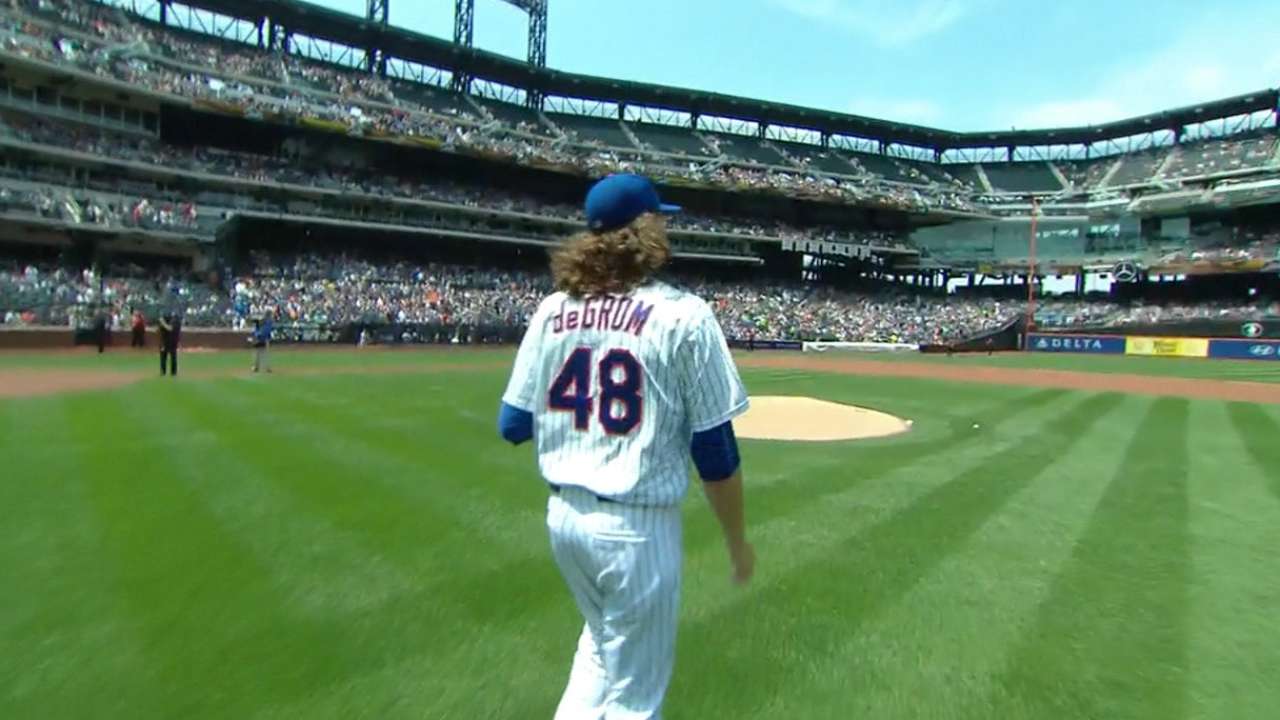 The Mets like both his stuff and his makeup, and with Matt Harvey returning from Tommy John surgery and top prospects, Noah Syndergaard and Steven Matz, on the horizon, they believed they had the makings of a special staff.
Now they're positioned to make the playoffs for the first time in nine years. Given Harvey's uncertain status and a big division lead, the Mets may be able to line up deGrom to open the playoffs. That's a long jump from where he was a couple of years ago, but he has proven himself again and again.
The Mets are 17-9 in deGrom's 26 starts this season, and he has allowed two runs or less 20 times. Now, in the latest most important game of the season, the Mets are counting on him again. Both the Mets and deGrom have passed every other test this season, so what's one more challenge?
Richard Justice is a columnist for MLB.com. Read his blog, Justice4U. This story was not subject to the approval of Major League Baseball or its clubs.