Momentum swings toward Giants on wacky DP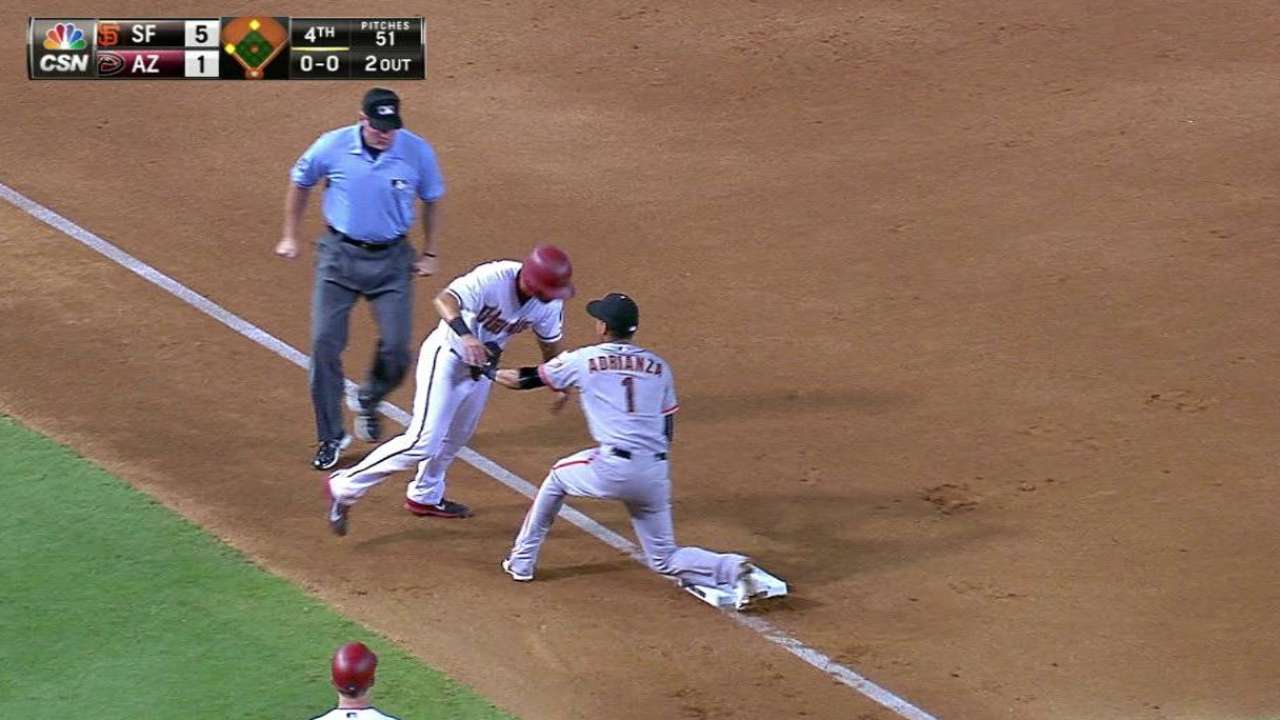 PHOENIX -- There comes a time in many games when the difference in the outcome depends on the winner's ability to stop a scoring threat. Tuesday, the Giants reached that point in the fourth inning of their 6-2 triumph over the Arizona Diamondbacks.
Essentially, Arizona's Jake Lamb popped up into a double play that also functioned as a sacrifice fly with the bases loaded and one out.
"That was not exactly your typical double play," said right-hander Tim Hudson, the beneficiary of the Giants' defense. "But I'll take it."
Trailing, 5-0, the D-backs launched a legitimate threat in the fourth. David Peralta recorded an infield single when his grounder reached Joe Panik at about the same time that Paul Goldschmidt crossed in front of the second baseman. Panik fielded the ball but dropped it as he stepped forward and collided with Goldschmidt, who broke no baserunning rules. Meanwhile, Panik sprained his right index finger but remained in the game.
Jarrod Saltalamacchia then singled to load the bases with one out. One swing could have erased most of the Giants' lead.
Third baseman Matt Duffy made a difficult over-she-shoulder catch of Lamb's foul fly down the left-field line. But with Duffy's momentum carrying him away from home plate, Goldschmidt scored easily. Duffy's throw home scooted past catcher Buster Posey and caromed off the railing in front of the photographers' well adjacent to the Giants' dugout. Posey pounced on the ball and noticed that Peralta had strayed a little too far from the bag as he rounded third. Posey's strong throw erased Peralta, with shortstop Ehire Adrianza covering third.
"It could have been a key point in the game," Giants manager Bruce Bochy said.
Posey explained that he hesitated briefly to determine whether Peralta would head home or return to third. If Peralta tried to score, throwing to third would not only be pointless but also would have given the D-backs a run. As is typically the case, Posey made the right move.
Bochy jokingly called the sequence "Play 123B."
Upon hearing that, Posey nodded his head and concluded, "It worked."
Chris Haft is a reporter for MLB.com. Read his blog, Haft-Baked Ideas, follow him on Twitter at @sfgiantsbeat and listen to his podcast. This story was not subject to the approval of Major League Baseball or its clubs.