Martinez nearly runs over coach rounding 3rd
Right fielder rushes home on Romine's single to temporarily tie game in 6th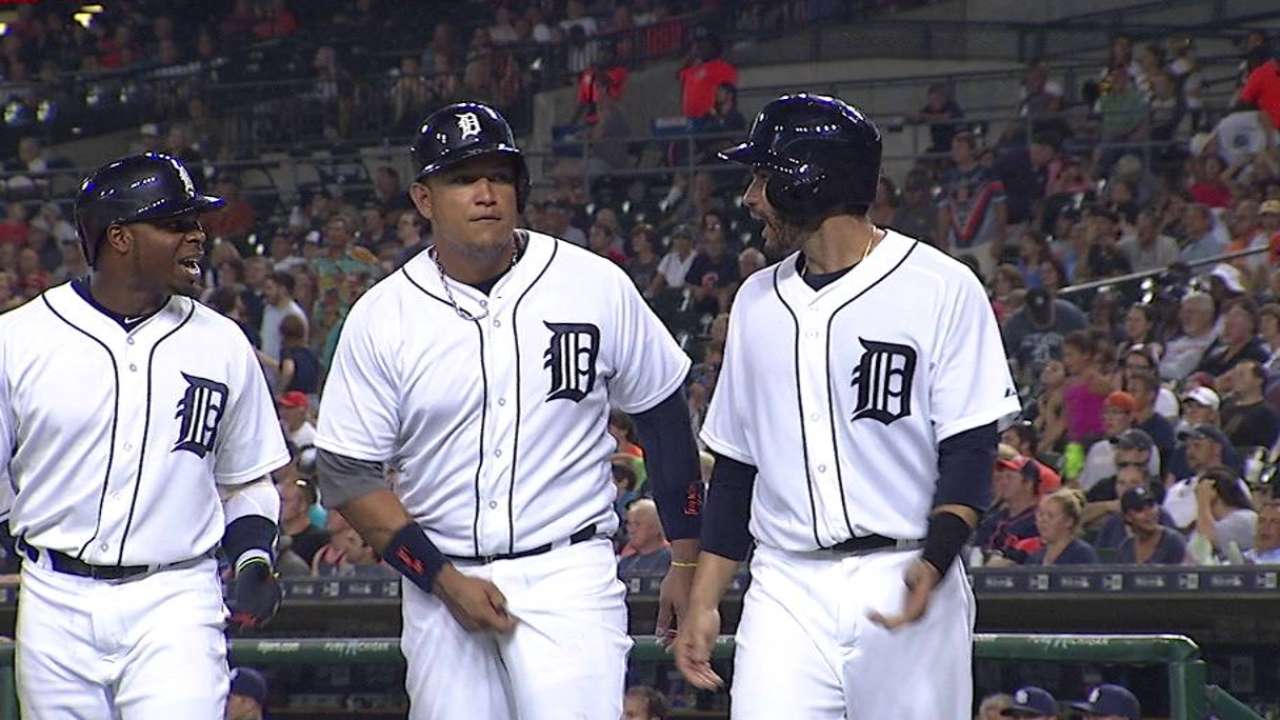 DETROIT -- Not only did J.D. Martinez run through Tigers third-base coach Dave Clark in the sixth inning of Detroit's 8-7 win over Tampa Bay on Tuesday night at Comerica Park, but he also nearly ran the stop sign over.
It was a chaotic scene, Clark trying to stop his lumbering right fielder at the last second, trying to get his attention -- then Clark diving to get out of the way as Martinez ran home. But it worked when the throw held up at third base for a rundown as Martinez scored.
"We got lucky on that one," Tigers manager Brad Ausmus said. "Sometimes it's better to be lucky than good, I guess."
Martinez represented the tying run in the Tigers' response to a four-run sixth from the Rays. He reached on a bases-loaded walk, then advanced to second when McCann was hit by a pitch. Pinch-hitter Tyler Collins struck out, but Andrew Romine sent a ground ball through the left side.
"I know that we were sending J.D. The plan was to take third and hope that they would cut the ball and get in a rundown and allow J.D. to score," McCann said.
Originally, the plan was to send Martinez and test new left fielder Grady Sizemore. Romine's two-out grounder was hit so shallow, however, that it was far from a safe test. Clark tried to slow up Martinez rounding third, but it was too late.
"J.D. had his head down," Ausmus said. "Really, he needs to pick Clarky up. Clarky was stopping him, which was the right call, because if the throw goes through, he's out."
Clark's effort to get in Martinez's line of vision didn't work for slowing him. It really didn't work for getting him out of harm's way. Suddenly, there was Clark diving back toward the foul line, and Martinez eluding him to the outside of the baseline.
"I don't know what really happened, because I was watching the ball," McCann said. "That was the idea, get in a rundown and allow J.D. to score."
It worked. Evan Longoria cut off the throw and went for McCann around second base, rather than Martinez charging home.
"So we got a little bit lucky there," Ausmus said.
Jason Beck is a reporter for MLB.com. Read Beck's Blog, follow him on Twitter @beckjason and listen to his podcast. This story was not subject to the approval of Major League Baseball or its clubs.