Davis involved in 4 replays in big night
Before coming up clutch in 13th, left fielder plays part in each of game's reviews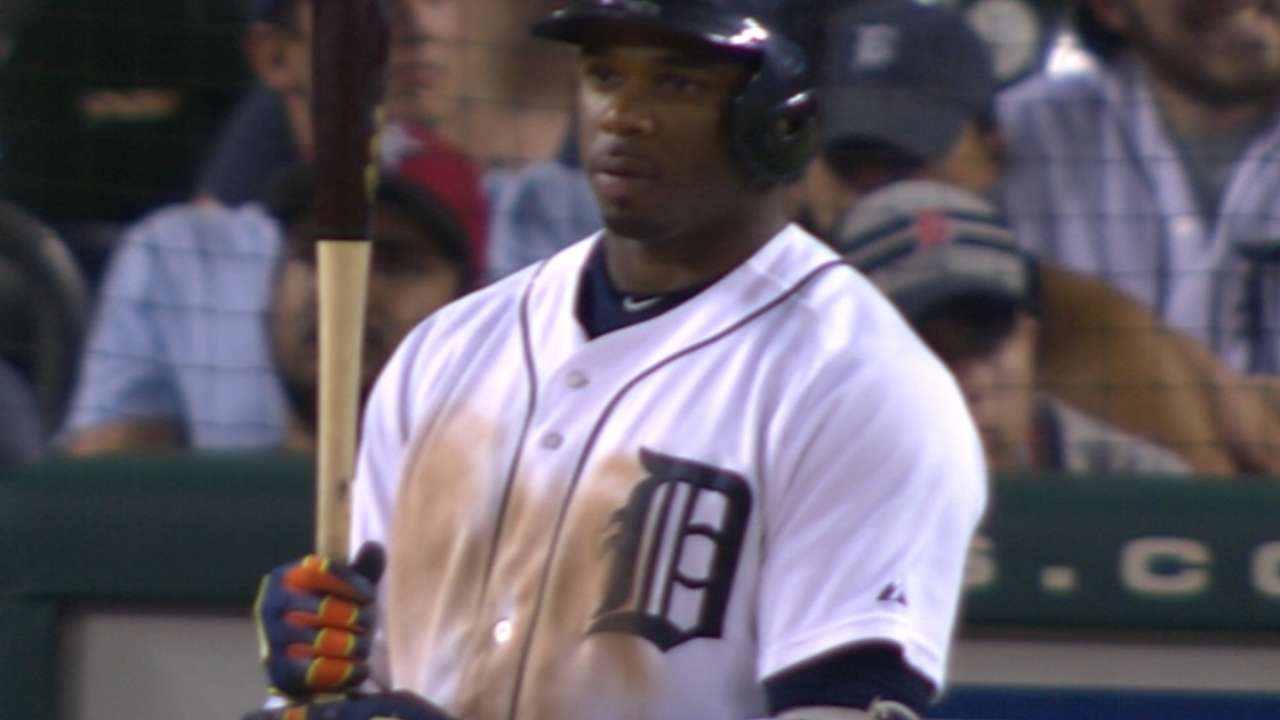 DETROIT -- Pardon Rajai Davis for being a little tired after the Tigers' 8-7 win over the Rays, considering all that happened over the course of 13 innings on Tuesday.
He opened the scoring in the third inning with his third home run in two games, and he closed the scoring 10 innings later with a shallow fly ball that became a sacrifice fly. In between, he had a juggling catch he may or may not have made while falling over, a ninth-inning drop he never came close to making, and a head-first slide into first base.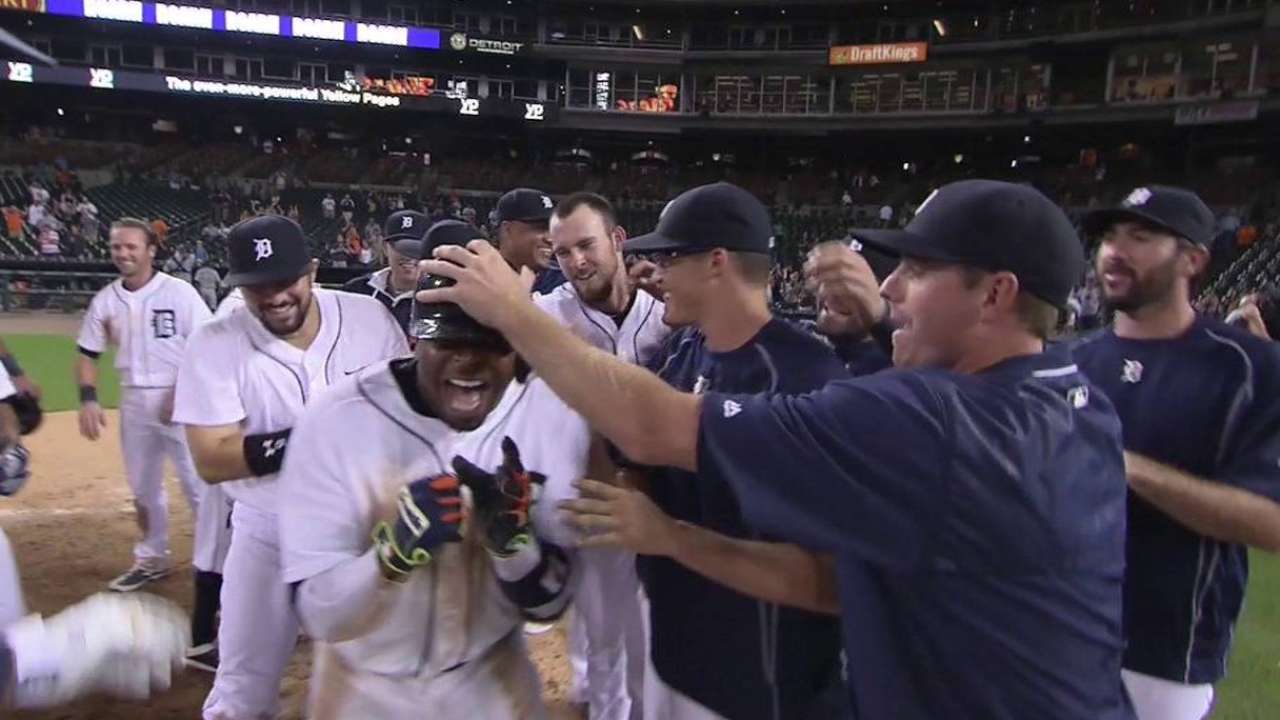 "Well, it was definitely a long game," Davis said of the five-hour, three-minute marathon. "I guess everything else is just blurry right now. I'm just glad we were able to pull out the win and get the 'W.'"
Fortunately for him, most of his night was captured on video.
Approximately seven minutes, two seconds of the long game consisted of Major League Baseball replay officials in New York reviewing plays that somehow involved him -- four of them.
"Replay definitely extended the game," Davis said.
He was staring at the giant video board in left field from the dugout, having run in quickly after Richie Shaffer was ruled to have lined out to left for the last out of the eighth inning. Replay showed the ball popping out of Davis' glove as he tried to pick it through the lights, then him juggling it as he fell over.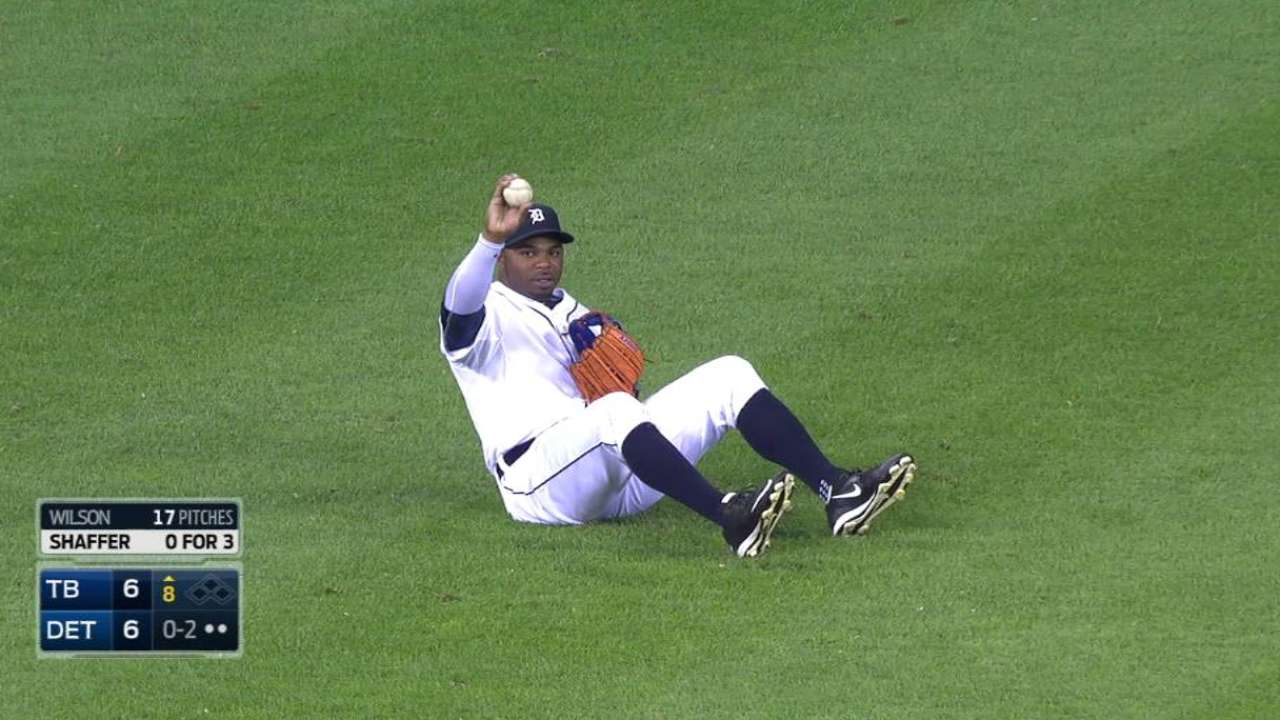 "I did lose that in the lights," he said. "I just kind of threw my glove up there. I watched [Yoenis] Cespedes throw his glove up there a few times, and he caught it. Just tried to do the same thing."
What happened from there isn't clear. The broadcast didn't seem to show a great angle, only Davis holding up the ball a second later.
Asked if he caught it, Davis said, "I did."
Asked why he seemed to be watching the replay in intent, Davis said, "Yeah, I wasn't sure what it looked like."
After a 1-minute, 32-second challenge from the Rays, the out call stood. An inning later, baseball karma found Davis again.
He never had a case for a catch on Evan Longoria's high fly ball into the left-field corner; it clearly popped out and hit the ground.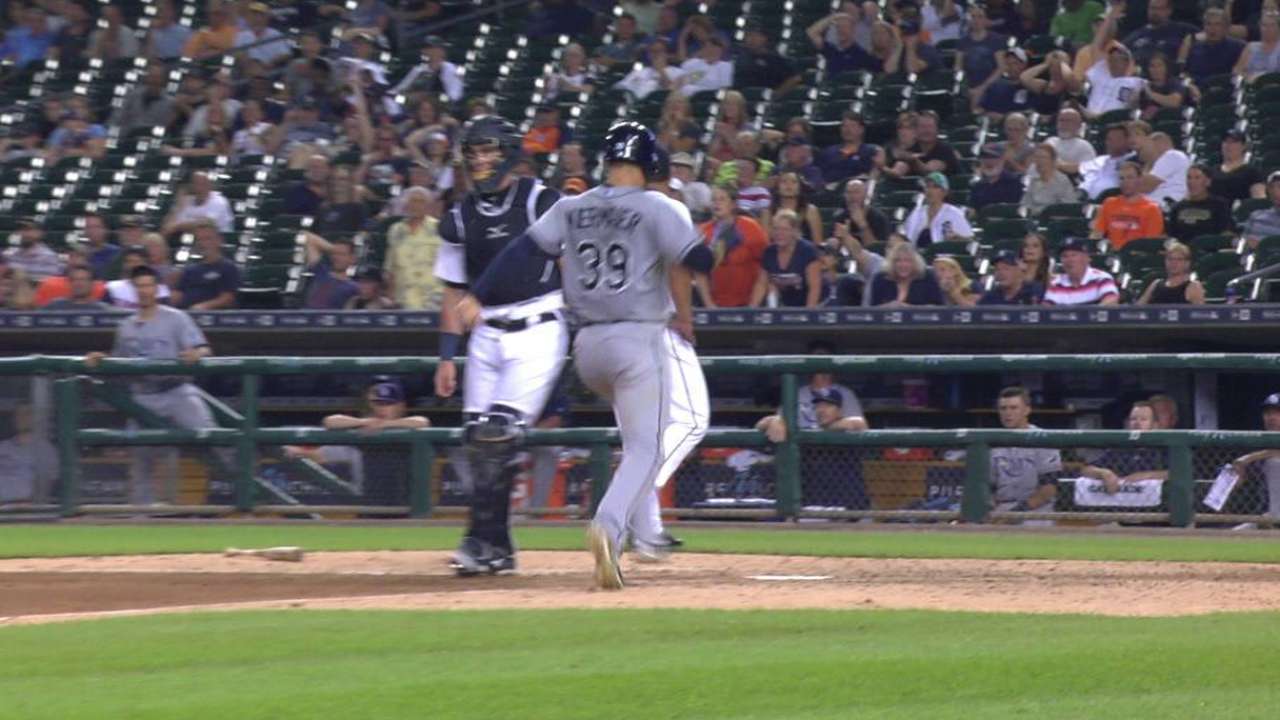 "Just clanked it," Davis said. "It hit my glove and just clanked."
Even if he caught it, the tying run was headed home from third on a sacrifice fly. The drop, however, cost an out and advanced the rest of the runners. Manager Brad Ausmus challenged hoping to get an out at third on Nick Franklin, who seemingly overslid the bag. After a 2-minute, 39-second review, the safe call stood, crediting Franklin with dragging his foot on his way by as the tag came in.
Davis got a one-out single in the 11th on replay when the crew ruled his head-first slide into the bag allowed him to get his hand in ahead of the throw, overturning the original call. Before another pitch could be thrown, Brandon Gomes tried to pick him off, close enough that the crew looked at that too before ruling him safe.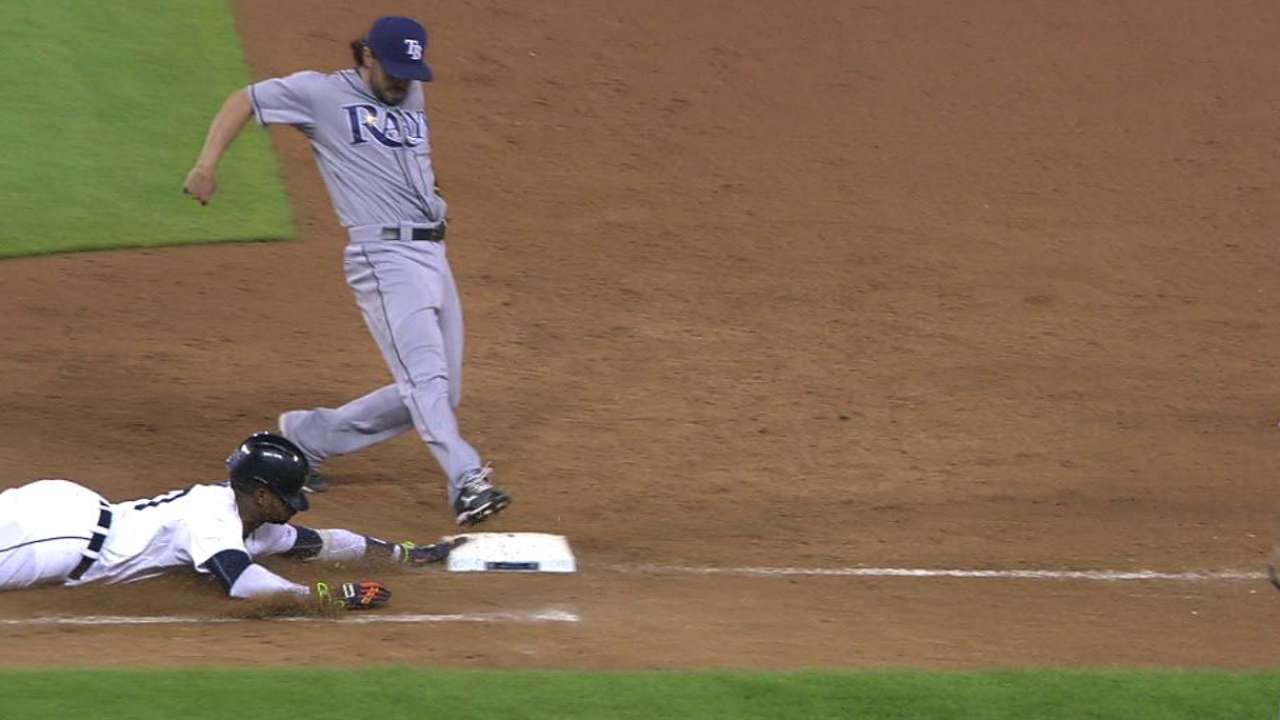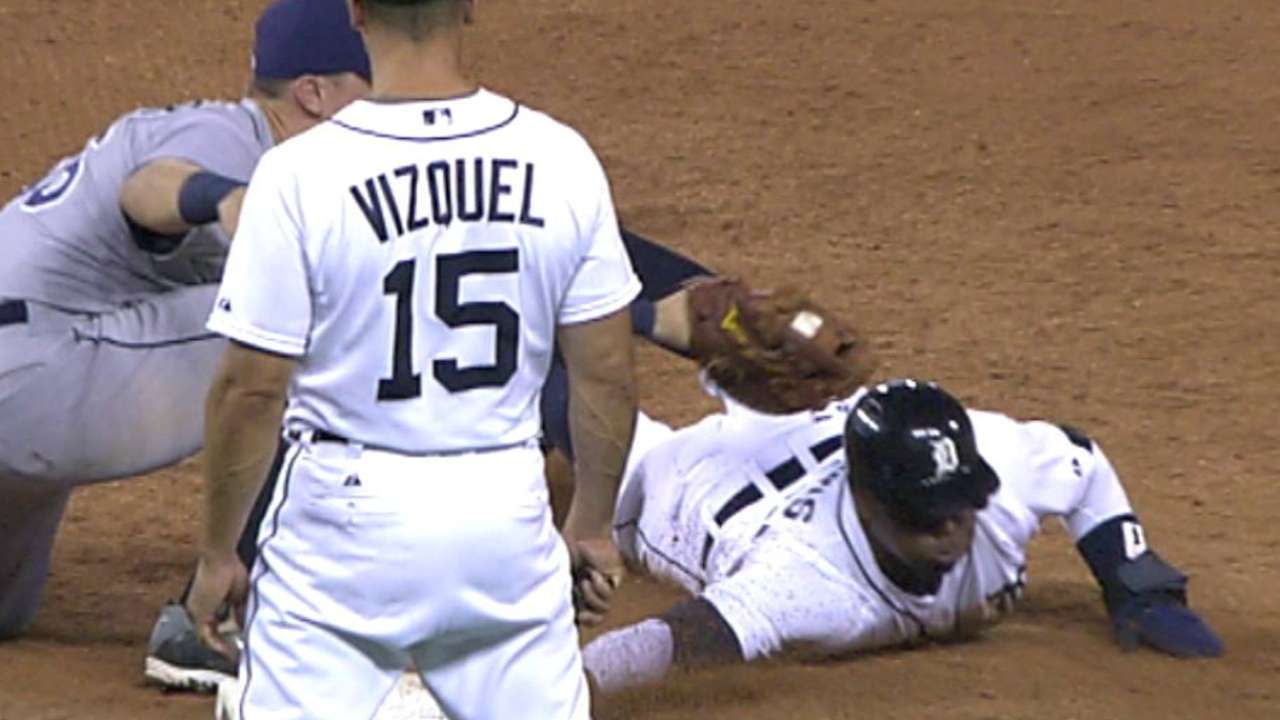 He was stranded at third that inning, but he came up in the 13th with a chance to end it, thanks to James McCann on third. His fly ball didn't carry far into left field, but far enough for Grady Sizemore's throw to be in question.
"When I saw the ball leave his hands, I said, 'Thank you, God. Thank you, God,'" Davis said. "Hit it to the right guy."
Jason Beck is a reporter for MLB.com. Read Beck's Blog, follow him on Twitter @beckjason and listen to his podcast. This story was not subject to the approval of Major League Baseball or its clubs.