Ruggiano's Dodgers career off to hot start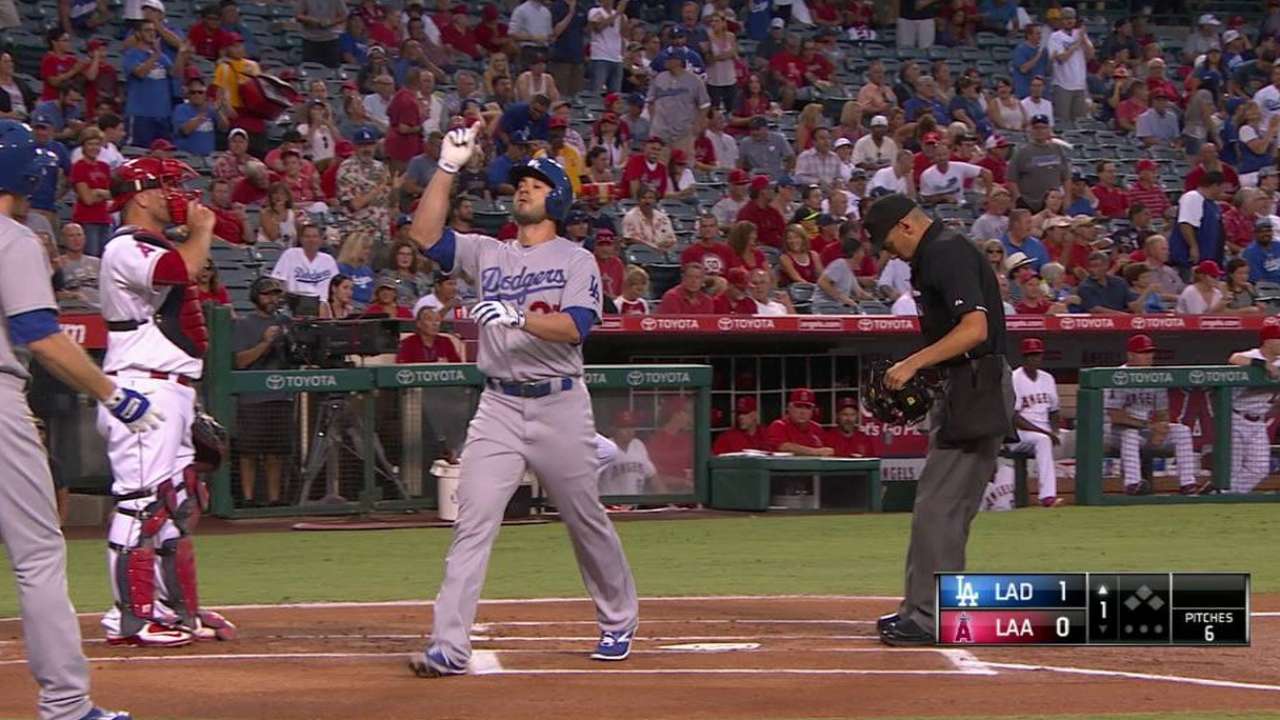 ANAHEIM -- Acquiring Justin Ruggiano just before the waiver deadline on Aug. 31 might not have made huge headlines, but he has been quietly productive for the Dodgers.
Ruggiano continued his hot hitting Tuesday by going 2-for-5 with a double and a home run to lead off the Dodgers' 6-4 win over the Angels. He's 5-for-11 in five games with the club, including two doubles and two home runs.
"Just a guy that thumps lefties. He's done it his whole career," Mattingly said.
Ruggiano started in center field Tuesday and can also play both outfield corners, in addition to hitting leadoff. Ruggiano has fit into the Dodgers' puzzle very nicely as an outfielder to replace left-handers Carl Crawford, Andre Ethier or Joc Pederson when an opposing southpaw is on the mound. Especially with the injuries to Yasiel Puig and Kiké Hernandez, Ruggiano has filled a need at the perfect time for Los Angeles.
Ruggiano was drafted by the Dodgers in 2004 and played in the Minors with Dodgers catcher A.J. Ellis. For Ellis, Ruggiano's impact came as no surprise.
"He's always been able to hit, period. He was one of the best hitters I came up with before we traded him," Ellis said. "He's able to use the whole field so well."
Ruggiano, who was traded to the Rays in 2006 in a deal that brought Toby Hall and Mark Hendrickson to Los Angeles and sent Dioner Navarro to Tampa Bay, has gone from a struggling Mariners club to one leading the NL West by 8 1/2 games. He's used to this type of role and is happy to contribute in the thick of a pennant race.
"That's been my role for the past few years. If that's what they need me to do, I'll do it," Ruggiano said. "Any time you can go from a team that's struggling to a team that's on their way, you want to be able to help out."
Steve Bourbon is an associate reporter for MLB.com. This story was not subject to the approval of Major League Baseball or its clubs.